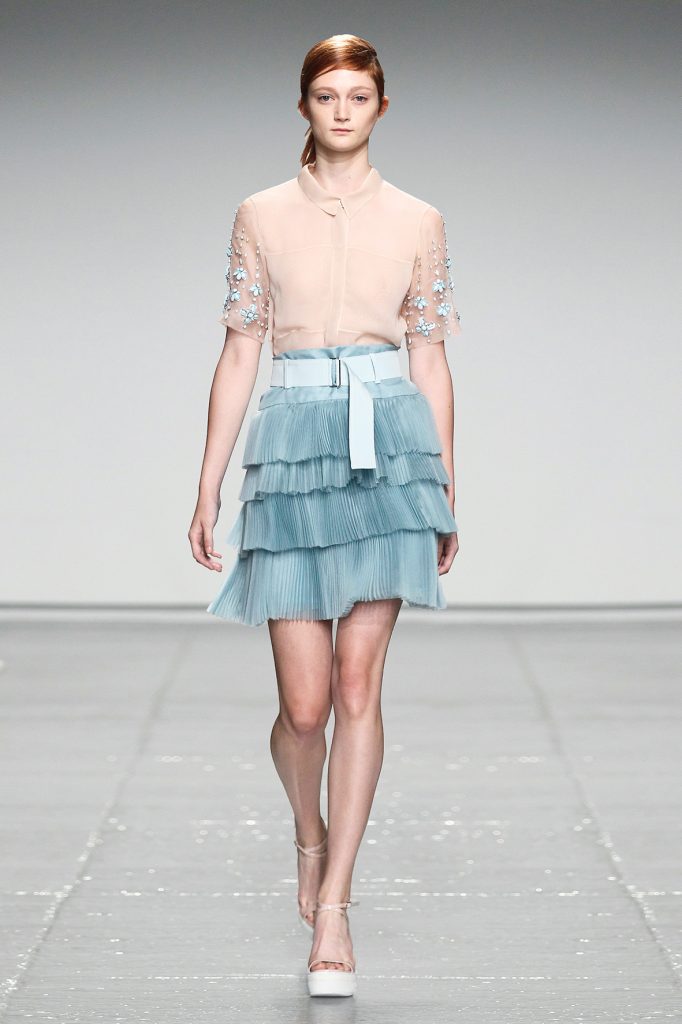 Out of 
the Blue
Fashion is seeing a shift toward shades of the primary color that 
reflect spring's clear skies 
and crisp weather.
By Bria Balliet
Spring is customarily a time of bright colors, breezy days and deep cleaning. Everything about the season feels fresh, from the scent of the newly blossoming flowers to the sight of an organized closet, and calls to mind a sense of rebirth and reinvention. It's fitting, therefore, that fashion designers have taken their spring collection cues from the sky and sea, with blues dominating the runways as we gear up for the approaching season.
In line with this spirit, the team at Pantone (who have named the "color of the year" annually since 2000) partnered with brands such as Rachel Pally and Perry Ellis to choose two blue hues as the premier colors for men and women's spring fashions. The selections—dusk blue for the gentlemen and aquamarine for the ladies—are muted tones that capture the essence of the season, while being subtle enough for everyday wear.
Whatever shade you choose, with such universally flattering tones and light fabrics available at the ready, it will be that much easier to get inspired to clean out the closet and make room for some brand-new blues.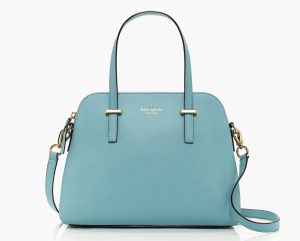 Cedar Street Maise handbag in celeste blue, $298, at Kate Spade, Fashion Island (949-219-0785; katespade.com)

Oliver Peoples Ennis Sun sunglasses with custom colored vintage glass lenses, $420, at Saks Fifth Avenue, South Coast Plaza (714-540-3233; saksfifthavenue.com)

Waylon canvas shoe, $140, at Original Penguin, Fashion Island (949-720-1560; originalpenguin.com)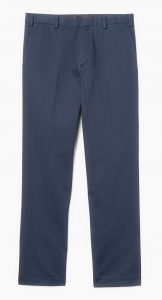 Brushed stretch twill Mercer trouser, $225, at Vince., Fashion Island 
(949-760-0014; vince.com)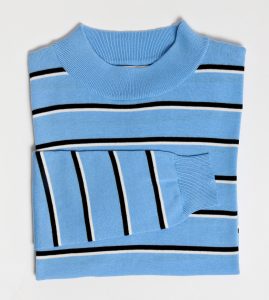 Archbold pullover sweater, $325, 
at Sandro, South Coast Plaza 
(714-557-2820; us.sandro-paris.com)

Clinton trim fit shirt, $145, at J.McLaughlin (949-706-6993; jmclaughlin.com)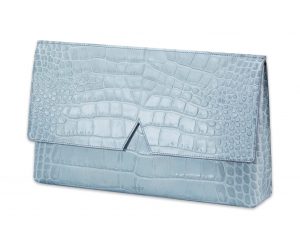 Signature Collection stamped croc medium clutch, $445, at Vince., Fashion Island (949-760-0014; vince.com)
---
Fashion Forward
Designer collaborations, new boutiques and helpful amenities signal a new season of shopping.
By Lauren Matich
Signature Shopping
In addition to blooming flowers and warmer temperatures, spring also signals a new sartorial season. To celebrate, Nordstrom is welcoming a signature collection created with Caroline Issa, fashion director of U.K.-based Tank magazine. The project incorporates items at a range of price points from $225 to $2,995, and will continue to release four seasonal installments each year. Spring's 25 ready-to-wear pieces include a mix of casual, everyday staples and standout finds that easily transition from the office to evening. These three looks from the collection are just a taste of what will be available at the South Coast Plaza Nordstrom location beginning mid-February. (714-549-8300; nordstrom.com)
New to the Neighborhood
Artistic flair and international fashion combine at a new shopping spot in Corona del Mar. Situated between Fifth and Fernleaf avenues on Coast Highway, Dawn Sunflower boutique celebrated its grand opening on Jan. 10. This is the first brick-and-mortar location for owner Dawn Nguyen, who designs the women's apparel with a nod to Hollywood glamour by using delicate fabrics and handmade embellishments. She also has partnered with other international designers to introduce a spectrum of global style to Corona del Mar's sartorial scene. (714-908-6371; dawnsunflower.com)
Meanwhile, Fashion Island is receiving a welcome influx of chic, beach-inspired home goods and women's apparel this spring with the approaching arrival of Calypso St. Barth, which is relocating from South Coast Plaza in early spring. The bohemian swimwear and airy caftans certainly conjure up images of a sun-soaked pool deck, but cooler weather looks—cozy vests, designer denim and cashmere pullovers—prove island fashion can be on-trend all year. (calypsostbarth.com)
Style Guides
While some shoppers are quick to navigate the clothing racks of busy malls, many others others benefit from the guidance of a second opinion. For those who could use a helping hand, Fashion Island recently launched a new personal shopping program at the center. Introduced in December 2014 to help ease the stress of holiday shopping, the complimentary service is available year-round to assist patrons in finding the perfect gift, replacing wardrobe staples or splurging for a whole new look. With no minimum purchase required, sessions range from 30-minute trips to daylong expeditions and can be booked by email, phone or text message with the concierge desk in Atrium Court. (949-701-3166; [email protected])