Lunch at the Ritz
With outstanding cuisine and personalized service, The Ritz remains an iconic favorite for lunch, dinner and entertainment.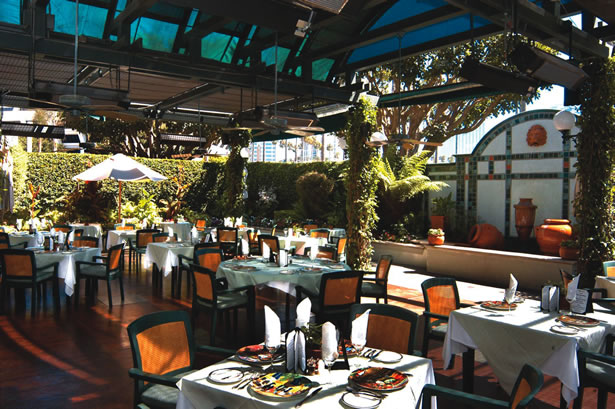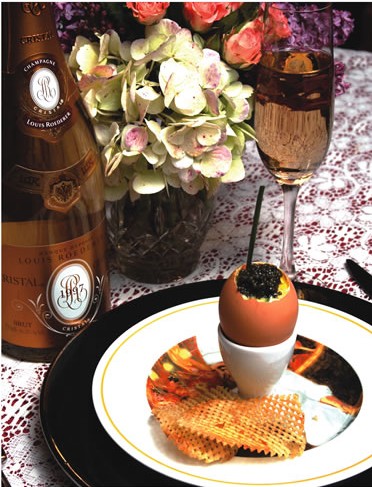 When a guest walks into The Ritz, the surroundings, food and service say, "Relax and get ready for a wonderful experience." The restaurant continues to set the standard for award-wining cuisine and service in a sophisticated, elegant and warm environment. There are several unique dining rooms, each one beautiful and inviting, offering the perfect destination for your special event—birthday, anniversary, rehearsal dinner, corporate lunch or dinner. It is a very special location for any occasion.
You are immediately greeted by the renowned, down-to-earth service of the close-knit staff, then led through the popular Ritz Bar to one of the distinct dining rooms or the outdoor garden. The garden offers unparalleled outdoor dining and was voted best restaurant patio by Orange Coast Magazine. The Ritz has become your favorite neighborhood restaurant with the best bar in Newport Beach, featuring Orange County's finest entertainment. Luscious wood panels and comfortable booths allow the outside world to quietly fade away as you are serenaded by the live music of Jimmy Hopper or the Baker Boys amid the warm din of conversation.
The Ritz was recently voted a Los Angeles Times Readers Choice Best of Southern California 2011 Winner.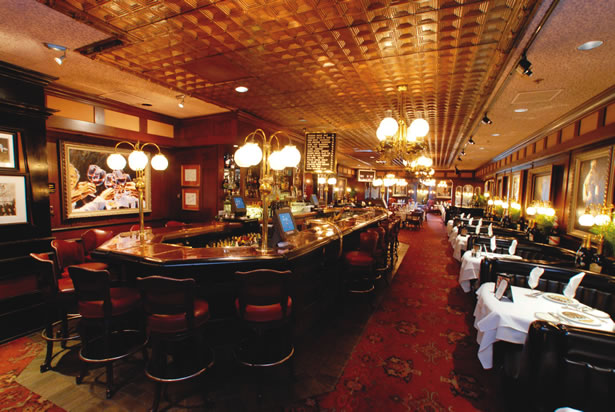 The cuisine—meticulously prepared, beautifully presented and unforgettably sumptuous—is backed by an impressive wine list. Signature dishes include The Ritz Egg with Caviar, The Carousel, Filet Mignon with a Bearnaise Topped Artichoke Bottom and Harlequin Souffle. In addition to their chef, the restaurant staffs a full-time butcher and pastry chef to create menu favorites and specials. The cuisine is a beautiful, balanced blend of classic and contemporary.
For almost 30 years, The Ritz has graciously served the Newport Beach community. The community's special events have built its reputation as a host for celebrated parties from 20 to 350 people. The uniquely individualized service personifies the name The Ritz.
BOUILLABAISSE
Serves 12
Stock Ingredients:
1 onion
2 stalks of celery
1 teaspoon sweet basil
1 teaspoon thyme
1 teaspoon rosemary
1 teaspoon oregano
1 teaspoon saffron
4 bay leaves
1 teaspoon ground black pepper
2 ounce olive oil
2 teaspoon salt
2, 8-ounce cans diced tomatoes
4 tablespoons butter
Julienne:
1 leek
1 carrot
2 bulbs fennell
2 tablespoons crushed garlic
2 cups tomato juice
2 tablespoon lemon juice
2 cups white wine
1 cup vermouth
1 quart fish stock
1 quart clam juice
4 tablespoons flour
Method for Stock:
Sauté vegetables in olive oil until soft but not brown. Add all other ingredients; bring to boil and simmer for 15 minutes. Add roux, blend well and set aside.
Seafood Ingredients:
2 Dungeness crabs (cleaned and cracked)
3, 10 – 12-ounce raw lobster tail cut into sections
2 pounds seabass or monkfish cut into cubes
36 raw shrimp with shell on
36 fresh clams
36 fresh mussels
Method for Bouillabaisse:
In a heavy pot, place all seafood to cover bottom, but do not pile. Add 3 tablespoons chopped shallots, 1 tablespoon salt and 2 ounces pernod. Cover with the stock. Cover pot, boil until mussels and clams open. Add 4 ounces brandy, 2 cups rough-chopped parsley and stir very carefully.