Located at The Balboa Bay Club & Resort, serving up superb cuisine in a stunning waterfront setting.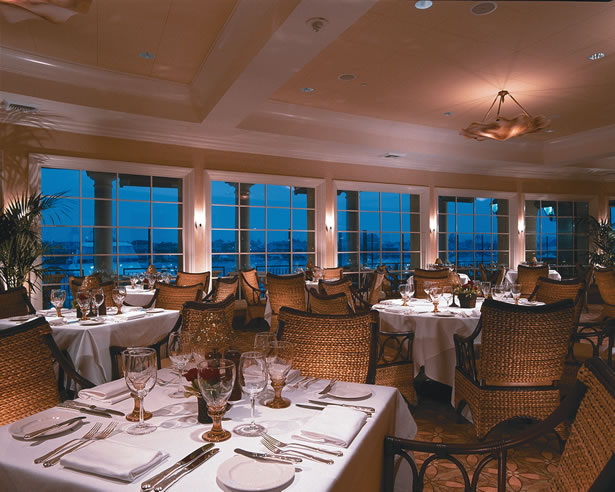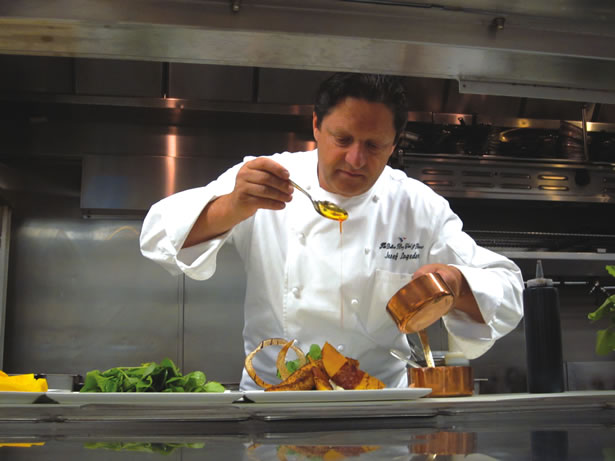 True to its name, The First Cabin Restaurant, located at The Balboa Bay Club & Resort, is reminiscent of an elegant dining room on a cruise liner. Large picture windows and an outdoor terrace frame the views of the sun-filled coastline, sailboats and romantic sunsets. Led by Austrian-born Executive Chef Josef Lageder and his culinary staff, the restaurant uses only the season's freshest ingredients for the menu, which highlights steak and seafood. Chef Lageder transcends his classical training with a California flair for cuisine and artful presentations.
An impressive wine selection with more than 600 different wines by the bottle and 40 to sample by the glass, the dining room complements any occasion and has garnered the restaurant critical acclaim and prestigious awards. The First Cabin Restaurant is recognized by the Four Diamond Award, Wine Spectator "Best Of" Award of Excellence, Award of Excellence by Distinguished Restaurants of North America (DiRoNA), and Open Table guests have recently rated First Cabin first in service.
On Friday and Saturday evenings, live piano music softly plays favorite requests from 6:30 to 9:30 p.m. The adjacent First Cabin Wine Bar is the perfect place to meet dinner guests and explore new wines prior to dinner. For intimate parties or wine tastings, there is a private dining room with seating for up to 16 guests, with an outside terrace for cocktails and sunset views. And after dinner, guests enjoy the music and dancing offered nightly at Duke's Place.
Some of the most popular menu items include appetizers such as Ahi Tuna Tartar (with Hass avocados, tomatoes and frisée), Classic Escargot Bourguignon  (baked in garlic and herbes de provence butter with crusty French rolls), Classic BBC Maine Lobster Bisque (with cognac), and Salad Maison (butter lettuce, young spinach, orange, candied pecans, apples and poached pear vinaigrette); and for dinner, a sampling of the popular selections include Herb Crusted Colorado Rack of Lamb (domestic Rocky Mountain raised lamb with a mild and delicate taste served the classic way with mousseline potatoes and minted merlot demi glace), Seared Chilean Sea Bass (with basil polenta, arugula and sun-dried tomato coulis with aged balsamic syrup), Sea Scallop and Shrimp Curry (with steamed jasmine rice, toasted coconut and crispy cashews) and Sautéed Spice Wrapped Atlantic Salmon (with wasabi whipped potatoes and mangoes in crispy prosciutto).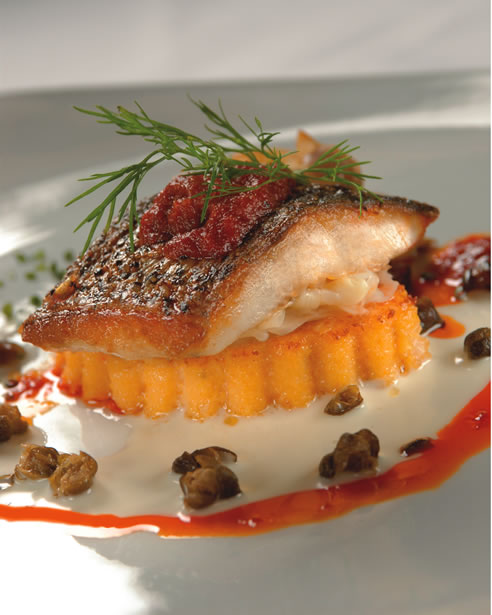 Loup de Mer (Bass) on Polenta With Sun-Dried Tomato Tapenade
Serves Four
Ingredients: 
3 cups chicken stock
1 cup polenta
¼ cup Parmesan cheese, grated
3/4 cup sun-dried tomatoes, chopped
1 tablespoon parsley, chopped
4 French bass or American striped bass (5-ounce portions)
½ cup olive oil, plus 2 tablespoons
1 garlic clove, chopped and juice from half a lemon
Salt and pepper to taste
Preparation: Fish: Heat sauté pan and add 2 tablespoons of olive oil. Season fish with salt and pepper. Sear the fish (skin-side down) for about 3 minutes or until crispy. Turn fish over and sear for 2 minutes. Set aside. Polenta: Bring the chicken stock to boil in a saucepan. Stir in the polenta and cook for 8 – 10 minutes. Remove from heat. Stir in grated Parmesan cheese, 1/4 cup of the sun-dried tomatoes and parsley. Season to taste. Set aside.
Tapenade: In a food processor, mix together the remaining tomatoes, ½ cup of olive oil, garlic, lemon juice, salt and pepper to taste. (If too thick, add more olive oil.)
Assembly: Spoon the polenta in center of plate. Place one portion of fish atop polenta, and spoon a tablespoon of the tapenade mixture on top. Garnish with sprig of dill or parsley.