Taste of  the Town
The Fate of a Landmark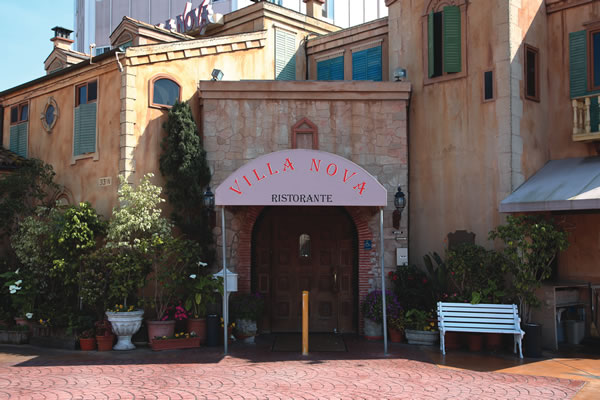 In February, the owners of Villa Nova announced that the Italian restaurant was going to be auctioned.  Panicked customers began making reservations to make sure they got a last meal in before the restaurant closed. "One fellow made a reservation for five different nights," says Susan Emmett, general manager of Villa Nova since 1989. "There's such a long-term relationship with these people; they're like our extended family. The response from them has been terrific, if not somewhat concerned or sad."
The Italian restaurant, which operated on the Newport Harbor since the late 1960s, originally opened on the Sunset Strip in Hollywood. Villa Nova claims to have been a hot spot for stars such as Charlie Chaplin and John Wayne during its LA days. 
In early March 2013, Michael Moshayedi, who also owns the Joe's Crab Shack property, placed a $6 million winning bid for the beloved establishment. The new owner recently announced that the Winery in Tustin will open its second location in the former Villa Nova spot, likely in the fall. —A.B.
Cool Beans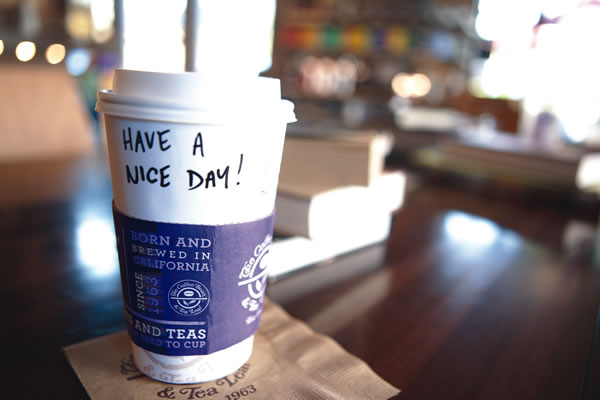 California's iconic coffee and tea retailer, The Coffee Bean & Tea Leaf, celebrates 50 years of serving some of the area's finest brews. Since its inception in 1963 in nearby Brentwood, the privately owned specialty chain has expanded to 900 stores across 25 countries—including two here in Newport Beach and 20 more throughout Orange County. Perhaps what's kept The Coffee Bean & Tea Leaf so hot on the coffee and tea aficionado's list is its devotion to only the finest and rarest beans and leaves from around the globe, and the resulting 25 blends of coffee and 20 kinds of tea offered. What sets the company apart is its dedication to charity—from supplying troops overseas with a fresh cup every morning to supporting coffee farms in Asia. We'll sip to that. (coffeebean.com) —A.B.
Grown-Up Lemonade Stand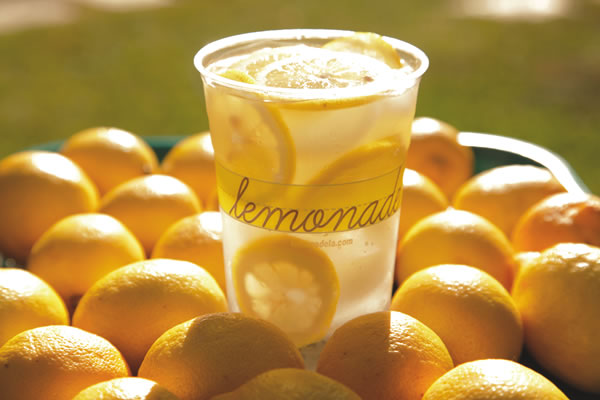 Lemonade, a Los Angeles-based fast-casual restaurant, is setting up shop at Fashion Island just in time for summer. The cafe, scheduled to open in mid-July, will serve seasonally-inspired Southern California comfort food and be set up cafeteria-style so customers can grab a tray and choose their own sides, main dishes, desserts and drinks.  The company's other 10 locations throughout LA use unusual ingredients in creative ways, putting a spin on casual dining. In addition to the traditional quick healthy lunch staples of soup, salad and sandwiches, Lemonade serves an array of main dishes from kimchi-marinated vegetables to Jamaican jerk chicken. They also offer unique seasonal specials like red Indian corn, jicama and blueberry chipotle to add some variety to their menus.  And of course, with a name like Lemonade, the cafe takes great pride in its drink selection. Yelp users rave about the LA locations' blueberry mint, passion fruit pepper, cucumber mint, and raspberry vanilla lemonades. (lemonadela.com) —J.A. 
 Custom Coffee  and Artisan Doughnuts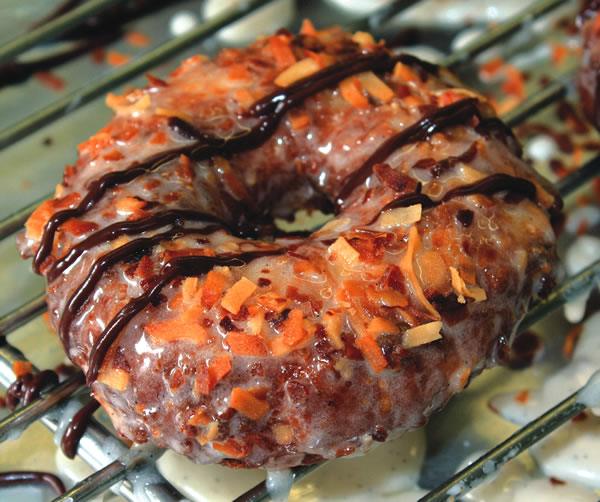 Chef Brooke Des Prez and artist Sumter Pendergrast have joined forces to create Sidecar, an artisan doughnut and coffee shop. After a series of popular Saturday events where they offered free samples of coffee and doughnuts from their test kitchen, they have chosen a spot to settle down on 17th Street in Costa Mesa, slated to open April 12. Coffee at Sidecar is brewed in-house using Stumptown Coffee, and every month Sidecar will feature a different roast to complement the shop's rotation of doughnuts.  Favorite doughnut flavors of the weekend testers included birthday cake, PPJ with peanut butter glaze and huckleberry jam, and the Samoa—a pineapple cake doughnut with chocolate glaze and coconut."I think people are over the cupcake phase and they're moving on to other snack foods," Sumter says. "We're the only people in Orange County to serve Stumptown Coffee and do artisan doughnuts. We created a cool little community that would come to these tastings and we're hoping to be able to do the same thing with the shop." (949-887-2910; sidecardoughnuts.com)—J.A.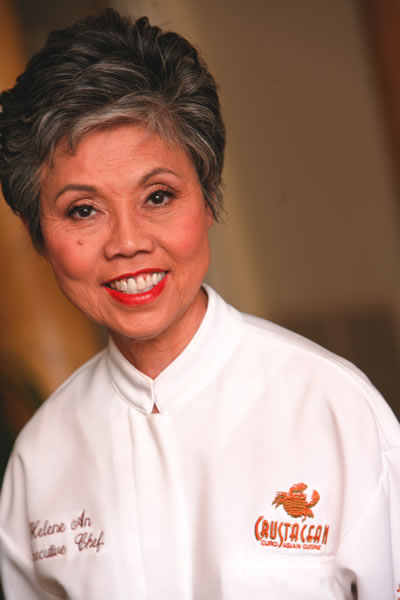 James Beard Benefit
Newport Beach foodies will have the opportunity to experience a night in Paris when chef-proprietor Daniel Rose, of the acclaimed Spring restaurant in France, collaborates with House of An's Master Chef Helene An to host an evening of fine dining. Held at AnQi by Crustacean, the Friends of James Beard Benefit Dinner on May 1 will offer guests hors d'oeuvres and Champagne, followed by a multi-course tasting menu prepared by the talented chefs, paired with complementary wines. Ticket sales ($270 for James Beard members; $305 for non-members) from the event benefit the James Beard Foundation and Art Institute of California-Orange Culinary School. (714-557-5679; anqibistro.com) —A.B.

A Short Thing 
Shor American Seafood Grill is now open at the Hyatt Regency Newport Beach. The California-contemporary restaurant invites hotel guests and local residents to enjoy breakfast, lunch and dinner in a casual setting that overlooks the Newport Back Bay. In the midst of a $15-million-dollar complete hotel renovation, the Hyatt Regency Newport Beach decided to rebrand its restaurant and is the fifth Hyatt in the company to adopt the Shor concept. "Basically they looked for areas that had access to very fresh local seafood," says Heather Humphries, director of sales and marketing for the Hyatt Regency Newport Beach. Leading the culinary team at Shor is chef Jonathan Solis, a Southern California native who has almost 10 years of experience in the restaurant industry. His training at the New England Culinary Institute has prepared him to create dishes that highlight regional seafood and fresh ingredients. "Not only do we support our local farms, but we also make sure that we are providing organic ingredients and the freshest food available—and that's the main goal of the restaurant," Heather says. Upon arrival, guests are greeted by a hostess and a chalkboard menu that lists items by region. Also on the menu are descriptions of the different farms from which Shor sources ingredients. (949-729-1234; newportbeach.hyatt.com) —M.E.
Supper Time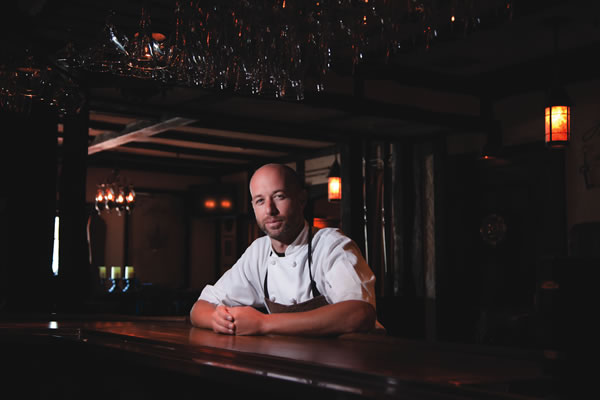 Five Crowns now offers an exclusive dining experience with Chef's Supper events on Friday nights. Executive Chef Greg Harrison and his culinary team create a tasting menu completely unique to that particular evening and separate from the regular menu. The supper events are perfect for parties of eight to 10 and are served in a private dining setting.
Chef Greg joined Five Crowns in July 2012 and acknowledges the concept of Chef's Supper as a collaborative effort. The intention is for guests to experience creative dishes in an intimate setting where they can dine for three to five hours in good company, he says. Diners are welcome to enjoy exciting and unexpected dishes paired with fine wines, beers and cocktails prepared and selected by the restaurant's head barman, Koire Rogers. "It comes down to what's available at that time and how we can introduce a tasting menu in a way so that they can explore the ingredients that we've chosen for that particular week," Greg says of the rare ingredients he works with, such as sea urchin and octopus. "The dishes are not meant to be all comfort food; there will be surprises in every course." (949-760-0331; lawrysonline.com/five-crowns) —M.E. 
New Wine Tasting Room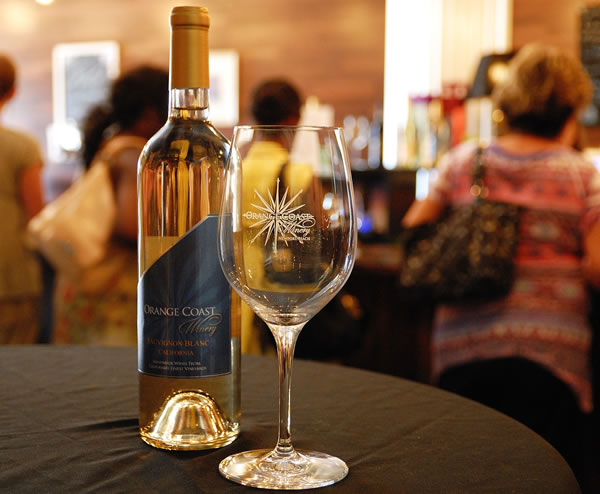 After two years of operating their Orange Coast Winery tasting room in an industrial area of Newport Beach, Doug and Deborah Weins were ready for a new, more visible location. The husband and wife team found just that in the old John L. Blom Photography studio on PCH in Corona del Mar. "We're just really excited about the location," Deborah says. "The businesses around us are all going to really gel together."
The new store will have a different vibe than the first location, offering a more upscale experience, with seated tastings and a gift shop featuring hand-picked antiques and jewelry. There will also be bottles of wine for sale, which they have sourced, crushed, aged and bottled themselves. But don't worry; their first location, which serves food, will stay open. Check orangecoastwinery.com for more information on opening dates. —J.A. 
French Flair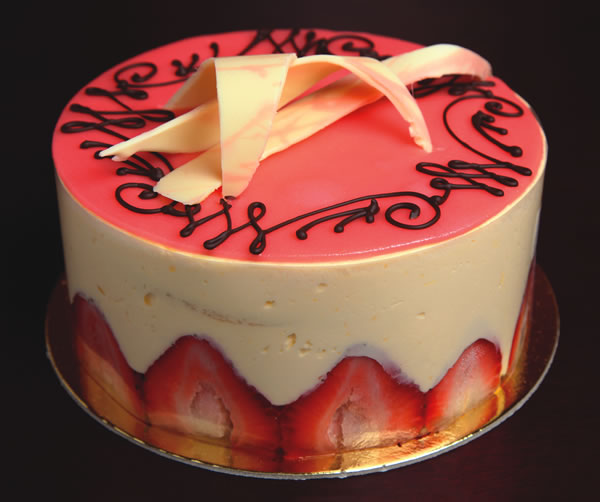 Rendez Vous, an authentic French bakery and cafe, opened in Corona del Mar in late 2012. After selling his family business, Olivier Bocchino and his wife Nathalie moved from the south of France to the United States and opened their first bakery and cafe in Breckenridge, Colo. Without any prior culinary training, the couple learned how to make bread, pastries and desserts from three traditional French pastry chefs they hired to help operate their business. After seven years, they sought to return to a location with warm weather and plenty of sunshine year-round, so they packed up their pastry bags and relocated to Southern California. The extensive menu is a combination of family recipes in addition to the recipes they learned from the pastry chefs back in Breckenridge. The charming couple emphasizes that they make everything from scratch, starting fresh every day. "We don't buy anything pre-made," Olivier says. "So we make the almond paste for the almond croissant, for example. We make the crust for the eclair, the crust for the tart, we make everything here—and this makes a difference." With the help of their two teenage sons on the weekends, this family business is eager to become a part of the community and is already building a special relationship with customers. (949-791-8730)—M.E.
Hotels and Resorts
Andrea
The Resort at Pelican Hill, 22701 Pelican Hill Rd. South; 800-820-6800; pelicanhill.com
First Cabin Restaurant
The Balboa Bay Club, 1221 W. Coast Hwy.;  949-630-4145; balboabayclub.com
The californian
The Hyatt Regency, 21500 Pacific Coast
Hwy., Huntington Beach; 714-845-4776; huntingtonbeach.hyatt.com
Palm Terrace
The Island Hotel, 690 Newport Center Dr.;
949-760-4920; theislandhotel.com
RAYa
The Ritz-Carlton, Laguna Niguel, 1 Ritz Carlton Dr., Dana Point; 949-240-2000; ritzcarlton.com
Sam & Harry's
Marriott Newport Beach, 900 Newport Center Dr.; 949-640-4000; samandharrysnb.com
STONEHILL TAVERN
The St. Regis Monarch Beach, 1 Monarch Beach Resort, Dana Point; 949-234-3200;
stregismb.com
Studio
Montage Laguna Beach, 30801 S. Coast Hwy., Laguna Beach; 949-715-6420; studiolagunabeach.com
Newport Center/Fashion Island
Brasserie pascal
327 Newport Center Dr.;
949-640-2700; French75.net
Canaletto Ristorante Veneto
545 Newport Center Dr.; 949-640-0900; ilfornaio.com
Fleming's Prime Steakhouse & Wine Bar
455 Newport Center Dr.; 949-720-9633;
flemingssteakhouse.com
Mariposa Restaurant
Neiman Marcus, 601 Newport Center Dr.;
949-467-3350
Muldoon's Irish Pub
Newport Center Dr.; 949-640-4110; muldoonspub.com
R+D Kitchen
555 Newport Center Dr.; 949-219-0555; hillstone.com
Taco Rosa
2632 San Miguel Rd.; 949-720-0980; tacorosa.com
The Ritz Restaurant & Garden
880 Newport Center Dr.; 949-720-1800; ritzrestaurant.com
True Food Kitchen
451 Newport Center Dr.; 949-644-2400; truefoodkitchen.com
Wahoo's Fish Tacos
1091 Newport Center Dr.; 949-760-0290; wahoos.com
Yard House
849 Newport Center Dr.; 949-640-9273; yardhouse.com
Newport Coast/Crystal Cove
Beachcomber Cafe
15 Crystal Cove; 949-376-6900; thebeachcombercafe.com
Bluefin Fine Japanese Cuisine
7952 E. Coast Hwy.; 949-715-7373; bluefinbyabe.com
Javier's
7832 E. Coast Hwy.; 949-494-1239;
javiers-cantina.com
Mastro's Ocean Club Fish House
8112 E. Coast Hwy.; 949-376-6990; mastrosrestaurants.com
Tamarind of london
7862 E. Coast Hwy.; 949-715-8338; tamarindrestaurant.com
Zov's Café Bakery & Bar
21123 Newport Coast Dr.; 949-760-9687;
zovs.com
Balboa Peninsula
21 Oceanfront
2100 W. Oceanfront; 949-673-2100; 21oceanfront.com
Aurora Mediterranean Restaurant
2307 Balboa Blvd.; 949-642-1073
Avila's El Ranchito
2800 Newport Blvd.; 949-675-6855; avilaselranchito.net
Bluewater Grill
630 Lido Park Dr.; 949-675-3474; bluewatergrill.com
Buddha's Favorite
634 Lido Park Dr.; 949-723-4203; buddhasfavorite.com
Charlie's Chili
102 McFadden Place; 949-675-7991;
charlies-chili.com
Commonwealth lounge & Grill
2406 Newport Blvd.; 949-675-4444; commonwealthlounge.com
Crab Cooker
2200 Newport Blvd.; 949-673-0100; crabcooker.com
Malarky's Irish Pub
3011 Newport Blvd.; 949-675-2340; malarkysirishpub.com
Mama D's Italian Kitchen
3012 Newport Blvd.; 949-675-6262; mamadsnewport.com
Mutt Lynch's
2300 W. Oceanfront; 949-675-1556;
muttlynchs.com
Newport Beach Brewing Company
2920 Newport Blvd.; 949-675-8449;
nbbrewco.com
Newport Landing Restaurant
503 E. Edgewater Ave.; 949-675-2373;
newport-landing.com
Pescadou Bistro
3325 Newport Blvd.; 949-675-6990; pescadoubistro.com
Regatta Cafe
3421 Via Lido; 949-675-1878;
thebaritone.com/home.htm
Ruby's Diner
1 Balboa Pier; 949-675-7829; rubys.com
Rudy's Pub & Grill
3110 Newport Blvd.; 949-723-0293; rudyspubandgrill.com
Rusty Pelican
2735 W. Coast Hwy.; 949-642-3431; rustypelican.com
Sabatino's sausage company
251 Shipyard Way, Cabin D; 949-723-0621;
sabatinosausagecompany.com
San Shi Go
205 Main St.; 949-673-3724
Sol Grill
110 McFadden Place; 949-723-4105; solgrill.com
The Alley
4501 W. Coast Hwy.; 949-646-9126; thealleynewportbeach.com
The Blue Beet
107 21st Place; 949-675-2338; thebluebeet.com
The Cannery
3010 Lafayette Ave.; 949-566-0060;
cannerynewport.com
The Dock
2816 LaFayette Ave.; 949-673-3625; eatatthedock.com
Balboa Island
Amelia's Restaurant
311 Marine Ave.; 949-673-6580; ameliasbalboaisland.com
Barolo By the Sea
305 Marine Ave.; 949-675-6193
Basilic Restaurant
217 Marine Ave.; 949-673-0570; basilicrestaurant.com
Shanghai Pine Gardens
300 Marine Ave.; 949-673-3802
trattoria
216 Marine Ave.; 949-566-9525
The Village Inn
127 Marine Ave.; 949-675-8300; villageinn.com
Wilma's Patio
203 Marine Ave.; 949-675-5542; wilmaspatio.com
PCH/Mariner's Mile
3 thirty 3
333 Bayside Dr.; 949-673-8464; 3thirty3nb.com
A restaurant
3334 W. Coast Hwy.; 949-650-6505; arestaurantnb.com
Back Bay Bistro Newport Dunes
1131 Back Bay Dr.; 949-729-1144; backbaybistronewportbeach.com
Bayside Restaurant
900 Bayside Dr.; 949-721-1222; baysiderestaurant.com
Billy's at the Beach
2751 W. Coast Hwy.; 949-722-1100
Cappy's Cafe
5930 W. Coast Hwy.; 949-646-4202; cappyscafe.com
DivBar
2601 W. Coast Hwy.; 949-675-7427; divbar.com
Nesai Restaurant
217 Riverside Ave.; 949-646-2333 nesairestaurant.com
Pizzeria Mozza
800 W. Coast Hwy..; 949-945-1126; pizzeriamozza.com
SOL Cocina
251 E. Coast Hwy.; 949-675-9800; solcocina.com
Villa Nova
3131 W. Coast Hwy.; 949-642-7880; villanovarestaurant.com
Zubies Chicken Coop
414 Old Newport Blvd.; 949-645-6086
Corona del Mar
Bamboo Bistro
2600 E. Coast Hwy.; 949-720-1289;
bamboobistrorestaurant.com
Bandera
3201 E. Coast Hwy.; 949-673-3524
Five Crowns
3801 E. Coast Hwy.; 949-760-0331; lawrysonline.com
Gen Kai of California
3344 E. Coast Hwy.; 949-675-0771
Gulfstream
850 Avocado Ave.; 949-718-0188; hillstone.com
Landmark
3520 E. Coast Hwy.; 949-675-5556;
landmarknewport.com
Nagisa Sushi Restaurant
3840 E. Coast Hwy.; 949-673-3933
Panini Café
2333 E. Coast Hwy.; 949-675-8101;
mypaninicafe.com
Rothschild's Restaurant
2407 E. Coast Hwy.; 949-673-3750; rothschildsrestaurant.com
Summer House
2744 E. Coast Hwy.; 949-612-7700; summerhousecdm.com
The Bungalow
2441 E. Coast Hwy.; 949-673-6585; thebungalowrestaurant.com
The Crow Bar and Kitchen
2325 E. Coast Hwy.; 949-675-0070; crowbarcdm.com
The Quiet Woman
3224 E. Coast Hwy.; 949-640-7440; quietwoman.com
Tommy Bahama's Island Grill
854 Avocado; 949-760-8686;
tommybahama.com
Airport Area
Il Barone
4251 Martingale Way; 949-955-2755; ilbaroneristorante.com
Tapas
4253-A Martingale Way; 949-756-8194; tapasnewportbeach.net
Ten asian bistro
4647 MacArthur Blvd.; 949-660-1010;
tenoc.com
Upper Bay
Bistro le Crillon
2523 Eastbluff Dr.; 949-640-8181;
bistrolecrillon.com
Kitayama
101 Bayview Pl.; 949-725-0777; kitayamarestaurant.com
Mozambique Per-Peri
1332 Bison Ave; 949-718-0956; mozambiqueperiperi.com
Pita Jungle
1200 Bison Ave.; 949-706-7711; pitajungle.com
Sage
2531 Eastbluff Dr.; 949-718-9650
Wasa Sushi on the bluffs
1346 Bison Ave.; 949-760-1511; wasasushi.com
Wildfish
1370 Bison Ave.; 949-720-9925; eddiev.com
Costa Mesa
anqi
3333 Bristol St.; 714-557-5679; anqibistro.com
Charlie palmer
3333 Bristol St.; 714-352-2525;
charliepalmer.com
Haute Cakes Caffe
1807 Westcliff Dr.; 949-642-4114; hautecakescaffe.net
LA CAve
1695 Irvine Ave.; 949-646-7944; lacaverestaurant.com
MARCHÉ MODERNE
3333 Bristol St., Ste. 3001; 714-434-7900; marchemoderne.net
MI Casa
296 E. 17th St.; 949-645-7626; micasa1.com
The Pizza Bakery
1741 Westcliff Dr.; 949-631-1166; thepizzabakery.com
pizzeria ortica
650 Anton Blvd.; 714-445-4900;
pizzeriaortica.com
seasons 52
3333 Bristol St., Ste. 2802; 714-437-5252;
seasons52.com
Irvine
bistango
19100 Von Karman Ave.; 949-752-5999; bistango.com
kimera restaurant lounge
19530 Jamboree Rd.; 949-261-1222; kimerarestaurant.com
Paul Martin's american grill
31 Fortune Dr., Suite 302; 949-453-1144;
paulmartinsamericangrill.com
phans 55 vietnamese bistro & bar
6000 Scholarship Dr.; 949-724-1236;
phans55.com
ruth's chris steak house
2961 Michelson Dr.; 949-252-8848;
ruthschris.com
Laguna Beach
370 Common
370 Glenneyre St.; 949-494-8686; 370common.com
Asada
480 S. Coast Hwy.; 949-815-5533; asadalaguna.com
Broadway by Amar Santana
328 Glenneyre St.; 949-715-8234; broadwaybyamarsantana.com
cucina Alessa
234 Forest Ave.; 949-497-8222
The Deck on Laguna Beach
627 Sleepy Hollow Ln.; 949-494-6700
K'ya Bistro
1287 S. Coast Hwy.; 949-376-9718;
kyabistro.com
Nirvana Grille
303-101 Broadway; 949-497-0027; nirvanagrille.com
The Rooftop Lounge
1289 S. Coast Hwy.; 949-497-2446;
rooftoplagunabeach.com
Sapphire Laguna
1200 S. Coast Hwy.; 949-715-9888;
sapphirelaguna.com
Sundried Tomato
361 Forest Ave.; 949-494-3312; thesundriedtomatocafe.com
Tabu Grill
2892 S. Coast Hwy.; 949-494-7743;
tabugrill.com
Tommy Bahama
400 S. Coast Hwy.; 949-376-6886; tommybahama.com NBM