Specialized salons make beauty on the go easier than ever.
By Allison Hata | Photos by Jody Tiongco | Illustration by Stephanie Castro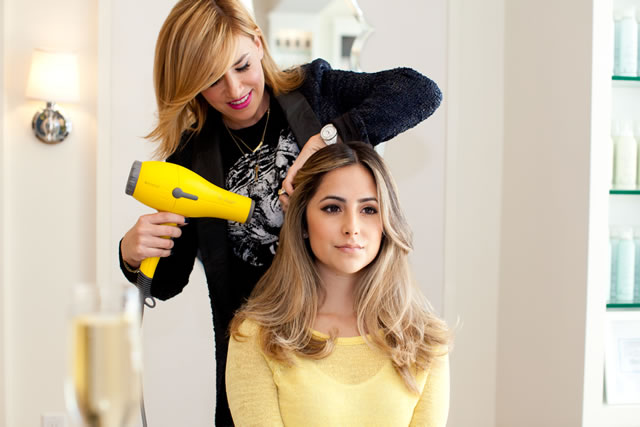 As the clock strikes noon at Fashion Island, throngs of shoppers and professionals from nearby offices descending upon the center indicate that the magical lunch hour has finally arrived. While most people use this time to satiate their taste buds at one of the shopping center's many restaurants, others have plans to stimulate a different sense altogether.
Women walk through the doors of the center's Atrium Court with matted hair pulled into a messy ponytail, but emerge transformed—visions of beauty, with expertly tousled tresses and happy smiles that only an afternoon of stylish relaxation can induce. These women are among the growing group of individuals who are making every minute count when it comes to their regular beauty routines. Instead of riding the escalator downstairs to pick up a fish taco at the food court, their lunchtime destination of choice might be Drybar, a blow dry-only salon that's just one of many highly specialized beauty bars popping up across Newport Beach.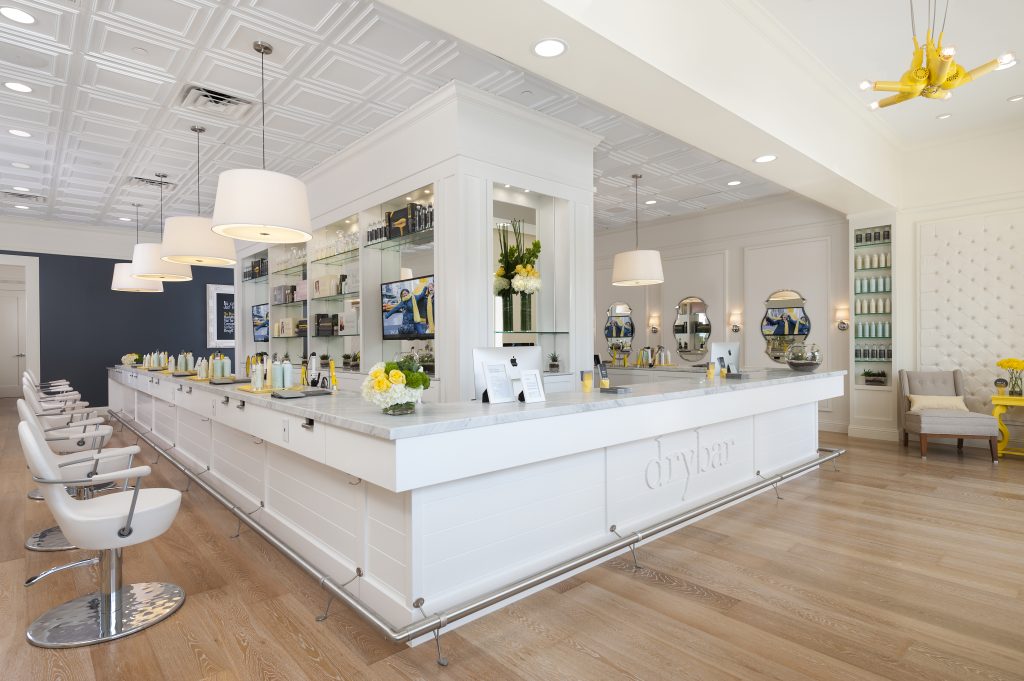 Single-service beauty businesses make it possible for busy women—and in some instances, men—to receive personalized attention from experts who are skilled at providing the highest-quality treatments in record time. From blowouts, lash extensions and eyebrow shaping to makeup application and skin care, there's a bar for nearly every service, helping to cut out the sometimes confusing chaos of a traditional salon and strip beauty maintenance down to its most simplistic form—with immediate gratification as the ultimate goal.
Blown Away
One service universally associated with the term "beauty bar" is the classic blowout. No longer a simple wash and blow dry, today's blowouts can incorporate countless looks that leave hair perfectly styled for a day at the beach or a black-tie affair.
Over the last few years, the beauty landscape in Newport Beach has changed dramatically, says Alli Webb, founder of Drybar, which opened its Fashion Island location in 2011. A community that has no shortage of salons and spas, what Newport lacked in 2010 was the strong beauty bar scene that flourished in urban jungles like Los Angeles, San Francisco and New York City.
"It's so funny how nobody existed a couple years ago when we opened up here," Alli explains. "It's just so interesting because nobody was here until we were here."
Drybar landed on the scene in 2010 in the Los Angeles area, quickly moving down to Orange County the following March. A beauty bar in the most literal sense, the Drybar experience begins with women being greeted by what the company calls a "bartender." From a seat at the front of a wraparound granite countertop, the bartender checks in guests and takes orders of complimentary beverages like Champagne, wine, spa water or tea.
After a stylist escorts clients back to the shampoo station for a relaxing scalp massage, shampoo and conditioning, they take a seat at a bar stool where a beverage is waiting for them on the counter. Instead of a menu of drinks, they're encouraged to flip through a look book of styles that range from day-to-night Cosmo curls—popular at the Newport location—to the sleek and smooth Manhattan. Meanwhile, upbeat music plays in the background while chick flicks are screened on communal TVs, aspects of the experience that are meant to help clients relax and not micromanage their stylists, Alli says.
"It's a bar atmosphere and it's a lot of fun, and that's kind of an ambience we created that didn't exist before—kind of this fun, bar atmosphere where you're getting your hair done," she continues. "It's just such a great place for women."
One element that sets beauty bars apart from traditional salons and spas is the price point—at Drybar, like many other places throughout Newport, there's a set cost for the service with few upcharges, simplifying the menu and the decision-making process for the client.
Another Newport blowout bar, Blow at Nordstrom, also got its start elsewhere (in New York) but made its way to Orange County because of the premier location and clientele. In June 2012, Blow opened its two-station space within the department store's style bar area, offering services similar to Drybar: a signature blowout, updos and braids, as well as services for kids.
At both Fashion Island bars, as well as Social Dry Lounge in Corona del Mar, an efficient yet relaxing experience is the goal, with blowouts typically lasting approximately 45 minutes—perfect for a pop-in appointment over lunch. Surprisingly, Newport has proven to be a huge market for repeat clientele, according to Alli.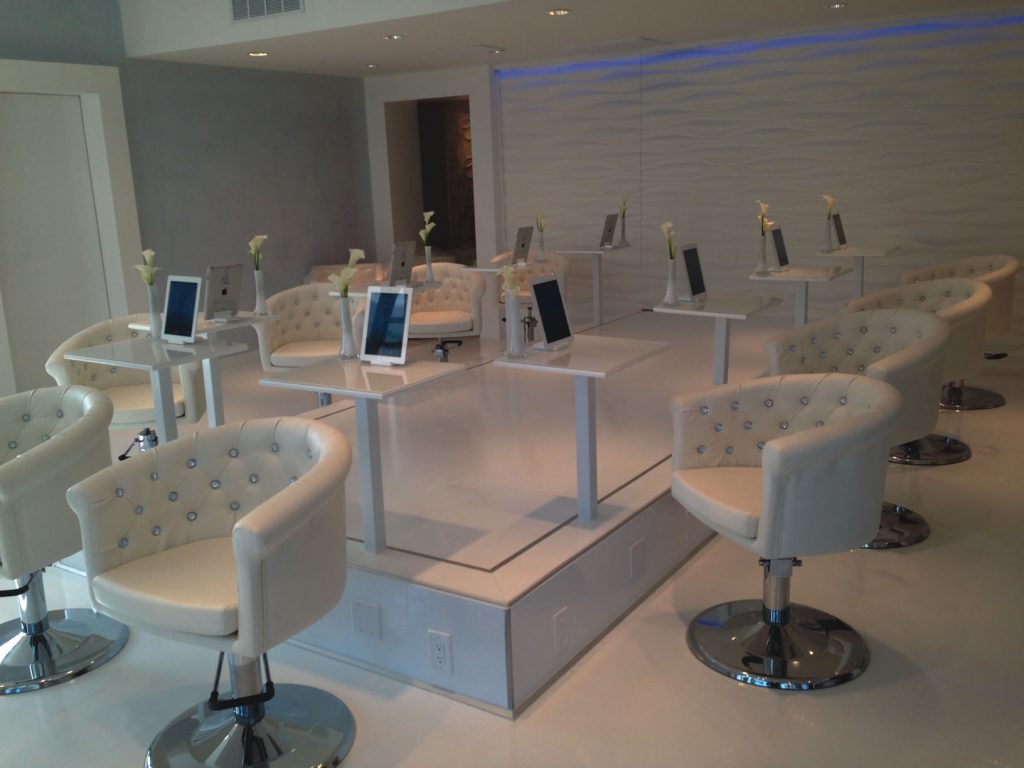 "We get so many women who are coming in once or twice a week and it's just part of their daily routine," she says. "There's a lot of women who would have never thought to get a blowout because they kind of think it's indulgent or they'd only do it for an event or something really special. Then they come in and do it, and they're like, 'Wow, I didn't think I could look this good on a Tuesday and it only costs me $40.' "
Game Face
Beyond hair, there exists a realm of beauty experiences that target various aspects of the face, from skin care and makeup to lashes and brows. In Newport, there is a vast availability of places for women to indulge any flight of fancy when it comes to beauty.
"The most stylish women are really more in Newport Beach than they are even in LA," says Matana LePlae, an OC native who co-owns Lashfully at the Crystal Cove Shopping Center. "Women care about their appearance and they're busy moms or busy career women, … but they take advantage of all that Southern California has available by being with it in terms of today's fashion and beauty. … Newport Beach was like a no-brainer in terms of women wanting to look their very best."
Opening in November 2012, Lashfully is one of several lash extension beauty bars around town. Many neighborhoods in Newport boast their own community lash bar, from Wink Lash Studio along Mariner's Mile to I Lash Fantasy and Lash Out Loud Studio on Balboa Peninsula to Lash Dollz in Corona del Mar. In the Newport Coast area, Lashfully is the go-to stop for lush and beautiful lashes done in a hip, sophisticated space. Its trendy yet elegant decor makes the experience feel less clinical and more relaxing, with plush blankets on treatment beds that invite clients to take a light catnap during the application process.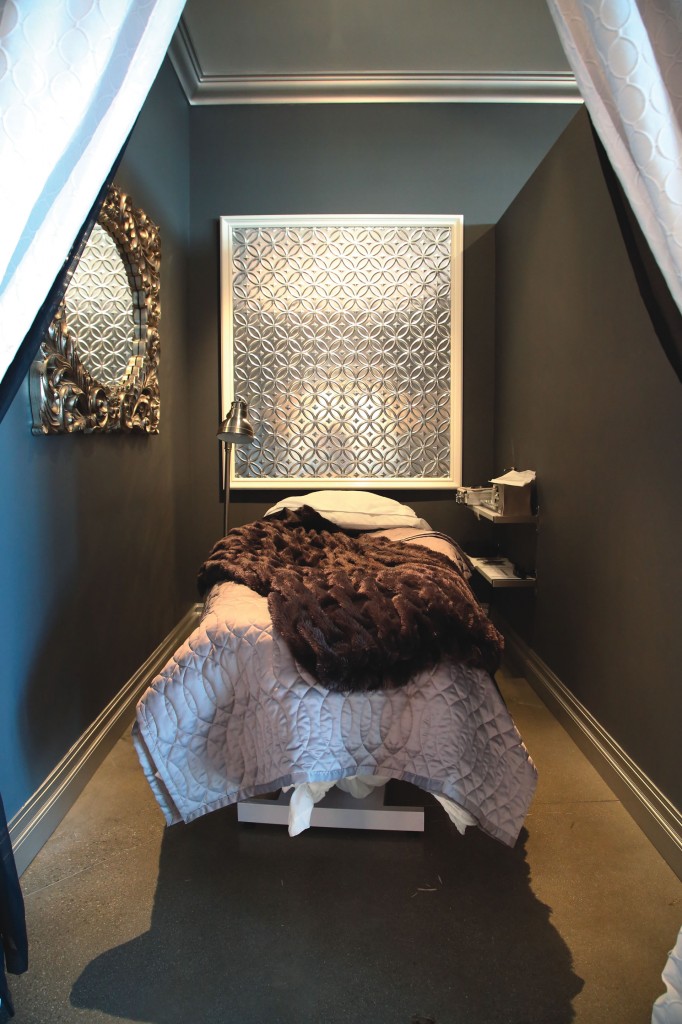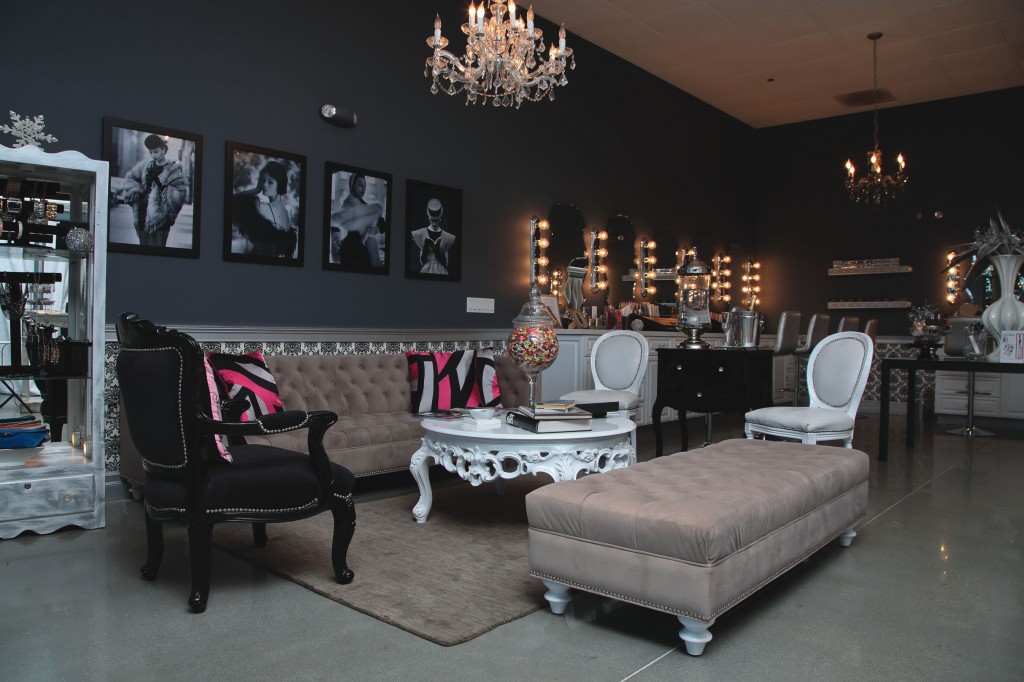 Now a popular look across the country, the first wave of the lash extension trend came to the U.S. a little more than 10 years ago, Matana says. "It was a very excessive service then, anywhere from $500 to $800," she explains. "… We really firmly believe that [lash extensions are now] more of an affordable luxury—$150 is something women will spend on a massage or a facial."
With a full set of lashes starting at just $150 and half sets at $95, it's easy for women to get hooked on Lashfully's affordable extensions, which transform a woman's face in under two hours. Trained experts apply upwards of 100 to 200 individual lashes on each client, using lashes of varying length, curvature and thickness to achieve a look that will last for approximately two to four weeks.
Likewise, skilled professionals are at the heart of other face-related beauty bars. Emphasizing a woman's natural beauty, Skin Laundry—recently opened at Fashion Island—offers the ultimate in-and-out 10-minute treatment. An intensive facial that incorporates laser/intense pulse light (IPL) therapy, a Skin Laundry session has the ability to tighten skin and make it more radiant within just 24 hours.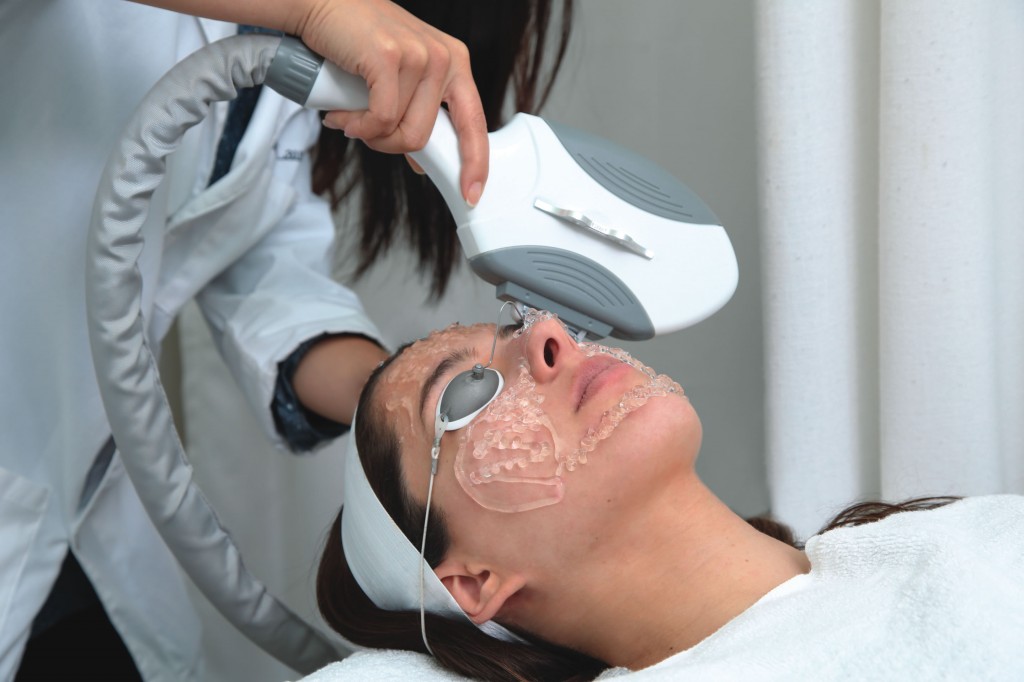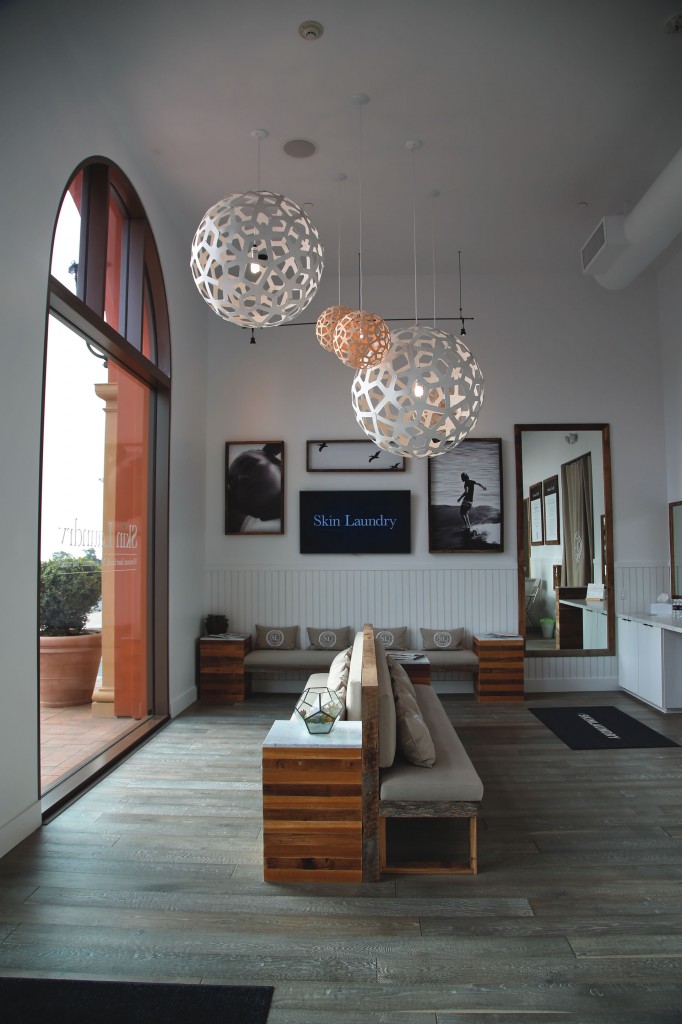 Those who want a quick, temporary beauty fix might instead opt for services at Blushington in the Atrium Court at Fashion Island, just steps from Drybar. The makeup lounge focuses on beauty at face value, offering full-on glam styles or natural looks for an affordable $40.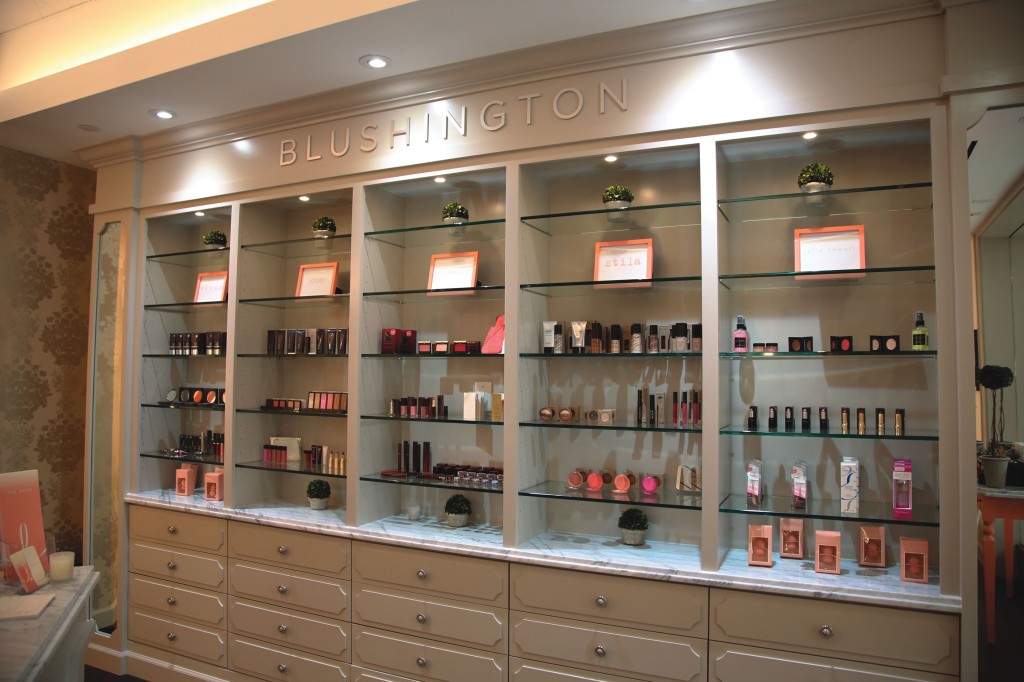 One of the most overlooked facial features, however, is a woman's brow line—though eyes are often said to be windows to the soul, a range of emotions can be expressed with a single arch of a well-groomed brow. A Newport standby is Julie Prouty's Brows by Julie, boasting a namesake owner who's known throughout the local beauty community as something of an artist with eyebrows. Julie begins by stenciling a shape that reflects the natural fullness of the brow, then waxes and tweezes to create a personalized look for each client.
There's a certain art to maintaining well-groomed brows, but women who want a quick fix can also drop by the Benefit Brow Bar at Macy's Fashion Island for a 10- to 20-minute walk-in session that includes a brow mapping and waxing/tweezing to create a framed and fitted eyebrow shape.
Benefits of the Bar
Modern women are choosing beauty bars for any number of reasons—convenience or efficiency, perhaps—but topping the list of benefits is the highest level of expertise from professionals specifically trained in one area of service.
"I'm calling it the rise of niche beauty—the invention of Drybar just focusing on blowouts and not cut and color, and then places that are just dedicated to waxing," Matana says, noting that Lashfully's artists complete 50 to 100 hours of training, in addition to obtaining a general license to do lash extensions.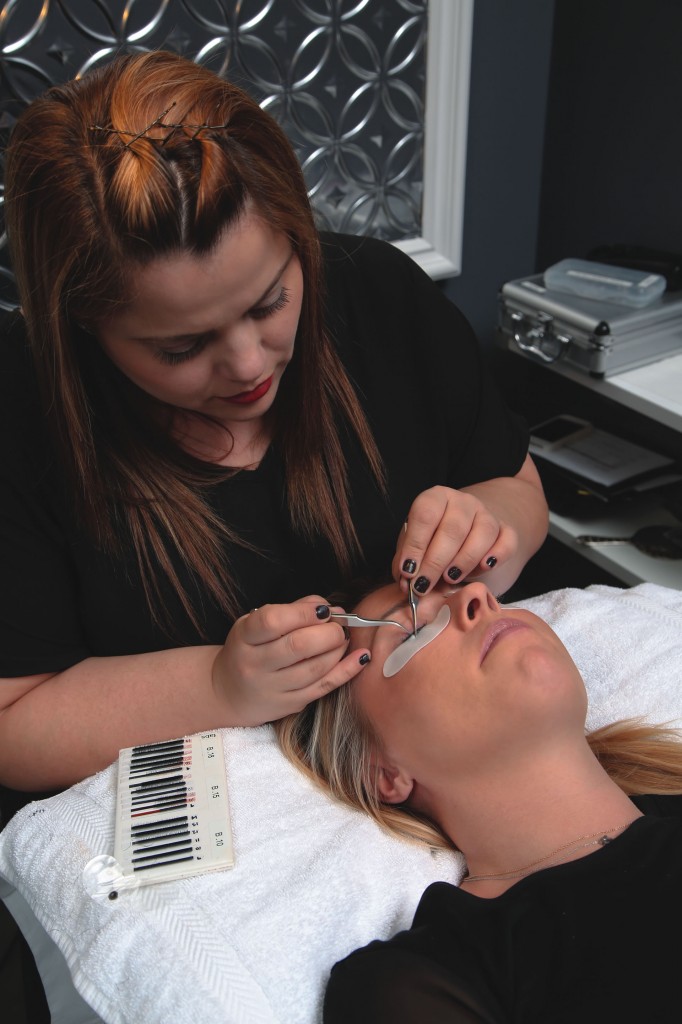 "I think that while you're going to a couple different places instead of a one-stop shop, you get a higher skilled person working on you because that's their specialty," she adds. "There's something about the eye area that's very sensitive. I want somebody who's an expert who's working on hundreds, thousands of eyes and that's their specialty."
At the root of all beauty treatments, however, is the idea that they're meant to make a woman look and feel good. Beauty bars aim to elevate women's natural beauty immediately, all while providing the amenities and luxury they receive at a traditional salon and spa.
"Lashes are instantaneous," Matana explains. "Every day I see it … a client getting lashes opens her eyes, [sits] up and [says], 'Wow—oh my gosh. These just look so pretty.' Because you can't even achieve this look with mascara, they've never really seen themselves that way before. It's such a great, instantaneous beauty result."
It's a sentiment that resounds within the niche beauty industry.
"It's really amazing, the transformation," Alli explains, citing blowouts in particular. "I personally see it all the time—[clients] come in a certain way; they're very serious, all business, and then they get a blowout and they come bouncing to the front with a pep in their step. It's really unbelievable to your psyche how much better you feel when you feel like you look good." NBM