15 Most Influential People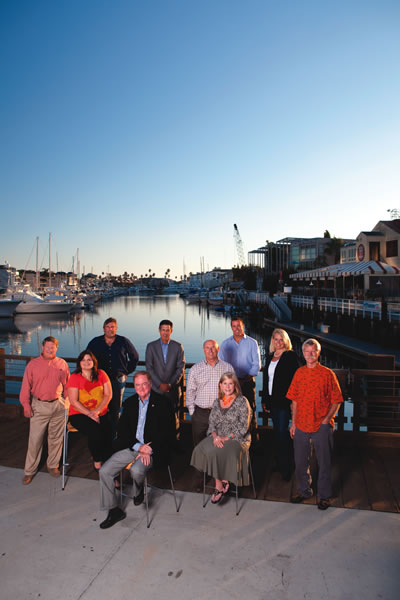 Named this year's 15 most influential people by Newport Beach Magazine, this fascinating group of residents wants to protect, preserve and improve our fabulous city. – By Lisa Marie Hart
In the past century, Newport Beach—from its renowned harbor and bay to its discreet enclaves and individual communities—has progressed almost seemingly on its own. Behind the scenes—and, occasionally, right out in front—however, a group of powerful influencers contribute their lifeblood to its thriving success, its layered identities and its ever-changing yet classically beautiful face.
This year's most influential people, nominated by you, range from park preservers and conservationists to generous yet vigorously active advocates for the arts, technology, the city's fiscal foundation and the physical well being of its residents.
Of course, this impressive list of individuals represents just a small sampling of the amazing people that make Newport what it is today. Next year, Newport Beach Magazine will honor another group of noteworthy citizens (so have your nominations ready).
Henry and Elizabeth Segerstrom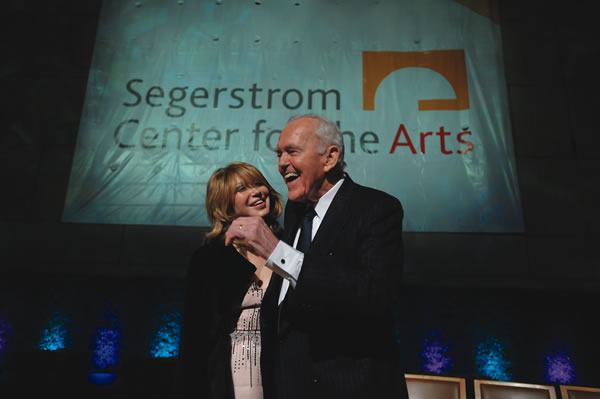 Best known for: Business visionary and founding chairman of Segerstrom Center for the Arts, Henry Segerstrom is also managing partner of CJ Segerstrom & Sons Real Estate Development and Operation Firm. He opened So-uth Coast Plaza in 1967, which was recently recognized as the first planned retail center in the world to reach $1.5 billion in sales. Henry notes that a Dior representative has called it, "the finest retail center in the world." Through his own land, generous gifts from family and private fundraising, Henry built Segerstrom Hall, the South Coast Repertory Theater and the Renee and Henry Segerstrom Concert Hall. Former national chairman of the Business Committee for the Arts, Henry received the Carnegie Hall Medal of Excellence in 2010 following the launch of the Segerstrom Center for the Arts bi-coastal partnership with Carnegie Hall. Most recently, The Dizzy Feet Foundation recognized his lifelong commitment to bringing the best of dance to Segerstrom Center for the Arts. Elizabeth Segerstrom, Henry's wife and business and cultural partner for more than 12 years, helped to direct the opening of the Renee and Henry Segerstrom Concert Hall. A doctor of psychology, she oversees much of their charitable work benefitting the arts and education in Orange County.
Little-known facts: Henry was knighted by the king and queen of Sweden when the royals visited South Coast Plaza. "And we haven't spent a day apart in 13 years," Elizabeth says.
What they'd like to see change in their field: Complete the new Orange County Museum of Art as part of the Segerstrom Center for the Arts.
Future plans: In regards to South Coast Plaza, Henry says, "We're No. 1, we're proud of being No. 1, and we plan to stay No. 1."
George Argyros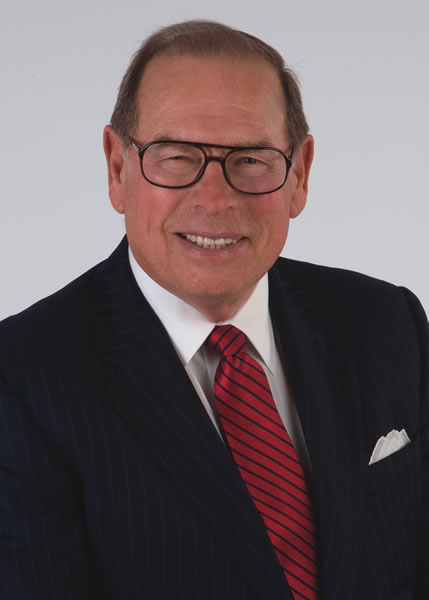 Best known for: As former chairman of the board of trustees at Chapman University for 26 years, George remains on the board where the business school bears his name. In 2011, George led the university's Young Alumni Giving Challenge, matching program donations dollar for dollar up to $50,000—just a year after donating $5 million to UCI for the campus' new eye institute. From 2001 to 2004, George proudly served as U.S. Ambassador to Spain and Andorra. "It was for my country and during a vital time in history," he says.
Little-known fact: "I'm just a guy who enjoys working, enjoys people and enjoys life," George says. "And I feel we all have an obligation to give back if we can."
What he'd like to see change in Newport Beach: Or rather, not change. "We've got a great place to live, so we need to keep it fresh, ready and aggressive in a positive way," he says. "I think, for the most part, the city does a good job with that."
What he'd like to see change in his field: "I'm a real estate developer primarily, and an investor. I don't know if I want anything to change," says George, the president of Arnel & Affiliates, a 40-year-old privately-owned development company. "But we need to make sure the economy is running properly and that Americans have opportunity."
Future plans: Enjoy life, take care of his family and watch his grandkids grow up. "We've got a lot to enjoy and be grateful for," he says.
Robert Lynn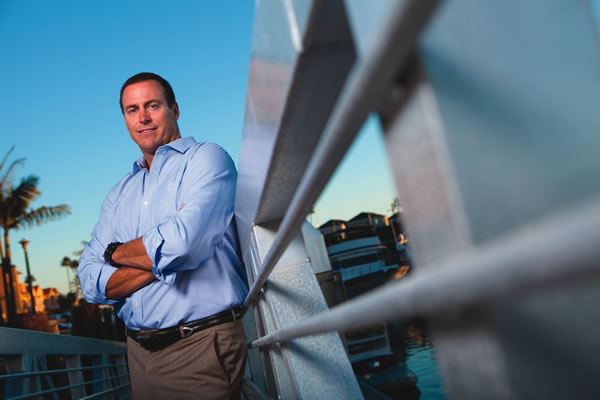 Best known for: A member of the 2000 Sydney Olympic team for water polo, Robert also served as an assistant coach in 2008 and 2012, becoming an integral part of winning a silver medal for the U.S. He coaches Newport Harbor High School's boys' water polo team and recently started the immensely successful Newport Beach Aquatics water polo and swim club, where he leads the club team, Newport Beach Water Polo. "My love for this sport drives me to dedicate myself to it in any way I can," he says. "I love developing athletes—not only as players, but as athletes of character and discipline, which spills over into their everyday lives."
Little-known fact: Robert lived overseas for 13 years in Italy, Greece, Croatia and France while playing professional water polo after his college career at USC. "I had a very enriching experience exchanging ideas with all kinds of people. I tried to bring the best of it home and share it with my high school and club athletes."
What he'd like to see change in Newport Beach: The addition of another Olympic-class pool facility.
What he'd like to see change in his field: For water polo to get the recognition that it deserves, "because it is a truly beautiful game," Robert says.
Future plans: Win a championship with Newport Harbor High School and build one of the best aquatics programs in the nation with Newport Beach Aquatics club. "I would also like to create a professional league in America to provide an outlet and the inspiration needed for our young athletes."
Keith Curry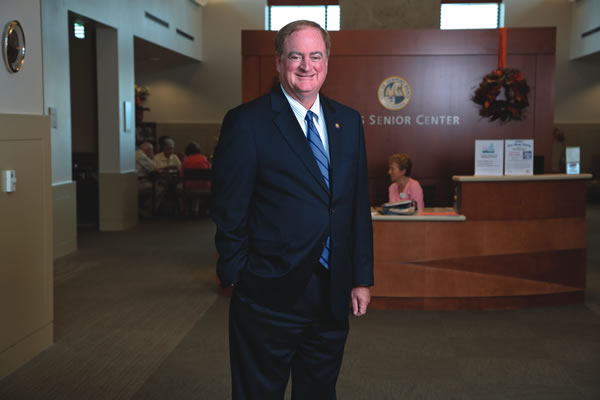 Best known for: A council member since 2006, Keith has initiated efforts to reform the city charter, prevent the abuse of eminent domain and create a memorial to the U.S. Marines in Castaways Park. During his mayorship in 2010, he introduced the Fiscal Sustainability Plan. Newport now has "the highest level of financial reserves in the city's 106-year history, AAA bond ratings, and a strong and improving local economy," says Keith, the current mayor pro tem. Keith led efforts to construct the Newport Coast Community Center and renovate the OASIS Senior Center and is president of the Orange County Division of the League of California Cities.
Little-known facts: A major Jimmy Buffett fan and avid reader of political histories, Keith is the decedent of legislators from Virginia, Georgia and Alabama.
What he'd like to see change in Newport Beach: "Overcome partisan gridlock and work with local officials to forge consensus and get things done," says Keith, the founder of the Center for Public Policy at Concordia University. "The center is working to change our culture of conflict and bring people together."
Future plans: In his role as chairman of the Orange County Parks Commission, Keith anticipates three new city parks: Newport Center Park, Sunset Ridge Park and Marina Park.
Richard Afable, M.D.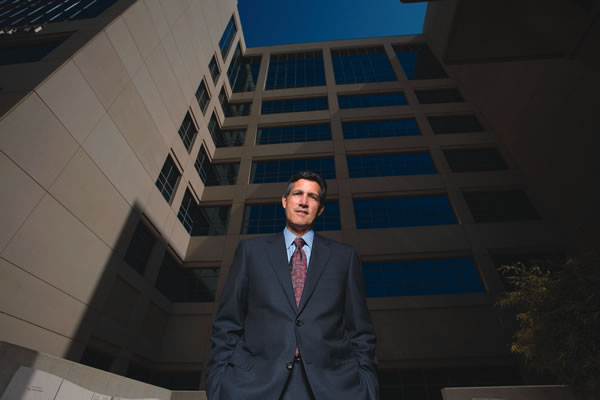 Best known for: President and CEO of Hoag Memorial Hospital Presbyterian, celebrating its 60th anniversary. In his seven years there, Richard, who is board certified in internal medicine, has led Hoag to the top 5 percent of hospitals nationwide for clinical quality and headed up a shift from being a hospital that takes care of the sick to one that focuses on health and well being. In 2011, readers of Modern Healthcare and Modern Physician voted Richard one of the 50 Most Influential Physician Executives.
Little-known fact: "After Hoag, health care and Newport Beach, my passion is music," Richard says. He played professionally and has seven guitars. His pride and joy is a spitting image of one he sold in 1975 when he was "forced to keep his guitar, or eat."
WHAT HE'D LIKE TO SEE CHANGE IN NEWPORT BEACH: "Let's not beat ourselves up because we have so many prominent people here," Richard says. "That can be a point of leadership and it has been. Let's celebrate who we are, not be embarrassed by it."
What he'd like to see change in his field: On behalf of the largest employer in Newport Beach, Richard wants Hoag to be an integral part of daily life. "We are a not-for-profit community-based organization that exists for and by the community," he says. "We'd like to change their point of view into one of advocacy and ownership."
Future plans: Building partnerships with patients, residents and business leaders to make Newport Beach "the healthiest community in the U.S."
Donald Bren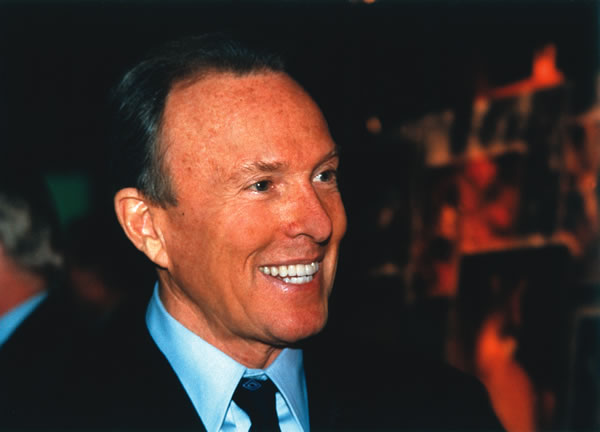 Best known for: As chairman of the Irvine Company, Donald was named one of Business Week's 50 most generous philanthropists in the nation in 2008 and topped Los Angeles Times' list of the 100 most influential people in Southern California in 2006. For more than 45 years, he has trail-blazed local real estate as a master planner, master builder and a long-term investor. On the board of trustees at Caltech, UC Irvine Foundation and the Los Angeles County Museum of Art, he has also contributed more to endowed chairs than any other single donor in the University of California's history. A lauded conservationist, Donald has donated 50,000-plus acres of Orange County land for parks, greenways, recreation and wilderness preserves.
Little-known facts: He fondly remembers childhood weekends rowing in Newport Harbor. Donald attended the University of Washington on an athletic scholarship for downhill skiing. A broken ankle ended his hopes to make the 1956 Olympic ski team. These days he skis near the family's Sun Valley, Idaho, ranch.
Possible future plans: In a 2011 LA Times article, Rick Caruso, an Irvine Company board member, said, "In terms of great visionaries who have influenced Southern California, I'd put him up there with Walt Disney." As Irvine Company's sole shareholder, the 80-year-old has reportedly made plans for it to continue as a private company controlled by its board of directors.
Laura Davick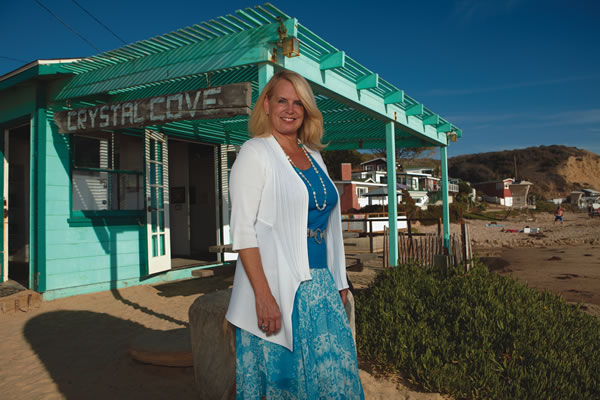 Best known for: Founding the nonprofit that rescued Crystal Cove from developers and transformed it into a historic district based on restoration, conservation and education. Laura single-handedly spearheaded efforts that derailed the luxury resort at Crystal Cove, one of her "most passionate moments." Crystal Cove's educational programs now impact 35,000 students, grades K – 12, annually. As president and founder of Crystal Cove Alliance, Laura asserts the rental cottages and Beachcomber cafe are only the tip of an iceberg that includes 6.2 miles of coastline, 2,400 acres of backcountry and 1,100 acres of underwater park.
Little-known facts: Before adopting this all-encompassing endeavor, Laura was involved in real estate development. Tirelessly orchestrating a bright future for the cove, where her parents owned a cottage in the 1940s, she now wants to cultivate her personal life to incorporate more travel, more boating and less work. "Believe it or not, I do enjoy escaping occasionally from Crystal Cove to recharge," she laughs.
What she'd like to see change in Newport Beach: Naturally, that the community becomes more engaged and actively involved at Crystal Cove. "The cove's legacy is an enormous undertaking, and we can't do it alone," Laura says. "This project takes the entire village, not just a few people."
What she'd like to see change in her field: That all nonprofits find a way to create a sustainable future for their missions.
Future plans: With 29 cottages completely restored, her goal is the challenging task of restoring the final 17 cottages, a $20-million pursuit.
Janet and James "Walkie" Ray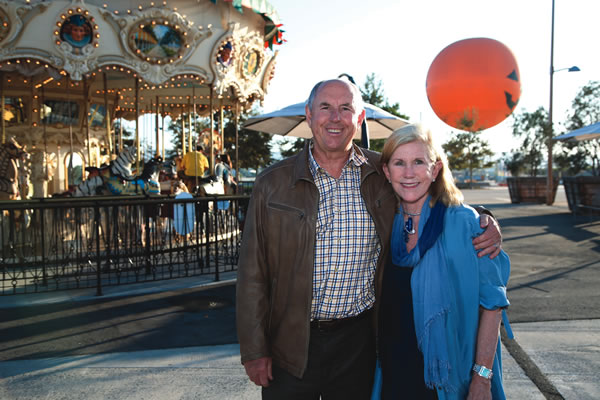 Best known for: Since their involvement in founding the Discovery Science Center, the Rays have become benefactors for Orange County School of the Arts, MIND Research Institute and MacGillivray Freeman Films Educational Foundation, among others. Janet is also vice chair of Arts Orange County and on the board of Pacific Symphony Youth Ensemble. Both are advocates of the Orange County Great Park, where Walkie is on the board of directors.
Little-known fact: The lifelong lovebirds met in Corona del Mar at the bus stop in third grade, yet attended local rival high schools before graduating from Stanford University.
What they'd like to see change in Newport Beach: The renewal of the Peninsula, where they live. "The other end of Newport is receiving all kinds of attention with the new City Hall," Walkie says.
Future plans: Construction projects including the Balboa Theater and the next phase of the Discovery Science Center, the most visited science center per square foot in the U.S. "It used to be a place for elementary kids, but with the 'Star Wars' exhibit last year and 'Indiana Jones' this year, it is growing up, and people of all ages are attending," Walkie says.
Samantha Payne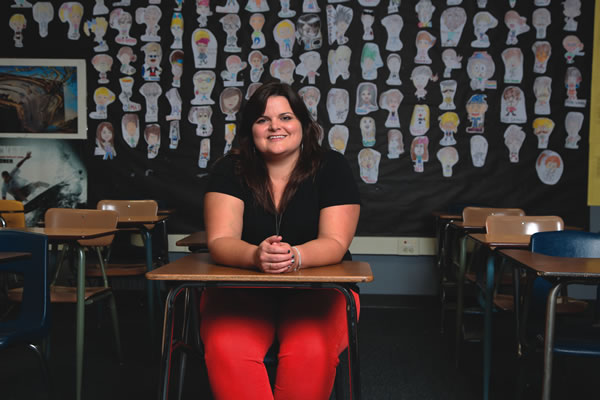 Best known for: Helping to establish and develop the Performing Arts & Multimedia Academy (PAMA) at Corona del Mar High School, then spending countless hours to keep it vital, active and interesting. An English teacher for 11 years and a former department chair, Samantha led the program for five years, as it grew from a few students to more than 115. The "small learning community" has boosted participants' GPAs and in 2010, PAMA won a national competition from Hurley called Walk the Walk at the U.S. Open of Surfing, taking home the $25,000 grand prize for its runway show that combined fashion, art, music and dance. In 2011, Samantha also implemented an anti-cyber bullying program among eighth graders.
Little-known fact: She struggled in high school. "That's why I can relate to the kids and help them overcome obstacles," Samantha says. "I have always been bright, but I cut corners and veered toward the rebellious side. The hard lessons I learned shaped who I am and made me a better person."
What she'd like to see change in Newport Beach: People work collaboratively and embrace their differences.
What she'd like to see change in her field: Smaller class sizes, more focus on the arts in education and a cessation to cutbacks and layoffs. "We are losing young and motivated teachers before they earn tenure," Samantha explains.
Future plans: With her newly earned master's degree in administration at Pepperdine University, she dreams of becoming a principal or starting her own school.
Marshall "'Duffy'" Duffield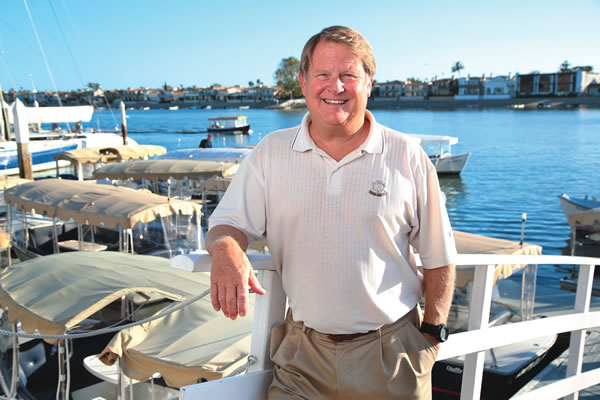 Best known for: Innovating the Duffy electric boat since he converted his family's 20-foot gas boat to electric in 1968. Our harbor holds 2,400 of his watercraft; more than 10,000 are found across the globe. Known for saving the city hundreds of thousands of dollars with the Mooring Master Plan Subcommittee, he was a Newport Beach Harbor commissioner until 2012. "We tried to better the harbor and make it more user-friendly for visiting yachts and locals," he says.
Little-known fact: "I've raced on the best boats in the world and have applied that to the boats I make, designed to maximize both horsepower and stability," Duffy says.
What he'd like to see change in Newport Beach: City enforcement of the Harbor Area Management Plan to support marine-related and commercial waterfront operations instead of increased residential sprawl. "The character of the harbor is in jeopardy," Duffy says.
What he'd like to see change in his field: More American-built boats and materials made in the U.S.
Future plans: Finish developing a harbor patrol/fire boat that runs on batteries but uses its engine in emergencies. "The technology is here, and I want to apply it … to reduce the noise, pollution and damage typical patrol boats cause," he says. NBM
Johnny Schillereff
Best known for: A deep love for skateboarding that began before age 5 brought Johnny to found Element, a clothing, footwear and lifestyle brand born in 1992. Element has evolved along with skate culture, adding a full women's line, environmentally responsible clothing and the Elemental Awareness Foundation, an in-house nonprofit that educates and inspires young people through skateboard events, wilderness workshops and more. Even more than Element and outreach, Johnny values his relationships with his wife, Kori, and their children, which inspires him in all he does, from art to entrepreneurship. "At Element, I love our international amateur contest series finals, where skaters from around the world come together to experience nature and to compete at Element YMCA Skate Camp," he says. "And although it's not my own accomplishment, I'm very proud of Kori's accolades as a tennis champion and her entrepreneurial adventure as a tea brewer."
Little-known fact: In addition to his love for breakdancing to a good beat, Johnny reveals he's a skier, not a snowboarder.
What he'd like to see change in Newport Beach: "I love living [here], but there is so much structure," Johnny says. "Something that's close to home is remembering what it is to be a kid and allowing them freedom to discover, create and play."
What he'd like to see change in his field: The progression of the community's acceptance of skateboarding. "It has come a long way, and we are very proud of that," he says. Future plans: Get skateboarding in the Olympics.
Mohamed El-Erian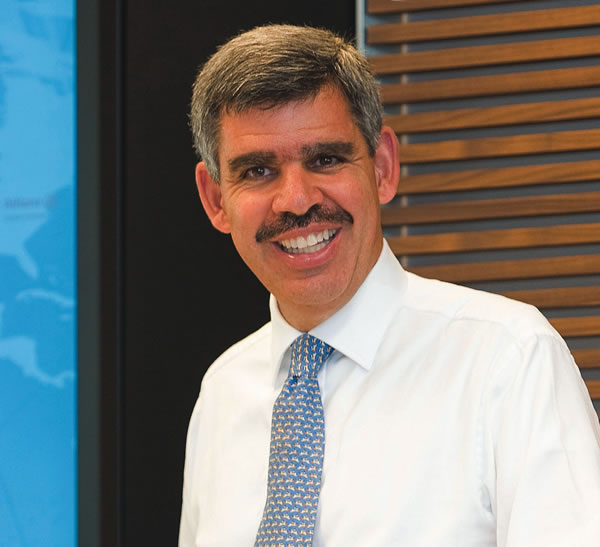 Best known for: Beyond his titles of CEO and co-CIO of PIMCO, Mohamed is author of the New York Times and Wall Street Journal bestseller "When Markets Collide," which was named a book of the year by The Economist and winner of the Financial Times/Goldman Sachs 2008 Business Book of the Year. Former roles include faculty member of Harvard Business School, managing director at Salomon Smith Barney/Citigroup in London and 15 years as an official at the International Monetary Fund in Washington, D.C. Named to Foreign Policy's list of "Top 100 Global Thinkers" for 2009, 2010 and 2011, Mohamed publishes his market and global economy musings as a finance and business expert weekly in major news outlets from The Huffington Post, Newsweek and CNBC.com to Washington Post, Reuters, Bloomberg and the Financial Times.
Little-known facts: Born to an Egyptian diplomat father and French mother, he spent much of his youth in New York and Cairo. Mohamed received most of his education in the U.K. before relocating to the U.S., and he is an enthusiastic fan of the New York Jets.
Possible future plans: Widely rumored to take over PIMCO's top slot from Bill Gross one day. As reported by the New York Times in July, "Mohamed is my heir apparent," Bill said during a joint interview earlier this year at company headquarters.
Henry and Susan Samueli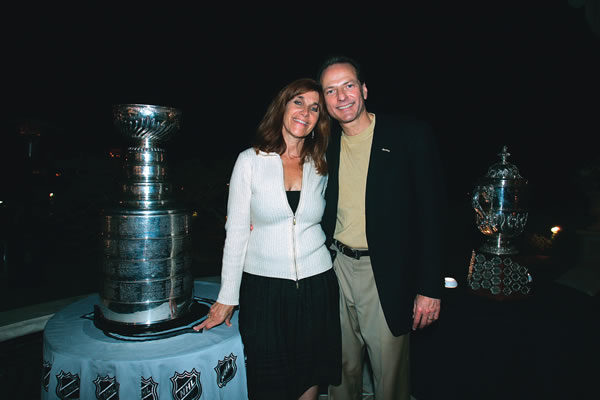 Best known for: Tech pioneer Henry Samueli co-founded Broadcom Corporation in 1991 and has since served as Chief Technical Officer (CTO). Widely recognized as one of the world's leading experts in the broadband communications field, Henry has been a professor in the electrical engineering department at UCLA since 1985, and since 2003 he has been a distinguished adjunct professor at UC Irvine. Henry and Susan generously support countless arts, education and health-related charities. In 2004 their donation founded the Sala and Aron Samueli Holocaust Memorial Library at Chapman University, named in honor of Henry's parents, both Holocaust survivors. In 2012 the couple joined The Giving Pledge, initiated by Warren Buffett and Bill and Melinda Gates, whose members pledge the majority of their wealth to philanthropy. Owners of the Anaheim Ducks since 2005, the Samuelis witnessed an exciting Stanley Cup championship win in 2007, the first in franchise history.
Little-known fact: In partnership with the Santa Ana Unified School District and the Anaheim Ducks Foundation, the couple's Samueli Foundation addresses the issues of childhood obesity, health and nutrition through the Health Thru Hockey initiative.
Possible future plans: Continued philanthropy and growth of Broadcom, a Fortune 500 company that has also been named one of Fortune's 100 Fastest Growing Companies. According to Broadcom.com: "By 2020, the number of connected devices is expected to reach 50 billion—or six devices for every person on earth. Broadcom's role is to connect people to everything and everyone that matters."
Don Schoendorfer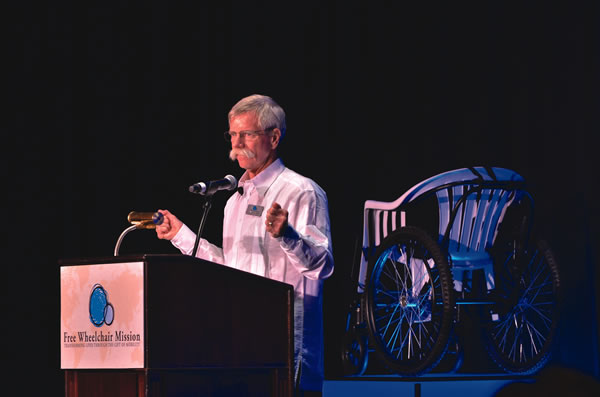 Best known for: Founding the nonprofit Free Wheelchair Mission, which bestows the gift of mobility through sturdy, rugged wheelchairs for impoverished individuals in developing nations. Every $71.88 turns into a wheelchair for someone in desperate need. Don created the organization in 2001, about two decades after he and his wife Laurie were vacationing in Morocco and saw a disabled woman struggling to drag herself across a dirt road. Since then, fellow Americans have partnered with his organization to give 660,000 wheelchairs to the disabled in developing countries.
Little-known fact: Don is self-described as a "humble engineer trying to serve God's kingdom." He also adds: "And I love to get my hands dirty."
What he'd like to see change in Newport Beach: He'd love to see Newport Beach adopt a poor community in a developing country.
What he'd like to see change in his field: He hopes to see more engineers sharing their talents with those in need.
Future plans: "There are more than 100 million people with mobility disabilities living without a wheelchair, who cannot afford to buy one," Don says. "My goal is to get them wheelchairs and help them know that they are loved by God." More short-term, he'd like to gift 1 million chairs by 2015.
Chris Welsh
Best known for: Co-founder/pilot, along with Sir Richard Branson, of Virgin Oceanic. Their team will explore the deepest part of each ocean via a one-person submarine on the upcoming Five Dives Expedition. An adventurer and entrepreneur, Chris has swum with great white sharks, traversed the country on a dirt bike and has flown his twin-engine plane and his helicopter across the continental U.S.—all while logging 25,000 miles of competitive sailing.
Little-known fact: "I work!" he insists. Chris also maintains his longstanding career in real estate investment. "I am a product of Newport and public schools from Mariners Elementary to Harbor High and UC Berkeley, and I give credit to school and my parents," he says.
What he'd like to see change in Newport Beach: A return to the original cooperative, get-it-done approach on bay issues, starting with completing the Bay Club to Lido Village boardwalk.
What he'd like to see change in his field: Cooperation to standardize the necessary hardware for deep-sea exploration, so that massive exploration becomes routine not extraordinary.
FUTURE PLANS: Inspiring "gumption" in kids. "For every thousand couch drivers with Nintendo machines, we need a few Indiana Joneses," Chris says. "Diving deep and sharing what we find via documentaries is the immediate goal, but translating that into inspiration is the underlying push." NBM