the design & style Issue
Five local designers reflect the city's casual sophistication in their stunning indoor and outdoor spaces. – By Vicki Hogue-Davies
Newport Beach boasts an interesting and eclectic mix of architecture and home design styles within its multiple neighborhoods. Here, five local interior and architectural designers highlight rooms they have designed in the city and explain what makes these particular spaces so quintessentially Newport.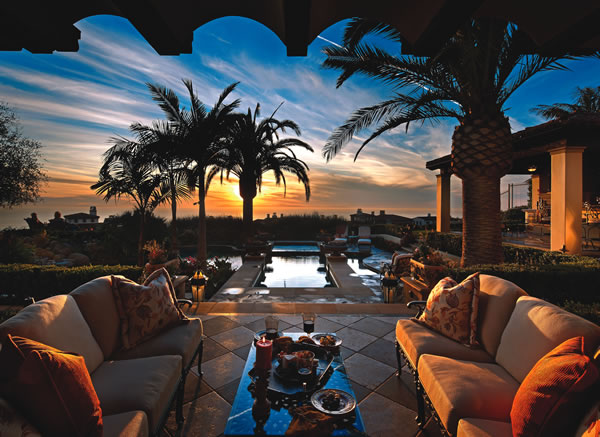 Elegant Outdoor Living:
 Mark Scott,  Mark Scott Associates
"I like to tell my clients, 'You give me the ingredients, and I'll bake the cake,' " says landscape architect Mark Scott of Mark Scott Associates in Newport Beach. "I listen to what they say and then interpret it." For the Santa Barbara-style Crystal Cove summer home of his clients, a Texas-based couple, Mark was challenged with creating a backyard outdoor space with different entertaining areas that incorporated the wife's desire for more formality and the husband's for something more "random and natural." The result was a terraced space that perfectly blends casual and formal aesthetics, and features several spots for entertaining and quiet relaxation. On the upper terrace is a covered pavilion, which encompasses a complete outdoor kitchen, bar and fireplace and is bounded by formal clipped hedges. A few steps down is the lowered pool terrace, which required the extensive removal of soil to create, Mark notes. It channels a tropical lagoon vibe with its palm trees—King palms were chosen for their narrower trunks that help maximize the view—lush plantings and a natural stone waterfall. Opposite the pavilion is an approximately 20-foot-by-30-foot synthetic turf lawn "that is like a green fuzzy patio," Mark says, adding that the couple can have functions there or just relax. "They have a good-sized movable day bed and chaises they bring out there," he says. "It is a very pleasant spot—you can see Irvine Cove."
A loggia off the house affords views up and down the coast and features a fire pit. Entering the house from the front, an inviting step-down courtyard with a fireplace brings more formality to the space. "It is a very pleasant place," Mark says. "When it is windy out, the courtyard is a nice place. … You can entertain in that whole space very nicely."
And what makes this stunning entertainment space quintessential Newport? "I've given talks to the American Society of Outdoor Architects Landscape Architects about outdoor living rooms and kitchens and outdoor rooms," Mark says. "It is a typical [desire] now for every Newport Beach person—some variation of an outdoor [room]."
country french bathroom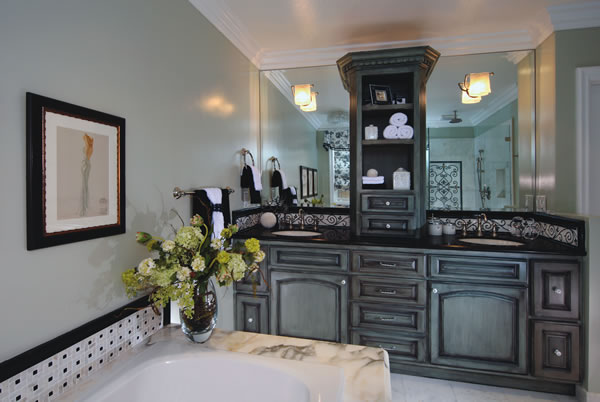 Shala Shamardi, Haute Design Studio
"In Newport Beach, you find all different styles and eras of home design," says Shala Shamardi, Haute Design Studio principal designer. "The difference is that Newport Beach clients have a very cultivated taste. As long as I can incorporate this upscale taste with practicality and comfort it makes the design quintessential to Newport Beach."
For her Corona del Mar clients, Shala designed a French country master bathroom that is both upscale and relaxed. True to the comfortable design style, the bathroom effortlessly mixes easy sophistication with Old World charm. It took two months to complete, from demolition of the original bathroom to placing the towels and accessories on the new cabinet shelves.
"The previous bathroom was dated and impractical," she says. "My clients wanted a bathroom in French country style that maximized the space. To achieve this goal, we rebuilt the new bathroom to include a lot of storage and plenty of style and practicality."
Her clients desired a black-and-white color palette, which Shala explains are predominant colors in French country decorating. She incorporated soft green walls and various materials to create a one-of-a-kind design that is interesting and current. The Carrera marble shower enclosure and bathtub deck contrast elegantly with the dark granite bathroom countertop. The floor is made of natural stone.
"I designed a medallion for the shower enclosure to complement the tasteful sink and tub backsplash," she says. "The birch cabinets were custom-designed and are stained in a cool green with black overtones."
The color palette continues into the printed window treatments, which provide both privacy and European elegance. French wall prints and whimsical crystal lighting fixtures bring a feeling of big-city Parisian chic to the French-country-inspired space. Shala notes that black and white in decorating can often look very harsh. "This space is soft and light and looks very French," she says. "The use of soft greens and the lighting and accessories adds to that."
chic coastal-living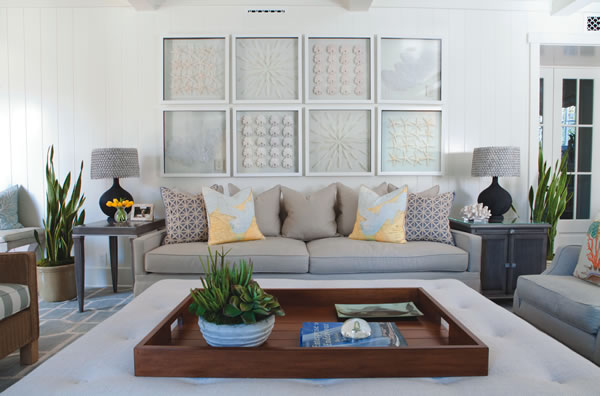 Ohara Davies-Gaetano, Bliss Design
Located near The Wedge, the coastal weekend retreat of Ohara Davies-Gaetano's clients takes its inspiration from its waterside surroundings. Ohara, the principal designer for Bliss Design, set out to create "a chic, sophisticated beach house" that was also approachable and comfortable.
"The rooms, including the living room, are not huge, so I wanted to make sure the furniture didn't overwhelm the space," she explains. "I focused the palette in neutral colors to make the living room feel larger and went practical when selecting fabrics, including using a lot of natural linens." For some of the key pieces of furniture, Ohara used slipcovers for easy cleaning.
She calls the living room "European-inspired meets Newport Beach" for its mix of styles and pieces. The Karen Robertson sea fan and seashell art piece over the sofa bring the ocean and its creatures inside, mirroring the vast ocean outside.
"I wanted something visually stimulating on the wall but not too colorful," Ohara says. "By incorporating the piece it allows for texture on the wall and a beautiful focal point."
The gray upholstered chairs by the fireplace, with their antique European style, would be perfectly at home in an elegant mountain chalet. In the home by The Wedge, the chairs juxtapose perfectly with the relaxed beach feel and seem to say, "Come in and enjoy the sunshine and read a book," says Ohara, noting that they are her favorite pieces in the room.
A hand-loomed, vegetable-dyed area rug that Ohara had custom-made in Tibet anchors the living room's main seating space, which includes an oversized cocktail ottoman that allows you to put your legs up or have additional seating when entertaining, she says.
Indeed, no details have been overlooked in the room, which even features a custom-made Tempur-Pedic dog bed that blends perfectly into the decor and ensures that the owners' dog, Felicity, will also enjoy relaxing weekends at the beach.
eclectic modern master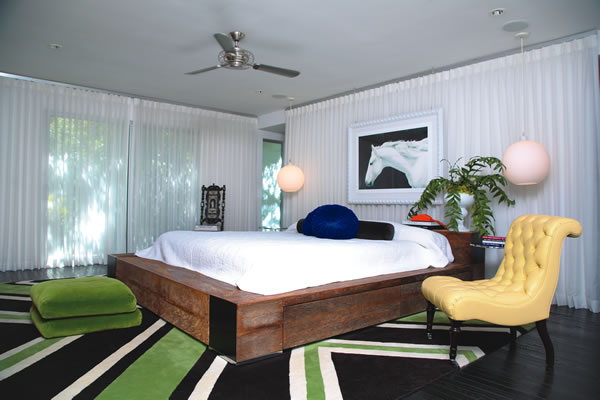 Melissa Palazzo, Pal + Smith
New and old blend, and bright color pops against soothing white in the 400-square-foot master bedroom suite of Melissa Palazzo's two-story home near the Back Bay. The principal designer and creative director at Costa Mesa-based Pal + Smith designed her entire home, following a complete remodel of the original 1950s-era house on the property, to incorporate her "eclectic modern" style. The result was a Newport Beach home and master bedroom that are both fashionable and comfortable.
"I think of Newport as being pretty casual," she says. "This master is a great casual yet stylish space."
Wanting a space that was soothing, Melissa incorporated white sheers behind the bed and at the slider, which kept the room very soft and allowed her to introduce pieces that were a little heavier, like the Edge Bed from Environment Furniture. "It is a modern-looking bed but very functional," Melissa explains. "You can put bedding in all the drawers and sit all the way around it on the extra-wide ledge."
White pendant lights from Wohlert float over the space on either side of the bed for more airiness. A Rick Meoli white-framed horse photograph hanging above the bed is a dramatic focal point in the room.
"I grew up riding in Northern California," Melissa says. "I always think horses are peaceful, so it went with having a peaceful master bedroom. It is a very ethereal piece."
Her signature "color pop" is evidenced in the bright, geometric-patterned rug, the colorful retro telephone and rich green plants, all of which draw the eye while blending effortlessly into the whole. Also melding into the design is the Italian carved-wood chair from the 1830s, the only antique in the room.
"I love antiques, so every space in my home must have one signature piece," she says. "The chair is one of my favorite pieces."
beach-style kitchen & nook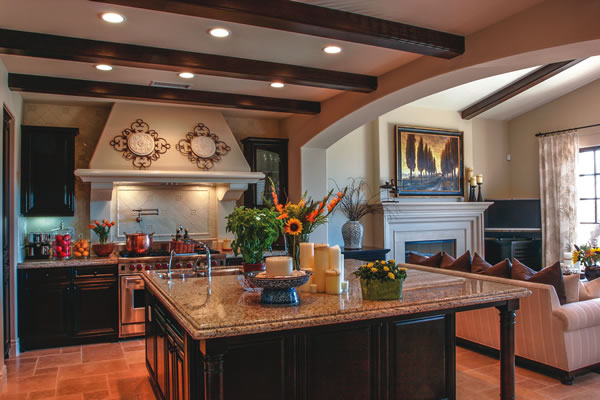 Dawn Rosenmayr, Rosenmayr Interiors
"My client was completing the construction of his new home and wanted it to be comfortable for a couple," says Dawn Rosenmayr, principal of Rosenmayr Interiors. "He wanted an equal balance of masculine and feminine touches, but most importantly, he wanted the home to be warm and cozy. He was single at the time of the design but is now married."
Dawn achieved the goals of her client throughout the Newport Coast home's interior. In the kitchen and kitchen nook she balanced the hard lines and dark colors built into the 4,000-square-foot home's Tuscan architecture by using light and airy fabrics like linens and cottons on the furniture and window treatments. She had a down sofa custom-made for the eat-in kitchen nook. The blue fabric on the sofa coordinates with the nook's window coverings.
"I loved the idea of two people eating there in the nook together comfortably," Dawn says. "The sofa is all down and comfortable and cozy so they can just melt into it. It is their favorite place to eat and fits them both perfectly," she says about the homeowners.
The nook's custom-made oval table is built of rustic walnut planks. It was designed to swivel in the small space to make it easier to walk around. The chairs, which feature upholstered seats, add another touch of softness to the space. By the kitchen island, McGuire barstools provide casual seating.
The kitchen, nook and family room were designed as one large open space. The family room features custom-made oversized sofas and other pieces covered in linens and cottons. The stone coffee table is inlaid with shells for maximum beach ambience. Large glass doors from the room open up to let the outside in.
"To me, quintessential Newport style is a blend of traditional and coastal looks," Dawn says. "I wanted everything to be open and see-through and when the wind came in through the doors it would feel airy and breezy." NBM