Alzheimer's Association Creating Hope Gala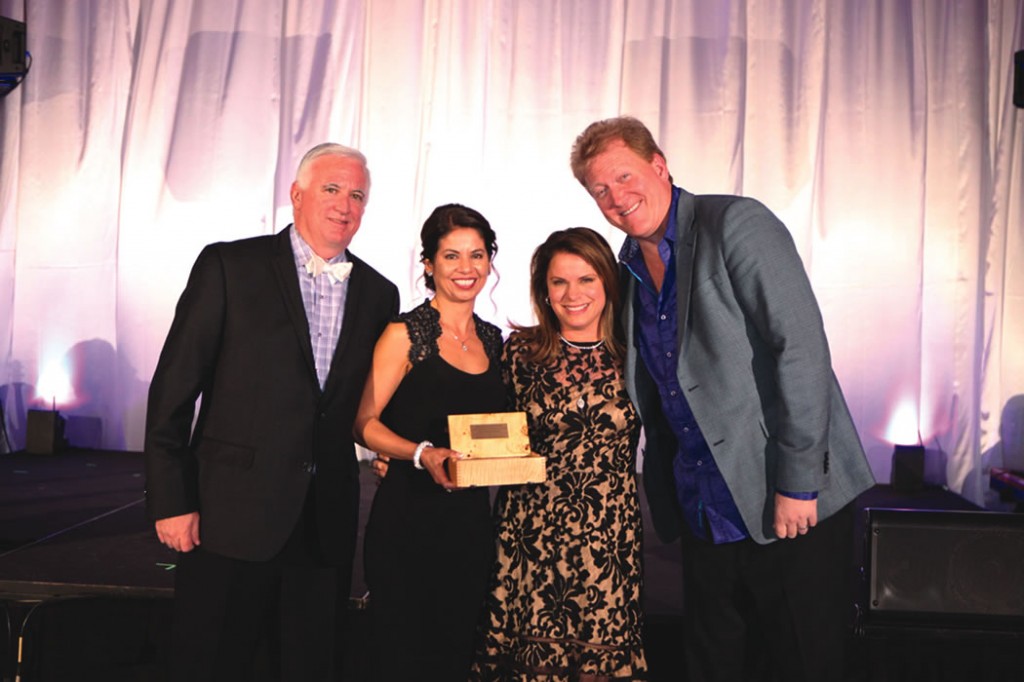 The Alzheimer's Association's Orange County chapter (AAOC) held its signature fundraising gala on March 1 at the Balboa Bay Resort. More than 300 guests gathered in support of the disease that affects nearly 84,000 people in OC. Attendees enjoyed an elegant cocktail reception outside the ballroom—which shimmered in shades of purple, the organization's signature color—prior to sitting down for a special "Frames of Hope" presentation that highlighted individuals like Jackie Robinson, Albert Einstein, Rosie the Riveter and others who have inspired hope within the world. The evening continued with a three-course dinner and an awards ceremony, where AAOC President and CEO Jim McAleer thanked staff members, volunteers and partners. Honorees also included corporate partner Jacqueline Dupont of Irvine Cottages/Assured In-Home Care; volunteer partner Jody Hudson of First American Trust; community partners Jeannie and Brett Lawrence of Rancho Las Lomas; and philanthropy partner Don Palmer. Before the individuals were honored, a heartfelt video explained each person's connection to Alzheimer's. A silent and live auction, along with ticket sales and a $250,000 gift from Karl and Tina Weber, raised $525,000 to help provide resources for those affected by the disease, as well as search for a cure. The evening concluded with a live hourlong performance by "American Idol" superstar Taylor Hicks. —K.C.
Childhelp For the Love of a Child Luncheon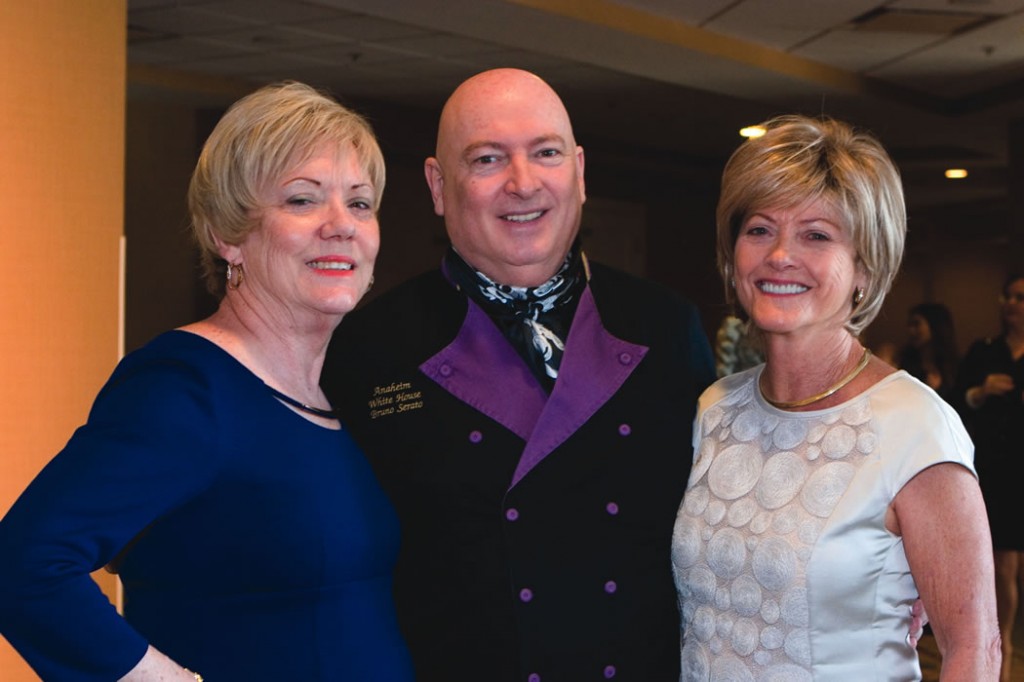 The Orange County chapter of Childhelp gathered nearly 400 supporters at the Newport Beach Marriott Hotel and Spa March 10 for the annual fashion show and luncheon. Raising more than $200,000, the event kicked off with an opportunity for women in attendance to purchase raffle tickets for opportunity prizes like a Roger Vivier green satin beaded clutch. A runway fashion show sponsored by South Coast Plaza provided exciting entertainment for the afternoon, featuring colorful spring styles from Roberto Cavalli, Carolina Herrera, St. John, Missoni, Diane von Furstenberg and other notable designers. The highlight of the afternoon, however, came when celebrated local chef Bruno Serato of the Anaheim White House gave a touching acceptance speech after receiving the Children's Friend Award for his dedication to feeding children that live in the streets and motels. Giving recognition to his mother for encouraging him to use his cooking skills to feed those in need, he shared how his mission to remedy the local hunger problem began with just a few bowls of pasta donated to children at the Anaheim Boys & Girls Club. Proceeds from the event's ticket sales and opportunity drawings will support Childhelp's efforts to prevent child abuse and neglect, which includes raising awareness as well as programs that offer help to those who have already endured physical or emotional abuse. —A.H.
Illumination Foundation Table for 10 Dinner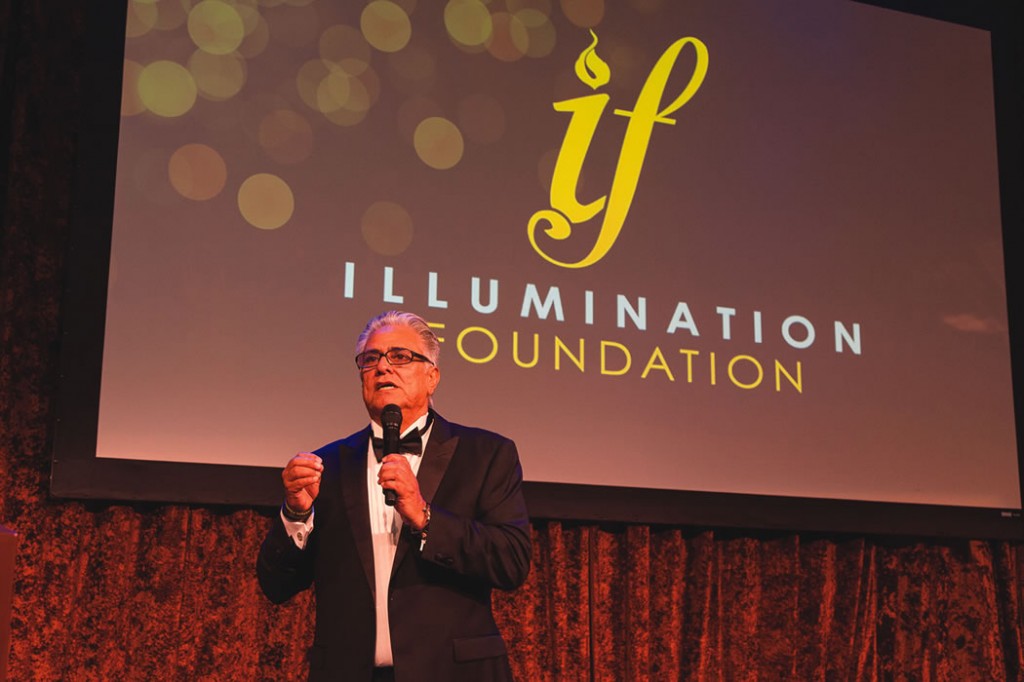 In Orange County alone, there are thousands of children without a stable home. Helping remedy this growing problem is the Illumination Foundation, founded in 2007. On March 23 at Disney's Grand Californian Hotel & Spa, more than 320 of the organization's supporters came together to raise an estimated $360,000 that will fund ongoing housing assistance, health care, workforce development and educational services for families in need. At the event, chefs from all over the county created multicourse meals for attendees, and each table had a unique menu and table decor courtesy of one of the participating restaurants. Newport Beach chefs played an important role in the evening, with a number of notable names cooking in support of the cause: Vincent Lesage and Rachel Haggstrom of Waterline at the Balboa Bay Resort; Brian Doherty of Bambu at the Fairmont Newport Beach; John Ledbetter of Lark Creek; David Martin of The Pacific Club; Edgar Agbayani of Roy's; Imran Ali of Tamarind of London; and Pascal Olhats of the Pascal Experience. Other event highlights included a touching performance by 14-year-old Maddy Vance, a singer/songwriter who uses music to inspire other young people to stay strong as they face their own challenges. A live auction helped the Illumination Foundation exceed its fundraising goal by $10,000, with multiple winners taking home chefs packages, specialized bikes and watches, vacation escapes and more. —A.H.
Hutchins Consort Love is in the Air Gala
On the evening of Feb. 8, The Pacific Club in Newport Beach let romance take center stage at the Hutchins Consort gala. The evening began with a silent auction as more than 100 guests—many dressed in red—enjoyed passed hors d'oeuvres, wine and Champagne. Following the silent auction, guests took their seats in the banquet hall, which was decorated in shades of pink and red to reflect the theme. Event chair Margaret Gates introduced the eight Hutchins Consort musicians, who then treated the audience to a charming performance of songs about love. Musicians Bethany Grace and Chris Woods made their way into the audience for a tableside performance. Dinner featured Manhattan steak, lobster bisque and a chocolate raspberry pot de creme for dessert. A delightful and intimate evening, the gala raised an impressive $20,000 for the Hutchins Consort, which recently traveled to Ireland for a special televised concert. —B.B. NBM