Explore Kauai's South Shore three ways, with myriad options for getting your feet wet, soaring over endless green spaces and staying grounded in the island paradise.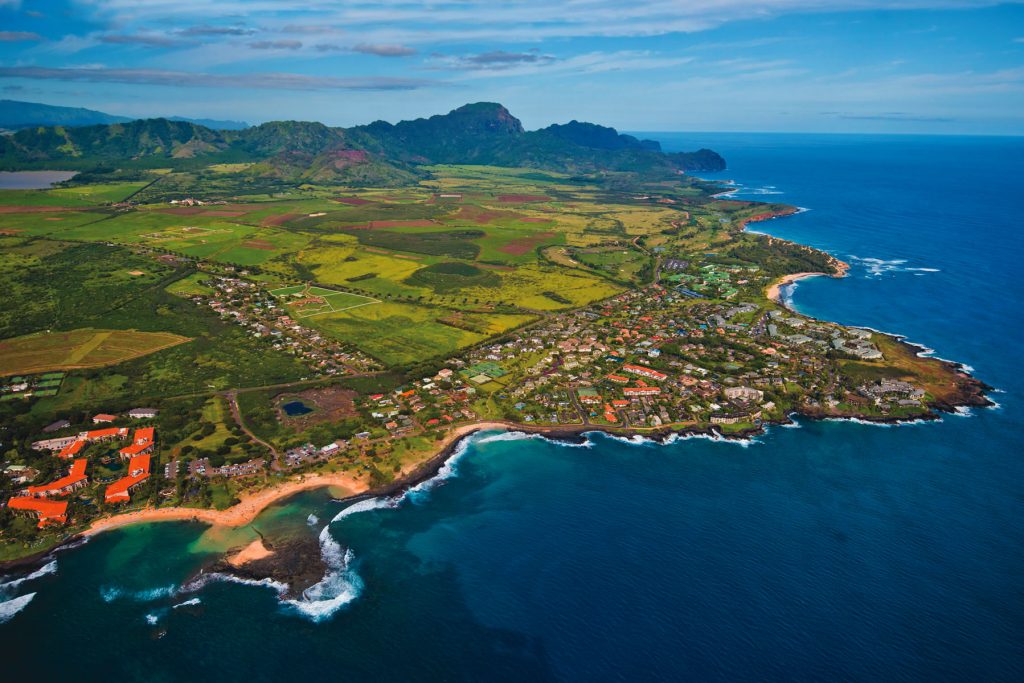 By Allison Hata
A lover's retreat, a green sanctuary, the most historic of Hawaii's main islands—there are many things that define Kauai. While the entire island is bursting with lush foliage and white sand beaches, locals lovingly refer to an area of the southern shore as "sunny Poipu," a nickname that reflects the endless days of warmth characteristic of the coastal town in Koloa, Hawaii. It's the perfect spot for honeymooners and families alike, packed with beaches, trails and breathtaking vistas.
With so much to see and do on the island, it's hard to know where to even begin. Here, explore the South Shore three ways—whether by air, land or sea, the community encourages adventure, exploration and relaxation at every turn.
Flying High
As the plane descends into Lihue, the site of the island's main airport, a visitor's first glimpse of Kauai is typically an aerial view—one filled with green hillsides and bright blue waves crashing against the shore. It's fitting, then, to continue the aerial adventuring with one of the many helicopter tours offered in the area that provide incredible vantage points for seeing the untamed landscape of Kauai. Lihue, approximately 30 minutes from Poipu, boasts a handful of tour companies offering a bird's-eye view of the island. Blue Hawaiian Helicopters flies over the southern coast, providing vistas of Hanapepe Valley (slightly west of Koloa) before circling up to the North Shore's resort area, home to The St. Regis Princeville Resort, Hanalei Bay and the Napali Coast.
Those who want to enjoy the warm island breezes a little closer to the ground can soar through the South Shore's tropical greenery firmly strapped to a zip line. There are a few options to choose from across the island, but Outfitters Kauai offers one of the most comprehensive experiences with the Nui Nui Loa Zipline Trek, a series of nine lines that wind through Kipu Ranch.
The six-hour tour heads slightly inland to a site that sends participants hurtling over green gullies and waterfalls. If the location seems familiar, chances are good that you've actually seen the scenic landscape before on the big screen. Kipu Ranch is a popular location for Hollywood blockbusters, including "The Descendents," "Pirates of the Caribbean," "Indiana Jones" and "Jurassic Park." Embrace your inner movie daredevil—whether it's the swashbuckling Capt. Jack Sparrow or rugged Indiana Jones—and fly free on the specialty zip lines. The last platform features a tandem ride across an 1,800-foot-long line, and guides encourage everyone to kick their heels up and soar upside down for the ultimate rush of adrenaline. The trek concludes with a chance to free-fall off an untethered zip line over a natural waterfall pool.
Ground Level
While some come to Kauai to indulge an adventurous spirit, others prefer a more relaxing stay filled with ocean views, pampering and great food at the two resorts and numerous vacation rentals that stretch for miles along the southern coastline.
Both hotels—the Grand Hyatt Kauai Resort and Spa and Koa Kea Hotel & Resort—offer resort-style amenities and proximity to the water, but the former comes highly recommended by locals as their top choice for a staycation. The hotel's temperature-controlled pools, which include a waterslide, lava rock-lined lazy river and a saltwater lagoon, create an aquatic playground for guests, while unobstructed ocean view rooms feature private lanais and plenty of natural light. Guests can indulge their palates at one of the many restaurants, including the Zagat-rated Tidepools, which has an unbeatable location next to a koi pond plus a contemporary Hawaiian fine dining menu brimming with seafood options like seared ahi, lobster bisque, flavorful opah and crabcakes. In a region not historically known for its culinary offerings, Kauai is coming into its own with inventive gourmet fare—and restaurants like Tidepools only serve to further this budding reputation. Another on-site indulgence can be found at Anara Spa, where anyone can book an appointment in a private garden bungalow for a Hawaiian massage before stepping outdoors for a lava rock shower.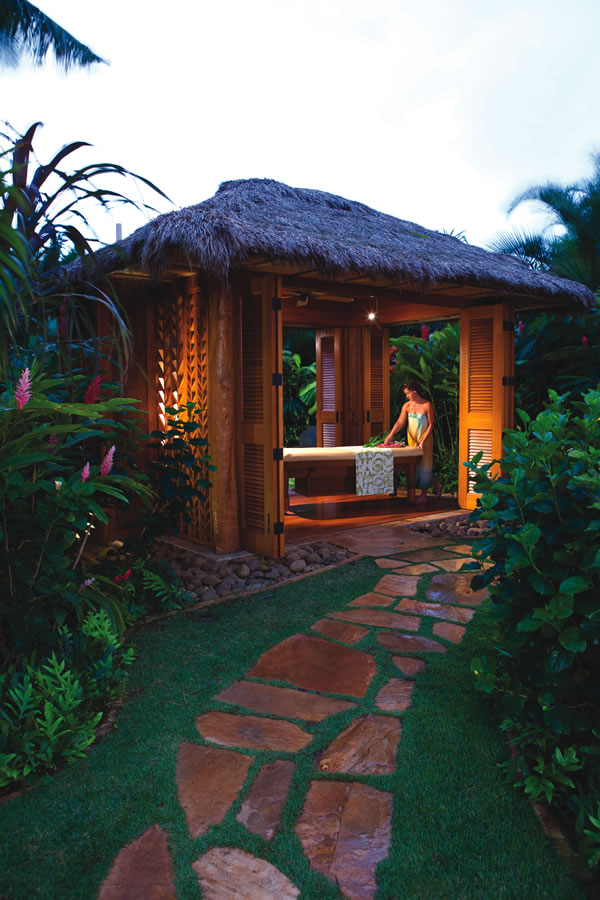 If you're traveling with family or friends in tow, you may opt for a vacation rental that allows larger groups to enjoy a trip together. Timeshares and private condos line the shore at every price range, but for a premier experience, splurge with a stay at The Club Cottages at Kukuiula. Part of a members-only community, some of the privately owned sites are available for public rental through The Parrish Collection Kauai, the management company that oversees rentals for the cottages.
Fully furnished, these two- or three-bedroom bungalows feature large master bedrooms, an updated kitchen, living room, dining area and an indoor/outdoor enclosed lanai. The three-bedroom option also has a separate guest cottage, with its own sleeping area, mini fridge and bathroom. Guests can also enjoy exclusive access to The Club at Kukuiula, the only private club of its kind on the island. The Plantation House restaurant, an 18-hole golf course and pro shop, and on-site farm perched above a lake are just the beginning of the many amenities. A private spa, open to members (and renters) only, has a full complement of treatments—but before slipping away into a state of relaxation, partake in the seven-step guided water ritual that sends guests through the sauna, steam room, outdoor shower, and hot and cold plunge pools.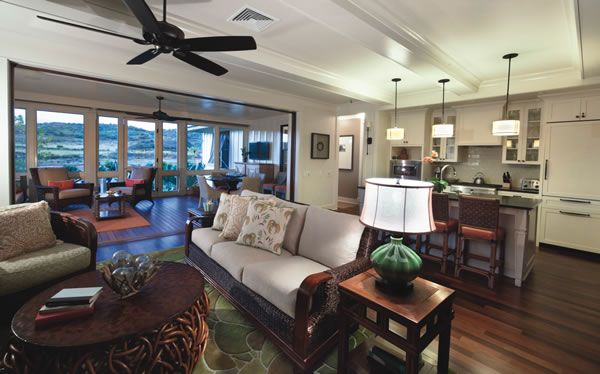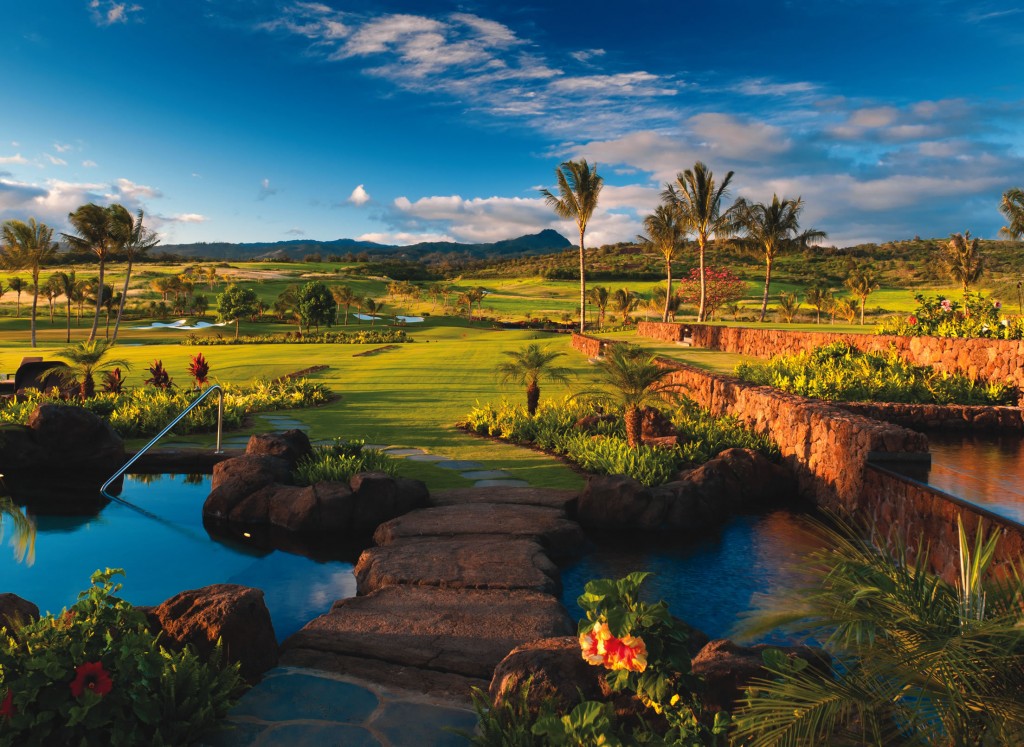 After resting your head, stretch your legs with a stroll through The Shops at Kukuiula, nestled between the hotels and rentals. Boutiques and galleries abound, but the local dining scene also flourishes in the small center. A culinary gem—Josselin's Tapas Bar & Grill—is tucked away up a flight of stairs and features a sharable dinner experience. Managed and co-owned by Southern California native Andrew Ha, there's not a bad dish on the menu—cocktails are fresh and light, a sangria cart offers tableside service and small plates allow diners to sample an array of seafood and meat creations with Asian influences, like the salmon-opakapaka ceviche with Korean pear or rock shrimp tempura with a kimchee ranch dressing. Finish your evening with a local tradition: Hawaiian shave ice, made to order at Uncle's on the far side of the center.
Open Water
For those who feel Kauai should be experienced aquatically, there are plenty of ways to explore the sandy shores. Snorkeling provides an underwater perspective of marine life—paired with great food and a breezy sail up to the Napali Coast, it's an unbeatable adventure.
Capt. Andy's is just one of the companies operating out of the Port Allen Harbor, but it takes the experience to a new level with a 65-foot luxury catamaran and an on-board chef serving up made-to-order barbecue. After departing from the harbor, the boat follows the coast to calm, shallower waters where schools of colorful fish swim just below the surface. For first-time snorkelers and kids, the crew offers up inflatable vests that help swimmers of any level enjoy the water. The sail continues along the shore, passing the naval training base, and reaches a turnaround point at the stunning Napali Coast, which boasts a resplendent display of waterfalls and jagged cliffs that aren't accessible by land vehicles. On the way back, keep an eye out for playful dolphins that swim alongside the catamaran, as well as sprays of mist that indicate whale sightings from December to May.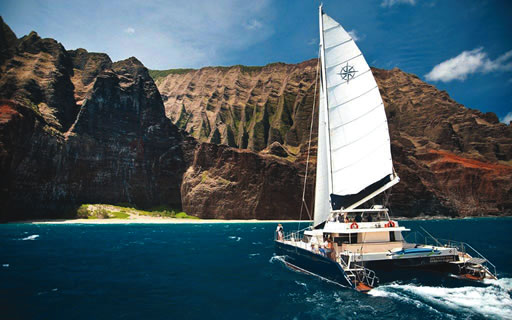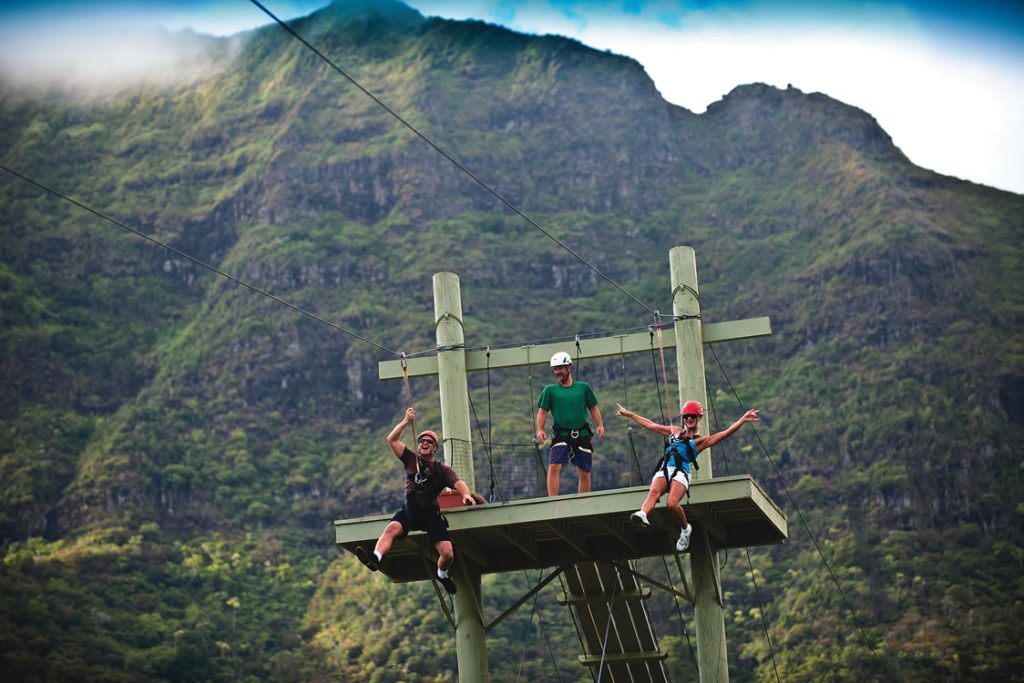 Another traditional way to enjoy Kauai is, of course, on a beach. Poipu Beach is among the most popular options on the South Shore for relaxing on golden sand, snorkeling, swimming or surfing under the watchful eye of a lifeguard. Shipwreck Beach also offers a stretch of shore and a great vantage point to watch thrill-seekers attempt the iconic swan dive made by Harrison Ford at Makawehi Point in the 1998 film "Six Days Seven Nights" (though it's not recommended due to unpredictable winds). The sloping cliff is easily accessible on foot via the Mahaulepu Trail, an approximately 4.5-mile round-trip trek that takes hikers through a series of scenic overlooks and geological features, like the Makauwahi Sinkhole, a portion of the largest limestone cave found in Hawaii.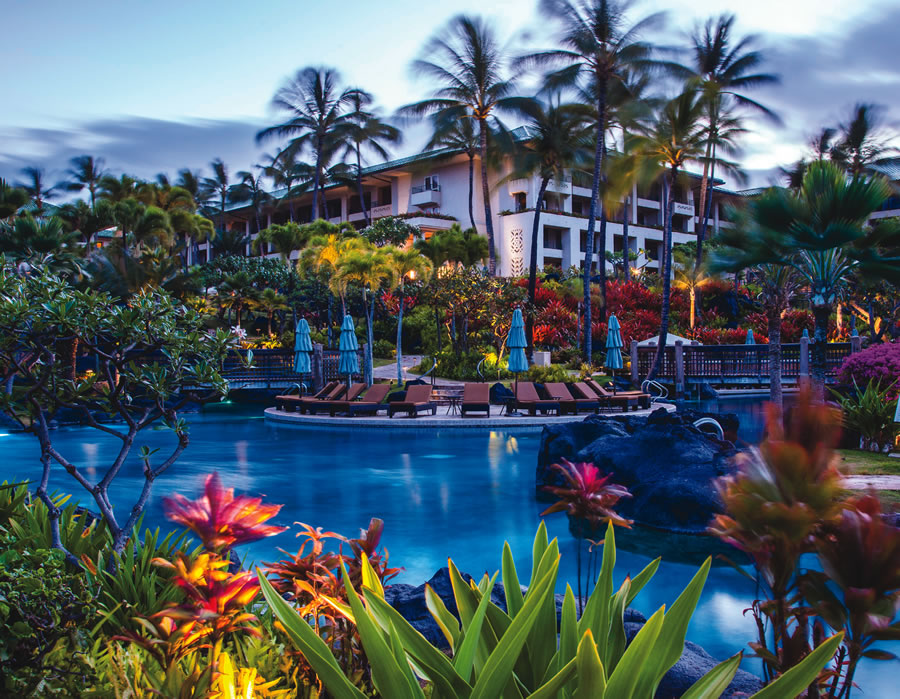 Whether it's an aquatic experience, views of the ocean or a tropical sanctuary you're seeking, Kauai offers it all in spades. No matter how you choose to explore the South Shore, one thing is guaranteed—as you discover the untouched paradise of the island, you'll never want to return home.
Around the Islands
The Big Island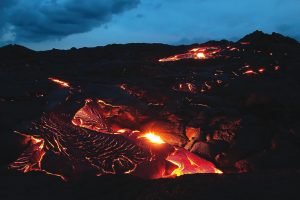 Home to one of the world's most active volcanoes, Kilauea, and the most massive mountain by volume, Mauna Loa, it's no surprise that the Big Island continues to grow. Nearly twice the size of all the other islands combined, the Big Island is home to resorts, golf courses, historical sites and beautiful beaches alike. Magma flows from Hawaii Volcanoes National Park, while history is preserved at the birthplace of King Kamehameha I. Coffee plantations take travelers inside the process of harvesting the rare 100 percent pure Kona coffee, but those more interested in just sampling fresh brews—and other Hawaiian delicacies—can visit downtown Hilo to find restaurants, shops, art galleries and museums.
Maui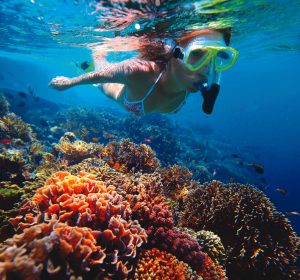 Blanketed in green, the Valley Isle is home to dramatic vistas in a variety of environs. The tropical Iao Valley State Monument and sprawling Haleakala National Park draw hikers, horseback riders, history buffs and those simply on a quest to experience an unforgettable sunrise. The charming town of Lahaina allows visitors a sampling of local culture with shops, restaurants and the storied whaling village. And, of course, Maui's beaches are irresistible and just as diverse as its inland landscapes, with areas great for families, surfers, snorkelers, sunbathers and more.
Oahu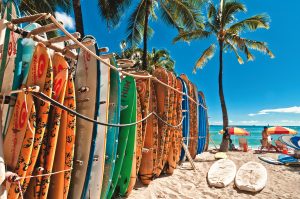 With opportunities for surfing, hiking and other exciting outdoor pursuits in convenient proximity to excellent shopping, dining, nightlife and entertainment, Oahu really is an island that has it all. Honolulu's downtown, including its vibrant Chinatown district, is attracting more and more visitors with the recent additions of colorful boutiques and innovative bars and restaurants. The thriving urban culture has added yet another dynamic to an island consistently recognized by travel media as having some of the world's best beaches and most luxurious resorts. From the pristine waves of the North Shore to the breathtaking panoramas of Diamond Head, Oahu has the most diverse range of activities and settings in Hawaii.