This season's colorful, versatile jewelry adopts a chameleon's face, as Monday morning's casual pendant becomes Friday evening's statement cocktail ring.
By Lisa Marie Hart | Photos by Jody Tiongco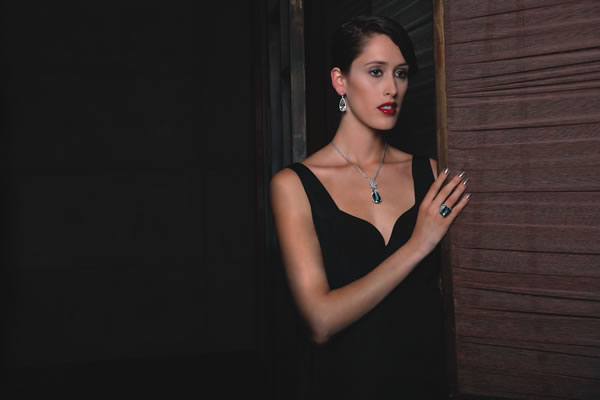 As autumn segues into winter, the fashionable denizens of Newport Beach encounter what is undeniably the most formal season of the year. Leather and fur emerge from closets to take center stage in wardrobes and on holiday wish lists. The heels get higher; the bags get bulkier; and, most conspicuously, the baubles get bigger. Now, more than ever, jewelry plays an integral role in completing an ensemble.
Local designers and retailers have the clients to prove it. Jewelry sales are climbing, according to Stuart Winston, vice president of marketing and development at Lugano Diamonds. More importantly, local desire for unique pieces is on the rise, proving that fabulous jewelry always will be a priority in coastal Orange County.
This season, jewelry trends are so overpowering that clothing just might be considered the new accessory. Women are interpreting these developing trends independent of special occasions, preferring to skip the vault and instead include the latest pieces in daily ensembles—whether layered, stacked or as multi-use pieces.
Reinventing the Classics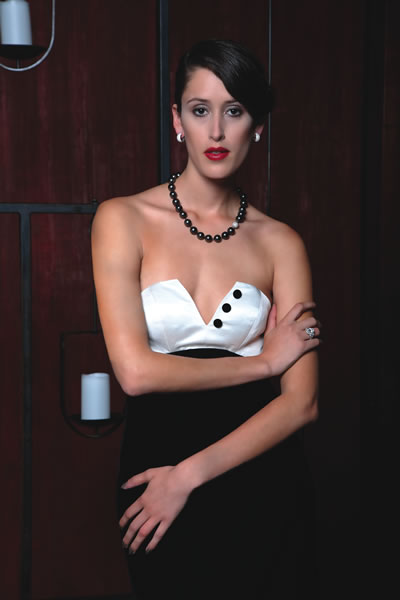 Bold—nevertheless approachable—fine jewelry paired with a casual wardrobe continues to reign supreme in Southern California's fashion circles. Vibrant gemstones, rose and yellow gold accents, and personalized custom creations lead the current pack, trailed by micropave skulls, upside-down diamond settings and black stones.
"People want more for their money now," Josette Patterson, wife and partner of jewelry designer Mark Patterson, says of current trends. "They want something interesting and well-made that will hold its value. And it needs to be different, not something that everyone else has."
"But something they can wear frequently and regularly," Mark adds, emphasizing that women crave the option to dress pieces up or down.
"Pieces need to carry [wearers] from a white silk blouse and jeans to black tie, and everything in between," Stuart explains. "Women here want to live comfortably. They can be high-end but beach casual at the same time. They're looking for pieces to wear not one or two times, but all the time, like a Chanel handbag."
Mildly dramatic hoop earrings remain staples—especially when encrusted with diamonds—as do elongated earrings, a signature design at Mark Patterson's Corona del Mar outpost. For a more classic look, clients at Fashion Island's Traditional Jewelers turn to stud earrings in various sizes and delicate diamond pendants.
Alfredo Molina, an international jeweler and chairman of Black, Starr & Frost, notes that women should remain wary of passing jewelry trends, and instead focus on finding silhouettes that balance their features.
"For instance, if you have a long face, the last thing you want to do is wear candelabra earrings, which will elongate the face," he advises. "And a woman with a long neck should never wear a thin necklace, as it will only elongate the neck. The neck and head are what other people look at most, so necklaces and earrings should be considered the most important pieces." To Alfredo, jewelry must be viewed as "a product that enhances the physical attributes of the wearer," rather than simply a means to iterate a trend.
Appetite for Color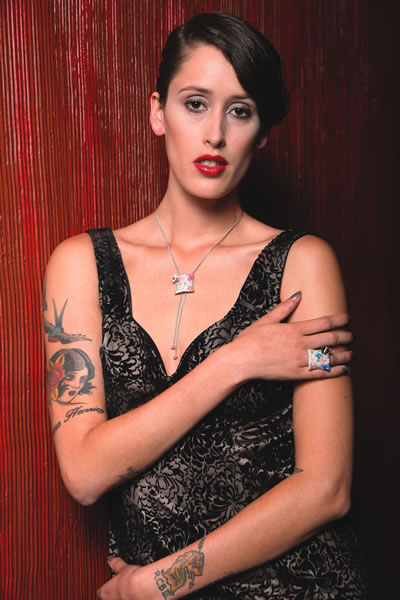 The world's most elusive gemstones—including sought-after sapphires and richly hued diamonds—have punctuated the local accessory circuit. Designers like Moti Ferder, president and owner of Lugano Diamonds in Newport Beach, craft lavish pieces around an individual stone, such as a Caribbean blue Paraiba tourmaline sourced from an extinct Brazilian mine, or a coral Padparadscha sapphire like those recently requested by clients at Jewels by Joseph. Sapphires are, in fact, the most widely requested stones at many Newport Beach jewelry shops and salons. "They tend to be the next purchase after a diamond," Josette explains.
Alfredo, who approaches jewelry from a uniquely artistic perspective, suggests selecting stones in colors that complement the wearer's skin tone, hair color and ensemble. "If a woman is blond, then she should consider a stone like a sapphire," he says. "Complementary colors combine to create brilliance … and luxury is brilliance."
Cognac, black and pink diamonds are stepping into the spotlight as clients upgrade dated rings to include unusually colored solitaires upward of five carats. "They come away with a new ring with a bigger, better stone," designer Simon Monarch of Corona del Mar's Jack Monarch Jewelers says.
At Traditional Jewelers, clients who shop Ippolita's designs enjoy sticking to one scheme or mixing colored stones. Meanwhile, at Jewels by Joseph in Corona del Mar, clients may blend stones across collections to curate an eclectic signature look.
More casual colored stones are on the rise, from opals at Mark Patterson to rutilated quartz at Jewels by Joseph. Traditional Jewelers' clients have been selecting oversized, fashion-forward chandelier earrings replete with blue and pink sapphires, mother-of-pearl, turquoise, amethyst or blue topaz.
Colored metals are stealing the show as well: "For fashion and fine jewelry, yellow gold is making a comeback, and rose gold is becoming more popular," Jewels by Joseph buyer Barbara Radus comments. The popularity of rose gold hoops with delicate strings of diamonds has soared as a light, simple everyday combination.
"Rose gold is really strong right now," Josette agrees. "It's tamer than yellow gold and has more warmth." Mark's Graffiti collection features a rose gold ring with a band that reads "love" in chunky lettering. Even brides have taken to stacking multicolor gold bands, such as Mark's hand-engraved yellow gold bands, which include a Florentine finish to yield a rustic, artisan look. Looking forward, expect the resurgence of avant-garde metals. Moti, for example, has been playing with titanium, zirconium and carbonium, a black metal known for its strength, resiliency and contemporary appeal.
Bespoke Baubles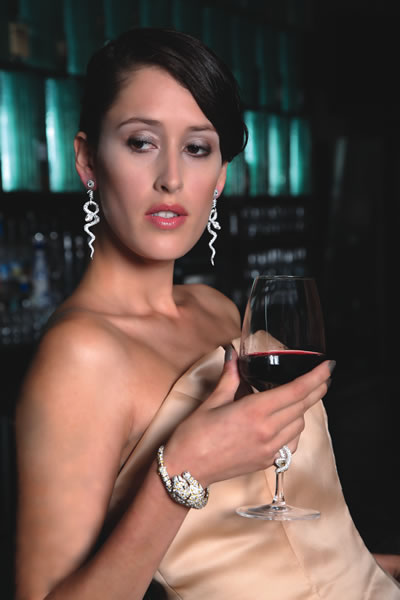 Customized, personalized, one-of-a-kind: Meet the trinity of jewelry buzz phrases in Newport Beach.
Alfredo emphasizes that customizing jewelry is often as important as tailoring a suit.  "A good 60 percent of what we produce is custom-made," he says of Black, Starr & Frost's offerings. "Trends have to be modified based on what flatters the wearer."
"We never say 'no,' " Simon adds, regarding client requests. "Everything is customizable. We can make anything they can think of without limitation."
Recently, clients have collaborated with the shop's design team to customize the interchangeable faces of their rings or actualize previously imagined designs. "These women have all the traditional jewelry. Now they want something more artistic, a fun piece that will grab people's attention," Simon adds.
As a result, the newest additions to the Jack Monarch Jewelers collection include mythic mermaid and gargoyle rings, skull cuff links, Medusa pendants and white tiger charms.
In addition to style, pieces can be customized according to use, and are often structured to fulfill a medley of purposes. Currently, the most coveted jewelry is multi-use, designed to be just as versatile as its wearer. A brooch transforms into a necklace at Lugano Diamonds, where chains with removable drops and earrings with drops that can be swapped out for others are popular sellers. One necklace flips to reveal a completely different design on the other side, while a ring offers a removable top that can be worn as a necklace.
"These are great for travel," Stuart says. "You can pack just three or four pieces and wear them multiple ways."
An elegant Lugano dragonfly can be worn as a pin or a pendant, or tucked into upswept hair. "Moti loves the idea of change," Stuart adds. "It's even the way he designs for his wife. It's a conversation piece; when you wear it differently, people notice."
The latest must-have item at Jack Monarch Jewelers is a sizeable ring that can be accessorized with interchangeable faces. The patterned faces, which feature designs ranging from animal prints to florals, play out alongside bright gemstones, enamel detailing and diamonds.
Cool Cuts, Hot Settings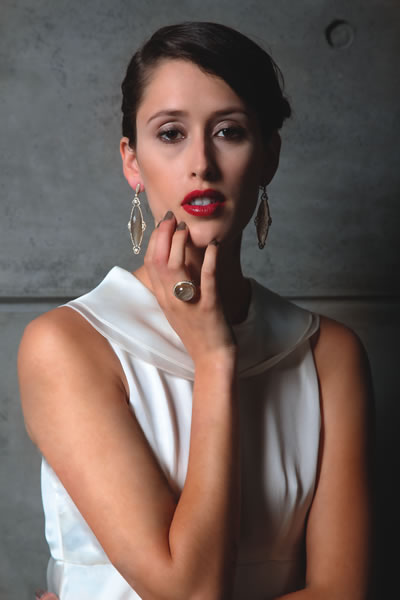 This season is all about interesting cuts and unconventional settings. "Even special occasion pieces don't take on as much of a royal look anymore," Barbara says. "Gemstones that are sliced instead of traditionally faceted are making their way into earrings, necklaces, rings and bracelets."
With all colors of sapphires at the forefront of the trend horizon, slicing the stones lends a more rustic, primitive aspect to one of the most timeless—and traditionally conservative—gemstones. "Marco Bicego's modern and colorful new Murano collection has been popular for day and evening wear," sales associate Jamere Tabello of Traditional Jewelers says. "Clients love to mix his new sapphire slice jewels with his basic gold pieces."
At Lugano Diamonds, clients crave diamonds in edgy upside-down settings. "Our rose-cut diamonds, faceted on one side and flat on the other, almost look like lace when set on a cuff bracelet or long necklace," Stuart says. "The best place for jewelry is on you."
He emphasizes that finding a unique personal style always trumps bowing to trend. When it comes to accessorizing, wearing jewelry that is beloved transcends seasonal standards.
"Jewelry is an emotional product," Alfredo adds. "There is no gift that is as powerful emotionally as a piece of jewelry." Whether to celebrate a milestone, update a look or upgrade a pre-existing piece, desire drives jewelry purchases and trends. This season, the desire to feel radiant no matter the occasion sets the tone for color, versatility and customization.

Married to Trends
Brides may show an intense passion for fashion on a day-to-day basis, but the big day tends to bring out a subdued version of personal style. For Newport Beach wedding and engagement jewelry, clean, sleek designs in white gold, platinum and diamonds prevail.
"Some of the new brides-to-be are moving toward very clean and classic designs, such as diamond studs, diamond pendants and traditionally styled line or tennis bracelets," Traditional Jewelers sales associate Jamere Tabello explains.
In terms of engagement jewelry, women who frequent bridal guru Mark Patterson's Corona del Mar showroom are divided in their preferences. Some love the halo look—smaller diamonds that circle the center stone—while others seek a strong departure from it, citing the desire for a ring unlike those their friends are wearing.
Whether they're trendsetters or traditionalists, many brides are courting the idea of "something borrowed," as select upscale jewelers develop programs that allow brides to wear striking pieces on loan for the big day. Lugano Diamonds has teamed up with the Montage Laguna Beach, the site of its second salon, to deck the resort's brides out in up to $100,000 of fine, wedding-worthy jewels.