Teenage Dream Decor
PBteen opened its first OC store at South Coast Plaza in late July, bringing a selection of home goods exclusively for teenagers. Fashionable options range from bedding and furniture to storage and accessories, with a product line—extra-large twin sheets, lighting, seating and more—designed specifically for college dorms. The store also offers a design lab where teens can configure a room digitally and select patterns and colors to style a distinct space. (714-966-2353; pbteen.com)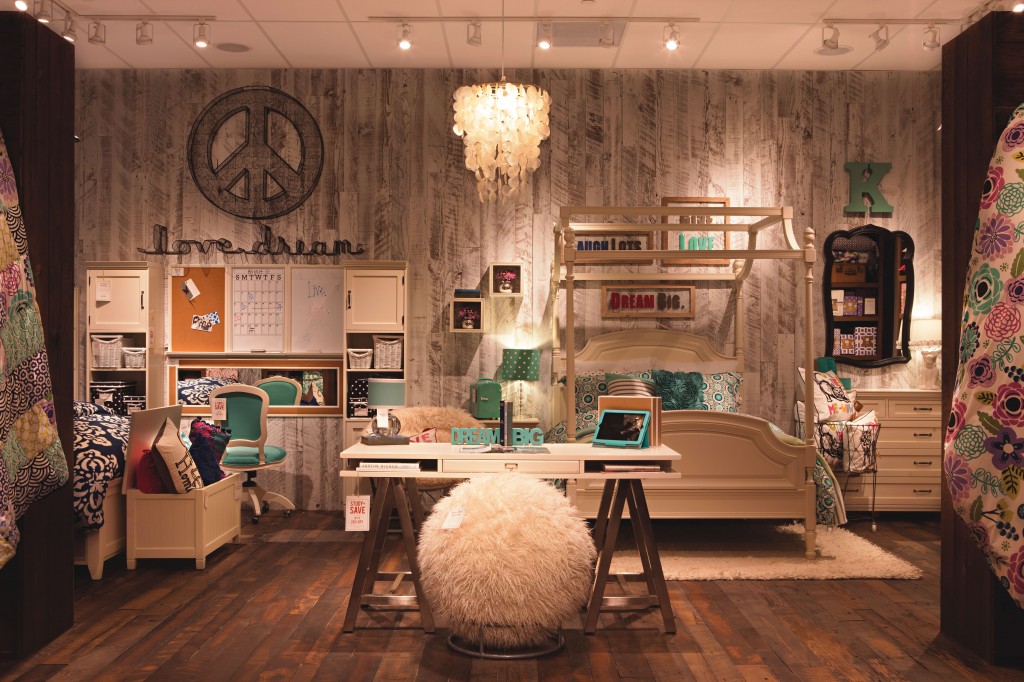 A Mecca for Menswear
For the stylish men of OC, a classic, personal touch is everything. Recently reopened at Fashion Island in a new location, GARYS exemplifies the same appreciation for style in a modern, refreshed space. Just doors away from the previous store, GARYS Fashion Island has been renovated into an impressive 12,500-square-foot showroom, which includes high-end tailored clothing, sportswear, furnishings and footwear. Along with the classic brands such as Georgio Armani, Loro Piana and Hugo Boss, customers can now look forward to new additions including Brunello Cucinelli, Rag & Bone and John Varvatos. (949-759-1622; garysonline.com)
The Hip Dog
Orange County dog lovers and their furry friends can rejoice—the new boutique Charlie & Me opened its doors in August at The Cove on Mariner's Mile. Inspired by her French bulldog Charlie, 26-year-old Newport Beach native Taylor Beauchamp opened Charlie & Me with the goal of offering something special for OC's dog lovers. More than 20 different lines, including the Kenyan Collection by JMS Ventures, Bellomania, Malucchi and Taylor's own private label are available at Charlie & Me, which offers an exceptional selection of collars, leashes, beds and other home decor items for the hip dog. (949-572-5258; charlieandme.us)
Train Hard, Look Good
Offering athletic footwear and training equipment, ASICS opened its first California location at Fashion Island this fall. The expansive 2,228-square-foot store houses the brand's wide selection of footwear for men, women and kids—including collections built to take on any trail or terrain in OC. (asicsamerica.com)
Teenage Dream Decor
PBteen opened its first OC store at South Coast Plaza in late July, bringing a selection of home goods exclusively for teenagers. Fashionable options range from bedding and furniture to storage and accessories, with a product line—extra-large twin sheets, lighting, seating and more—designed specifically for college dorms. The store also offers a design lab where teens can configure a room digitally and select patterns and colors to style a distinct space. (714-966-2353; pbteen.com)
A Mecca for Menswear
For the stylish men of OC, a classic, personal touch is everything. Recently reopened at Fashion Island in a new location, GARYS exemplifies the same appreciation for style in a modern, refreshed space. Just doors away from the previous store, GARYS Fashion Island has been renovated into an impressive 12,500-square-foot showroom, which includes high-end tailored clothing, sportswear, furnishings and footwear. Along with the classic brands such as Georgio Armani, Loro Piana and Hugo Boss, customers can now look forward to new additions including Brunello Cucinelli, Rag & Bone and John Varvatos. (949-759-1622; garysonline.com)
The Hip Dog
Orange County dog lovers and their furry friends can rejoice—the new boutique Charlie & Me opened its doors in August at The Cove on Mariner's Mile. Inspired by her French bulldog Charlie, 26-year-old Newport Beach native Taylor Beauchamp opened Charlie & Me with the goal of offering something special for OC's dog lovers. More than 20 different lines, including the Kenyan Collection by JMS Ventures, Bellomania, Malucchi and Taylor's own private label are available at Charlie & Me, which offers an exceptional selection of collars, leashes, beds and other home decor items for the hip dog. (949-572-5258; charlieandme.us)
Train Hard, Look Good
Offering athletic footwear and training equipment, ASICS opened its first California location at Fashion Island this fall. The expansive 2,228-square-foot store houses the brand's wide selection of footwear for men, women and kids—including collections built to take on any trail or terrain in OC. (asicsamerica.com)
Beach Styles From Down Under
Australian swimwear company Seafolly is scheduled to open its first U.S. boutique at Fashion Island this October. Previously available in stores such as Everything But Water, Anthropologie and Nordstrom, the brand features a core line of swim separates and limited edition swim collections, as well as apparel and accessories like colorful handbags and hats. The 1,800-square-foot space will carry all four collections and bring a splash of fluorescent hues and Palm Springs-inspired sunset prints to the Newport shopping scene. (seafolly.com)
—A.H. and T.D.
Get Blown Away
For ladies seeking a sleek hairdo for their next special occasion, a new blow-dry bar opened Aug. 19 in Corona del Mar in partnership with Alexis Bellino from "The Real Housewives of Orange County." Social Dry Lounge offers blowouts, hair styling, makeup applications and eyelash extensions, while also featuring local fashion designers like Alexis Couture, BeachCandy swimwear and The White Dress bridal shop. Additionally, a Corona del Mar mom makes one of the salon's hair product lines, Gloss. The goal is to get the community together, says Keri Dyer, the salon's social media and marketing director.
Everyone at the salon receives the VIP treatment, which includes a choice of Champagne, wine, coffee or other beverage upon arrival, while an iPad at each station allows patrons to see how their face will look with different styles. Clients also can watch videos of fashion shows (from global runways to ones the lounge has hosted) on the iPads and use apps to buy apparel while stylists wash, condition and coif their hair.
"… It's the full experience," Dyer says. "It's not your typical salon where you're going to sit there and talk to the stylist." Other locations are slated to open within the next year above a Wells Fargo branch in CdM (in a space with an outdoor patio), as well as in Santa Monica, Malibu and New York. (949-423-7011; socialdrylounge.com) —S.S.
A Golden Anniversary
Roger's Gardens celebrates 50 years of operation in 2013, expanding its foundations over time from a local nursery in 1963 to a 6-acre spread of gardens and showrooms for visitors around the world to see and gather ideas from today.
"As a family business, Roger's Gardens' mission has always been to bring beauty into the homes and gardens of our community," co-owner Gavin Herbert Sr. says. "Over these past five decades, we hope we have inspired our visitors and helped them to create their own beautiful spaces."
The Floral Studio offers popular favorites along with rare varieties that complement any space or event. Spring, Halloween and holiday seasons bring colorful decorations and themed rooms throughout the center, and the space is lit up with more than 1 million lights. Events held every weekend include tastings, exhibits, workshops and seminars. Food trucks also visit the site every Saturday and Sunday. The 50th anniversary celebration launches Oct. 4 with the Christmas boutiques opening, and continues through March 2014. (949-640-5800; rogersgardens.com) —J.C.