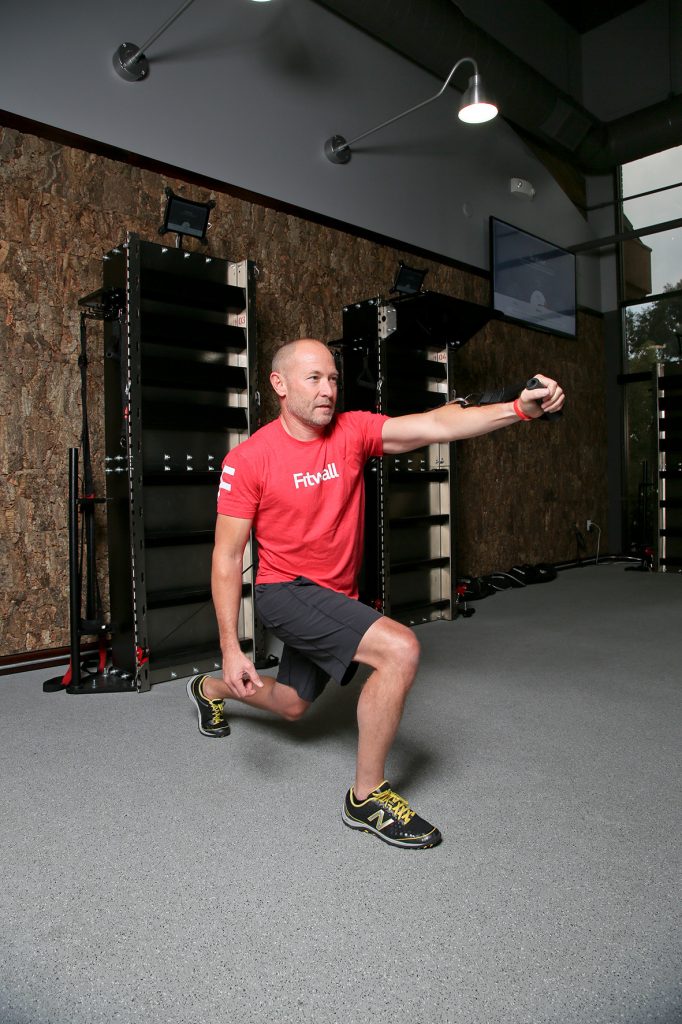 Fitwall's full-body, vertical training workout will leave you reaching for more.
By Karlee Prazak
Fitwall is, admittedly, intimidating at first, as participants are greeted by individual stainless steel lattice structures roughly 7 feet tall and 30 inches wide. But with time, climbing and hanging on the wall becomes a challenging new way to work out—especially once the bolts securing the equipment prove their worth. The regimented program requires participants to alternate between scaling the fitwall for cardio and using it to aid in strength movements like squats, burpees and pullups. The goal is to get your heart pumping, and the provided heart rate monitor guarantees it stays up there. It combines the intensity of a boot camp, the personalization of a trainer and the technology of leading fitness plans and puts it all into a 40-minute, full-body exercise.
Since the company launched a year ago in La Jolla, Fitwall has enjoyed a whirlwind of acceptance and expanded to Solana Beach and Newport Beach. The Newport studio, which opened in fall 2014, is the newest and also closest to the Irvine headquarters. Mike Webb, a Big Canyon resident and Fitwall president, says the opening has drawn committed Newport Coast participants akin to the daily crowds flowing into the two San Diego locations. We recently caught up with Mike after a 6 a.m. class to get his take on the Fitwall workout.
Can you describe a fitwall?
MW: The fitwall is made out of stainless steel, is 7 feet tall, has footsteps and hand-holds up one side, and has the ability to attach resistance bands and suspension straps. [Class participants exercise on] the fitwall itself, which is bolted to the floor. … Your workout gear is really all you need to bring with you. Everything else is provided [including a heart rate monitor strap].
What is the purpose of providing the heart rate monitor?
MW: [It] allows you to retain and view the information about how you're progressing through class. … After each class, you are provided with a graph that shows your max heart rate and your recovery off-max heart rate at each given point of the workout. Over time, the graph will show how you're better able to hit max heart rate and then drop down into your recovery zone.
Where can you find this information?
MW: Your class and every second of your workout will be uploaded to your account [on the Fitwall website] under [that day's] class. You can click on the graph at any point in the workout to see a video of the actual exercise you were performing at that time.

The iPads attached to each station are so helpful. What was the reasoning there?
MW: It tells you what you're doing at any given time [and] how much time is left in each exercise. It tells you all your heart rate information, and you're able to focus on what you're doing. … The technology allows us to ensure the experience is the same no matter what location you're at.
How do you keep the series of three classes—cardio work, strength training and the combination—new and exciting?
MW: At the beginning of each month, a brand-new set of three classes is rolled out. … The moves you've learned will be integrated, but there will be some new ones you've never done before too.
What's the general athletic level of the ideal participant?
MW: We want to say it's for absolutely everybody, and it truly can be, but you have to be committed. It doesn't really matter what kind of athlete you are; if you're committed to it, you're going to get results.