Newport Beach Fashion History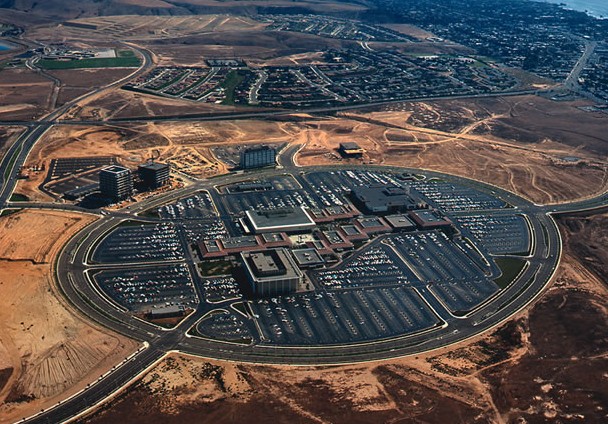 It's hard to remember a time when Newport Beach could ever be considered unfashionable. Described by members of the Newport Beach Historical Society as a "rough and tumble port town" back in the day, the city is now at the forefront of luxury living, and more importantly, shopping.
On Sept. 9, 1967, the landscape of Orange County changed dramatically with the opening of one of the nation's first coastal outdoor shopping centers. Fashion Island, developed by the master planners at the Irvine Company, offered a glimpse into Newport's future as a sophisticated yet casual beachside community.
A Memorable Beginning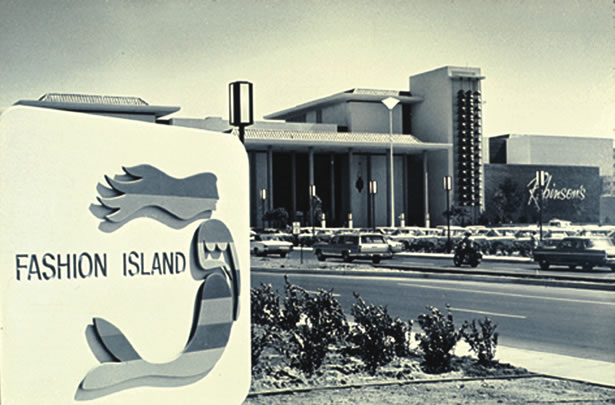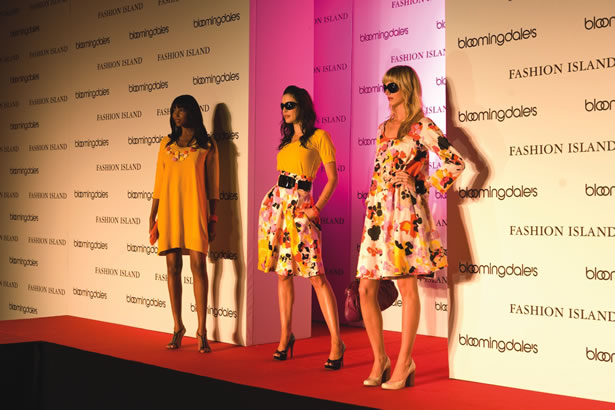 Newport Beach in the 1960s was largely defined by its abundance of boats and sandy beaches. While quaint village strip malls provided residents and visitors with plenty of boutique shopping opportunities, what the city lacked was a large-scale center for the latest couture and dining. Enter the Irvine Company, with grand plans for a retail space that would redefine coastal Orange County.
"As a master planner, Irvine Company always knew that Newport Beach needed a regional retail center and that it would be a vital part of the coastal community," says Dan Sheridan, president of Irvine Company Retail Properties. "A Champagne gala celebrated the opening of Fashion Island that not only drew more than 18,000 people, but that Time Magazine called 'the largest cocktail party in the world.' The community was obviously thrilled to have premier shopping and dining here in Newport Beach. There was nothing like it at the time."
Once a vastly different environment than the Fashion Island we know today, the 909,000-square-foot center's design was credited to architectural firm Welton Becket & Associates. One standout piece of the original design that has withstood the center's many renovations made its own mark on history: The famous bells along the southwest entrance of what was then J.W. Robinson's department store were recorded by the Guinness Book of World Records as "The World's Largest Wind Chime" upon installation. The bronze wind chime sculpture, created by mural artist Tom Van Sant, was completed on Sept. 11, 1967, just two days after Fashion Island's opening.
"The landmark bells of Robinson's were a momentous installation marking Newport Beach's first step of welcoming the next generation of residents," says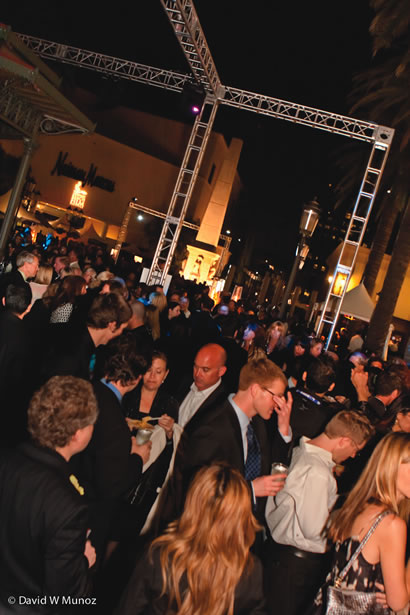 Dana Myerson Agamalian, an interior designer and Newport Beach resident. "The elegant chimes reverberated from what was immediately established as the center of town."
The now-silent wind chimes remain a part of Macy's exterior today, having left a lasting impression on the city's residents. "My first memory of Fashion Island is the opening of Robinson's in 1967 with my grandmother," says Gina Sammis, oral history director of the Newport Beach Historical Society. "I actually remember when those bells at Robinson's used to ring in the wind. It was a beautiful sound."
In addition to the bells, another signature element of Fashion Island is the 20,000-gallon koi pond—a water feature that has remained a part of the center since the very beginning.
Department stores J.W. Robinson's, Buffum's, The Broadway and J.C. Penney served as the original anchors for Fashion Island, joining an additional 52 specialty shops and two restaurants. "I still think the view from the top of the escalator next to Robinson's (now Macy's) is the best in Newport Beach," Gina adds. "[I] go there every year to watch the start of the Ensenada Race."
Lasting Legacy  
Over the years, Fashion Island continued to thrive, adding many new stores that catered to the ever-changing needs of its clientele—including a few retailers that remain at the center today. Known for its upscale menswear, GARYS opened at the north end of the mall in 1978. The 4,000-square-foot space had a look that was "very '70s" with lots of dark wood and men with moustaches, says John Braeger, the company's current president and son of its former owner, Dick Braeger, who passed away earlier this year.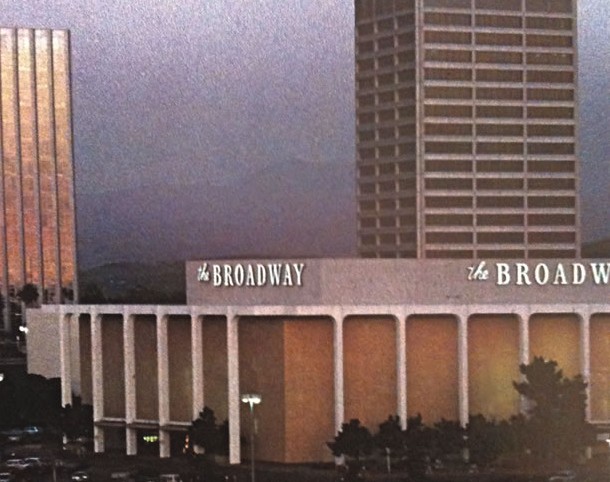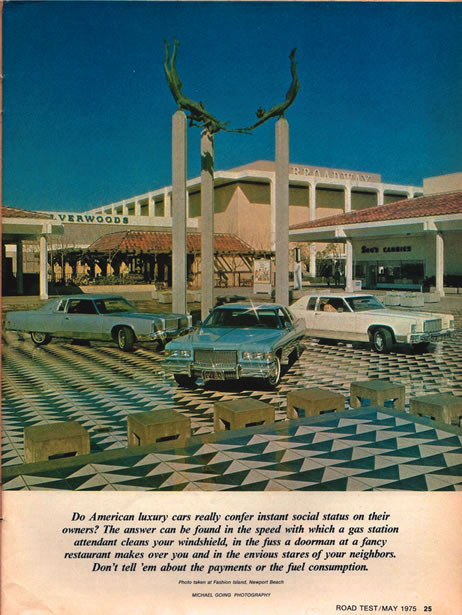 The north end of Fashion Island (now bustling with visitors at Nordstrom, P.F. Chang's, The Cheesecake Factory and more) was once a very quiet corner of the center. "This was probably the slowest end of the mall," John says. Despite the slow flow of customers, the company, like Fashion Island, continued to grow: At one time, GARYS had five retail locations at Fashion Island alone, ranging from women's apparel (Per Donna) and home furnishings (GARYS Island Home) to a restaurant (J.B.'s Sports Deli).
"The theory behind J.B.'s Sports Deli was, back in the day, the mall didn't have the traffic that it did today," John explains. "My father, being the entrepreneur he was, came up with a way to bring more traffic for his men's store." Although the restaurant and other storefronts have since closed, the flagship GARYS still operates from its original location, which has expanded to an impressive 17,000 square feet with distinct rooms for different lifestyles.
Locals might also be familiar with another popular Fashion Island apparel retailer, At-Ease, which opened its doors in 1969 (but closed in 2008 when it relocated to Crystal Cove Promenade down the coast). "I worked at At-Ease as a teenager at Newport Harbor High School, as so many of us did, selling the preppy clothes we all wore during the '70s," Gina says.
John adds: "I remember back when I was in high school, everyone came to At-Ease and they gave away backpacks with their name on it. It was the cool store for the kids."
Other longtime tenants at Fashion Island that are still open today include the first Cathy Jean shoe store (1976) and Traditional Jewelers (1991), among others.
All of the original anchor department stores are now closed, but in 1978, Orange County's only Neiman Marcus opened—and still remains—on the northeast side of the mall. The three-story Atrium Court, containing more than a dozen stores and a selection of casual cafes, arrived in 1985.
Renaissance and Reinvestment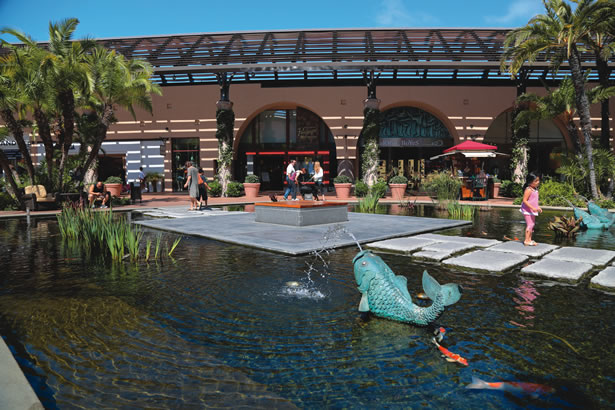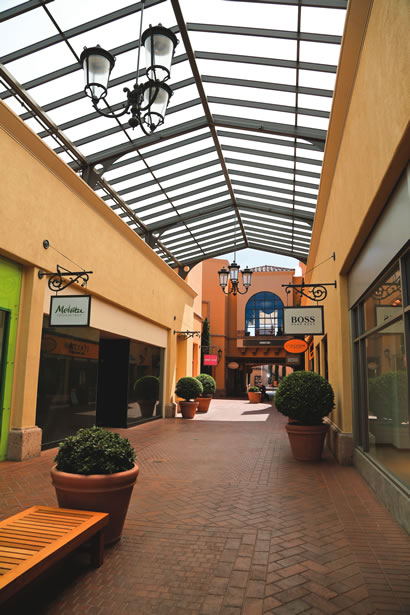 "Retail is always evolving and we want to ensure that our mix of merchants is distinctive and meets consumers' changing tastes and interests," Dan says. The Irvine Company regularly brings in new retailers and restaurants to keep pace with the desires of locals and visitors, but has also conducted two significant makeovers for Fashion Island over the last several decades.
The first in 1989, referred to as "The Renaissance," made the initial strides to capture an Old World look and feel, with three Mediterranean-inspired paseos that added 70,000 square feet of retail space for 60 new stores. Jerde Partnership and RTKL Associates led the architectural design for the Irvine Company's vision on "The Renaissance."
Notable store openings that took place following the first makeover included Orange County's first Bloomingdale's in 1996, taking over the former Broadway building; the home store opened the following year in Atrium Court.
The Irvine Company continued its reinvestment of Fashion Island in 2009, undertaking a $100 million project to transform the entire center. Dubbed the "Second Renaissance," four new signature fountains were added, as were additional outdoor spaces for year-round al fresco dining and soft seating areas for guests to relax, have a cup of coffee and enjoy the warm Southern California sun. The reinvestment project transformed Fashion Island, adding classic Italian elements with enhancements such as Palladian architecture from BCV Architects and Burton Architecture, Italian light fixtures and 50-foot pine trees.
"For the reinvestment, we brought in a more sophisticated color scheme […] and landscaping similar to what is seen along the Italian coast," Dan explains. "Fashion Island's look has evolved over the years, and a Mediterranean theme was part of the Renaissance in the 1980s. Today, the center has a more classic Italian feel and look."
In addition to the elegant new architecture, over the last couple of years Fashion Island has seen a number of new stores arrive that are exclusive to Orange County: the first-ever Ella Moss, as well as the first West Coast stores for Vineyard Vines, Sperry Top-Sider and C. Wonder.
"Fashion Island was a great choice for C. Wonder," says Amy Shecter, the company's president. "We love the fact that it is in an outdoor mall, and our location—which is near the famous koi pond—couldn't be better."
Fashion Island is unparalleled in the diversity of its retailers: With everything from a Tesla showroom that displays the automakers' latest technology and the state-of-the-art Island Cinemas (complete with reserved auditorium seating and specialty food and beverages) to a new Whole Foods opening in late 2012, it offers an array of shops and eateries to suit every visitor. Spreading over 1.5 million square feet, Fashion Island is now home to approximately 200 retail storefronts and restaurants.
"Fashion Island set several standards," says Gordy Grundy, president of the Newport Beach Historical Society. "It was novel in scope and design, and it raised the bar. Fashion Island was and still is an object of study by developers, architects and retailers. …[It] also set a standard for style that has pervaded the entirety of our culture." NBM
Life of the Party
From store openings to trunk shows, Fashion Island knows how to throw a party—but perhaps none are as celebrated as the center's annual Christmas tree lighting. Taking place nearly every year since Fashion Island's opening in 1967, the tree lighting is a not-to-be-missed community celebration. The festivities commence in November, when a near 100-foot tree is placed in the Neiman Marcus/Bloomingdale's courtyard. The tree is decorated with thousands of lights, ornaments and bows, and on the Friday before Thanksgiving, Fashion Island puts on a performance to remember. With past acts that include shows from local performing arts students and a rare appearance from Disney characters, the annual Fashion Island tree lighting is a tradition that families look forward to every holiday season.