The Flower Streets
 Corona del Mar's village provides an intimate haven for families. – By Somer Flaherty  | Photos by Jody Tiongco
With most homes just blocks (or less) from the beach, cafés and restaurants, and boutiques, CdM's flower streets neighborhood—or "The Village," as locals call it—runs on either side of PCH from Avocado to Hazel, and has all the convenience of downtown living with the appeal of a small-town, close-knit community vibe.  It's the type of friendly neighborhood where shop owners like Kirsten Prosser of On Que Style offer nearby restaurant recommendations to shoppers while helping them decide between Gucci and DVF frocks, and where the baristas at Rose Café greet you by name and open at 5 a.m. each day to serve the pre-dawn workforce with coffee and just-the-way-you-like-it breakfast burritos.
Country-Style Living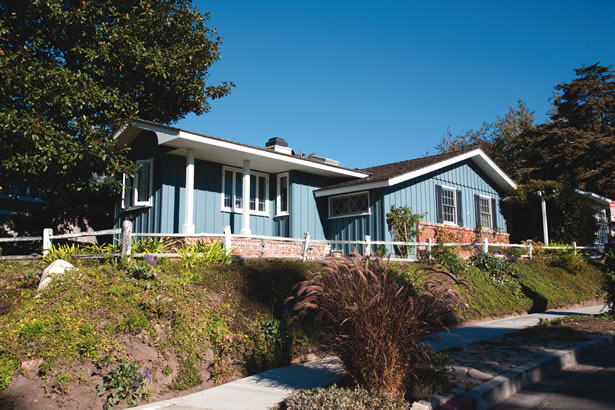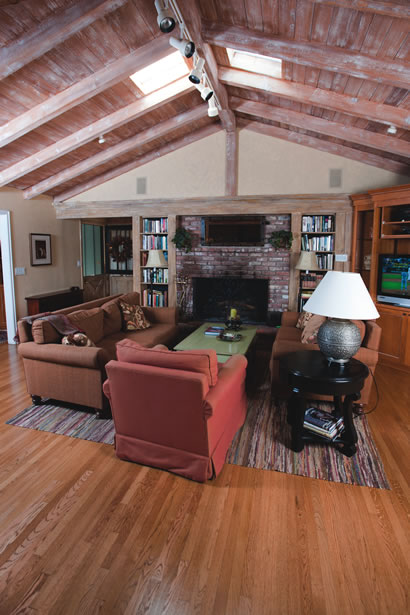 When Dan and Jean Ardell serendipitously followed a lead from a broker at an open house to check out a home with a great canyon view, they knew within minutes they had something special. Jean's love affair with Corona del Mar began in the '60s when she first lived in the area. "I moved away but came back in 1990 with my husband. When I walked into this house, we wanted it right away."
Set on the edge of the flower streets, the home was different than the others. Houses here are often small affairs, with even smaller outdoor offerings. But the Ardells' upper Hazel home is reminiscent of a country ranch abode, with its own version of the "white picket fence," Southern-style shutters, mature trees and a large backyard with enough space for a game of croquet and even a train set.
Jean, a writer and best-selling author, and Dan, a former professional baseball player, appreciated the views, the canyon microclimate and rare space, but proximity to local offerings was also a draw—it's city living with a country, open space feel, they say.
Originally a mid-century single-story dwelling, the house has been updated with an extra 600 square feet that includes a game room, separate dining room and expanded kitchen. Jean spends time reading in her own personal haven—a bedroom window seat, which transforms into a living mural by day when it filters in the soft palette of the nature outside. The living room has exposed wood beam ceilings, a shabby chic brick fireplace flanked by rows of books and ample seating room.
The couple enjoys hosting dinner parties that fill the tomato-red dining room (a color Jean calls an instant party) or spill out into the backyard.
With their last child away at college, the couple says their neighborhood also provides great company. Jean fondly recalls the area's annual summer block party, where the street is closed off and neighbors bring dishes for a potluck. They have also gotten together to host progressive dinners, with each meal offered at a different home.  Jean says, "It's just a really great neighborhood."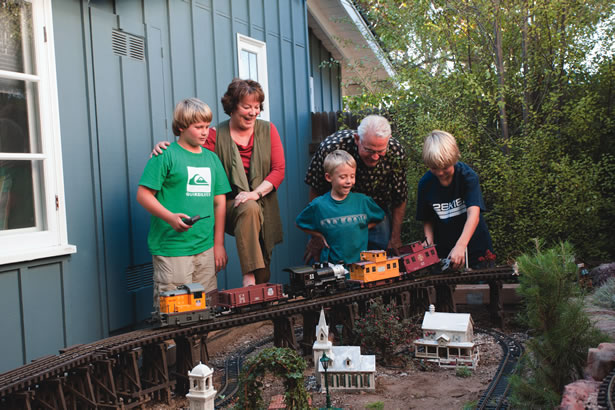 FAMILY FACTS: Jean and Dan Ardell
DAY JOBS: Jean is a writer and Dan is a former professional baseball player who is now in real estate.
SPACE: 2,200 square feet.
TIMELINE: The house was built in 1955 and remodeled in 1998.
FABULOUS FEATURE: The backyard—complete with a roaring train set and mock cityscape.
 Easy Entertaining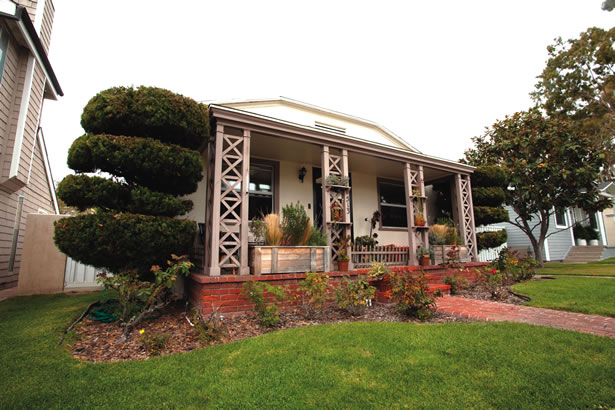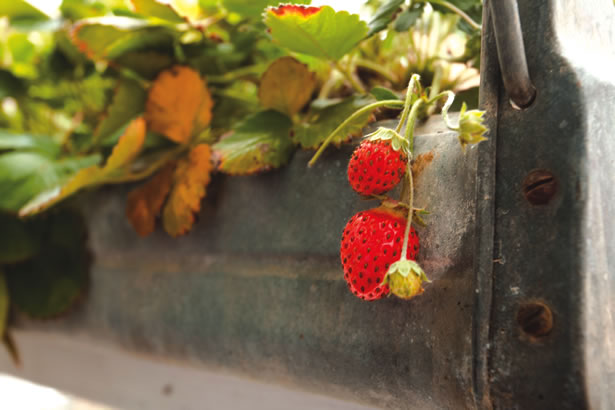 Before moving to Goldenrod Avenue, Jack and Camie Flynn were living in a converted warehouse that doubled as an art gallery. The lease on the property was coming to an end, the place wasn't comfortable for the dogs and Camie didn't exactly have a kitchen to cook in. "We drove up and down every street in the area, hoping to find someone that knew someone in the area who could recommend a place," Jack says."My wife came across the house for rent, and it turns out that the landlords lived right next door. The landlord wanted to meet us and our dogs before signing a lease, so we had a talk with our dogs and said, 'don't blow this for us,' " he says.The couple's shelter dogs Max and Sam behaved perfectly, and in the three years since, the family has become ensconced in the neighborhood. From their front porch, only partially hidden from the street by perfectly planted horsetail, they've seen neighbors' kids grow up and couples add to their brood. "We chase the sun, starting out with a cup of coffee in the morning on the front porch and transferring to the back for a glass of wine in the evening," Jack says.The 1950s single-story dwelling was built off site and trucked to its flower street location, where it's remained ever since. Structurally, the owners built an addition before Jack and Camie moved in, but the real changes came as a result of the couple's design renovation. "I'd call it comfortably eclectic," says Jack of the home's interior style. Like a perfectly curated gallery space, they have incorporated well thought out flea market finds like antique bread-baking pans turned garden plant holders and a former medical examination table turned office desk, along with well-chosen retail finds, such as the industrial dining room table from CB2.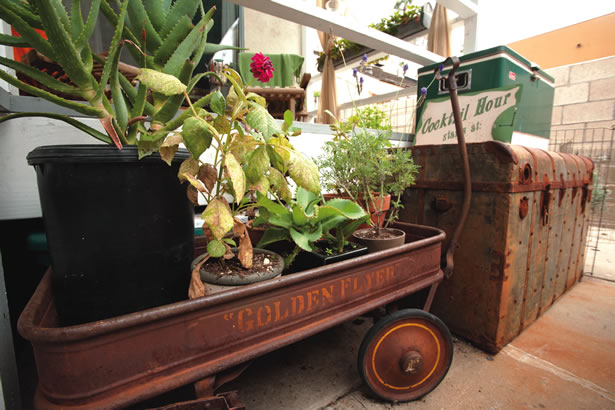 FAMILY FACTS: Jack and Camie Flynn, and two rescue dogs, Sam and Max
DAY JOBS: Jack is a restaurateur and owns The Chuck Wagon, a 1971 vintage Airstream converted to a food trailer for catering; Camie is a teacher.
SPACE: 1,100 square feet, three bedrooms, two baths.
TIMELINES: Built in the 1950s but remodeled before the couple moved in.
FABULOUS FEATURE: The (useable!) front porch, landscaped by the couple with enough seating to entertain.
Family Fun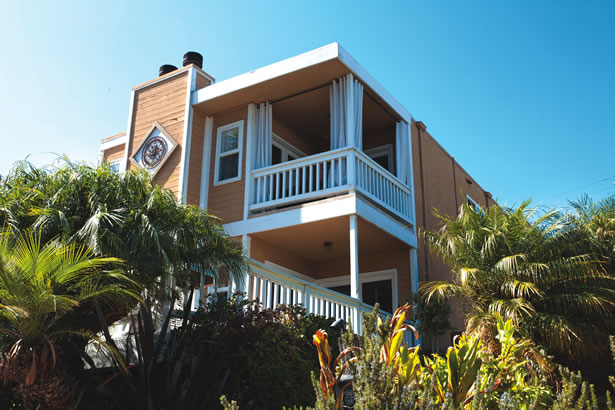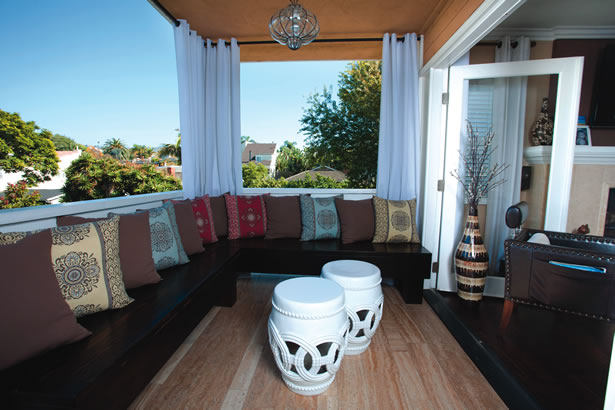 For Brad and Jana Grover, life on the flower streets with their two children is blissful. Jana says living here doesn't feel like suburbia—she loves that the homes here are walking distance to shopping and dining, and it's liberating for residents to live in a bustling space that is still family oriented. The family spends time together strolling the neighborhood with stops at their favorite haunts like Thai Del Mar for takeout and the Corona del Mar farmers market on Saturdays.
Taking advantage of Orange County's sunny skies, the Grovers, like most residents in the neighborhood, also use what little outdoor space they have to incorporate entertaining areas on decks, balconies and even the most narrow side yard. Inside, stylish furniture in each room and a picture-perfect kitchen make it easy to focus on enjoying their surroundings, which offers respite from their busy schedules.
For Jana, one of her favorite rooms is the nursery: The eye-catching, sunset colors of the walls is right in line with the rest of the couple's beachside palette. "We had fun designing the nursery and spent months on it," she says. "My husband Brad had a Billabong shirt that had four different stripes on it: brown, red, orange and yellow. The shirt gave us the inspiration to paint a thick band of the colors across part of the walls. It makes the room very happy and bright."
The home is warm and inviting, and the family spends most of their time in the great room, which is connected to the kitchen, and makes for a great entertaining spot. But Jana says being able to enjoy both the indoors and outdoors is what the family loves the most about their neighborhood. She says, "I wouldn't want to be anywhere else." NBM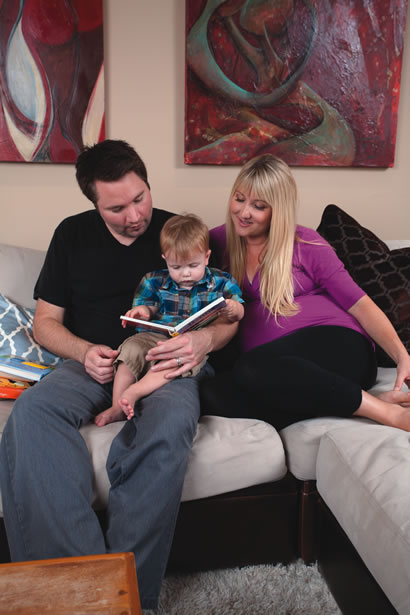 FAMILY FACTS: Jana, Brad, Taj (2) and baby Jax Grover, and Cookie the cat
DAY JOBS: Jana is a busy mom and Brad is the president of a global information technology company.
SPACE: 1,600 square feet, three bedrooms, two baths.
TIMELINE: Built in 1968, purchased in 2002.
FABULOUS FEATURE: Open great room where the couple cooks dinner together and the kids still have room to play.