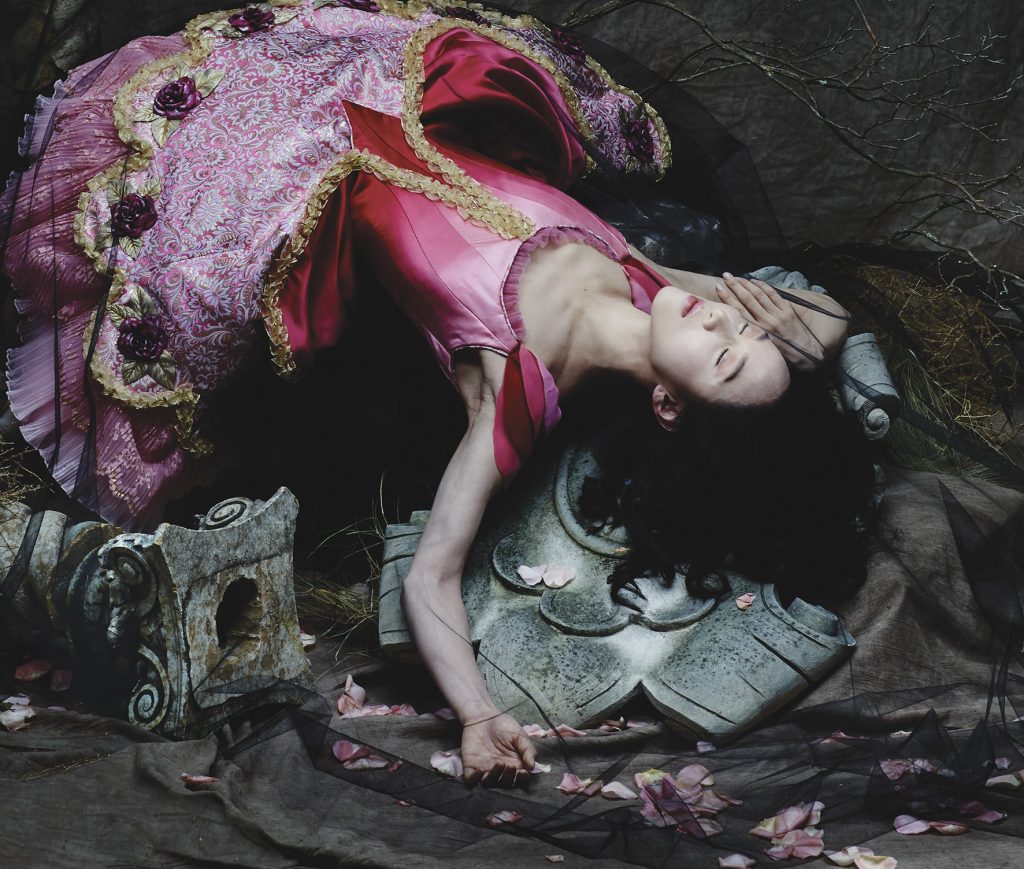 A collaboration of three cultural giants brings a classic tale to Orange County.
By Peter A. Balaskas
The magical love story of "The Sleeping Beauty" has transcended many diverse cultural mediums. Starting as a Grimm brothers fairy tale, this timeless story inspired poetry, paintings and was notably adapted twice for film by The Walt Disney Studios: the 1959 animated picture of the same name and 2014's "Maleficent" starring Oscar winner Angelina Jolie.
But, even today, one of the most prominent artistic interpretations remains Pyotr Ilyich Tchaikovsky's 1889 ballet. Its romantic themes, memorable music and graceful choreography by Alexei Ratmansky will be brought to life in Orange County as a world premiere from the American Ballet Theatre at Segerstrom Center for the Arts from March 3-8. Pacific Symphony, which is headquartered in Santa Ana and frequently performs at Segerstrom, will play Tchaikovsky's score live for this production, rounding out the cultural trio making a sublime work of art for Southern California audiences.
According to Eileen Jeanette, vice president of artistic and orchestra operations at Pacific Symphony, it's the ballet's universal attraction that will draw audiences from across the county to see this fairy tale come to life at Segerstrom.
"It's a world-class facility. And ['The Sleeping Beauty'] is a perfect marrying of genres of ballet, orchestra and theater," she says. "… It really appeals to both children and their parents. And so many of our community residents have come from backgrounds where they had their dance and music lessons during their childhood. It's a story everyone knows [and it] will be a very satisfying experience for folks to attend."
"The Sleeping Beauty" will also possess an international flair: The sets and props were constructed in Milan and Venice; the costumes of the non-dancing supernumeraries were made in Rome; and all of the dancers' costumes were made in New York. Scenic and costume designer Richard Hudson says that he has always wanted to design Tchaikovsky's ballet ever since he served as an assistant to famed Greek designer Nicholas Georgiadis during a Vienna production of "The Sleeping Beauty" starring Rudolf Nureyev.
"I remember watching the dress rehearsal and thinking, 'I want to do this one day,' " he says. "And here I am doing it."
Richard also states that although it's difficult to ensure that the companies in New York and Italy are creating their quality work—especially for the 350 costumes in the ballet—it's a creative challenge that he values as he helps bring the show to the Segerstrom stage.
"I could see immediately, just looking at the photographs and the plans, that it was the ideal place to do a big production like 'The Sleeping Beauty,' " he says of the Costa Mesa theater. "It was very helpful that the dimensions are very similar to those of The Metropolitan [Opera House in New York], … the second place this production of 'The Sleeping Beauty' is going to open."
"The Sleeping Beauty"
When: March 3-6, 7:30 p.m.; matinee and evening performances March 7-8
Where: Segerstrom Center for the Arts, 600 Town Center Dr., Costa Mesa
Tickets: Start at $29
Box Office: 714-556-2787; scfta.org
---
A Swan at Irvine
This year's seasonal transition from winter to spring has been a harmonious one in Orange County, thanks to one man: Pyotr Ilyich Tchaikovsky. In addition to Segerstrom Center for the Arts' world premiere of "The Sleeping Beauty" in March, Orange County's Irvine Barclay Theatre recently produced "The Nutcracker" during the 2014 holiday season and will begin the new year with another Tchaikovsky classic. Festival Ballet Theatre is presenting "Swan Lake" on the Barclay stage from March 21-22, resulting in all three of the composer's ballets being sequentially produced in Southern California. Those who wish to see the upcoming "Swan Lake" performance will be taken on a prince's journey to save his true love, a young girl who is doomed to be a swan by day and a woman at night. (949-854-4646; thebarclay.org)
---
Arts Agenda
"Dirty Dancing"
Through Feb 15; RenÉe and Henry Segerstrom Hall, Costa Mesa
Since appearing on the West End of London in 2006 at the Aldwych Theatre for a six-month run, this elaborate production has earned critical and box office success worldwide. The love story, based on the 1987 film of the same title, is set to background music by legends such as Marvin Gaye and Otis Redding. (714-556-2787; scfta.org)
"Selections: Dieter Roth's Piccadillies"
Feb. 15 – May 24; Orange County Museum of Art
The late Swiss artist Dieter Roth will be featured in the Snyder Gallery at OCMA this spring, with works from his "Piccadillies" series on display. These diverse works of art include 22 small paintings executed in 1976, two drawings and three print portfolios from the 1970s that contain 26 lithographs and six serigraphs. (949-759-1122; ocma.net)
Bizet's "Carmen"
Feb. 19-24; Renée and Henry Segerstrom Hall, Costa Mesa
Georges Bizet's tale of love and lust between a young soldier and a gypsy incorporates classic melodies and memorable arias, including the iconic "Toreador Song." Playing the title role is Orange County's own mezzo-soprano Milena Kitic, while Pacific Chorale will perform Bizet's timeless, passionate score. (714-755-5799; pacificsymphony.org)
Boutique Art Exhibits
Feb. 19 and March 19; The Resort at Pelican Hill
During the resort's social hour, Laguna Beach based-Dawson Cole Fine Art will display exhibits in the Great Room with sculptures, paintings and sketches, complemented by art discussions, live music and menu tastings from Pelican Hill chefs. February's event focuses on impressionism; March is themed "From Old Masters to Modern Masters." (949-612-0332; pelicanhill.com)
Kneehigh's "Tristan & Yseult"
Through Feb. 22; South Coast Repertory, Costa Mesa
An Arthurian legend comes to life in nontraditional ways as Kneehigh, a British theater company, presents a tale that combines comedy, modern dress and live cabaret music. This critically acclaimed hit comes to Orange County as part of its international tour. (714-708-5555; scr.org)
"Robert Henri's California: Realism, Race, and Region, 1914-1925"
Feb. 22 – May 31; Laguna Art Museum, Laguna Beach
American painter Robert Henri chronicles his journeys through San Diego and Los Angeles in a dozen paintings on loan from private and public collections, including the San Diego Museum of Art. (949-494-8971; lagunaartmuseum.org)
"Séquence 8"
Feb. 27 – March 1; Irvine Barclay Theatre, Irvine
Le 7 doights de la main (7 Fingers), a 2-year-old contemporary circus company, has amazed audiences around the world, most notably on Broadway with "Pippin" and at the Olympics in Sochi, Russia. With "Séquence 8," the acrobatic troupe flies across the stage in a one-act show packed with gravity-defying stunts. (949-854-4646; thebarclay.org)
"Tokyo Fish Story"
March 8-29; South Coast Repertory, Costa Mesa
This world debut offers an in-depth exploration of two competing sushi masters. One part comedy, one part mystery—with some poetry and rare sushi rituals—"Tokyo Fish Story" is a fishy play with a big heart. (714-708-5555; scr.org)
"Where Ends Meet: A Retrospective of Works by Nancy Ravenhall Johnson"
March 13; Bowers Museum, Santa Ana
Nancy Ravenhall Johnson has creatively and professionally evolved at the museum, holding positions that range from gallery store manager to director of creative design. This exhibition salutes her multifaceted talents with works that illustrate her passion for people, folklore, poetry and world cultures. (714-567-3600; bowers.org)
Paul Anka
April 9-11; Renée and Henry Segerstrom Hall, Costa Mesa
Backed by Pacific Symphony, Paul Anka will please audiences with chart-topping hits, such as "Diana" and "I Love You Baby." Known for creating 900 songs for fellow artists—including Frank Sinatra—the crooner combines high energy with dynamic class. (714-755-5799; pacificsymphony.org)