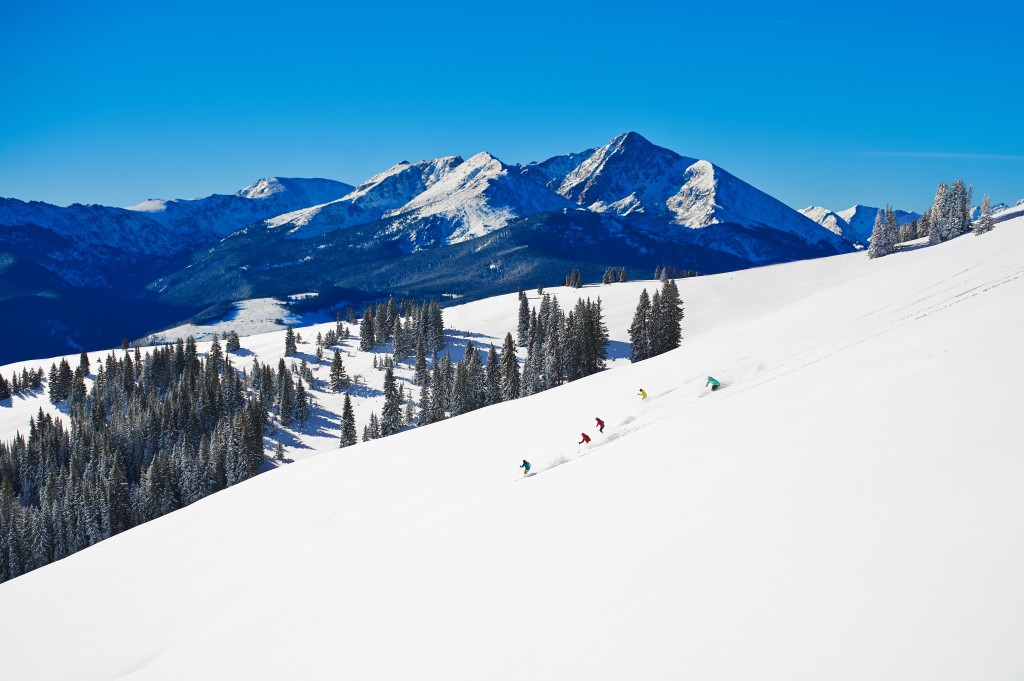 Being snowbound in some of North America's most spectacular ski towns isn't such a bad thing after all.

By Stephanie Nitsch
Southern Californians in search of a white wonderland no longer have to head across the pond to ski the great mountains of the world. For those afflicted with perpetual wanderlust, this thankfully means less time spent in baggage claims and customs lines and more time dedicated to carving into fresh powder. Bordered by hiking trails, verdant evergreen groves and panoramic vistas, these picturesque resort towns offer local travelers top runs and luxury lodgings in their own backyard. And with a growing number of slopeside perks, family-friendly activities and after-hours diversions offered alongside the resorts' in-bound amenities, it seems the Western sky is truly the limit.

Vail Mountain
With more than half of Vail Mountain's 5,289 acres catering to advanced riders, a visit to this Rocky Mountain retreat should be at the top of any winter bucket list. Skip the long shuttle ride from Denver International Airport and instead fly directly from Los Angeles to the Eagle County Regional Airport in Gypsum, Colo., where a 30-minute drive connects travelers to Vail's alpine bliss. Once there, it may be difficult to choose from among the 193 trails, but the new Mountaintop Express Lift whisks riders to the resort town's seven legendary Back Bowls and the Blue Sky Basin. For rookie skiers, the Adventure Sessions program pairs small groups of beginners with savvy mountain guides who impart tips, history lessons and local knowledge of the mountain's best-kept secrets. Off the hill, village life is vibrant with blocks of shopping and more than 100 dining options to quell even the most particular appetites. Meanwhile, the city's nightlife comes alive when major events like the Burton U.S. Open Snowboarding Championships (Feb. 25 to March 2, 2014) bring the world's top winter sports athletes to nearby slopes.
Slope secret: Once the crowds have plundered the Back Bowls, heed the advice of smart locals and stick to the front side of the mountain's terrain to avoid the powder-induced chaos and snag fresh turns before anyone else catches on.
Apres-ski scene: Stop by The Sebastian Hotel's chic Frost Bar, which boasts a wide array of beer, wine and spirits. The bar also carries the town's best throwback cocktails and an impressive scotch collection, perfect for apres-ski or a nightcap. For more formal dining, The Sebastian offers its new restaurant, Leonora, which debuted in December 2012. Inspired by the Alps, Executive Chef Sergio Howland serves up delectable tapas, crudo and alpine bistro fare using only fresh, organic ingredients.
More info: Opened Nov. 22; 800-805-2457; vail.com
Deer Valley Resort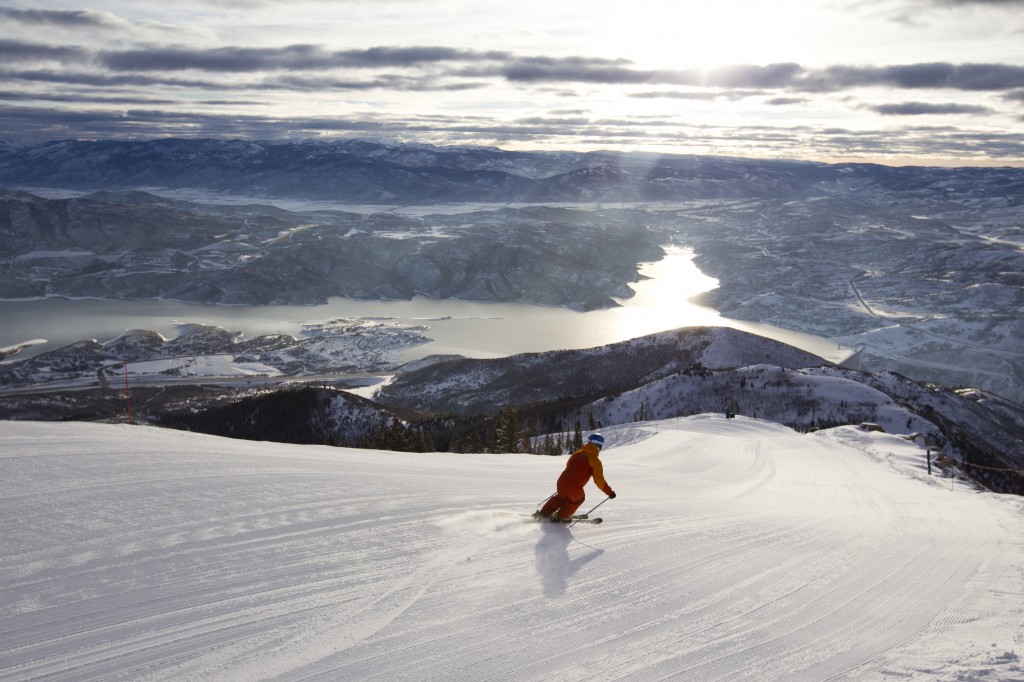 The "Deer Valley difference" isn't just a motto at this ski-only resort in Park City, Utah; it's an experience that redefines the expectations of five-star service. The unparalleled hospitality begins upon arrival, as curbside valets flock to assist guests with cumbersome equipment, and ends at the day's finish with complimentary overnight ski storage. In between, fine rows of manicured corduroy are groomed to perfection each morning, and a limited number of daily lift tickets are capped at 7,500 to ensure quality experiences for all guests, regardless of skill level. While the limit guarantees astonishingly short lift lines on any day of the season, it also makes purchasing advanced tickets an absolute necessity if guests plan to visit over the holidays. Perhaps even more tantalizing than the hill's near-empty ski slopes, though, is Deer Valley's flair for extravagant indulgence at restaurants like Fireside Dining at Empire Canyon Lodge, which offers a four-course affair with classic favorites from the European Alps served beside large stone fireplaces, or Seafood Buffet at Snow Park Lodge, now famous for its colossal bounty of crustaceans, fresh fish, meats and decadent house-made desserts.
Slope secret: Start the day in the Mayflower area, where east-facing trails cascade toward the Jordanelle Reservoir and are the first to soften on an icy morning. Then, hit the Daly Chutes—flanked by skiable aspen groves on either end—for steep and narrow slopes.
Apres-ski scene: The St. Regis Deer Valley Resort stocks all the necessary confections for a gourmet, slopeside s'more. Thread a few airy stacks of marshmallows onto a skewer and toast to your heart's content in the hotel's outdoor fire pits before sandwiching them between layers of milk or dark chocolate, coconut and caramel.
More info: Opens Dec. 7; 800-424-3337; deervalley.com
Go for Gold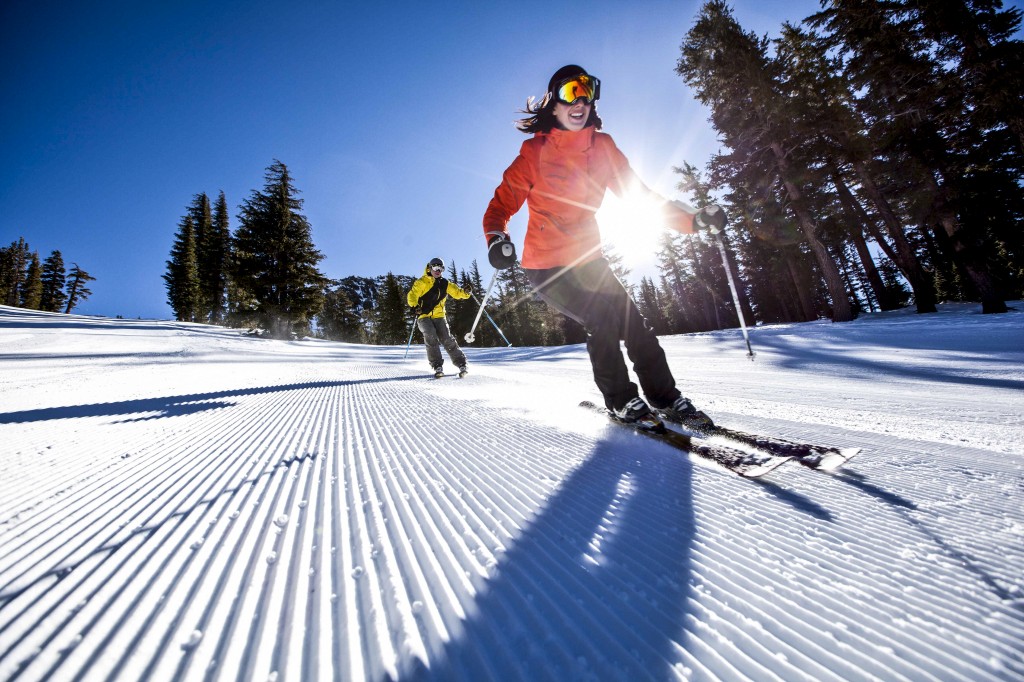 Why settle for watching the 2014 Olympic Games in Sochi, Russia, on television this winter when you can experience the thrill of the competition yourself? Adrenaline junkies can ski, toboggan, snowshoe and more at Whistler Olympic Park, originally built for the 2010 games in Vancouver, British Columbia. (whistlerolympicpark.com)
Stateside, Utah Olympic Park offers activities including bobsledding, adventure courses, slides and scenic chairlift rides (utaholympiclegacy.com). Or, track your speed with Vail's EpicMix lift pass and see how your skills stack up against those of Olympic skier Lindsey Vonn. Race times are automatically recorded online when visitors register their EpicMix tickets. (epicmix.com)
Rather keep your feet firmly planted on the ground? Cheer on Olympic hopefuls from the sidelines during the International Ski Federation's FIS Freestyle Skiing World Cup at Deer Valley (Jan. 8-11, 2014) or one of two Sprint U.S. Grand Prix events at Northstar California (Jan. 6-12, 2014) and Mammoth Mountain (Jan. 14-19, 2014) as athletes vie for spots on the U.S. ski and snowboard teams. Thousands of people will turn out for these Olympic qualifying events, where spectators can watch future gold medalists defy the limits of human achievement in midair.
Slope secret: Seek out the best glades in the area from the Chair 22 lift. A favorite of local pro skier Chris Benchetler, this zone is a prime place to discover quality slopes. Even intermediate riders can challenge their abilities with gentler runs on the backside of the lift.
Apres-ski Scene: Fans of dive bars and jukeboxes will appreciate the Clocktower Cellar, where guests can enjoy more than 150 types of whiskey from around the world. For beer aficionados, the Mammoth Brewing Co. pours fresh-from-the-keg samples of its classic suds and seasonal specialties.
More info: Opened Nov. 7; 800-626-6684; mammothmountain.com
Mammoth Mountain

Winter sports enthusiasts won't have to wait until the Olympics in February to salute the shred, white and blue. As the official training ground of the U.S. ski and snowboard teams, Mammoth Mountain has welcomed all-star athletes to its trails and terrain parks throughout the early season, and on its 60th anniversary, this legendary resort town couldn't have asked for a better birthday gift. Visitors can perform their own medal-worthy feats on the Super Duper Pipe, a behemoth of a ditch with expansive 22-foot-high walls. Even pint-sized shredders can mimic their idols in the Unbound Playground, a freestyle wonderland for newcomers. Meanwhile, Mammoth's sister ski area, June Mountain, will reopen its lifts after a period of quiet uncertainty, allowing children ages 12 and under to ski for free the entire season. Best yet, planning a vacation to Mammoth Lakes no longer requires a five-hour drive, thanks to new nonstop routes from John Wayne Airport to the Mammoth Yosemite Airport.

Northstar California
Set just beyond the north shores of Lake Tahoe's crystalline waters, Northstar California is a refreshing getaway from the lake's bustling south shores. The family-friendly resort has invested more than $30 million over the past three years into transforming the skiable terrain and once-modest village into a luxury experience replete with adrenaline-fueled activities for visitors of all ages. Emerald forests of evergreen conifers separate pristinely groomed trails from areas for tree skiing, but it's the challenging terrain of Lookout Mountain that attracts the most ambitious thrill-seekers.
The sprawling resort features nine terrain parks, including the 22-foot superpipe, designed by Olympic gold medalist Shaun White, and The Stash, a collection of freestyle obstacles made from reclaimed wood and other natural materials. Beginners can take a lesson at the world's only Burton Snowboard Academy, which offers a customized learn-to-ride program that guarantees to have every student linking turns by the end of the day. Afternoon activities in the village are geared toward unwinding, with slopeside hot tub sessions and daily s'more roasting always on the schedule.
Slope secret: Hiking the paths along Sawtooth Ridge feels like an adventurous backcountry jaunt and offers visitors scenic views of the surrounding area.
Apres-ski scene: Decadent desserts are the inspiration for nearly two-dozen cocktails at The Chocolate Bar. The bar and restaurant's selection includes tempting treats like the C Bar cocktail, muddled with vanilla vodka and creme de cocoa, which arrives in a glass rimmed in chocolate shavings. A savory menu of home-style classics balances out the sweet additions.
More info: Opened Nov. 22; 800-466-6784; northstarcalifornia.com
Snowbird/Alta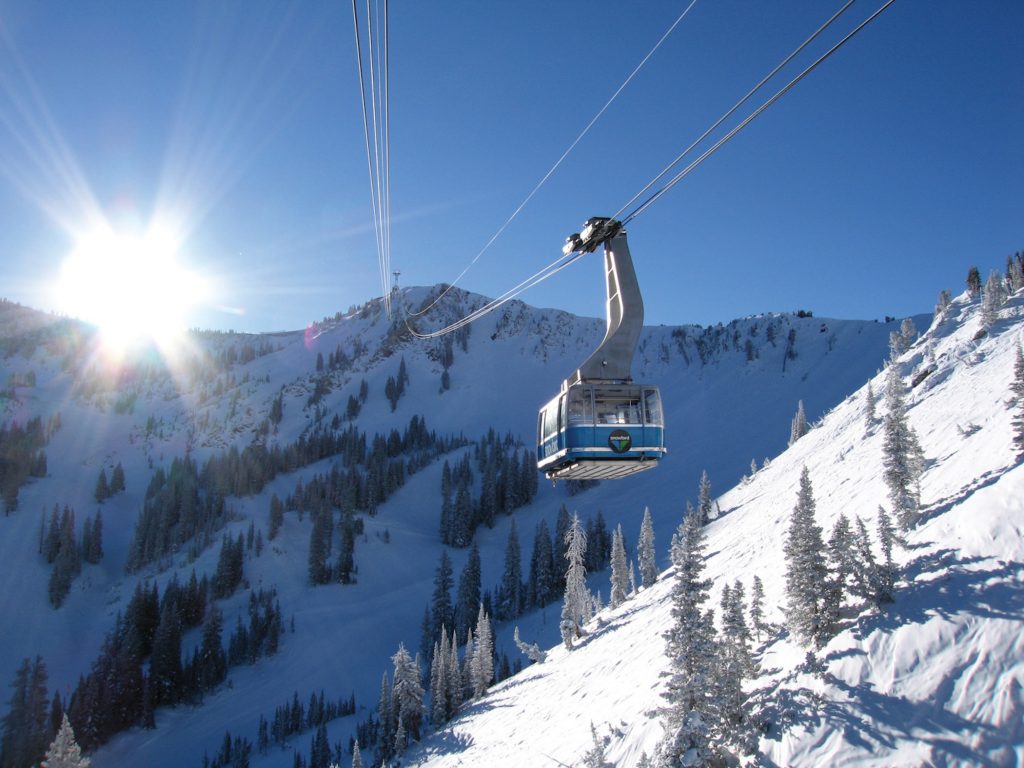 Commonly referred to as Little Cottonwood Canyon, the astounding alpine gorge that's home to Snowbird and Alta resorts is a bit of a misnomer. Despite its name, Little Cottonwood Canyon is revered across Utah for its big mountain skiing and technical challenges. Both Snowbird and Alta resorts frequently shatter snowfall records thanks to lake-effect weather patterns, but the atmosphere drastically differs between the two. At Snowbird, skiers and snowboarders mingle on the tram before descending from the summit at a lung-burning 11,000 feet. A newly installed Gad 2 lift has replaced the mountain's original lift for quicker access to the resort's finest tree skiing. Meanwhile, visitors will be hard pressed to find a single snowboarder linking turns on the slopes at neighboring Alta, which is proud to call itself the oldest ski area in the state. Steep bowls weed out the timid, but freshly groomed expanses invite beginners to skate across the soft, forgiving powder.
Slope secret: Opt for the AltaSnowbird Pass, which allows skiers to sample the best of both resorts in a single day. Adventurous snowboarders can fulfill a rite of passage on the towns' shared ridgeline after a hike up Mount Baldy.
Apres-ski scene: The town of Alta boasts a handful of nostalgic lounges that are dedicated to relieving parched skiers. Locally brewed beers, cocktails, and warm appetizers and entrees revive the weary at the Alta Peruvian Bar, while wood fires combat plummeting outdoor temperatures inside Alta Lodge's Sitzmark Club, which is almost as rustic as the 1930s-era building it resides in.
More info: Snowbird: Opened Nov. 16; 800-232-9542; snowbird.com. Alta: Opened Nov. 22; 801-359-1078; alta.com
Whistler Blackcomb
With 8,161 acres spread between two mountains, visitors won't exactly be competing for space at Whistler Blackcomb after a snowstorm. The sheer size and vertical amplitude of this British Columbia resort will make even the heartiest skier weak in the knees after a few modest runs. Eighteen million dollars have been dedicated to improving the resort's accommodations for the upcoming season; the recent additions include two new chairlifts, Harmony 6 and the Crystal Ridge Express, which shuttle riders to the peaks of powder-drenched bowls and glaciers that top out at more than 7,000 feet tall. Granite spires and jagged spindles surround the resort, but the rugged terrain doesn't necessarily yield palpitation-inducing descents at every turn. Instead, whimsical adventure zones entertain children's imaginations, and Whistler's Tree Fort elicits a smile from anyone who boards the twisting slides. The resort is the latest property to join the Mountain Collective, a 12-mountain grouping of North America's best slopes that offers a seasonal pass guaranteeing access to a cumulative 30,376 acres of skiable terrain for $379.
Slope secret: Dodge the crowds at Whistler Bowl and instead head to Bagel Bowl for exposure to steeper runs. On stormy days, the canopy of trees off Blackcomb's 7th Heaven Express lift provides low-light visibility to break up the blinding whiteness.
Apres-ski scene: Unwind with a savory martini at the Fifty Two 80 Eatery + Bar at the Fours Seasons Resort and Residences Whistler. This season's signature libation, the Drunken Rabbit, combines sweet carrot juice and ginger vodka.
More info: Opened Nov. 28; 800-944-7853; whistlerblackcomb.com