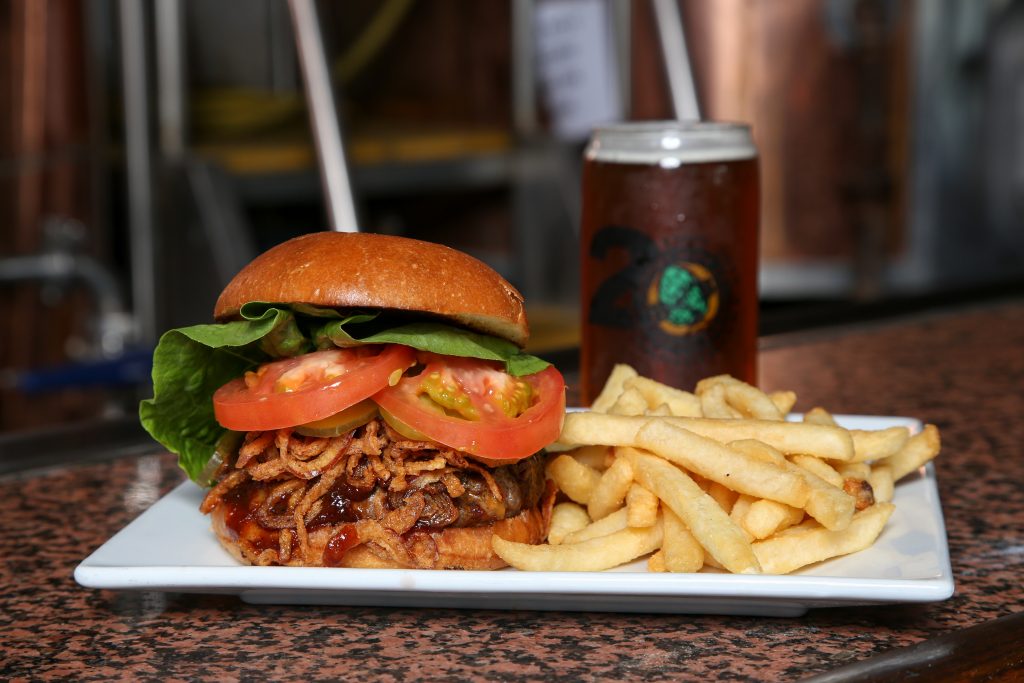 Raise your glass of award-winning beer to celebrate this local brewpub's major milestone.
By Sharon Stello | Photo by Jody Tiongco
Newport Beach Brewing Co., in the historic Cannery Village on the peninsula, celebrated its 20th year of business on April Fools' Day—and that's no joke. The establishment was founded as the city's first brewery, and owner Mike Madlock hasn't looked back since.
Winning several awards along the way, the "Brew Co.," as locals call it, has become a neighborhood hangout and a popular place for weekend crowds to enjoy a few pints, maybe while watching sports on the many HDTV screens. The beer is fresh and flavorful, crafted right on-site; the fermenting tanks can be seen from the main room and a 15,000-pound grain silo is out back. Inspired by local landmarks and the ocean, just two blocks away, beers on tap include the Newport Beach blonde, Newport Coast steam, Pelican pale ale and Balboa brown ale, among many others.
"I try to give it an approachability—not to scare anybody off—with traditional flavor profiles," notes brewmaster Derek Bougie.
The microbrews—which can only be enjoyed on-site, as they're not bottled for mass commercial distribution—are complemented by a menu of quality dishes, from pizza to burgers, salads, sandwiches and more. "The beer will get you here, but the food will keep you coming back," Mike says.
All of the dressings and condiments are made in-house; some, like the batter for fish 'n' chips and the tempting Asian wing sauce, incorporate the beer. (Bone-in and boneless chicken wings are offered with six sauces ranging from buffalo to mango habanero.) There's even a beer-flavored cheesecake, which is as delectable as the concept is creative, with just a subtle hint of pale ale used in the filling.
Burgers are among the most popular items and for good reason. The loaded hickory burger, a thick, juicy patty stuffed with bacon and cheddar cheese and topped with onion strings and barbecue sauce, pairs perfectly with a cold craft brew. Another best-seller is the ahi tasting plate with the fish served seared and raw (poke-style), accompanied by a refreshing cucumber onion salad, rice, wasabi and pickled ginger.
Natural beef from Harris Ranch is used for the burgers, while the kitchen opts for organic produce and wild-caught fish rather than farm-raised to meet diners' changing preferences. The menu even features gluten-free crust options for its pizzas, with toppings ranging from traditional pepperoni to innovative macaroni and cheese.
To help accommodate the large crowds that flock to the pub, a free parking lot—hard to come by on the peninsula—is located in back. And the crowds do come, especially for happy hour from 3-6:30 p.m. weekdays when $4 well drinks, $3 pints and other discounts are offered. Try Thursday for the house-made lasagna, salad and pint for $12.
To celebrate its 20th year, a special Peninsula double India pale ale is on tap. Order a glass and raise it high to cheer the Brew Co. on this milestone—here's to another 20.
Newport Beach Brewing Co., 2920 Newport Blvd.; 949-675-8449; newportbeachbrewingcompany.com