We dish on the best boutiques for Newport's stylish shoppers, just in time for seasonal soirées and holiday gift giving. – By Ashley Breeding, Kedric Francis and Christopher Luu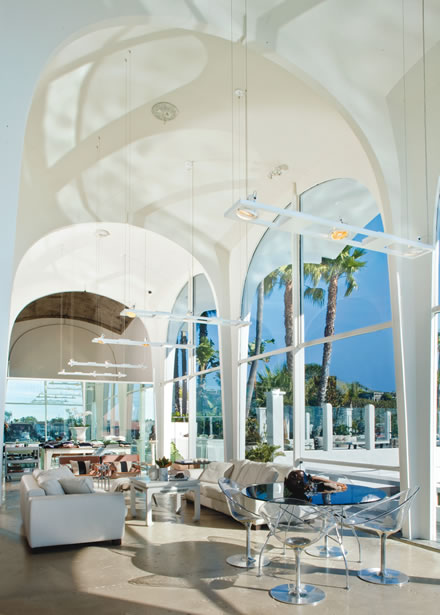 We all know why living in Newport Beach is so grand: the water, the weather, the wonderful people and all the rest. But let's admit it: Having access to world-class shopping also makes the list of why we love it here. So, just in time for the shopping season, here's an alphabetical reminder of how lucky we are, with 26 must-shop spots in and around NB, including a fashionable "it gift" find at each one. Plus, we name-drop a few bonus boutiques just for fun to bring the total to well over 100—and it's far, far from complete. 'Tis the season to give, after all!
A'Maree's
This über upscale boutique located on Mariner's Mile in Newport Beach has an epic view of the harbor and the ultimate selection of sleek, European styles. Find everything from lavish cashmere cardigans and lush leather bags to fabulous Lanvin flats with jewel embellishments.
IT GIFT: The Deanna Hamro Swarovski crystal and oxidized
silver necklace, $656, adds just the right amount of sparkle to any outfit. + Assouline | Aris | American Rag Cie
Betsey Johnson 
Punk meets prom, crinolines and corsets at this Fashion Island boutique. A haven for all things feminine and flirty, it has everything from animal prints and quirky jewelry to bags to cocktail dresses that are anything but prim and precious.
IT GIFT: The Samantha Colorblock Peep Toe Pump, $109, combines fall's hottest trends into one statement piece. + Baccarat | BCBG | Beach Candy | Bliss | Bloomingdale's | Brunello Cucinelli | Burberry | Bulgari
Cartier
While you're waiting for the Cartier boutique to get its makeover, stop by its South Coast Plaza Penthouse location for the full line of timepieces and jewelry.Manager Caroline Jones is sure to pick out something sparkling, whether you're looking for yourself or that special someone.
IT GIFT: Cartier's Love collection is a classic choice, but you might not know that it's expanded to include leather goods, too. Get a wallet to match your bracelet (or ring).+ Calvin Klein | Chanel | Christian Louboutin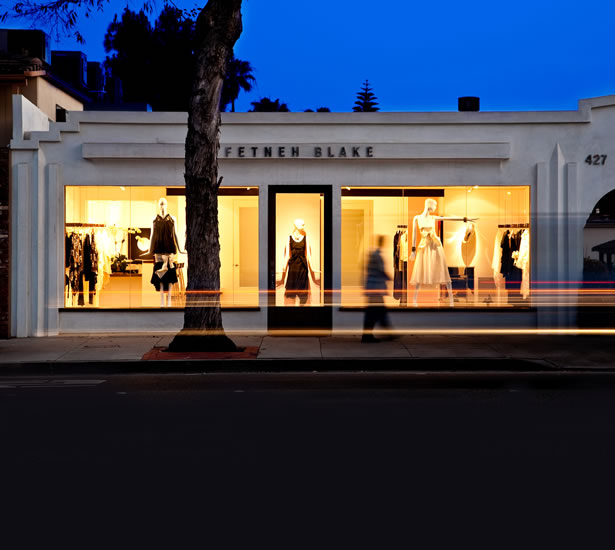 DIOR
After a renovation that added a fine jewelry boutique and expanded the brand's bag and shoe selections, Dior at South Coast Plaza became a fashion and Francophile's dream come true. Coupled with ready-to-wear straight from the Paris runways, it's a French affair to be proud of.
IT GIFT: Dior's latest fine jewelry collection, Bal des Roses, by any other name would still be as sweet, making the necklaces, brooches and earrings must-have additions to your jewel box.+ David August | David Yurman | Diane's Beachwear | Diane Von Furstenberg | Donna Karan
Elie Tahari
Fashion Island's one-stop shop for all things sleek and sophisticated isn't just for day dressing—they've got perfect cocktail dresses for after-hours revelry alongside luxe fur pieces and rich leather accessories. With a few pieces, you'll be well suited no matter where you go.
IT GIFT:The Jette dress, $798, has it all. Lace and sequins punctuated with feather trim in a '20s silhouette will make you look like you stepped right off the runway. + Emilio Pucci | Escada | Eileen Fisher | Emmo
Fetneh Blake
We can't decide which is more sophisticated and stylish, the Laguna Beach boutique or the woman whose vision and impeccable fashion sense fuels it. Fetneh Blake—the store and its owner—quite simply makes Orange County a more beautiful place to be.
IT GIFT:The oxidized diamond and sterling silver bracelet, $8,500, and necklace, $6,500, by Arit Designs perfectly compliment any outfit, from that LBD to a cashmere cape and jeans. +FaÇconable | Fendi | Forever 21 | Frette

Gucci
Glitz and glam are never out of season at Gucci, where fall's latest "it bag" sits pretty on lacquered wood and gilt shelves alongside the most covetable shoes. Frida Giannini's ready-to-wear is a what's what of the season's trends, from safari-chic to resort-ready nauticals.
IT GIFT
Whether or not you're on safari, the Marrakech Messenger Bag, $2,750, will add a heavy dose of animal attraction.+ Garys | Generic Youth | Giorgio Armani | Guess
Intermix
Like a cool girl's closet, Intermix has the pieces you won't find at department stores and even the brands' namesake boutiques. With designer exclusives from Diane Von Furstenberg, Zac Posen and Gryphon, the SCP store's got style to spare. And with the store's unique layout—by trend, not by designer—you can browse without getting bored.
IT GIFT: Bring the party with you when you wear the Erickson Beamon Confetti Bracelet, $575, sure to spark conversations everywhere you go.
Harper's
This hot shop in coastal Corona del Mar showcases the latest trends with a mix of high-end collections by C&C and La ROK and pieces by more purse-friendly brands like Alternative Apparel. Owned by Erica D. Thomas, who had the Erica Dee shops in CdM for some years, the smaller shop showcases her trademark fashion and design eye.
IT GIFT:  The custom-made monogrammed beaded charm necklaces and bracelets by Jewels by Jessica, available in 18K gold and silver, $120-$150, make the perfect gift for any girl. +H&M | Halsea | HÈrmes | Henri Bendel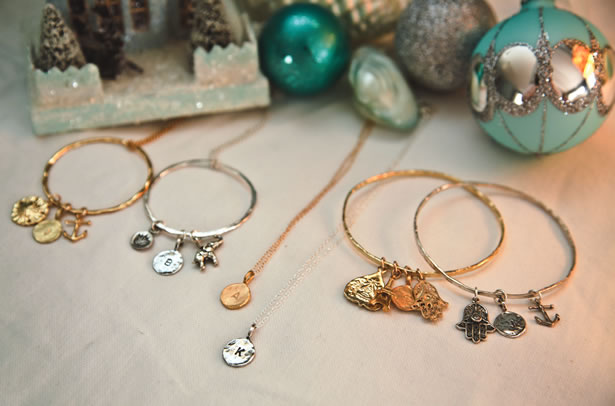 Jonathan Adler
Adler, the self-proclaimed anti-depressive decorator, has a Fashion Island store brimming with cheer—meaning that whether you get a picture frame or a settee, you'll up the style quotient at your house and smile from ear to ear. And the decorating service? It's a sure way to get your home looking great with all of Adler's statement pieces.
IT GIFT: Blending Adler's signature white pottery and bold gold details, the Large Fontana Bowl, $198, makes a big statement with just one piece. +Jack's Surfboards | Jimmy Choo | Juxtaposition
Kate Spade
Fans of Kate Spade's cheeky-uptown goods rejoiced when Fashion Island welcomed the boutique (one of the brand's biggest), but things got even better when they expanded to carry clothing, shoes, jewelry and home goods, as well as the label's must-have bags. Every visit is like a treasure hunt; you'll always find something new.
IT GIFT
The brand's collaboration with Poppy King, the Lipstick Queen, resulted in Supercalifragilipstick. Four must-have shades means there's something for everyone, but the best part might just be the tube's sweet name.+ Kiehl's | Kitson
Traditional Jewelers 
The Halfacre family doesn't just own and operate a stunning Fashion Island jewelry store (in Malibu, too) featuring fine jewels and timepieces from the top brands in the world; they're also guardians of the legacy of philanthropy pioneered by Marion Halfacre that donates to more than 100 charities a year. There's not a worthy gala in town that doesn't feature something fabulous from Traditional Jewelers in the silent and live auctions, and numerous dignitaries, speakers and celebs in O.C. to support good works leave with a generous gift from the store.
IT GIFT:How does one choose between giving a Roberto Coin couture cocktail ring ($14,200-$38,000), an IWC Portuguese Perpetual Calendar Timepiece ($37,100) or a Norman Silverman oval cut diamond tennis bracelet ($340,000)? Hey, your list is long and your pockets deep, so don't! Oh, and the Omega Seamaster Chronographs ($7,700) make fine stocking stuffers. +Ted Baker | Tiffany & Co. | Tods | Tommy Bahama | Toy Boat | Trina Turk
Mi Place
From Alessandro Dell'Acqua to Valentino, sisters-in-law Mary and Iris give you all the big names in one shop. With two locations — one in CdM Plaza — there's no reason not to pay them a visit.
IT GIFT: Loree Rodkin's collection of baubles blends artisanal craftsmanship with edgy designs – she's even approved by Michelle Obama. +M.A.C. | Macy's | Marni | Max Mara | McKee and Co. | mikimoto | MiuMiu | Michael Kors
Neiman Marcus
It might technically be a department store, but Fashion Island's Neiman Marcus location is more like a collection of shops under one roof, where you can find all of your favorite designers and right-from-the-runway looks.
IT GIFT: Hand built in the U.S., the 27-foot Hacker-Craft Speedboat, $250,000, is constructed from solid mahogany and has a Mercury Marine 8.2 High Output 425-horsepower engine-CE, posh interior, GPS and premium sound system. And for every speedboat sold, Neiman Marcus will make a $3,000 donation to the Double H Ranch, a program that supports families with children affected by life-threatening illnesses. +Napa Style | No Rest for Bridget | Nordstrom | Novocento
Queen Bee
Already a go-to for Newport shoppers in the know, Queen Bee has hard-to-find labels like Patterson J Kincaid alongside statement jewelry from Virgins, Saints & Angels. And with a staff at the Westcliff boutique that's sartorially savvy, every visit feels like a personal shopping appointment.
IT GIFT: Miss your Mike and Chris leather jackets? Try Mike Gonzalez's Belted Cape Sleeve Jacket, $368, a sumptuous standout piece from his solo collection.+Quiksilver
Yves St. Laurent
The gleaming gold and scarlet YSL boutique at South Coast Plaza was one of the first to get creative director Stefano Pilat's opium treatment. The label's men's and women's wear are all there, but one look at the shoes and bags and you'll be hooked, just like every A-lister around.
IT GIFT: Tired of your tote? The Large YSL Cabas Chyc in Natural Leopard Printed Calfskin, $2,995, blends fashion and function with a huge capacity. The printed calfskin begs for a touch—which isn't a problem since you won't be able to set this bag down.+Y-3 Fashion Island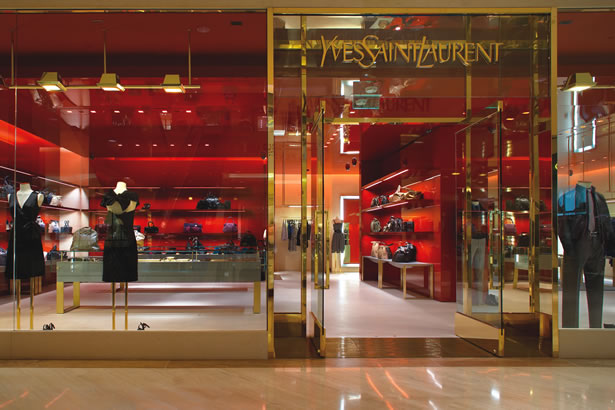 Roger's Gardens
Roger's Gardens serves as a relaxing respite from the busy, buzzy O.C. action around it. During holiday season, much of the place is transformed with the prettiest, priciest seasonal gifts that someone on your list surely loves, from Radko's stunning Christmas tree ornaments to Steinbach nutcrackers direct from Germany.
IT GIFT: For just $63.94, you can give a gift card from Free Wheelchair Mission, and with it the magic of mobility. The recipient of your card can choose where in the developing world they wish one of the ruggedly ingenious wheelchairs (they're made from plastic patio chairs and mountain bike wheels) to be delivered. +Roberto Cavalli | Roberto Coin | Room Service
Valentino
Ruffles, bows and roses are all signature Valentino, and whether you prefer yours on bags, shoes or gowns, the Valentino boutique at SCP has it all. But it's not all romantic—there's plenty of leather and studs for the tougher side of romance.
IT GIFT: Give girly a little edge with the Rockstud Dome Satchel, $2,875, a soft, feminine bag sprinkled with rock star-ready studs.+Van Cleef & Arpels | Versace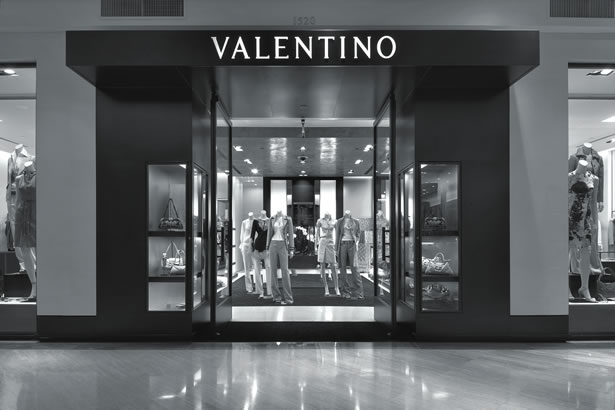 Saks Fifth Avenue
From purses and pumps to clothes and cosmetics, Saks has it all under one roof. They've got designers like Herve Leger and Zac Posen by the Chloé, as well as the 10022-shoe department, so grand it earned its very own zip code in New York.
IT GIFT: Clearly the Ippolita Clear Quartz, Mother-of-pearl and Resin Bracelet, $325, is the icing on the cake for any outfit – be it a pair of jeans or your go-to LBD. + Salt Optics | Salvatore Ferragamo | Seed People's Market | Splendid | Sur La Table
Uno de 50
Meaning "one of fifty" in Spanish, this hot, high-end jewelry line newly arrived at Fashion Island from Spain carries classic jewelry pieces in addition to unique personalized items like key rings, bookmarks and desk décor. The brand initially produced only 50 pieces per design to provide a limited edition, exclusive keepsake, but kept the name even after it upped its production.
IT GIFT Leather and metal bracelets, starting at $108  +Urban Outfitters
Westerly 

Carrying the hippest labels from L.A. and N.Y.C., this chic CdM boutique is perfect for the stylish SoCal gal with a city edge. Look for brands like Elizabeth and James (created by Ashley and Mary Kate Olson), Current/Elliott and Erin Wasson by RVCA.
IT GIFT: You'll want to adorn all of your body parts with Low Luv x Erin Wasson's latest collection of chunky gold and silver pieces. Starting at $80.  + White House Black Market | The White Dress | Williams-Sonoma | Wolford | Wonderland Bakery
X & Oh
Located in Laguna's village district, this X-rated boutique boasts everything bound to make you go "Ooh." Stock up on aromatic (and some edible) bath and body products, massage oils, candles, lingerie and all sorts of goodies to get you in the mood. A luxe lounge in the back also hosts free Champagne and product parties for groups of 10-18.
IT GIFT: Planning a holiday getaway with your beloved? Pick up the KamaSutra naughty travel kit, $32, complete with massage oils, edible honey dust, a small candle, and everything else you need for a romantic rendezvous—or deux!
Prada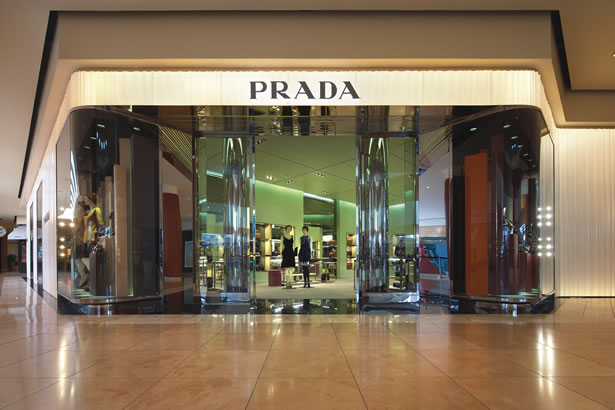 Miuccia showed classic cars and sock-hop ready looks for spring, but fall's trompe l'oeil boots would fit right in. South Coast Plaza's Prada opened with exclusive printed totes, but shoppers keep coming back for its irreverent spin on high fashion.
IT GIFT
The classic Mary Jane gets a cheeky twist when done up into a boot with an exaggerated button and chunky resin heel. Bi-Color Suede Mary Jane Boot, $1,400. +Paul Frank | Peek | Piaget
Zegna, E.
The half-tailored mannequins in the store windows aren't just for show. Get a Zegna suit and you'll feel like it was made just for you. Using traditional tailoring techniques and the finest fabrics in the world, any guy wanting to up his style quotient will find that the label sharp tailoring and timeless classics.
IT GIFT: The perfect finishing touch to a Zegna suit? Their latest line of timepieces, the Monterubello collection with Girard Perregaux. +Zara | Zinc Café