OCMA's latest show bridges two generations of innovative artists.  – By rebecca Schoenkopf | photo By Dondee Quincena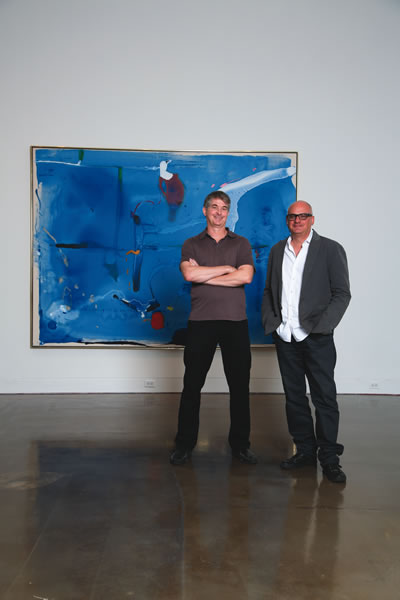 George Herms is 75 years old, rangy, bearded and balding. He is hilarious and intense and scatters curse words through his speech. If my mother had been having coffee with us at the Gypsy Den in Santa Ana (while he took a quick break from his work at the Grand Central Arts Center where he was installing one of his many current exhibitions), she would have fallen in love with him, and most likely would have tittered and blushed. I was a little in love with him myself.
The legendary Assemblage artist will be everywhere this fall; multiple incarnations of his work will be examined through the postwar-L.A. Pacific Standard Time exhibits. He is known for giant, rusted, hulking assemblages made from trash. Did he keep a warehouse somewhere for all his bits and pieces? "I used to," he says, his faded blue eyes not too serious, "but I kept getting evicted."
He has brought with him an entire file folder to walk me through the genesis of another upcoming exhibit, this one at the Orange County Museum of Art. The rest of our conversation has been funny and light—he notes that another artist who was showing with him at Xenophilia at the Pacific Design Center, finished installing his work 20 minutes before the gallery opened to the public. "It made me feel really good!" he exclaims in a sprightly manner. "I'm with you, man!"
Next: "The Getty wanted to send a truck to pick up my work," he says and trails off, the implication that his work was nowhere near ready, and the Getty would please to cool its goddamned jets, conveyed with a mere, dry, "Heh."
The idea for the new OCMA show, Two Schools of Cool, sprang from a conversation he had with curator Sarah Bancroft. He was going on and on, with great generosity, about the work of a young artist, Sarah Cain, whom he had first met five years before at an artists' retreat. It made Bancroft, a curator, wonder if there might not be a way to bridge generations of artists, setting them working together and seeing how they might fare.
Herms was paired with Cain, and he pulls from his folder a travelogue of the thought process he has had regarding Cain's work. One sheet is a photocopy of the work of MOMA curator William Seitz, about looking for general truths in "those layers of consciousness for which we have no effective label." It isn't light reading; it comes from Seitz's taxonomy of perceptual art. This is what Herms thought of when he saw Cain trying to put words to her work. He says her work was penned into a corral of language, a "one-person exquisite corpse." And now they are creating something together for OCMA—"not a collaboration," Herms says happily, "but a corroboration!"
Herms will create cases of his smaller works, along with a "Lemon Bar"—in Herms case, he says, since he is known for sculptures that are structural failures that can't stand under their own weight, a "lemon" is something that doesn't fall over. Ever since the seminal 1961 Assemblage show in which he participated as a very young man, the ones he liked best were the ones that toppled. "It's my stylistic device!" he exclaims. "So a lemon, in my genre, is one that stands upright. It's not a true Herms! It's a fake! It's a fraud!" Cain will paint up and around his work. "And part of what's very pleasant for me," he adds warmly, "is not knowing what she's going to do."
A different day, a different coffee shop (Zinc Cafe in Corona del Mar), and Bancroft is sharing her own thoughts on the exhibit, which was made possible by a grant from the Fellows of Contemporary Art. Bancroft—young, pretty, and blonde—joined OCMA after five years at the Guggenheim, and her evident enthusiasm for the project is gleaned through a filter of temperate professionalism. "Instead of really curating, picking the work," she says, "I get to throw the artists together. The interesting thing is, older artists —unless they're teachers—often aren't comfortable with younger artists." In her successful exhibit proposal for the Fellows, she specifically proposed that the whole thing might implode. "There might be fissures instead of unions," she points out. "A lot of these artists have never collaborated before, so it's asking a lot of them!"
It is asking a lot of them—couple that with some artists' inclination toward procrastination, explored above, and we might get to witness a grade-A crackup, NASCAR-style, or a heroic finish.
Herms and Foulkes dined together recently, and according to Herms, Foulkes was dismayed to hear that Herms and Cain already had a battle plan for their corroboration. "You mean you already know what you're going to do?" Herms recounts Foulkes plaintively asking. "Yeah, but there's a lot we don't know," Herms says he reassured him. "It's a lot like jazz!",
Two Schools of Cool, through Jan. 22; OCMA, 850 San Clemente Dr., Newport Beach; 949.759.1122