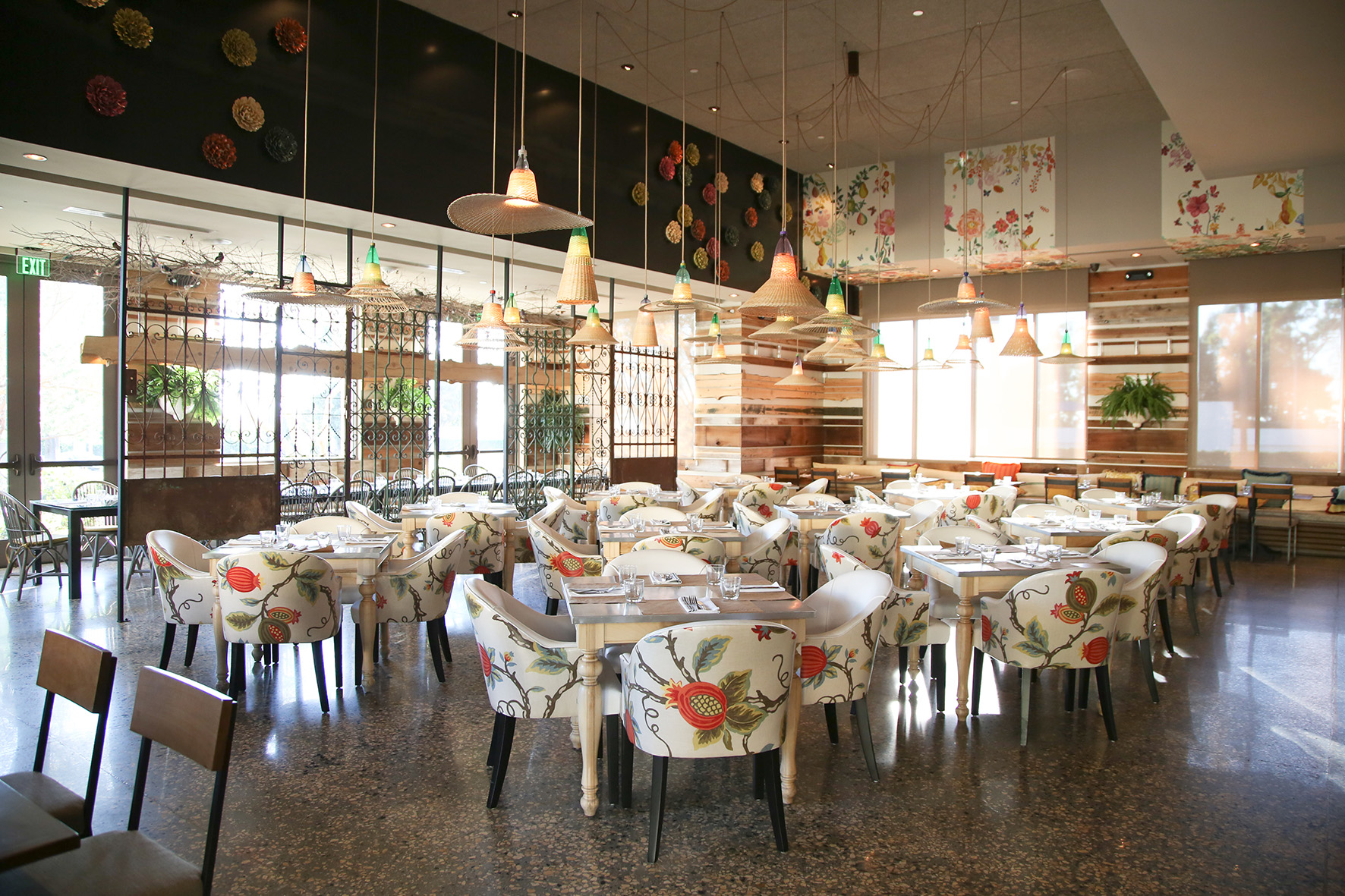 Cucina Enoteca adds a rustic touch to Fashion Island's roster of restaurants.
By Allison Hata | Photos by Jody Tiongco
With a name that translates to "wine" from its native Italian, it shouldn't come as a surprise that Cucina Enoteca surrounds its patrons with floor-to-ceiling shelves of reds and whites the minute they enter the restaurant. It's a grand welcome that visually sets the stage for an evening filled with the finer things in life: comforting Italian food, craft cocktails and, of course, plenty of wine.
The main dining room has a rustic farmhouse aesthetic, with high ceilings that lend an open, airy vibe, as well as a spacious patio for alfresco dining. Everything from the floral-print white chairs to the earthy wood-paneled walls prepares diners for the mix of modern and traditional cuisine on the seasonal menu—that is, if they aren't already familiar, given that this is the brand's second effort in Orange County.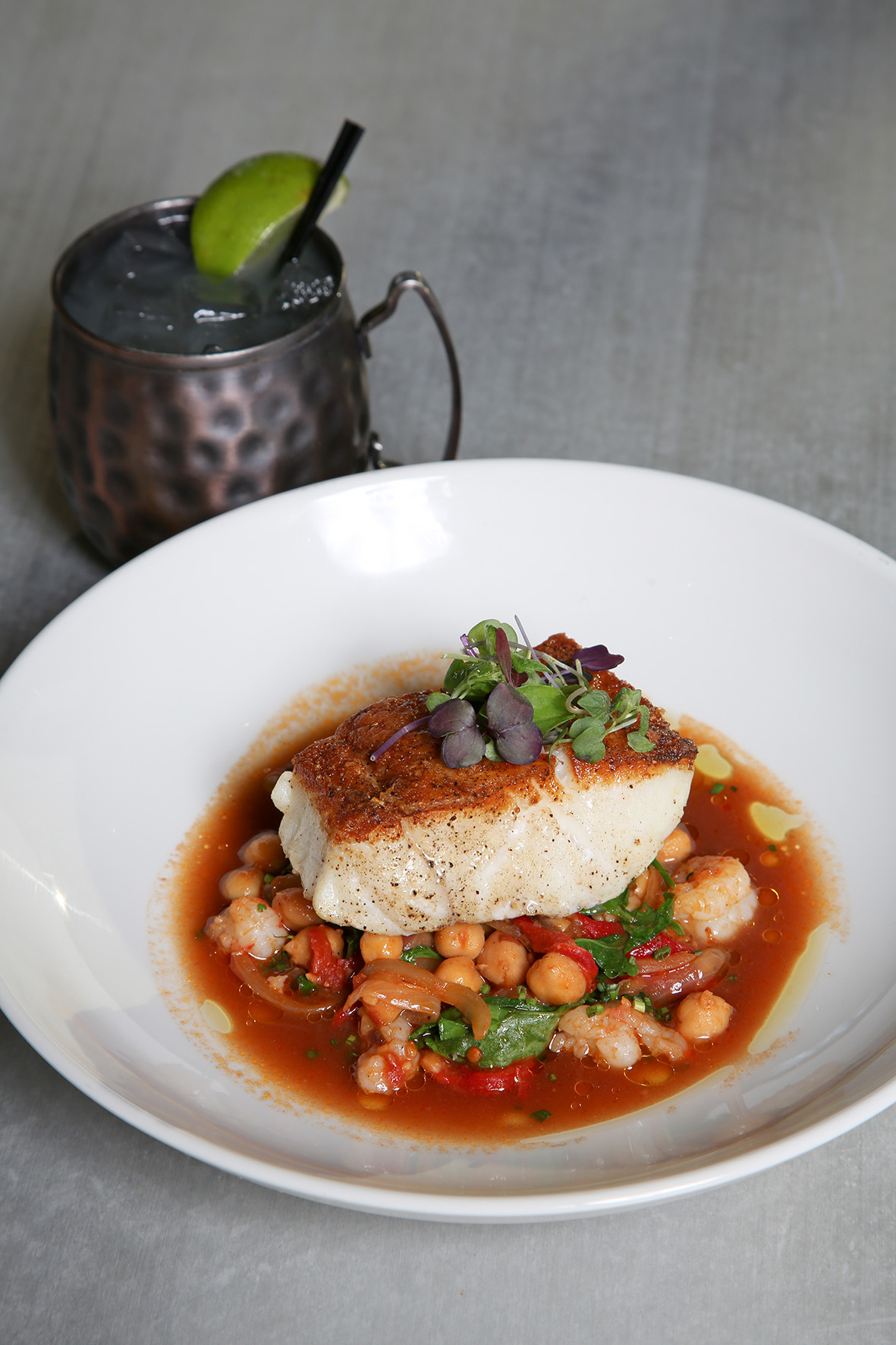 The Fashion Island restaurant, which opened earlier this year, shares a few signature dishes with its Irvine Spectrum location, including all of its pizzas and a selection of lighter bites and entrees. Each kitchen has its own chef, however, so there are specialties found only on the Newport menu.
To start, try the burrata cheese, which is part of the "vasi" menu and is served in a mini mason jar along with roasted garlic to spread on slices of bread. A heartier appetizer that will be popular with carnivores is the grilled octopus, slightly charred and seasoned to complement the acidity of the ceci bean accompaniment. An entire sharable meal can be built with just the antipasti, cheese and meat boards, and vasi, but those who want to move on to a main course can choose from pizzas, pastas and protein dishes.
Pizzas are made with dough prepared in-house; toppings include unexpected combinations such as pancetta and Brussels sprout leaf or mission fig and Gorgonzola. The authentic Italian tastes continue with options such as the whole fish, which this month is a Mediterranean branzino smothered in herbs and served over a bed of couscous. Of the pasta, the short rib pappardelle is a standout, with pieces of tender meat and thick noodles accented by mushrooms and Parmigiano cheese.
Among the most popular entrees, however—and it's easy to see why—is the Pacific lingcod, which is exclusive to the Newport location. Lightly cooked with a thin, crispy skin, the fish is plated on ceci beans and onions in a tomato-based sauce for a contrasting texture.
A formidable wine list can offer a suitable pairing for the seafood dish, or diners can purchase a bottle from the retail shop in the foyer to enjoy with their meals. Cocktails are also a safe option for the indecisive. Choose from refreshing libations like the Killer Coolaide, a blend of vodka, watermelon, basil and prosecco, or drinks with a kick—the tequila mule is a spicy take on a Moscow mule featuring the jalapeno-infused spirit.
And don't forget to leave room for dessert. There's traditional sweets like tiramisu, but the pear conserva, soaked in brown butter with salted walnuts and a dollop of creme fraiche, is the perfect ending to a meal that will transport you back to Italy, if only for an evening.
Cucina Enoteca, 951 Newport Center Dr.; 949-706-1416; urbankitchengroup.com