Brunching at Tamarind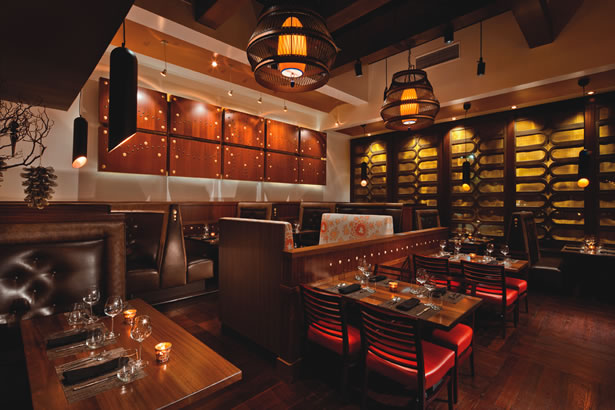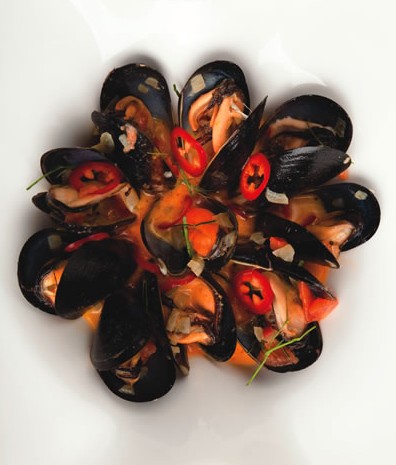 Tamarind of London, which opened at Crystal Cove Promenade last year, is now open for lunch/brunch Fridays through Sundays from 11:30 a.m. until 2:30 p.m. (followed by happy hour and dinner). The unique and flavorful brunch, crafted by Executive Chef Shachi Mehra, features baked eggs with kidney beans spiced with garlic and Kashmiri red chili; keema baked eggs with minced lamb, cilantro and red onion; masala scramble flavored with garlic, red chili and cilantro; and a Delhi-style omelet with black pepper, onions, ginger and serrano chili—all priced at $13 or under. Bar Chef Shanti Dutta has concocted several cocktails to accompany the menu, including the "Bloody Good" Mary, the Mangosa (Cruzan Mango Rum, Kesar Mango and Prosecco) and the Pimms O'Clock (Pimms No. 1 and lemonade with fresh muddled strawberries, cucumber and oranges).
In addition, new lunch items include a trio of Thali plates, each featuring a sampling of traditional Indian dishes—seafood, meat and vegetarian, all accompanied by the vegetable of the day, black lentils, rice, naan and raita. Specialty salads are also showcased, such as the quinoa and avocado, lime leaf salmon salad, grilled shrimp salad and more. (7862 E. Coast Hwy.; 949-415-8865; tamarindoflondon.com)
Fresh From the Nekter
The all-natural Nekter Juice Bar, which boasts delicious, fresh-pressed green juice blends, raw vegan smoothies, specialty concoctions and one-to-five day cleansing juices that fuse nutrition and taste, will squeeze in a sixth California location at Fashion Island this month. Located between Neiman Marcus and Lululemon, the brand's unique outdoor kiosk will be the first "Express" stop to be offered—perfect for on-the-go shoppers looking for fast and nutritious refreshment. Try an instant buzz of energy with The Buzz juice (carrot, orange, lemon and ginger), get a dose of cooling spinach, kale, pineapple, banana, coconut butter and coconut with the Tropical Cooler smoothie, or simply refresh with the Nekter Lemonade, made with lemon, water and agave nectar—for in an extra kick, try it with organic cayenne pepper or ginger. (nekterjuicebar.com)
World-Class Chocolate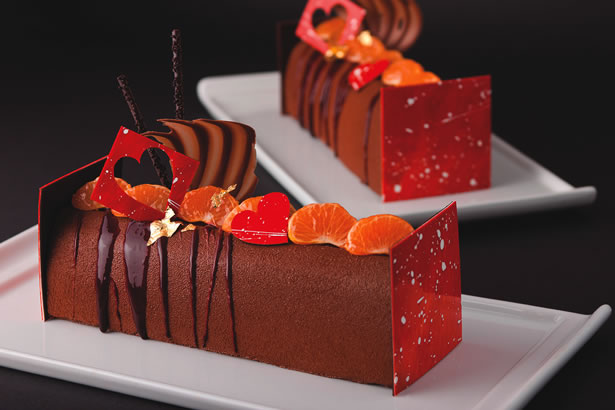 Orange County is now home to a world-class chocolate and pastry institute. Qzina Institute of Chocolate & Pastry recently debuted in Irvine, offering a $3.5 million state-of-the-art training and R&D facility designed for chocolatiers and pastry chefs. Home chefs will enjoy baking and pastry demonstrations, and classes featuring the Bean-to-Bar Chocolate Lab, where participants can make their own chocolate from start to finish.
"Customers who visit the institute will be inspired and surprised with what they can make and learn," says Qzina Founder and CEO, Richard Foley. "The vision of the Qzina Institute is to provide a place for professionals to experience the best of the chocolate and pastry industry. Our goal is to help chefs expand their dessert repertoire and bring new creations to their guests."
Qzina Specialty Foods is the premier importer and distributor of specialty chocolate, pastry and dessert ingredients in North America. This year also marked the company's 30th anniversary and with the new facility, it hopes to bring chefs and food enthusiasts together to expand their dessert and pastry skills and explore new techniques. At the grand opening, the world's largest chocolate sculpture was unveiled—a replica of a Mayan temple comprised of 18,000 pounds of chocolate. (9461 Irvine Center Dr., Irvine; 949-208-8462; qzina.com)
Just Dessert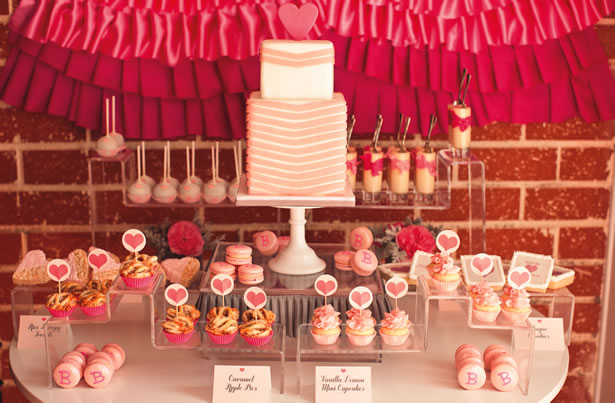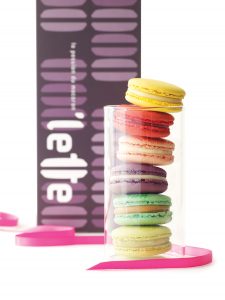 'Lette, maker of delicious and vibrantly colored macarons, is bringing its authentic French treats to Orange County this summer. With plans to open its first boutique outside of Los Angeles in June, visitors at Fashion Island will soon be treated to double-sided almond meringue cookies filled with white chocolate ganache. Co-founder Paulette Koumetz and world-renowned French pastry chef Christophe Michalak developed a winning recipe for the traditional Parisian specialty, opening the first 'lette boutique in 2007. At the Fashion Island shop, 'lette will offer 14 classic flavors, including Caribbean Chocolate, Earl Grey, Salted Caramel and Sweet Wedding Almond, in addition to seasonal flavors throughout the year. The handcrafted macarons are available in a variety of sizes, from a five-tiered tower to mini-boxes of two. (401 Newport Center Dr.; lettemacarons.com)
Also opening this summer at Crystal Cove Promenade is Sweet and Saucy Shop, a modern bakery offering a variety of handmade desserts from co-owner and head pastry chef Melody Brandon. For its second location—and first in OC—Sweet and Saucy Shop comes to Newport in June, bringing an assortment of cupcakes, cake lollipops and French macarons to its customers on a daily basis (the original location is in Long Beach). The bakery will feature spacious seating areas and a boutique selling cake stands, platters, bowls and domes to display your delicious desserts in style. Known for its custom wedding cakes with delicate sugar flowers and lace, the shop's desserts are a sweet addition to any party or event. (7922 E. Coast Hwy.; sweetandsaucyshop.com)
Wining and Dining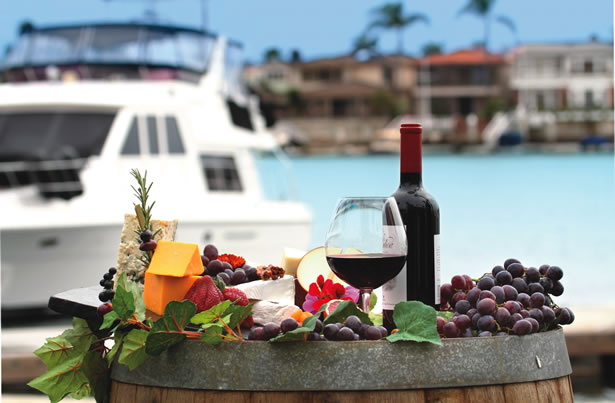 Over Memorial Day weekend, the ninth annual Newport Beach Wine Festival will celebrate the best of fine wine and cuisine in our beachside community. Hosted by the Balboa Bay Club & Resort, the three-day fest features seven events promising gourmet fare and premier sips.
To kick off the festivities this year, attendees can enjoy a wine dinner on Friday evening with cuisine prepared by five guest chefs. Master sommeliers will select one Old World and one modern wine to pair with each dish of the decadent five-course feast.
"We will have some superb examples with the wines of Provenance Vineyards, Cloudy Bay from New Zealand and Duckhorn [Vineyards]," says Dieter Hissin, executive assistant manager/director of food and beverage of the Balboa Bay Club. "These medium bodied, crisp wines are very refreshing and are so versatile they can stand on their own or match wonderfully with most seafood and lighter summer fare."
The weekend's other events include Saturday seminars on Spanish wine and tapas and wine and cheese pairings, followed by a grand tasting event with more than 200 wines and seafood dishes from Balboa Bay Club Executive Chef Josef Lageder. On Sunday, enjoy a Champagne and breakfast cocktails brunch in The First Cabin Restaurant, Argentinean barbecue out on the lawn, and cigars, spirits and sweets on the terrace of Duke's Place.
"Our guests seem to enjoy gaining an in-depth knowledge about wine and food, and we enjoy creating a setting for them to do just that," Dieter says. "However, our focus always remains this: to enjoy food, wine and good company. These are some of life's greatest pleasures." (1221 W. Coast Hwy.; 888-445-7153; balboabayclub.com)
Savory Summer Seafood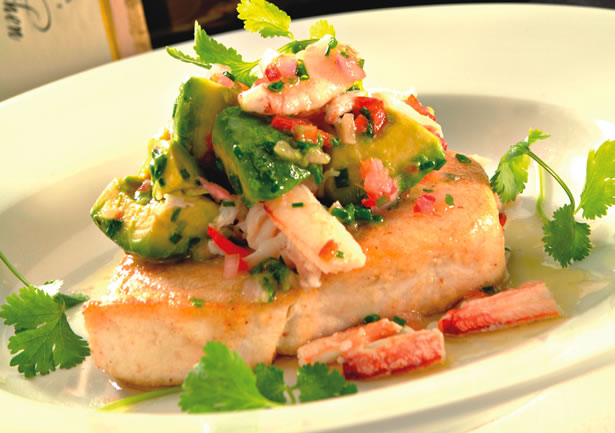 Liven up your summer barbecue with a refreshing recipe for the outdoor cook. From Wildfish Seafood Grille comes this fresh catch.
Charcoal Grilled Swordfish Steaks with Avocado, Fresh Crab, Red Chili and Cilantro Vinaigrette
8-ounce swordfish steaks, no skin, no bloodline (no thicker than ¾" and no less than ½")
1 each avocado, peeled and half-diced
4 ounces fresh crab meat, no shells
1 tablespoon red pepper, very finely diced
1 teaspoon serrano pepper, very finely diced
1 tablespoon red onion, very finely diced
4 tablespoons rice wine vinegar
1 tablespoon fresh lime juice
6 tablespoons olive oil
1 tablespoon sambal chili sauce
2 tablespoons cilantro, chopped
Method: Season swordfish with salt and pepper and brush lightly with some olive oil. Grill swordfish 4 minutes on each side over charcoal fire to desired doneness. Combine avocado, onion, cilantro, peppers, vinegar, 4 tablespoons of olive oil, sambal and cilantro, season with salt to taste. Place swordfish in center of hot plate and place avocado mixture on top. Place fresh crab on top of avocado mixture and serve immediately.
Courtesy of Wildfish Seafood Grille (1370 Bison Ave.; 949-720-9925; wildfishseafoodgrille.com).
Hot on the Grill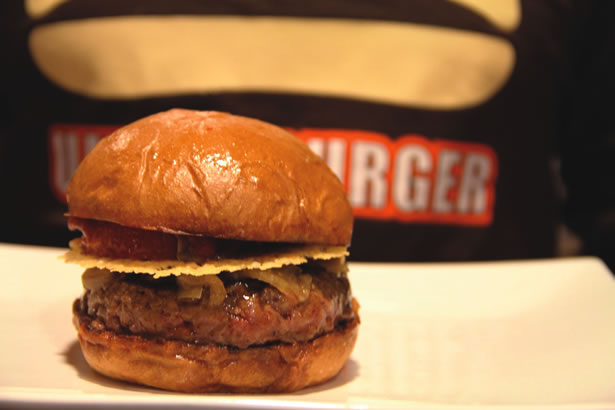 Umami Burger is the newest kid on the block at the hip Camp shopping destination in Costa Mesa. The gourmet burger joint, which recently made its way down the freeway from LA, is the first of three set to spread its specialty burger goodness in 2012 in Orange County, with a couple others planned for Coast Highway in Laguna Beach and at the Anaheim Brewery as well.
Umami Burger rose to SoCal fame by offering specialty burgers that emphasize the so-called "fifth taste" sense of umami, a savory sensation that is considered the most rare and most mysterious of the taste senses. Featuring a wide variety of specialty burgers, including a turkey edition, Umami is sure to bring plenty of buzz in The Camp. (2981 Bristol St.; 714-957-8626; umami.com)
All's Fare at the Fairgrounds
Food trucks have taken Southern California's food scene by storm in recent years, and one of the best weekly hotspots to catch your favorite trucks is at the Orange County Fairgrounds, which hosts a lineup of trucks every Wednesday evening and Thursday for lunch.
The Food Truck Fare features a rotating schedule of trucks that park it and serve their specialties from 5:30 – 9 p.m. on Wednesdays and from 11 a.m. to 2 p.m. on Thursday, and often include some of the biggest names in the OC, including The Lime Truck, The Burnt Truck and Dos Chinos. Lines can get long, but the cold sodas and beers that are sold along with the wide variety of tacos, burgers, waffles, ice cream and grilled cheese sandwiches are the perfect way to stay cool while fighting off indecision and the overwhelming desire to try everything. Twitter is the easiest way to track your favorite truck and see if they'll be at the fairgrounds. (ocfair.com)
Culinary Celebration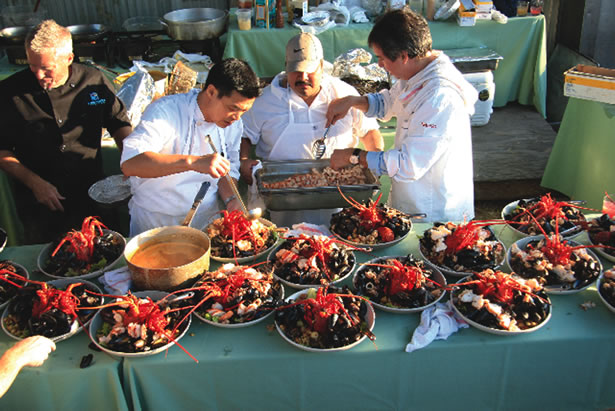 If your appetite has recovered from the recent OC Tastefest, feast at Orange County's Five-Star culinary festival, Taste of OC (tasteofoc.com), which fires up June 16 – 17 at Irvine's Verizon Wireless Amphitheater, where foodies and festival-goers can taste fabulous fare from more than 50 of the area's restaurants and wineries, observe celebrity chef and cooking demonstrations (including celeb chef Jamie Gwen, A Restaurant's chef Jonathan Blackford and Tamarind of London's Shachi Mehra), savor wine tastings and seminars and enjoy an array of live music entertainment. Patrons can also indulge in singular experiences this year including the OC Cocktail Classic, Art á la Carte's fine artwork and the Great OC Farm Dinner, featuring the best in local, organic and sustainable cuisine with premium wine pairings, a craft beer tasting with more than 20 microbrews and a Father's Day Feast.
Hotels and Resorts
Andrea
The Resort at Pelican Hill, 22701 Pelican Hill Rd. South; 800-820-6800; pelicanhill.com
First Cabin Restaurant
The Balboa Bay Club, 1221 W. Coast Hwy.;  949-630-4145; balboabayclub.com
The Californian  
The Hyatt Regency, 21500 Pacific Coast Hwy., Huntington Beach; 714-845-4776; huntingtonbeach.hyatt.com
Palm Terrace
The Island Hotel, 690 Newport Center Dr., 949-760-4920; theislandhotel.com
Raya
The Ritz-Carlton, Laguna Niguel,1 Ritz Carlton Dr., Dana Point; 949-240-2000; ritzcarlton.com
Sam & Harry's
Marriott Newport Beach, 900 Newport Center Dr.; 949-640-4000; samandharrysnb.com
Stonehill Tavern
The St. Regis Monarch Beach, 1 Monarch Beach Resort, Dana Point; 949-234-3200; stregismb.com
Studio
Montage Laguna Beach, 30801 S. Coast Hwy., Laguna Beach; 949-715-6420; studiolagunabeach.com
Newport Center/Fashion Island
Brasserie pascal
327 Newport Center Dr.; 949-640-2700; French75.net
Canaletto Ristorante Veneto
545 Newport Center Dr.; 949-640-0900; ilfornaio.com
Fleming's Prime Steakhouse & Wine Bar
455 Newport Center Dr.; 949-720-9633; flemingssteakhouse.com
Mariposa Restaurant
Neiman Marcus, 601 Newport Center Dr.; 949-467-3350
Muldoon's Irish Pub
Newport Center Dr.; 949-640-4110; muldoonspub.com
R+D Kitchen
555 Newport Center Dr.; 949-219-0555; hillstone.com
Taco Rosa
2632 San Miguel Rd.; 949-720-0980; tacorosa.com
The Ritz Restaurant & Garden
880 Newport Center Dr.; 949-720-1800; ritzrestaurant.com
True Food Kitchen
451 Newport Center Dr.; 949-644-2400; truefoodkitchen.com
Wahoo's Fish Tacos
1091 Newport Center Dr.; 949-760-0290; wahoos.com
Yard House
849 Newport Center Dr.; 949-640-9273; yardhouse.com
Newport Coast/Crystal Cove
Beachcomber Cafe
15 Crystal Cove; 949-376-6900; thebeachcombercafe.com
Bluefin Fine Japanese Cuisine
7952 E. Coast Hwy.; 949-715-7373; bluefinbyabe.com
Javier's
7832 E. Coast Hwy.; 949-494-1239; javiers-cantina.com
Mastro's Ocean Club Fish House
8112 E. Coast Hwy.; 949-376-6990; mastrosrestaurants.com
Tamarind of London
7862 E. Coast Hwy.; 949-715-8338; tamarindrestaurant.com.
Zov's Café Bakery & Bar
21123 Newport Coast Dr.; 949-760-9687; zovs.com
Balboa Peninsula
21 Oceanfront
2100 W. Oceanfront; 949-673-2100; 21oceanfront.com
Aurora Mediterranean Restaurant
2307 Balboa Blvd.; 949-642-1073
Avila's El Ranchito
2800 Newport Blvd.; 949-675-6855; avilaselranchito.net
Bluewater Grill
630 Lido Park Dr.; 949-675-3474; bluewatergrill.com
Buddha's Favorite
634 Lido Park Dr.; 949-723-4203; buddhasfavorite.com
Charlie's Chili
102 McFadden Place; 949-675-7991; charlies-chili.com
Commonwealth lounge & Grill  
2406 Newport Blvd.; 949-675-4444; commonwealthlounge.com
Crab Cooker
2200 Newport Blvd.; 949-673-0100, crabcooker.com
Malarky's Irish Pub
3011 Newport Blvd.; 949-675-2340; malarkysirishpub.com
Mama D's Italian Kitchen
3012 Newport Blvd.; 949-675-6262; mamadsnewport.com
Mutt Lynch's
2300 W. Oceanfront; 949-675-1556; muttlynchs.com
Newport Beach Brewing Company
2920 Newport Blvd.; 949-675-8449; nbbrewco.com
Newport Landing Restaurant
503 E. Edgewater Ave. 949-675-2373; newport-landing.com
Pescadou Bistro
3325 Newport Blvd.; 949-675-6990; pescadoubistro.com
Regatta Cafe
3421 Via Lido; 949-675-1878; thebaritone.com/home.htm
Ruby's Diner
1 Balboa Pier; 949-675-7829; rubys.com
Rudy's Pub & Grill
3110 Newport Blvd.; 949-723-0293; rudyspubandgrill.com
Rusty Pelican
2735 W. Coast Hwy.; 949-642-3431; rustypelican.com
Sabatino's Sausage Company
251 Shipyard Way, Cabin D; 949-723-0621; sabatinosausagecompany.com
San Shi Go
205 Main St.; 949-673-3724
Sol Grill
110 McFadden Place; 949-723-4105; solgrill.com
The Alley
4501 West Coast Hwy.; 949-646-9126; thealleynewportbeach.com
The Blue Beet
107 21st Place; 949-675-2338; thebluebeet.com
The Cannery
3010 Lafayette Ave.; 949-566-0060; cannerynewport.com
The Dock  
2816 LaFayette Ave.; 949-673-3625; eatatthedock.com
Balboa Island
Amelia's Restaurant
311 Marine Ave.; 949-673-6580; 
ameliasbalboaisland.com
Barolo By the Sea
305 Marine Ave.; 949-675-6193
Basilic Restaurant
217 Marine Ave.; 949-673-0570; basilicrestaurant.com
Pastu
216 Marine Ave.; 949-566-9525; pasturestaurant.com
Shanghai Pine Gardens
300 Marine Ave.; 949-673-3802
Wilma's Patio
203 Marine Ave.; 949-675-5542; wilmaspatio.com
PCH/Mariner's Mile
A Restaurant
3334 W. Coast Hwy.; 949-650-6505; arestaurantnb.com
Back Bay Bistro Newport Dunes
1131 Back Bay Dr.; 949-729-1144; backbaybistronewportbeach.com
Bayside Restaurant
900 Bayside Dr.; 949-721-1222; baysiderestaurant.com
Billy's at the Beach
2751 W. Coast Hwy.; 949-722-1100
Cappy's Cafe
5930 W. Coast Hwy.; 949-646-4202; cappyscafe.com
Nesai Restaurant
217 Riverside Ave.; 949-646-2333; nesairestaurant.com
SOL Cocina
251 E. Coast Hwy.; 949-675-9800; solcocina.com
Villa Nova
3131 W. Coast Hwy.;  949-642-7880; villanovarestaurant.com
Zubies Chicken Coop
414 Old Newport Blvd.; 949-645-6086
Corona del Mar
Bamboo Bistro
2600 E. Coast Hwy.; 949-720-1289; bamboobistrorestaurant.com
Bandera
3201 E. Coast Hwy.; 949-673-3524
Five Crowns
3801 E. Coast Hwy.; 949-760-0331; lawrysonline.com
Gen Kai of California
3344 E. Coast Hwy. 949-675-0771
Gulfstream
850 Avocado Ave.; 949.718-0188; hillstone.com
Nagisa Sushi Restaurant
3840 E. Coast Hwy.; 949-673-3933
Panini Café
2333 E. Coast Hwy.; 949-650-0101; mypaninicafe.com
Rothschild's Restaurant
2407 E. Coast Hwy.; 949-673-3750; rothschildsrestaurant.com
Summer House
2744 E. Coast Hwy.; 949-612-7700; summerhousecdm.com
The Bungalow
2441 E. Coast Hwy.; 949-673-6585; thebungalowrestaurant.com
The Crow Bar and Kitchen
2325 E. Coast Hwy.; 949-675-0070; crowbarcdm.com
The Quiet Woman
3224 E. Coast Hwy.; 949-640-7440; quietwoman.com
Tommy Bahama's Island Grill
854 Avocado; 949-760-8686; tommybahama.com
Airport Area
Il Barone
4251 Martingale Way; 949-955-2755; ilbaroneristorante.com
Tapas
4253-A Martingale Way; 949-756-8194; tapasnewportbeach.net
Ten Restaurant
4647 MacArthur Blvd.; 949-660-1010;
 tenrestaurantgroup.com
Upper Bay
Bistro le Crillon
2523 Eastbluff Dr.; 949-640-8181; bistrolecrillon.com
Kitayama
101 Bayview Pl.; 949-725-0777; kitayamarestaurant.com
Pita Jungle
1200 Bison Ave.; 949-706-7711; pitajungle.com
Sage
2531 Eastbluff Dr.; 949-718-9650
Wasa Sushi on the Bluffs
1346 Bison Ave.; 949-760-1511; wasasushi.com.
Wildfish
1370 Bison Ave.; 949-720-9925; eddiev.com
Costa Mesa
Anqi
3333 Bristol St.; 714-557-5679; anqibistro.com
Charlie Palmer
3333 Bristol St.; 714-352-2525; charliepalmer.com
Haute Cakes Caffe
1807 Westcliff Dr.; 949-642-4114; hautecakescaffe.net
La Cave
1695 irvine ave.; 949-646-7944; lacaverestaurant.com
Marché Moderne
3333 Bristol St., Ste. 3001; 714-434-7900; marchemoderne.net
Mi Casa
296 E. 17th St.; 949-645-7626; micasa1.com
The Pizza Bakery
1741 Westcliff Dr.; 949-631-1166; thepizzabakery.com
Pizzeria Ortica
650 Anton Blvd., 714-445-4900; pizzeriaortica.com
Seasons 52
3333 Bristol St., Ste. 2802; 714-437-5252; seasons52.com
Irvine
Bistango
19100 Von Karman Ave.; 949-752-5999; bistango.com
Kimera Restaurant Lounge
19530 Jamboree Rd., 949-261-1222; kimerarestaurant.com
Phans 55 Vietnamese Bistro & Bar
6000 Scholarship Dr., 949-724-1236; phans55.com
Ruth's Chris Steak House
2961 Michelson Dr.; 949-252-8848; ruthschris.com
Wasa Sushi
The Irvine Marketplace, 13124 Jamboree Rd.; 714-665-3338; wasasushi.com
Laguna Beach
370 Common
370 Glenneyre St.; 949-494-8686; 370common.com
Asada
480 S. Coast Hwy.; 949-815-5533; asadalaguna.com
Broadway by Amar Santana
328 Glenneyre St.; 949-715-8234; broadwaybyamarsantana.com
Cucina Alessa
234 Forest Ave.; 949-497-8222
K'ya Bistro
1287 S. Coast Hwy.; 949-376-9718; kyabistro.com
La Sirena Grill
30862 S. Coast Hwy.; 949-499-2301; lasirenagrill.com
Nirvana Grille
303-101 Broadway; 949-497-0027, nirvanagrille.com
The Rooftop Lounge
1289 S. Coast Hwy.; 949-497-2446; rooftoplagunabeach.com
Sapphire Laguna
1200 S. Coast Hwy.; 949-715-9888; sapphirelaguna.com
Sundried Tomato
361 Forest Ave.; 949-494-3312; thesundriedtomatocafe.com
Tommy Bahama
400 S. Coast Hwy.; 949-376-6886; tommybahama.com
Tabu Grill
2892 S. Coast Hwy.; 949-494-7743; tabugrill.com
Zinc Cafe & Market
350 Ocean Ave.; 949-719-9462; zinccafe.com NBM