Orange County-based designers have stayed close to home while making an impression on the fashion landscape.
By Karlee Prazak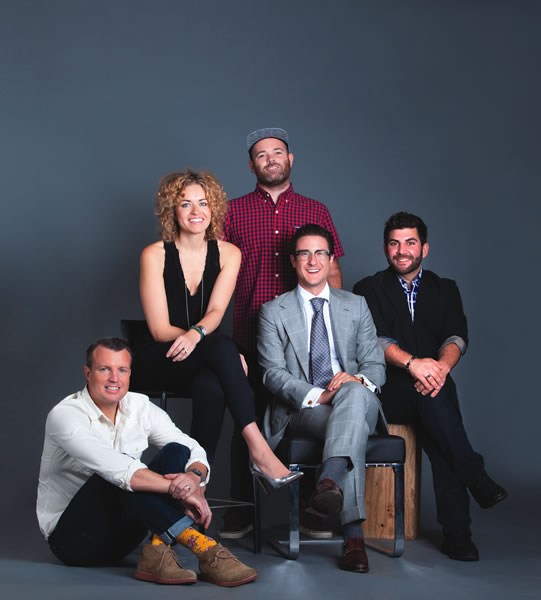 The action sports industry arguably put Orange County's southern coastal region on the map as a major fashion hub. A slew of internationally recognized surfwear brands, including Quiksilver, Volcom, Hurley, Billabong and Vans, all got their starts in the area. Since then, they've grown into multimillion-dollar corporations capable not only of selling clothing to a niche clientele, but of assembling powerhouse teams of sponsored elite athletes.
While action sports may have given Orange County an edge over its sartorial competitors, sportswear brands represent only a portion of the area's expansive apparel industry. In fact, it's become increasingly common to see ready-to-wear and even couture designers resist the pull to base their brands in urban metropolises like Los Angeles and San Francisco, and instead settle farther south.
Newport Beach Magazine scoured Southern California to compile an eclectic sampling of six of the most promising designers and companies that have bucked tradition in favor of setting up shop in the heart of Orange County.
Mark Pomerantz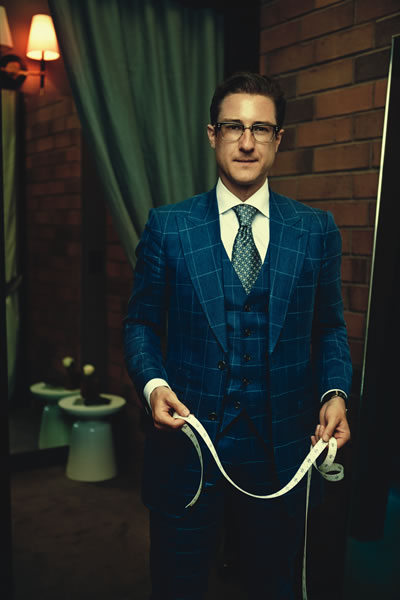 Company: Mark Pomerantz
Based in: Newport Beach
Resides in: Laguna Beach
Luxury is a priority for custom menswear designer Mark Pomerantz. Mark, who combines training in business entrepreneurship with a degree from New York's Fashion Institute of Technology, considers his brand a fashion house—and rightfully so. After spending time working for major names like Giorgio Armani, Valentino, Yves Saint Laurent and Calvin Klein, Mark channeled his expertise in June 2010 to unofficially launch his eponymous line. Since then, he has created bespoke garments for a range of private clients whose names remain too high-profile to share.
An undeniable attention to detail pervades Mark's menswear, which he manufactures from a Newport Beach-based studio that is tucked away in a business park near John Wayne Airport. His pieces can be customized by color or cut—peak lapels, notch lapels, patch pockets—and accessorized by his signature pocket squares and ties. At the base of his designs are sumptuous fabrics, many sourced from the 170-year-old mill of the elite, Dormeuil.
"When I sit down and design a new season or a new line, … I don't see anything besides [what] I want: this type of feel, this type of texture or this type of weave, and then the colors start to fall in," Mark explains. "I'm drawn to textured fabrics with unique blends."
Even his suit buttons are meticulously chosen and applied: He selects the most durable variety—made from shell—and methodically alters the individual button's shape, size and texture so that it remains chip-resistant despite handling. "That is the pursuit of … luxury," Mark says of his work. "That's why guys want to come back here and use their discretionary income."
This up-and-coming entrepreneur admits he won't be content until he controls everything in-house, from the artisans to fabric mills and silk mills for his ties. He has his sights set on one day seeing his clothing hang on the racks of retailers like Bergdorf Goodman, Neiman Marcus, Wilkes Bashford and Barneys New York.
"The reason I got into the business was so I could not just put my mark—no pun intended—on clothing, but to grow a global luxury goods brand," Mark says. "I'm always inspired by luxury. … I really want to be in the conversation when somebody says, 'What makes this the best?' Mark Pomerantz can make it better or makes it the best."
(markpomerantz.com)
Oday Shakar
Company: Oday Shakar
Based in: Costa Mesa
Resides in: Laguna Beach
A vacation to Baghdad seemingly took a turn for the worse when Oday Shakar was detained and barred from leaving the country. But instead of becoming a nightmare, the trip redirected Oday's trajectory after his aunt recognized his talent for sketching women's fashions.
"It was a really strong life experience," Oday explains. "What at the time seemed like a bad situation ended up becoming a really positive experience and shaping who I am."
By age 12, he recognized fashion as a serious passion; a year later, after attending a couture fashion show hosted by Lebanese luxury designer Elie Saab, the adolescent Oday began to consider his passion a calling.
Now, at 31, he masterfully combines high fashion couture with Iraqi art-inspired colors and textures, as evidenced by his first full line launched in 2009. His signature style, made famous by Sandra Bullock at the 2010 MTV Movie Awards, is a figure-hugging sheath with a draped back. Its fabric features complex patterns of embedded crystals on a silk base, and many of Oday's dresses also come lined with a second layer of charmeuse.
Before his beaded textiles even touch the silk canvas for drape work, they're immortalized in hundreds of sketches. Oday draws inspiration from the creations of his favorite designers (Saab, Alexander McQueen and Valentino Garavani) and the vintage glamour of Hollywood's Golden Age. "[My collection] is a lot of classic lines, and … I'm always told it looks like a modern-day old Hollywood," Oday says of his gowns.
More than anything else, he is motivated by the world around him, and in particular by the needs of women. "Most of my collections find inspiration from something difficult in life that you can overcome and become stronger from," he says. "I'm inspired by inspirational, strong women. … Whenever I design something I'm always thinking, 'How is this going to make her feel confident and sexy and beautiful in a timeless way?' "
Oday's supporters include Regina King, Teri Hatcher, Dianna Agron and Kimberly Perry of The Band Perry. His clothing is featured exclusively at Neiman Marcus, but he hopes to penetrate the Middle Eastern market, which he claims is full of women who love to dress up. (odayshakar.com)
Marie and Kelly Gray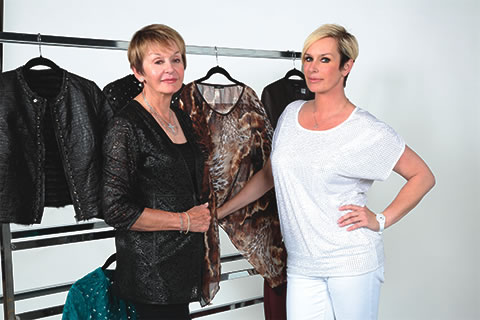 Company: Grayse
Based in: Costa Mesa
Reside in: Irvine and Corona del Mar, respectively
Mother-daughter duo Marie and Kelly Gray are hardly strangers to the fashion industry. As the co-founder (Marie) and former CEO (Kelly) of Irvine's St. John, they practically pioneered the advent of Orange County-based manufacturing. But recently, the pair has traded traditional knitwear for a more contemporary, edgy collection—cleverly titled Grayse (pronounced "grace")—that Kelly describes as the result of a "synergy" between the two women.
"We were just dabbling a bit," Kelly recalls of the line's humble beginnings. "We hadn't really worked together creatively in maybe seven years, and the dynamic of the relationship had definitely changed. It was exciting to see the little ideas we came up with—one idea turned into two and two turned into a dozen and pretty soon we had a collection."
Grayse was initially intended to be an eveningwear collection, but morphed into a more varied line once the women initiated the production process. A range of patterns and textures converged to reflect the styles of both Marie, who is more of a sketch-oriented designer, and Kelly, who takes a hands-on approach to the process by handling and piecing together fabrics.
"I'm more of the person who paints the walls in the house, where Mom does the crown molding," Kelly explains.
When asked to describe the brand's imagined clientele, Kelly picks actress Minka Kelly and local reality television star Gretchen Rossi. "The silhouette I always imagine is a denim bottom—whether it be white or black or actual true denim—with a very dressed up top," she says. "[The woman who wears Grayse] wants to be dressed up, glamorous, but not overkill."
Before the line can be sold at retail locations including Neiman Marcus, Saks Fifth Avenue and Bloomingdale's, Marie and Kelly carefully produce and analyze samples in a "small but powerful" workroom in Costa Mesa. "Some days it's exciting, and some days it's exasperating," Marie says.
"In terms of being able to design with a little bit more personal commitment to every style, it's a lot of fun," Kelly adds. "Realistically there shouldn't be anything in the collection that one of us wouldn't wear." (mkgrayse.com)
Tim Morse and Iva Pawling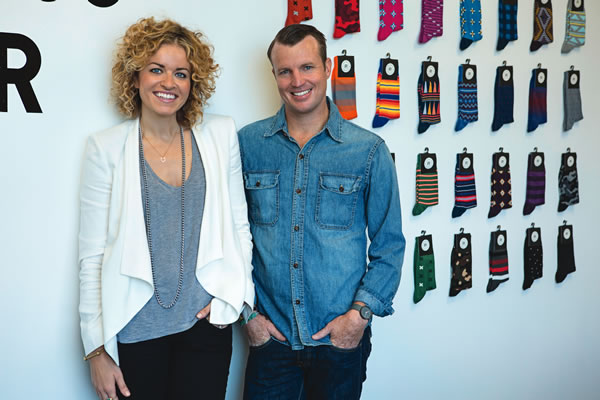 Company: Richer Poorer
Based in: Capistrano Beach
Reside in: Capistrano Beach and Laguna Beach, respectively
The trend of sporting colorful, patterned socks has grown steadily since early 2010, the year Tim Morse and Iva Pawling co-founded the sock-centric company Richer Poorer. The company's signature blend of combed cotton, polyester, nylon and spandex—designed to achieve an ideal balance of softness and functionality—took nearly four months to perfect, but quickly gained a dedicated following.
Now in its third year of production, Richer Poorer has expanded to ship its products across the U.S. as well as to international marketplaces, such as Canada, Australia and Japan. Tim and Iva are gearing up to launch a line of wool socks in time for the holiday season, as well as additions to their sport and women's lines, and an all-new children's collection.
They find inspiration in a range of aesthetic resources, from tribal patterns to graduated color schemes, and are known to comb vintage stores in Los Angeles and flea markets in Brooklyn, N.Y. Tim and Iva credit their brand's success to collaboration with the company's creative director, graphic designer Joe Tornatzky. "I think [that approach is] why we had patterns that stood out from the very beginning and allowed us to make a stamp in the marketplace different from what everyone else was doing; it's because of the fact that it came from a graphic perspective—what's very visually pleasing, rather than what makes a good 'sock,' " Tim says.
"With our patterns, we really focus on giving a unique offering that's our interpretation of trends, … and the way the colors are put together on the socks is a very methodical thing—we don't just throw the colors together," Iva explains of the design process.
Richer Poorer's signature socks have been spotted on celebrities like Justin Timberlake and Justin Bieber; even Will Ferrell recently snagged a pair in San Francisco. The brand can be found locally at Bloomingdale's, Nordstrom and American Rag Cie, as well as online. In the near future, Richer Poorer hopes to conquer underwear, scarves and belts, among other offerings.
"When we started this company, even though we're based in Orange County, our aspirations were to look at it from a contemporary fashion perspective," Tim says of their approach. "How do we be an aspirational brand, like a Ralph Lauren or a John Varvatos? … We'd like to aspire to be somebody like that." (richer-poorer.com)
Ryan Hitzel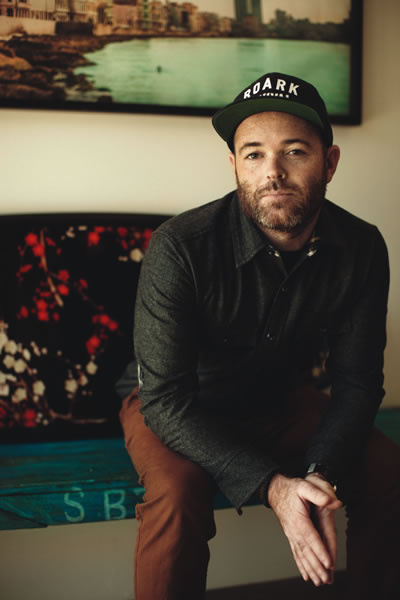 Company: Roark Revival
Based in: San Juan Capistrano
Resides in: Laguna Beach
Sitting down with the Roark Revival crew—founder and creative director Ryan Hitzel, marketing director Brandy Faber, sales director Mike Mechling and retail/marketing director Ryan Sirianni—is an adventure in itself. But at the end of the day, that's what Roark Revival is all about: the revival of adventurism and storytelling.
Since its debut in 2010, Roark Revival has grown into one of the most well-received action sports brands to hit the OC marketplace. Each collection produced by the company is seen as an opportunity to share the story of a different exotic location toured by the brand's mythical figurehead, Roark. The mascot, inspired by Howard Roark of Ayn Rand's "The Fountainhead," fictitiously touches, uses, sees or experiences every item featured in each line. For example, the knickknacks featured on the brand's Bali High T-shirts represent objects discovered in Roark's pockets following an Asian expedition.
"We'll research wherever we track Roark down and be inspired by what we find," Ryan says. "We'll be inspired by … not only the place, but by really the adventure we're on." After each international adventure, the Roark team conceptualizes the line by compiling fabric patterns, sketches, color palettes and stories, which later are shared on the company's website to explain individual looks.
Storytelling aside, the collection is composed of stylish pieces that continuously redefine the boundaries of recreational menswear. "We like to say you'd be just as comfortable wearing our clothes in an Argentinian holding cell as you would be if you were at the Sydney Opera House," Ryan explains. "It's a timeless approach with some adventure-inspired details, but at the end of the day, it's hopefully designed well enough so you could actually look pretty nice if you wanted to."
Roark's most recent collection, Camp Tokyo, features pieces that are made with heavier, warmer fabrics inspired by the Japanese capital's climate. These pieces and more can be found at 150 retail stores, including locally at Laguna Surf & Sport, Costa Mesa's Surfside Sports and Huntington Surf and Sport.
And according to Ryan, Roark's expansion has just begun. The brand recently broke into the coveted East Coast market, and hopes to maintain its momentum later this year by hitting the shelves in Australia, Europe and Japan. (roarkrevival.com)
Deborah Drucker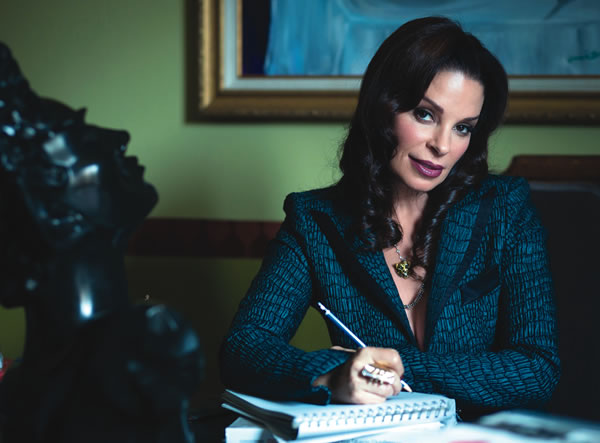 Company: Deborah Drucker Inc.
Based in: Laguna Beach
Resides in: Laguna Beach
To find out what happens when Gucci's sensuality meets rock 'n' roll attitude, just take a look at Laguna Beach-based designer Deborah Drucker's debut collection. The daughter of a former Gucci timepiece designer and the wife of Stray Cats bassist Lee Rocker, Deborah considers her foray into fashion the result of a natural progression. "I worked for my father, then I was a wife, [then] I raised my kids and now was the right time for me to pursue my passion for design," she explains.
Tongue-in-cheek and rocker-chic, Deborah's designs juxtapose classic silhouettes—pencil skirts, tailored jackets, tie-front blouses and cropped trousers—with contemporary creations like The Betty, a knee-length dress with a fitted bodice and a full skirt that Deborah envisions Lucille Ball wearing. Each piece features Deborah's signature details, which include self-made animal prints and custom hardware (think skull-shaped zipper pulls).
Her commitment to exceptional detailing extends to all aspects of production. "I appreciate deconstructed [pieces] and am a huge fan of Rick Owens, but for me and what I do, it is about finessing the finish," Deborah explains.
According to Deborah, the foundation for each piece begins with the fabric, which she chooses based on rudimentary sketches and color palettes. She is particularly drawn to delicate fabrics like silk charmeuse, tropical weight gabardine, silk chiffon and Italian lambskin leather, which are used in her current line.
The line—her first—can be found exclusively at A'Maree's in Newport Beach and Shari's Place in Greenvale, N.Y. "The vision [for the collection], in my mind, was sort of traditionalist with an unexpected twist," she says. "Perhaps equivalent to the guy who loosens his tie at the end of a long day, has a shot of bourbon and the fun side comes out."
In the future, she aspires to be carried in the "top 10 finest boutiques in America" and maintain a commitment to the highest quality of stateside production. "I do not want to [expand to the point of manufacturing] overseas," she comments of the company's future. "I would like to stay a 'made in America' brand, so if we need to grow slower, then that is how we will go." (deborahdrucker.com) NBM