Unconventional workouts liven up fitness routines.  – By Erin Vaughen | Photos By Phil Blair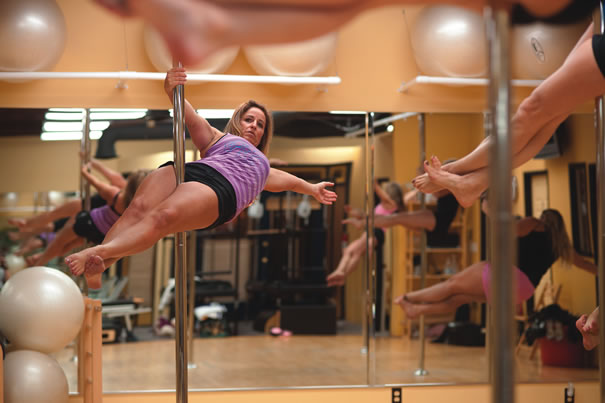 It's that time of year—the season when the media and our waistlines remind us that we must make up for all the holiday treats we enjoyed in 2010. But this year, why not make your obligatory New Year's resolution fun by trying something completely different? Steer clear of overcrowded gyms and endless treadmill runs, and revamp your routine with unique workouts.
A Class Act
Fitness classes don't always have to involve weights or stationary bikes. Newport Beach has several unique classes that promise to be so enjoyable, you may not even realize you're working out.
Put on those dancing shoes at Core et' Barre, a Newport fitness studio with a whole new take on aerobic classes. It integrates the best of ballet, Pilates and weight resistance to bring an engaging workout session that fuses strengthening and toning with seriously fun cardio. While the workout does incorporate ballet-inspired choreography, it is not solely for the dancer, or even for the coordinated individual. All are welcome to experience the workout and discover their own personal grace and fluidity throughout each movement.
The Sports Club/LA, located nearby in Irvine, hosts Ballet Blend as part of its impressive group exercise schedule. This intermediate dance-inspired workout combines basic ballet skills to stretch and elongate your body. No experience is required for this Wednesday morning class.
A different kind of movement, pole dancing has already made its mark on the fitness world, inspiring celebrities to shimmy and soccer moms to swing in a sexy way that builds strength and stamina. For those that have tried every fitness class under the sun and are looking for something totally different, consider pole dancing as a new way to stretch, sweat and tone. Pilates on the Pole, Balboa Pilates' version of pole dancing, fuses dancing with Pilates, using the pole as a prop. The class combines strength and flexibility with confidence and sensuality.
Hoopnotica, or hooping, is an alternative form of fitness that has already established a cult following. Similar to traditional hula-hooping, this workout sculpts abs and can burn up to 600 calories per hour. And the best part is the company's inspiring mantra: "Virtually everyone is able to hoop, given the proper tools and training."
While hooping conjures up playground memories of hopscotch and jump-rope, it has a serious fitness appeal. And its subculture considers the sport a serious performing art. The Hoopnotica trend is poised to become the new yoga, and with instructors in the area, locals can whittle their middles with childlike glee.
The Home Body
If crowded gyms aren't your thing, or if you just can't squeeze another class into your busy schedule, opt for a fun workout that works at home or on the go.
Trainermat prints a step-by-step demonstration of sport-specific workouts onto mat surfaces. In the mood for some yoga in the park? Unroll Trainermat for Yoga under your favorite oak tree. Need to stretch out after a surfing session? Pack Trainermat for Stretching alongside your board wax and sunscreen. Or, if you're simply sick of the gym or too busy to drive to your workout classes, unroll Trainermat for Pilates at home for a serious one-on-one session with your mat and instructional DVD.
You can also escape the gym with the Fit Kit, which allows you to easily work out outdoors. Each kit contains a four-foot resistance tube with handles, a four-foot resistance band, a stability attachment, jump rope and a pedometer, as well as safety features, such as an ID tag, safety arm band and a portable alarm for exercising in an unfamiliar place. The kits contain specific exercises aimed at home, travel, dorm, office and golf.
For those staying in, television and couch potato no longer need to be synonymous. Nor do video games and teenagers. If you're reluctant to leave the house during winter's mild SoCal bite, technology has concocted some fabulous ways to make use of your LCD screen and your gaming equipment. Zumba Fitness is a game that works with Kinect for Xbox 360, Nintendo Wii and PlayStation Move. Just like your gym's Zumba classes, this is an intense workout disguised as a Latin dance party. Choose from 30 routines and nine dance styles, including salsa, hip-hop and flamenco. Sensors monitor your movement, allowing the game to go from basic personal training to a full-on dance party as you improve. You'll have so much fun shaking your hips, you may not even notice the calories melting away.