The desert gem that has attracted couples for decades is experiencing a youthful renaissance.
By Linda Domingo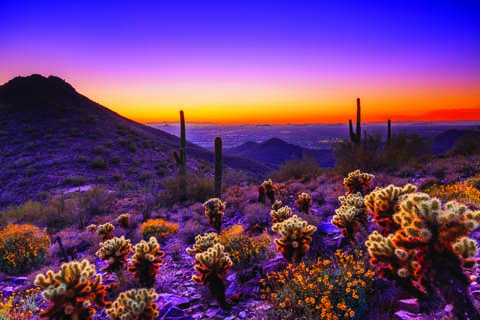 Scottsdale is a place either lost in or ahead of its time. Contemporary art galleries now neighbor showrooms that thrive on sales of cowboy statues. Restaurants up on the latest culinary trends sit across from quirky shops that specialize in kitty and angel merchandise. And the landscape is dotted with luxury resorts flanked by looming cactuses.
Long considered a vacation spot for those seeking a tranquil desert escape, the city's reputation is shifting thanks to an influx of stylish young jet-setters who favor late night cocktails over early bird specials. Yin and yang somehow find harmony in Scottsdale, which may be why it's become a coveted destination for couples—young and old—looking for romance, adventure, relaxation and everything in between.
Day Dates
While many couples seek solace from the heat by staying indoors at the famous resorts and spas—Scottsdale boasts one of the highest numbers of AAA Five Diamond hotels and resorts in the country—there's an impressive amount to see and do in the city that averages 314 sunny days per year.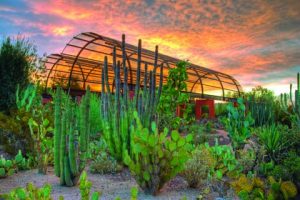 Some of the most alluring experiences for romance-seekers lie in the arts scene. Scottsdale and the arts have been linked since the Great Depression, which brought an inflow of artists and architects who found inspiration in the desert scenery. While much of the artistic landscape still reflects Scottsdale's reputation of being "the West's most Western town," a number of contemporary galleries are creating a city aesthetic more appealing to a new generation of travelers. Public art permeates the city, making for whimsical walks while admiring sculptures like Robert Indiana's Love and Donald Lipski's Doors, which gives observers the sensation of standing inside a giant kaleidoscope. The Scottsdale Museum of Contemporary Art is another one of the area's pioneering institutions, offering an uncommon date choice with immersive exhibitions and the famous Knight Rise "skyspace" by James Turrell.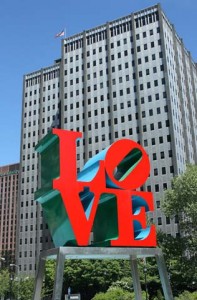 Additionally, art and architecture enthusiasts can make the trek for a date at Taliesin West, the winter home and architectural campus of one of Scottsdale's most renowned residents, Frank Lloyd Wright. At the base of the McDowell Mountains, the attraction is open for tours and provides a stunning view of the Sonoran Desert accompanied by the romantic stories of the architect and the artistic creation that occurred on the campus—enhanced even further in the evening tours when the buildings are softly lit against the backdrop of the sunset.
Beyond art attractions, Scottsdale's natural landscape has always enchanted visitors. Sunrise hot air balloon expeditions give a unique perspective on Arizona's untamed expanse for adventurous couples—Hot Air Expeditions will even welcome you back to earth with a gourmet meal and flutes of Champagne. But for an in-depth look at desert flora, wander the grounds of Phoenix's Desert Botanical Garden just outside of Scottsdale. The scenic trails surrounded by colorful flowers and cactuses are a unique setting for a rendezvous, and the on-site restaurant, Gertrude's, is an elegant location to grab a bite and a glass of wine after exploring the grounds.
Table for Two
The recent influx of the young and trendy has also transformed Scottsdale's culinary scene. While classic, romantic dining experiences still exist in large numbers, a new generation of eateries challenges the old-guard steakhouses with fare that's unexpected in the desert—farm-fresh produce and high-quality seafood. Arizona wine is also having a moment, and many of Scottsdale's restaurants have begun to adjust their wine lists to display local pride.
A testament to the epicurean renaissance can be found at FnB. Opened in 2009, the old town restaurant has become a local favorite with a simple menu that changes seasonally. The casual space feels like something you might find in Portland, Ore., with dishes that let ingredients speak for themselves—kale falafel, fried cauliflower, chicken meatballs and kalua pork are just a few of chef Charleen Badman's creations. With a small indoor dining room and an intimate patio that's illuminated with string lights at night, FnB was made for a laid-back lunch date or a charming stop before a night on the town. Couples can also peek into the connected Bodega Market, a fresh take on the local corner store, for local wine or other food products to take a piece of their trip home.
Diehard sushi fans who can't wait until they get back to California to share a roll may opt for dinner at Stingray Sushi. The restaurant, which boasts contemporary decor and plenty of tables for two, features Japanese sushi with Latin influences, as well as a creative cocktail menu.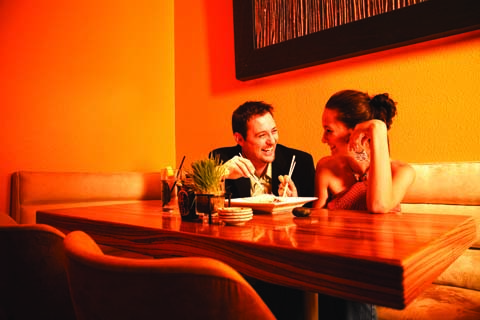 For a more classic romantic setting, many couples dine at Virtù Honest Craft, a 30-seat restaurant tucked inside the boutique Bespoke Inn (which also features an artisan bicycle shop). Only about a year old, Virtù's Mediterranean-influenced menu, understated decor and well-stocked bar have earned it accolades, including being named one of 2013's best new restaurants in America by Esquire. The older crowd will find satisfaction in expertly prepared dishes like the grilled asparagus prepared with candied bacon and a duck egg, and pan-seared branzino with crispy leeks; meanwhile, the younger set revels in serious cocktails prepared by dapper bartenders that are also well-versed in the art of conversation.
There are also dinner options, however, for those who want a completely nontraditional date. Every Saturday from 6:30-10:30 p.m., the Food Truck Caravan takes over a parking lot on Fifth Avenue and Goldwater Boulevard with a diverse lineup of mobile vendors. Organizer Lori Baker and her team set up both communal and private tables, as well as a Moroccan-themed tent that can be rented out for special evenings with significant others or a few friends. The caravan is a lively scene with live music and a friendly foodie crowd. It's also an ideal stop before exploring the area's nightlife, considering the caravan's Ate on 5th program gives food truck diners a discount card for select businesses near the event.
When Night Falls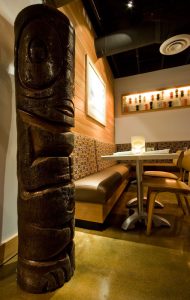 After dinner, Scottsdale takes on an entirely different personality as temperatures cool. The streets come to life with locals and tourists, especially on the weekends, starting with Scottsdale ArtWalk. The city's art walk is credited as being the nation's oldest, and takes place every Thursday from 7-9 p.m. The 100-plus art galleries that make their homes downtown are easily navigated on foot or via the free trolley, and the Scottsdale Gallery Association organizes special events throughout the year that bring live entertainment, like the 40th Anniversary ArtWalk taking place Oct. 23.
Fortunately for night owls, the city stays up late. Couples might prefer a watering hole with less flashing lights: Hula's Modern Tiki in nearby Phoenix is a sleek, dimly lit bar with the exotic cocktails that give the place its tiki bar categorization, but without the expected garish decor. Alternatively, AZ88 is a larger, contemporary spot that's been praised for its food as well as a bar that provides just enough cool factor for those looking to see and be seen.
For mornings after an evening out, rise early and catch a Sonoran sunrise—or, sleep in and forget the alarm altogether. The changing look and reputation of Scottsdale may have increased the amount and diversity of things to do, but the romance of the desert and the freedom to make of it what you wish remains blissfully unchanged.
—
A COUPLE'S RETREAT
Among the myriad hotels and resorts in Scottsdale, the Omni Scottsdale Resort & Spa at Montelucia is a top choice for a romantic vacation.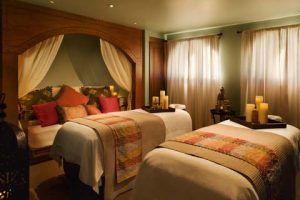 The resort has hosted President Barack Obama in its extremely private Andalusian Presidential Suite, which features its own pool, high walls and spacious patio—but even nonpresidential types can enjoy accommodations with balconies and soaking tubs. The property's Old World Spanish architecture and breathtaking views of Camelback Mountain set the tone for memorable weddings, honeymoons or simple weekend getaways.
It's easy to see why some couples never leave the resort during their stay in Scottsdale. The three pools, each with its own distinct atmosphere, various award-winning culinary venues and inviting Joya Spa are undeniably enticing features that are only elevated with couples-centric programming like wine education classes and the new Puerta Privada (Spanish for "private door") wellness and dining experience.
Now taking place Fridays and Saturdays, Puerta Privada is the desert's best-kept secret for couples. After a soft knock at the Joya Spa door, the evening begins as a butler leads guests to their own private couple's spa suite, where they unwind before a 60-minute spa treatment followed by dinner prepared by a resort chef. Couples are also treated to a private stargazing session, music from a live acoustic guitar player and time to relax near the spa's pool. Puerta Privada is limited to three couples per night. (480-627-3200; montelucia.com)