Reimagine your bedroom sanctuary for under $5,000 with tips from three local experts.
By Somer Tejwani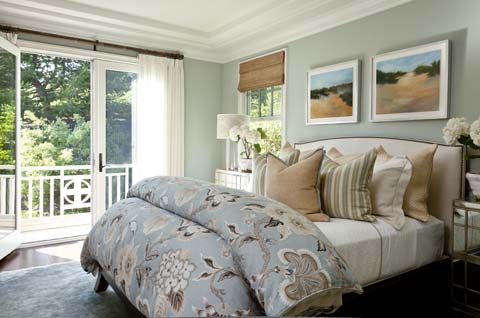 More than any other space in the home, the master bedroom should be both a stylish and welcoming retreat. When it comes time to update a home's interior decor, however, it's often overlooked in lieu of giving guest-facing areas the most dramatic refresh. Since the master is where most people actually spend the bulk of their time in the home, there's no reason why it shouldn't it be the most dreamy, chic room in your abode.
With these tips from three local tastemakers, discover how you can bring style and ingenuity to a master bedroom on a budget of $5,000 or less.
Step One: Choose a Style
For less than $100, paint is a fantastic, affordable and drastically effective way to begin your makeover, according to interior designer Barclay Butera. "You are hitting all the senses, all eye levels of the room and oftentimes this will appear to be much more of an overhaul than it really is," he says. "Changing the overall feel of a bedroom, or any room for that matter, really can revolve around color choices."
Barclay, who opened his flagship showroom in Newport in 1994, explains that in a recent project, his client was looking for a light and fresh design with a subtle "beachy" feel—but one that was classic and elegant, not kitschy. He found inspiration in beach glass blues and sand shades to set the tone, and then layered in his signature mix of textures via pillows with soft stripes and patterns, followed by sheer window treatments to let the sun into the room. "Just making the move from dull gold and olive to fresh sea-blue and white brightens and changes the entire space," he says. "Paint is really the best way to update on a budget."
The designer adds that lately he's been a fan of very soft, serene shades like sand, washy blue and beach glass green tones, but for a bolder look, homeowners can opt for navy and crisp white.
On the opposite end of the spectrum, Quin Palmer from Bliss Home & Design and Kim Rodosky of 503 Found suggest neutral hues; Quin recommends classic shades with a soft gray tone, like Benjamin Moore's Quiet Moments 1563, while Kim suggests colors in the white, tan and gold families for a clean and warm aesthetic.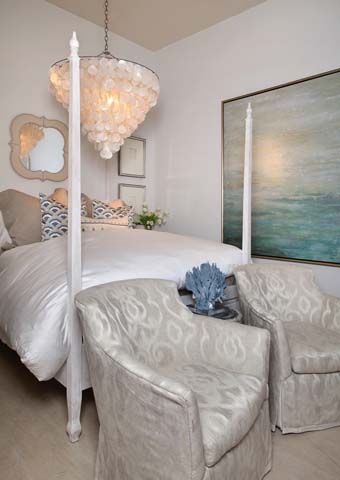 Step Two: Decide What to Splurge On
The three designers tend to agree that you'll likely spend the bulk of a $5,000 budget on a bed. Barclay recommends splurging on a good mattress: "You can have all the design bells and whistles in the world, but nothing will compare with a good night's sleep," he says, adding that he'll sometimes remove the entire bed frame and replace it with a clean, upholstered one for a fresh look. "Changing the statement piece can also drastically affect the outcome of the makeover so make that your biggest investment."
Other large pieces of furniture, like dressers and nightstands, tend to be on the more expensive side as well, so it's smart to invest in quality pieces that will last for years.
Another important aspect of a comfortable room is appropriate lighting. Chandeliers can hold a price tag of well over $1,000, but dramatically change the feeling of a room. Quin explains that hanging fixtures can add romance and a focal point to a large space, but another good option is a nightstand lamp. The lamps should be in proportion to the bed, resting anywhere from 3 to 7 inches below a headboard.
Finally, luxury bedding is also an area that calls for higher spending during a revamp. Barclay explains that since the top of the bed is typically the first thing most people notice, it can set the tone for the whole room. After choosing an overall style, select bedding in complementary hues that accent both the colors of the walls and the furniture. When in doubt, investing in a quality white fabric is the safest route to take.
"Just getting basic white linens is a great way to create a look," Quin suggests. "… Then add a couple decorative pillows with a pop of color and interchange those throughout the years to freshen up the room."
Budget Breakers
A statement piece can define how an entire room comes together; here are five items that are worth the splurge.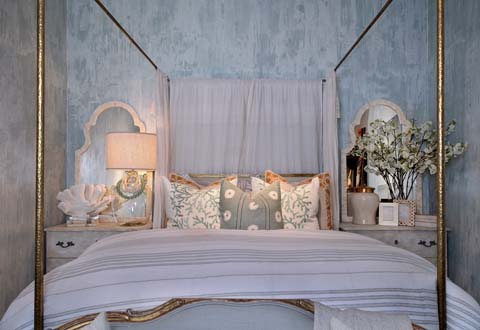 Step Three: Determine Where to Save
After the larger pieces are selected, it's time to focus on the small details that bring a room together. Do-it-yourself projects—even ones as simple as replacing a lampshade—are perfect for bringing personal touches to a room and are almost always cheaper than purchasing a product off the shelf, Barclay says. For a recent home, he took a very plain chandelier and encrusted the entire piece in seashells before adding raffia shades; the result was an expensive look with a much more palatable price point.
If you choose not to invest in a new bed, Kim and Quin suggest updating a headboard by either painting it—which Kim describes as a small risk with a big reward—or creating a new one by using a favorite textile adhered to a wall.
"It's definitely a different look, but it's very cool and something you can do yourself," Quin says of the DIY project.
Chic pillows, rugs and art are other possibilities that will make a big splash without dipping into a large portion of the budget. Before adorning the bedroom with accessories that span the colors of the rainbow, however, Barclay suggests creating a simple canvas with matching end tables and bedside lamps.
"Go crazy mixing patterns, pillows and other accents within this symmetrical layout and you will end up with a room with depth and interest instead of chaos," he explains. "And whenever you feel you need a jolt of excitement, add an animal print somewhere—[it] always does the trick."
As you launch into a master bedroom revamp, remember to keep the pieces you love, ditch anything that hasn't felt quite right and allow yourself to find inspiration at any price point.
"Always give yourself permission to use a high-low mix. You can find great lamps at a flea market and paint tired end tables a signature color you can't find off the shelf," Barclay adds. "… If you focus on the aesthetic aspects of the room—color, texture, lighting, decor—you can create a room that feels entirely new and fresh. Be creative, have fun [and] use what you love no matter what the price."
Budget-Friendly Buys
Tighten up the purse strings without sacrificing style by incorporating one of these chic accents in your bedroom revamp.