A new generation of master barbers, along with fresh, modern products, are revolutionizing the return back to a traditional shave.
Christopher Luu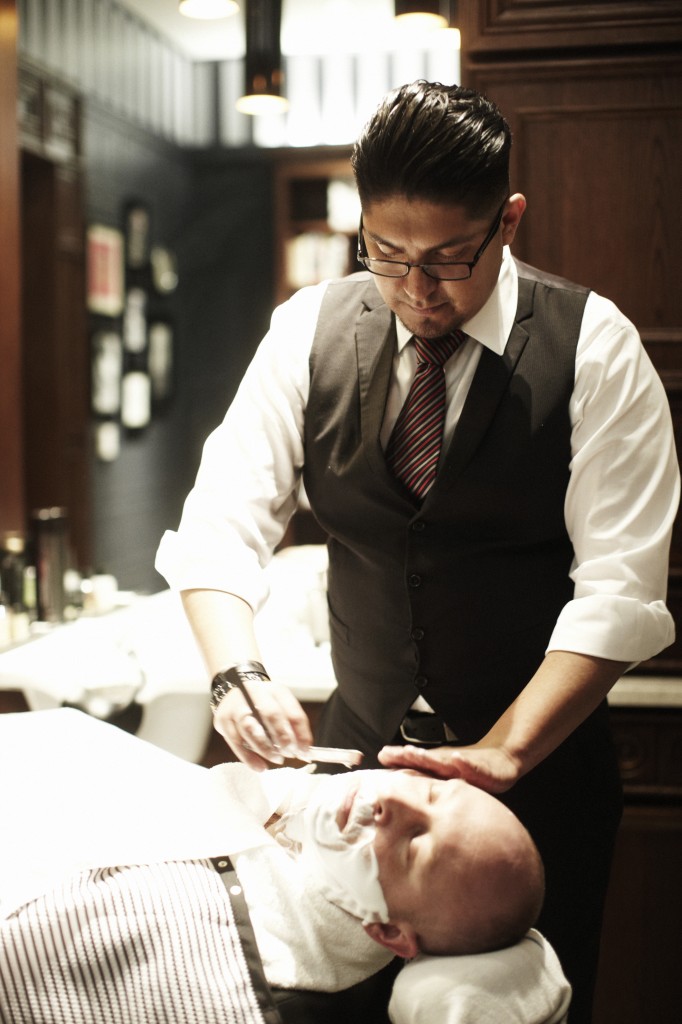 Christopher Luu
Now that the mustache has become a means of self-expression—particularly the sepia-tinged designs of the 1940s or the slick styles that have grown out of TV shows like "Mad Men" and "Boardwalk Empire"—men's grooming has stepped into the spotlight. It's not as simple as lathering up and taking a razor to your face, however—no, shaving has transformed into an art form as a resurgence of barbershops offer modern takes on the age-old shaving routine. Today, men are taking a cue from their grandfathers and going under the knife for smooth shaves from local barbers in addition to discovering ways to attain similar looks at home.
"Going to a barber is one of the most traditional acts a modern gentleman can do, but it [has become] more acceptable to talk about nowadays," says Alessandro Santiago, master barber at The Art of Shaving at South Coast Plaza. "Men want to feel confident, and a large part of that is looking presentable. Some like to be clean-shaven for work daily and others prefer to maintain a well-groomed beard. … It all takes time and preparation."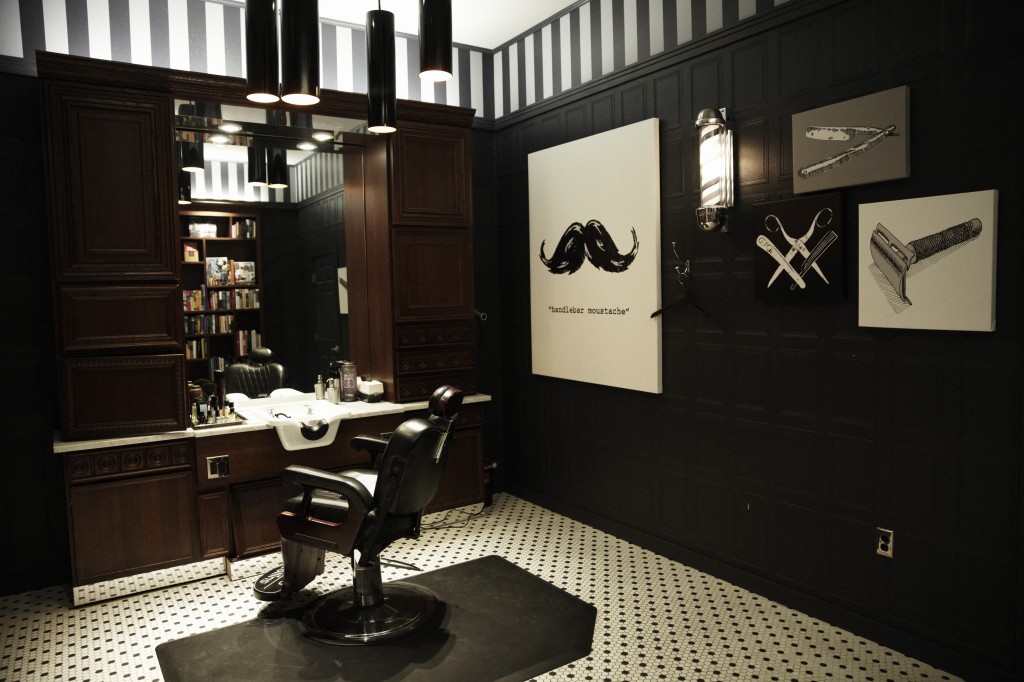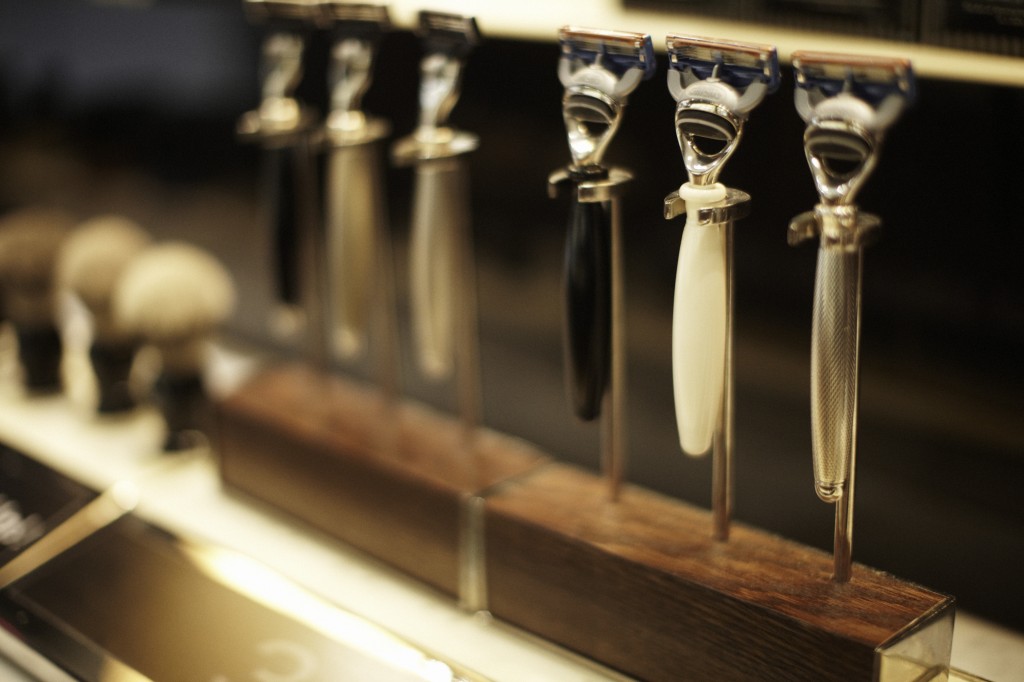 Time and prep are part of the reason why men are trading their own razors and shaving cream for skilled hands to tame their facial hair. While every man has his own at-home routine—whether that means a blade goes near whiskers once a day or once a month—deferring to an expert for a clean shave is becoming increasingly common among the male population, especially for young professionals who want to present themselves in a way that's more polished and slick than surf and sand. After years of embracing business casual, the average guy is now a modern gentleman with a new, progressed role in the grooming game.
A Refined Experience
Today's take on the traditional barbershop still might not be what the younger generation's grandfathers and fathers are accustomed to, and the numerous grooming havens in coastal OC reflect this modern sensibility while staying true to the classic shaving experience. While some maintain that original feel with spinning barber poles paired with vintage-inspired chairs, there are also places that steer clear of the nostalgia. Men's-only salons and a new wave of contemporary barbershops are readily available, and each one is sure to offer a straight razor shave that's a step up from the usual lather, shave and splash at home.
"Men don't want to go into women's salons anymore," says Tina Coffey, educator at 18|8 Fine Men's Salons, which has locations across OC, including one near South Coast Plaza. "They want to have a place of their own—an upscale guy's club, in a sense—where they can get the services they need in one stop."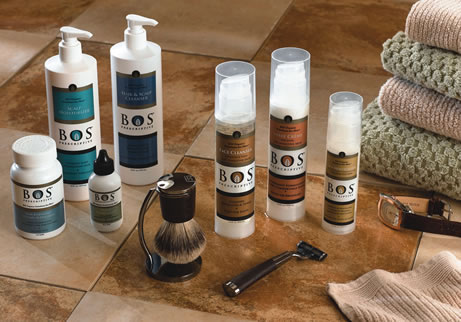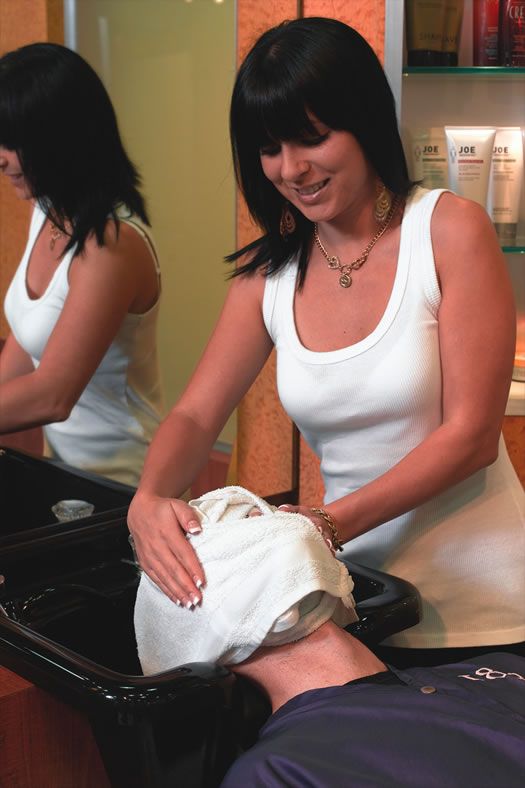 18|8 has set the bar locally with that type of gentlemen's club, where instead of the noise of blow driers and the scent of peroxide floating through the air, guests are escorted to a semi-private area and greeted with a drink. Beer and wine are available for those who need to loosen up or relax before getting shaved, in addition to coffee or soda. It's a personal, one-on-one experience that leaves men feeling pampered and relaxed, removed from the chaos of a salon. Beyond traditional shaving, 18|8 also offers other grooming services, including haircuts and even manicures for those who want to get cleaned up in one visit.
Similarly, The Art of Shaving at South Coast Plaza carves out a space for men, ironically in the heart of a popular shopping center. Here, men can treat themselves to the brand's signature treatment: the Royal Shave, which uses hot and cold elements as well as a full complement of products to create an indulgent yet practical experience. Along with the actual shave, each client receives step-by-step instructions to recreate the same great experience at home if they choose.
Tools of the Trade
It's not only the technique that keeps the pros in demand, however; the arsenal of shaving creams, brushes and more at the disposal of barbers at 18|8 and The Art of Shaving may be few and far between in the bathrooms at home. While each place has its own method, the process is essentially the same whether at a barbershop, a dedicated shaving salon or a full-service men's salon that offers traditional shaves. It's the care and prep that goes into each shave that makes master barbers seem more akin to surgeons, not stylists—an important element that encompasses the thoughtful steps taken to ensure a smooth shave as much as the products used by the pros.
"I start with a hot towel and oil to get the skin prepared," Tina explains. "Then, I re-lather and complete the shave. After shaving, I use a cold towel on the face because it tightens the skin back up and helps cool the pores."
Barbers agree that pre-shave oil is one step that is usually skipped at home, yet it is important to lubricate men's facial hair before proceeding to add a thicker lather. Additionally, salon barbers are prepared with alum blocks and styptic pencils in case there's a bit of a nick.
"Our master barbers shave the skin several times using a straight razor, ensuring the smoothest skin possible," Alessandro says. "Then, an after-shave balm is used to restore and regenerate the skin."
In-store shaves are done with a traditional straight razor, but an at-home alternative is a high-tech tool like The Art of Shaving's Power Razor, which includes a spotlight to illuminate shadowed areas of the face as well as an indicator light that visually alerts the user to when the blade begins to dull. Tools like this razor, as well as others, help elevate the at-home experience to achieve the same look feel that one might get at the salon.
Professional Advantage
Another perk of heading to the barbershop for maintenance—the pros recommend visiting once or twice a month—is that the person wielding the razor has a bird's-eye view of clients' faces to assess unique hair growth patterns and facial contours, allowing for the closest shaves possible. After-care is covered as well, because following a close shave, skin is left exposed and sensitive.
Justin Schiele, a barber at the Lab Barber Shop in Costa Mesa is quick to pick up a traditional shaving standby for post-shave care: bay rum. It's an astringent ingredient that dates back to the 16th century that is still used as an after-shave to close pores and prevent ingrown hairs and irritation.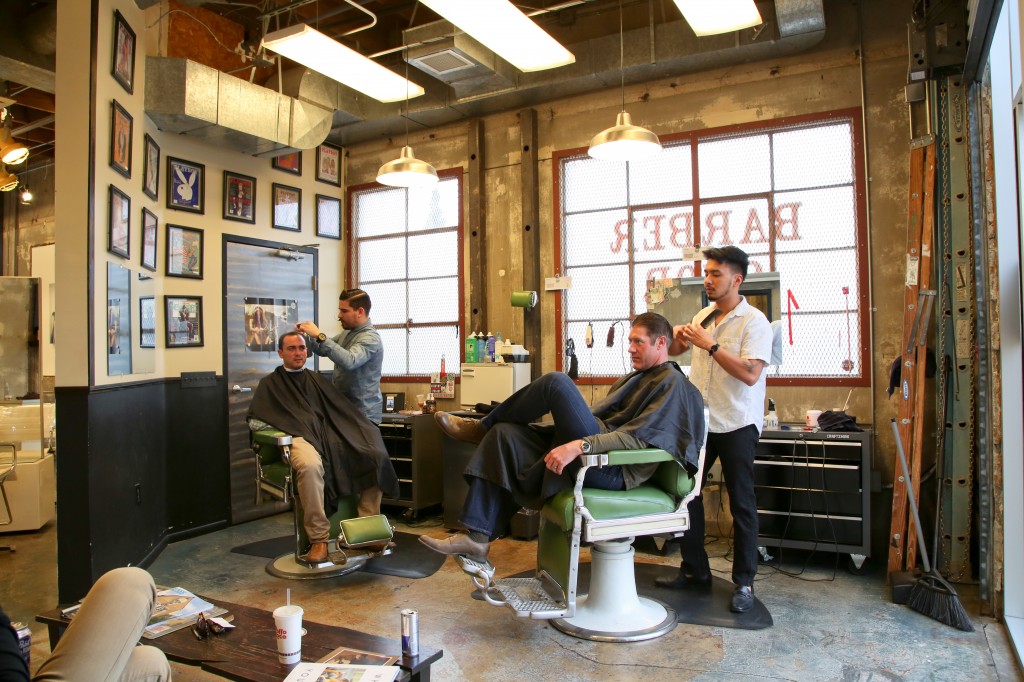 "With the uprising of the retail store The Art of Shaving, at-home care has really increased when it comes to shaving," Justin says. "… Many pomade companies have [also] released shaving product lines that offer a great at-home shave."
What's not available at home, however, is one of the things that has kept this generation's grandfathers going back to their barbers: the barber and client relationship that develops over years of shaves, haircuts and conversation.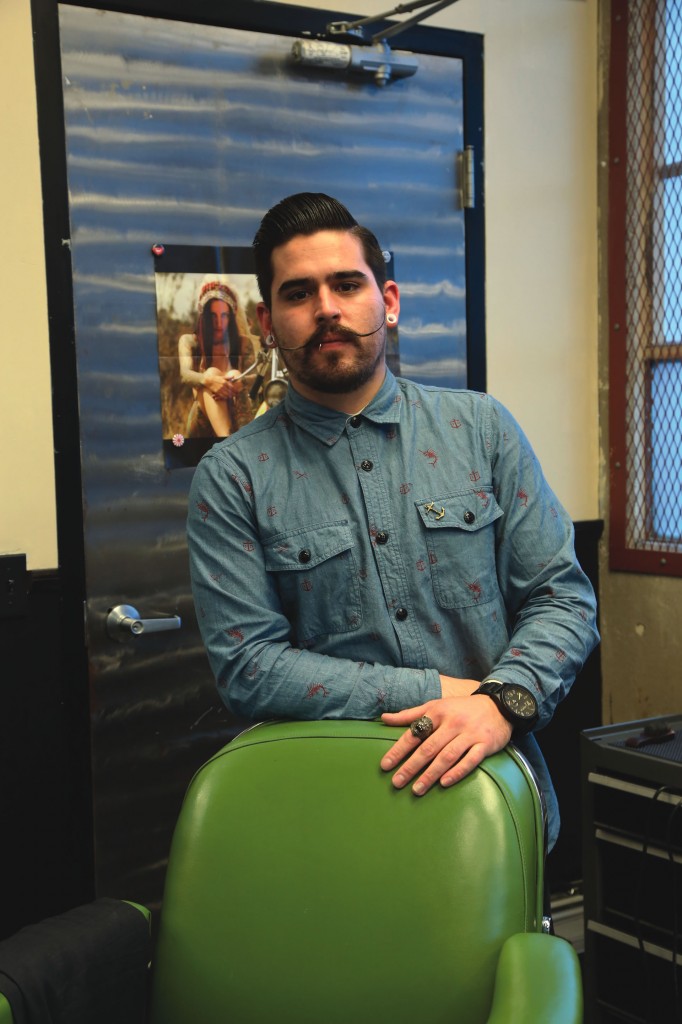 "The barber and client relationship is a strong one," Justin says. "Having a place to come between work and home, as well as being able to have a real conversation with your barber and fellow clients, is a strong pull for men to come into the barbershop." NBM


Close Encounters
Fine-tune your daily shave with these essential products.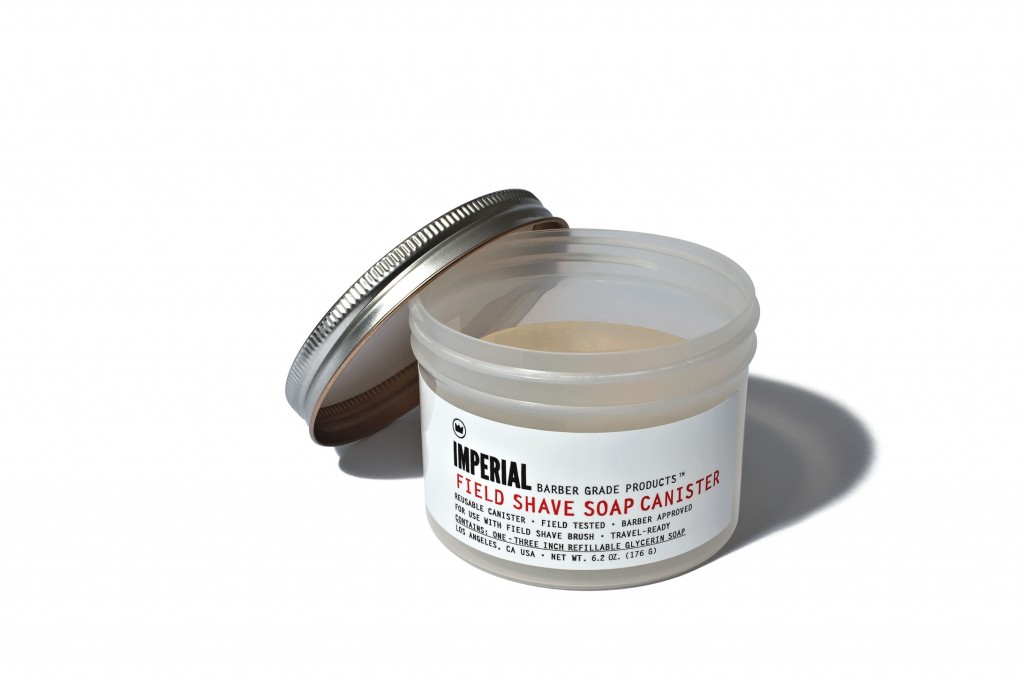 Imperial Barber Products field shave soap canister with glycerin shave soap, $15, at Cloth & Metal, Costa Mesa (888-938-4536; clothandmetal.com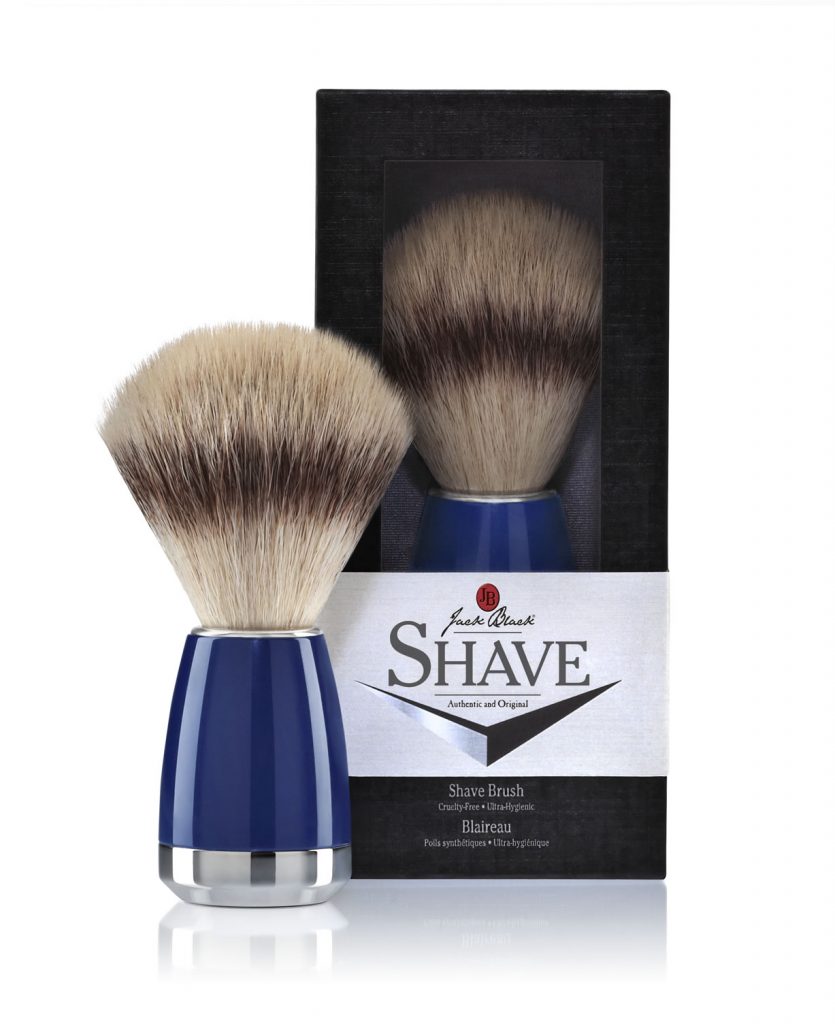 Jack Black pure performance shave brush, $85, at Nordstrom, Fashion Island (949-610-0700; nordstrom.com)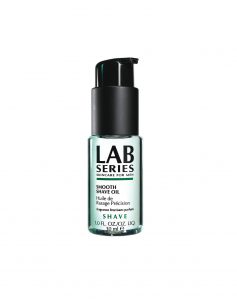 Lab Series smooth shave oil, $21, at Nordstrom, South Coast Plaza (714-549-8300; nordstrom.com)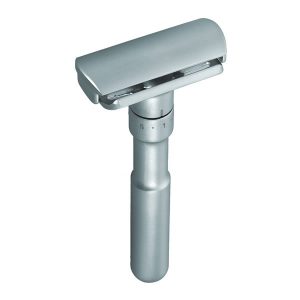 Chrome Futura safety razor with straight comb and double-edge blade by Merkur, $95, at The Art of Shaving, South Coast Plaza (714-460-1988; theartofshaving.com)

 The Art of Shaving facial scrub with peppermint essential oil, $25, at The Art of Shaving, South Coast Plaza (714-460-1988;
theartofshaving.com)

Ant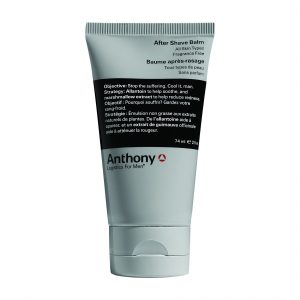 hony Logistics after shave balm, $20, at 18|8 Fine Men's Salon, Costa Mesa (714-435-1888;
eighteeneight.com)