With charming waterfront communities, sprawling estates with unforgettable views and so much more, there's a residence in Newport Beach for every price range.
By Peter A. Balaskas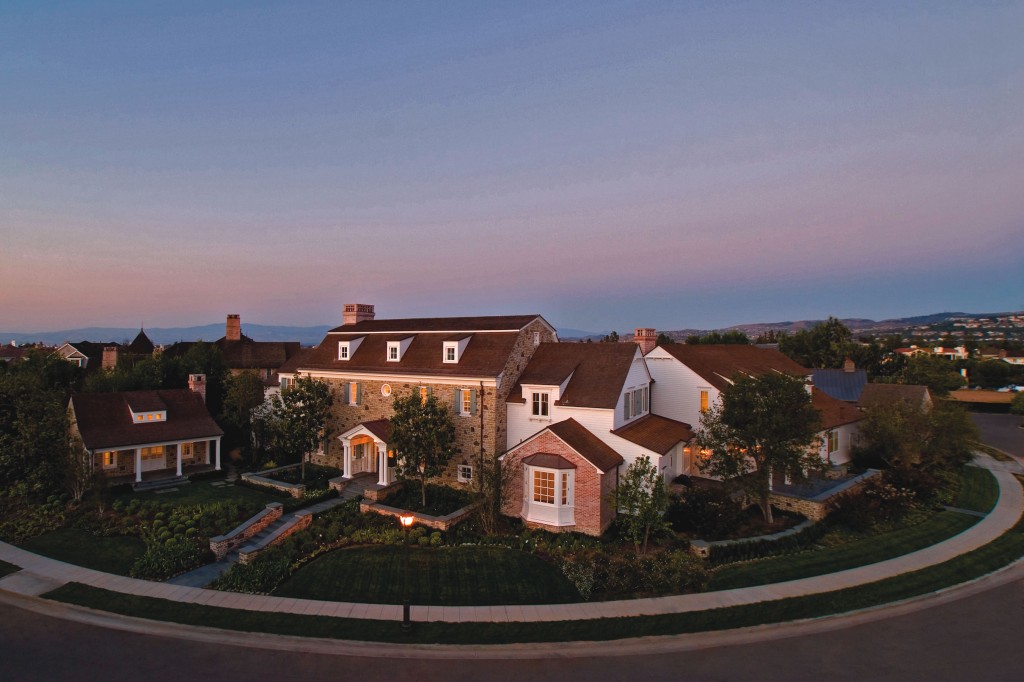 As though it were a diamond with countless shining facets, Newport is composed of diverse neighborhoods, each possessing a unique character. There's the exclusive Bay Island and the neighboring Bay Avenue, which is snugly bookended by the beach and Newport Harbor. Across the channel, the sidewalks that hug the canals of Balboa Island are constantly filled with joggers, dog walkers, couples strolling hand in hand and children running alongside the docks. On the mainland, One Ford Road is home to elaborate estates, while the brick roads of Linda Isle lead the way to many seafront sanctuaries.
The homes in these exquisite neighborhoods—among many others across the city—showcase just how much your money will buy you in this coastal community. From expansive estates starting at nearly $20 million to tasteful cottages priced between $1 million and $3 million, there's a choice of architectural styles and design features to suit any taste and budget.
More Than $10 Million
12 Troon Dr.; $19.5 million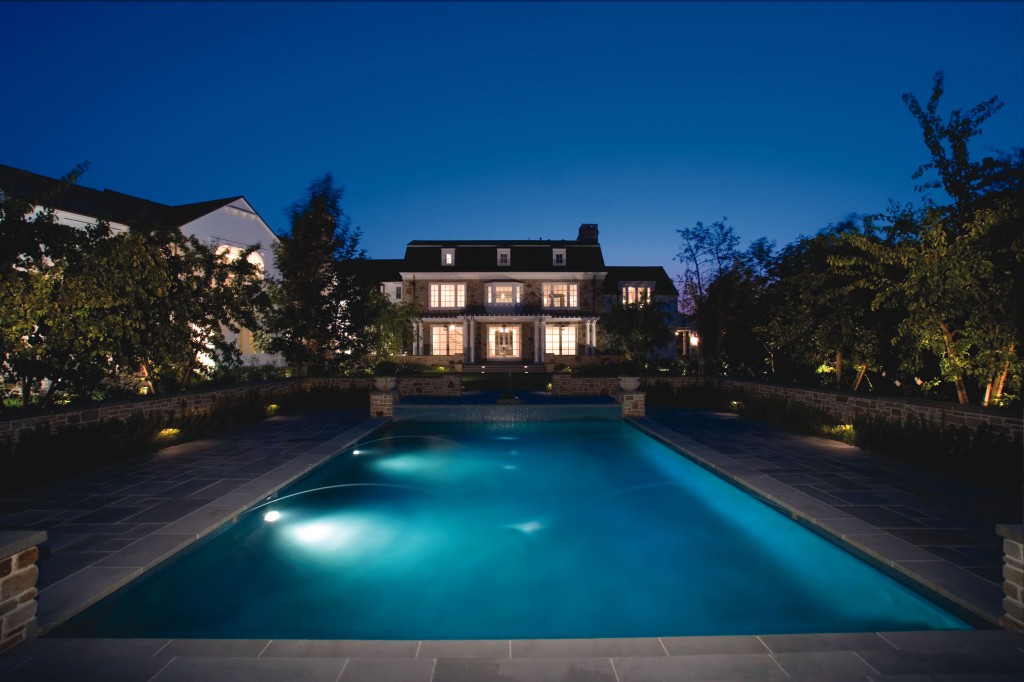 Three dwellings make up this sprawling, luxurious residence housed on an acre of pristine land in the exclusive One Ford Road community. Architect David Obitz designed the 12,000-square-foot, four-level, two-winged main house in a Pennsylvania Dutch Colonial style collaborating with the owner as well as the interior designer, Courtney Lawrence Ziething. The adjacent guesthouses—a stone cottage dwelling and a quaint barn-like structure—exude rustic qualities.
"People love this house from the moment they first see it, as it genuinely reflects the learned art of architecture from days past," says Rob Giem of HOM Sotheby's International Realty.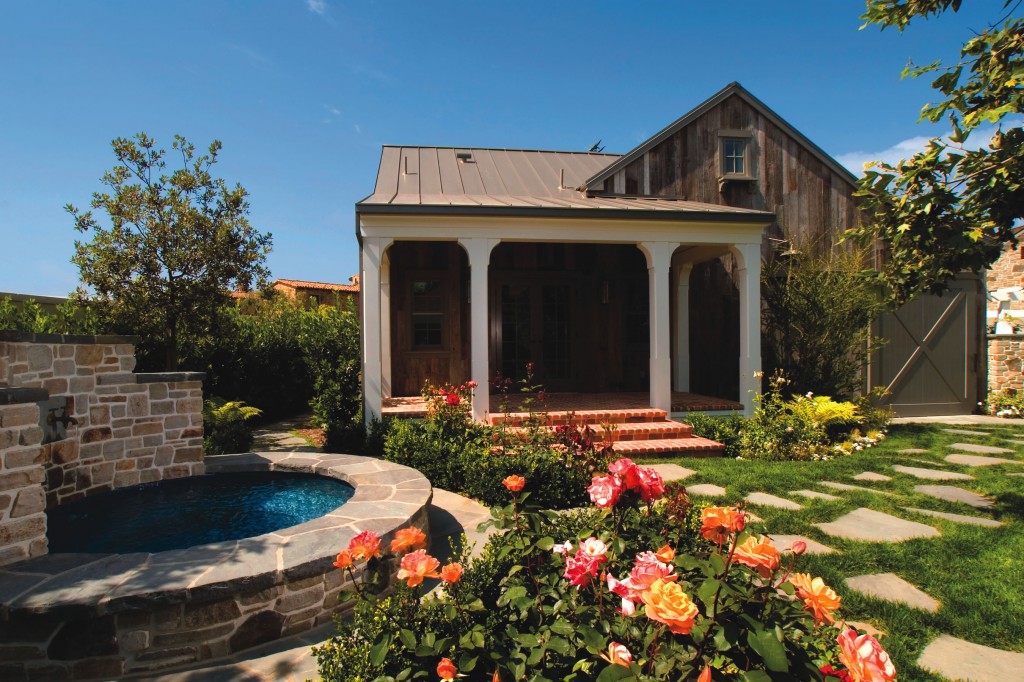 In the main abode, ample space is provided in the living room, family room, morning room (used for breakfast) and an immense library, which contains built-in shelves and a brick fireplace. An airy, multipurpose kitchen with a center island complete with a veggie sink, a butler's pantry, an office/crafts room and even a "mud room" to store dirty shoes all add to the charm of the ground floor.
The master bedroom and its respective bath and closets, as well as a sitting room for morning tea, fill the second level of the house. There is also an upstairs family room and guest bedroom suite; an adjoining bridge offers access to a children's study room and three additional guest bedroom suites located in the other wing of the house.
The third floor of the manor provides a unique sanctuary in the form of an atelier that can be used for storage or as a workshop or studio. Meanwhile, the basement level is a dream come true for oenophiles and cinephiles alike with a fully functional wine room and spacious movie theater.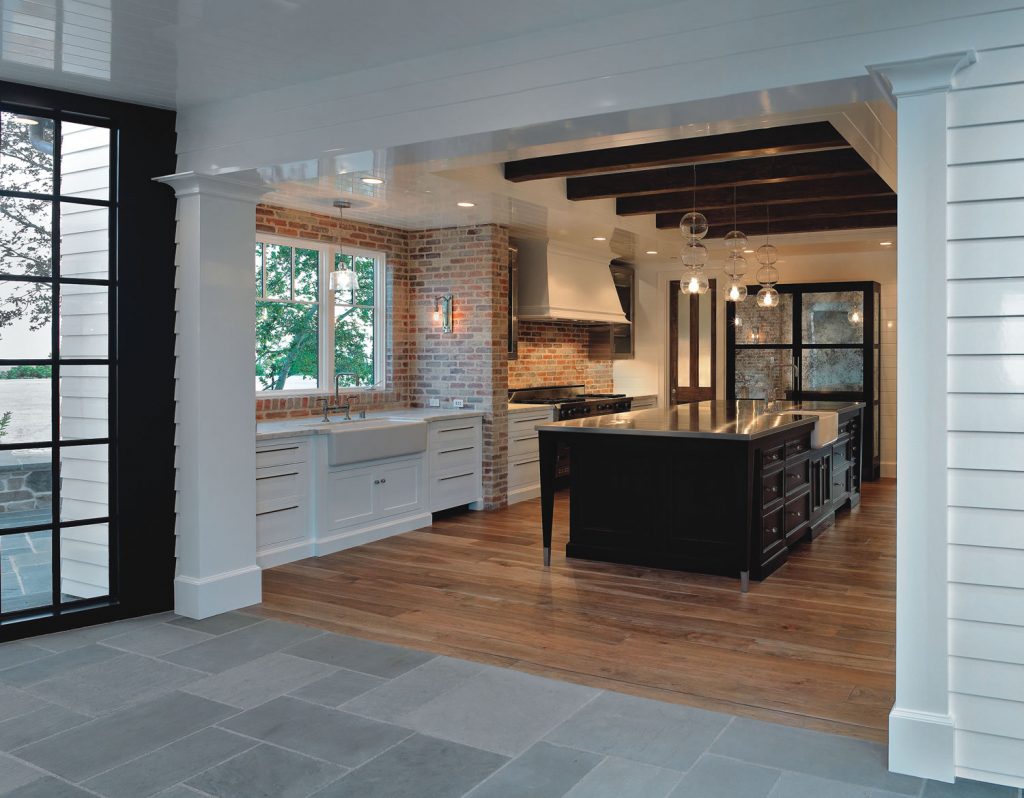 "The house was designed for entertaining and can easily accommodate hundreds of people for gatherings," Rob says. "It provides the lifestyle that many people want, but cannot find this close to the water in Orange County."
With all these amenities, as well as a scenic pool pavilion surrounded by a variety of luscious foliage, future homeowners can relish in this dream resort of peace and tranquility.
HOM Sotheby's International Realty: 949-554-1200; homgroup.com
$7 Million to $10 Million
27 Linda Isle; $8,495,000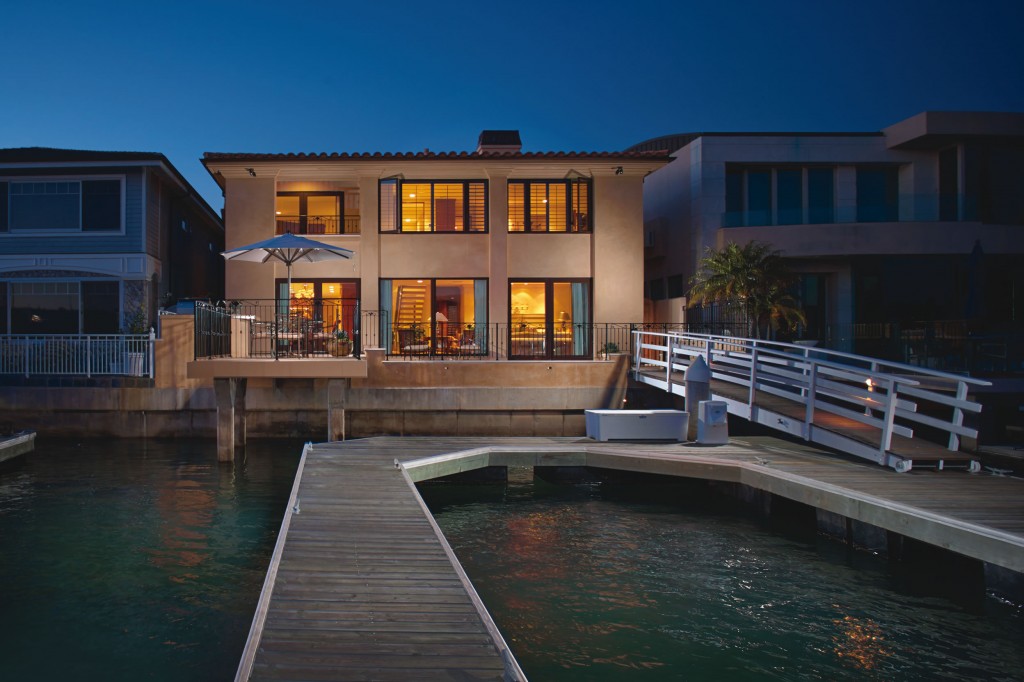 As potential homeowners enter the guarded gate from Bayside Drive, they'll take a leisurely cruise across the bridge and explore the horseshoe-shaped Linda Isle before arriving at this Mediterranean-style hideaway, which was completely remodeled in 2011 by Hilton Builders. It offers not only a spacious three-bedroom, five-and-a-half bath dwelling, but is also fully furnished with entertainment centers for all bedrooms, leather furniture and a flat-screen TV for the downstairs library, and glass dining tables for both the main indoor dining room and the outdoor patio.
"[The homeowners] can walk in here and not have to do a thing," says Evan Corkett of Villa Real Estate. "This house is ready, done [and] practically new. … Hardly anything has been used."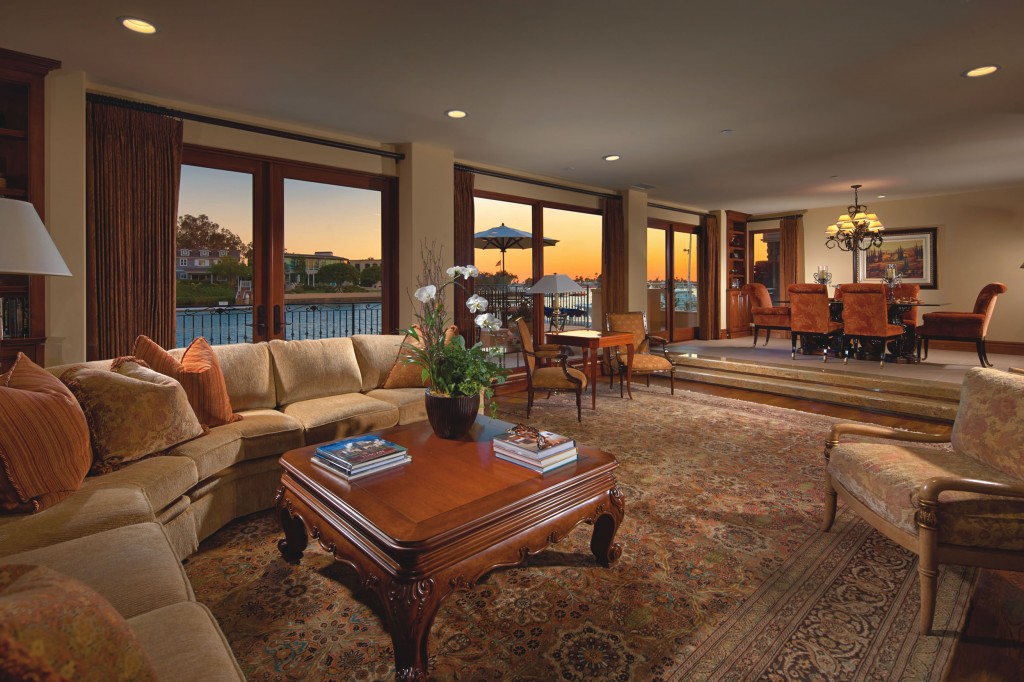 The ground level—set with porcelain-tiled floors crafted to resemble delicate limestone marbling—contains the living room, dining room and a kitchen. The multipurpose kitchen is a chef's—and host's—haven, containing maple wood cabinets, granite counters, a generous center island, two pantries and a six-burner Wolf range oven. The nearby side patio includes a Jacuzzi and an elevator equipped to transport guests to the second level.
A sanctuary for homeowners, the master bedroom and one of the guest bedrooms on the second level share an outdoor balcony that offers a breathtaking view of the main channel and turning basin. Evan says that this view, as well as the home's renovated private pier and slip for a boat up to 57 feet, is what makes the location one of the best.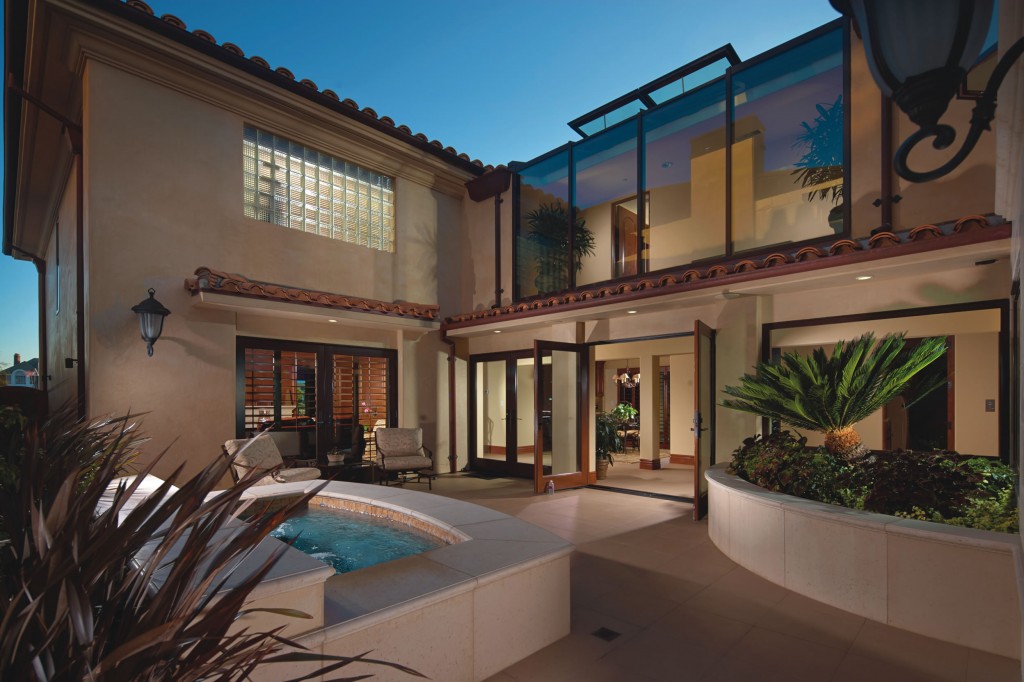 "The value of having a turning basin view is really what it's about," she says. "That's the real advantage of this house."
When a nighttime soiree is desired, entertaining can be taken to the upstairs media room where hosts can screen movies or sporting events on either a flat-screen TV or a 100-foot retractable screen and overhead projection system, provided by Orange County-based AudioVisions. With plenty of entertainment inside, as well as a bayside view ideal for barbecuing while watching the sunset, this Linda Isle home is the quintessential island hideaway.
Villa Real Estate: 949-698-1904; villarealestate.com
5 Million to $7 Million
21 Bay Island; $6,288,000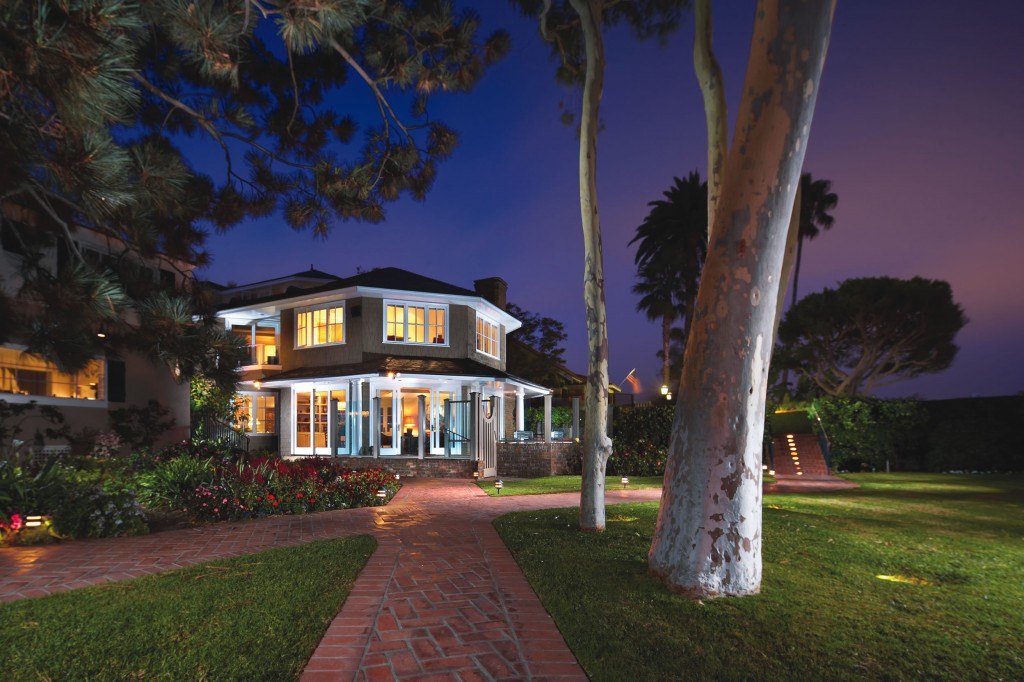 Designed by the late architect Kurt Donat, this traditional Cape Cod-style home—which is the only one on Bay Island with three above-ground stories—boasts trademark mahogany paneling, white wood walls and walnut wood floors in the ground level family room, living room and the nautical-themed dining room. The latter completes its vintage cruise liner aesthetics with an arched white slat ceiling, a built-in varnished cabinet with a glass display area and brass ship lock hinges, fixtures and wall lights.
"I've sold real estate in town for 28 years; that's probably my favorite dining room I have ever seen of any house," says Steve High of Villa Real Estate. "To me, it feels like you're in a luxury cruiser from the 1930s or 1940s. There's nothing quite like it."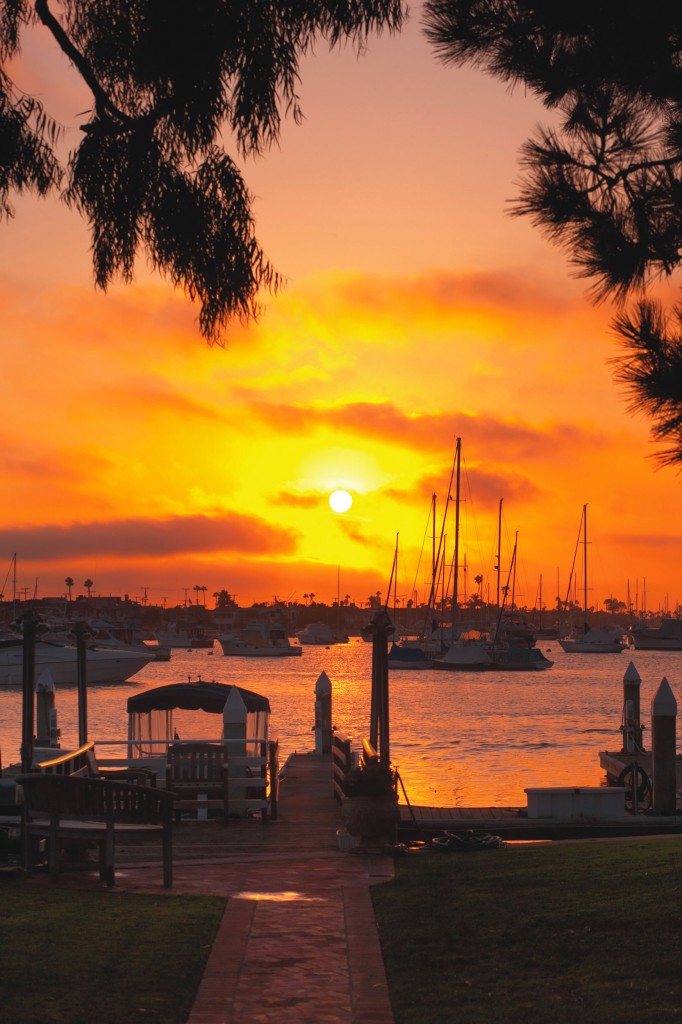 At the heart of the ground level is the kitchen with an open, welcoming layout featuring a mahogany breakfast bar adjacent to a five-burner gas cooktop on the granite counter island, an interior breakfast room and a rear patio that opens up to a gas fire pit and secured koi pond.
On the second level, the master bedroom has a stunning view of Balboa Peninsula as well as dramatic high ceilings. Two guest bedrooms, a laundry room and an office are also on the floor. Moving up, the third level features what Steve calls a "grandchild playroom," which has ample romping room, an adjoining bath, a built-in desk and French doors that lead to a balcony overlooking the bay.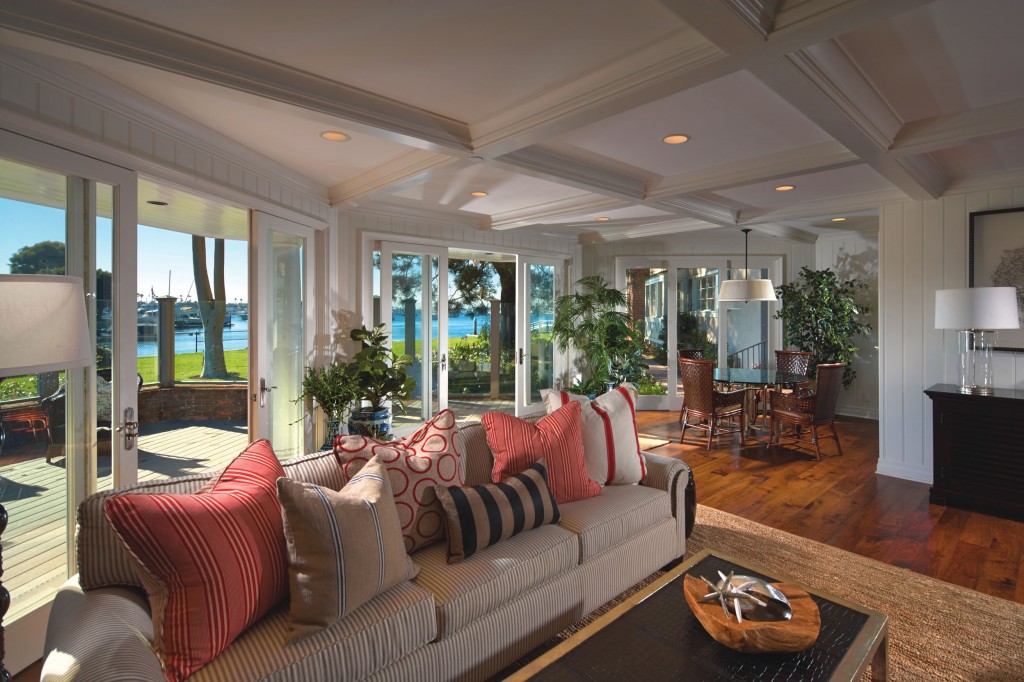 With all the available space and amenities—including a private parking lot just one block away from the island, as well as a private pier and slip for a large boat—Steve feels this house is a must for any future homeowner interested in keeping a family home through many generations.
"There are only 23 houses on this island, and they don't come up that frequently," he says. "This is an opportunity of a lifetime for a potential purchaser to create a legacy … for their family."
Villa Real Estate: 949-968-1903; villarealestate.com
$3 Million to $5 Million
300 East Bay Ave.; approximately
$3 million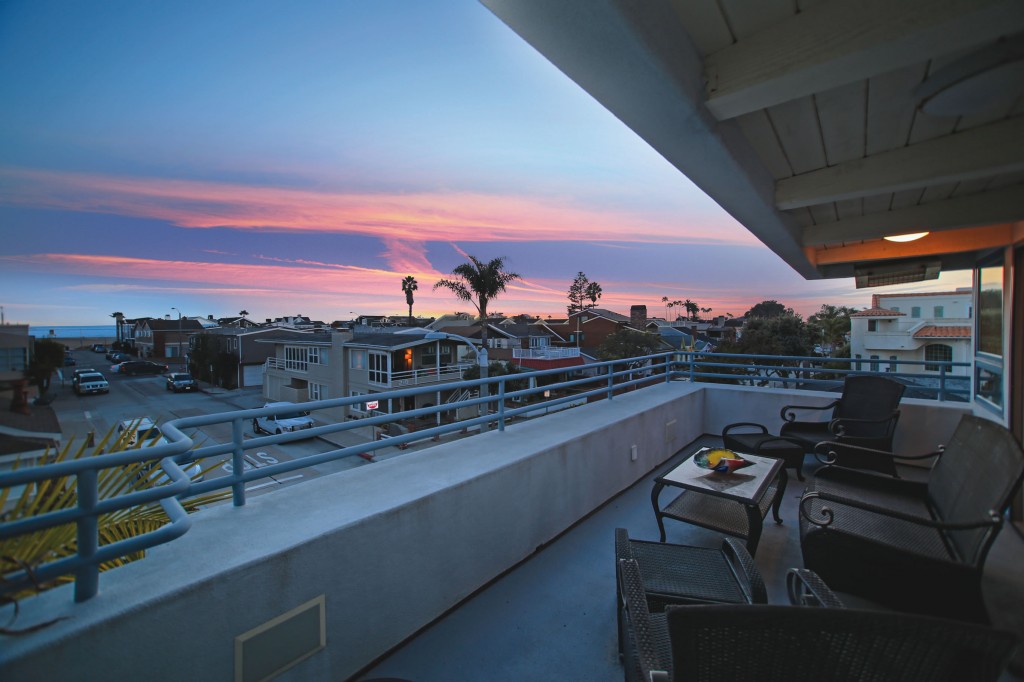 Onlookers from East Bay Avenue see a house that resembles a three-story deluxe apartment building, with balconies on each level boasting views of the shore and a distant harbor. Upon entering, it's clear that this roomy residence served as a comfortable home for a family who savored the beach lifestyle and contemporary architecture—courtesy of Newport Beach architect Richard Dodd and builder Brian Lewotsky.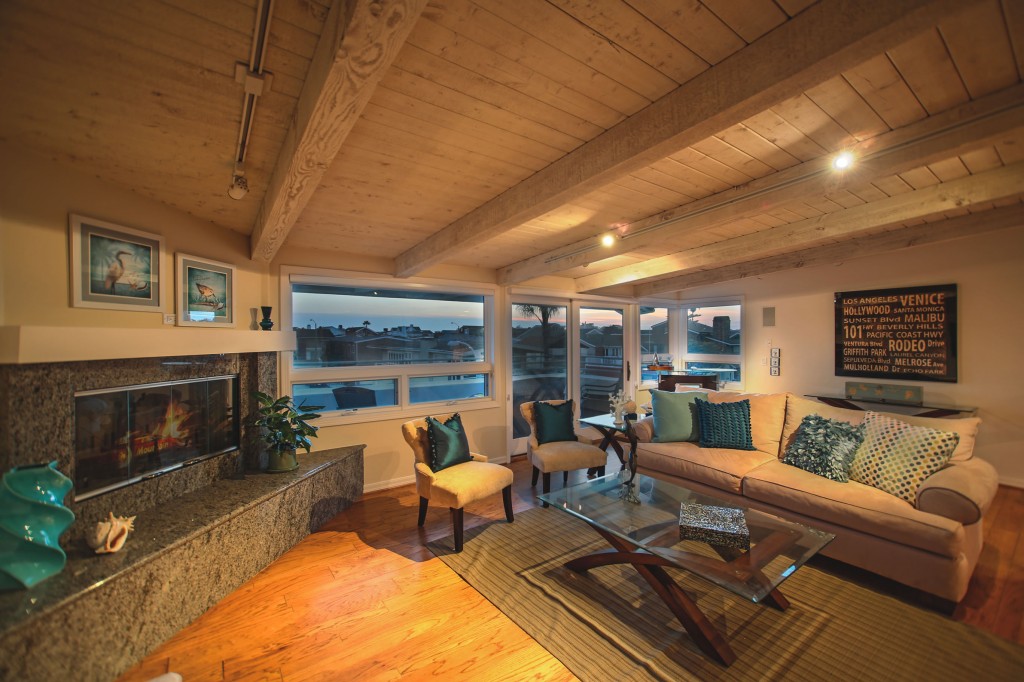 "[This area] is very family-oriented," explains Shauna Covington of Berkshire Hathaway HomeServices. "People look out for each other, and it's a very friendly environment."
Inside, the ground level provides what Shauna describes as the "in-laws quarters," which include a guest bedroom suite complete with a kitchen and dining area, flat-screen TV and outdoor patio deck with a panoramic beach view. Nestled nearby is another guest bedroom.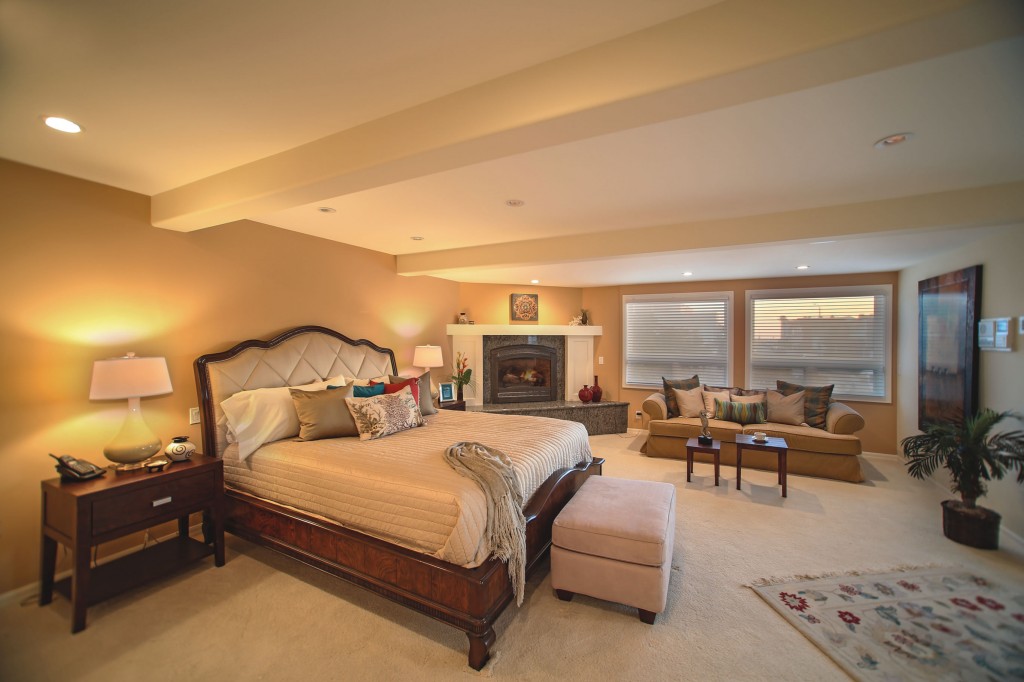 Hardwood stairs lead to the second level, where a master bedroom suite exudes warm comfort thanks to its fireplace and patio with an unobstructed view of the beach. The guest bedroom next to the master suite also leads to an outdoor patio deck featuring an unparalleled view of Harbor Bay. Both the master and secondary baths have elegant Carrara marble counters and tubs.
Considered the entertainment level, the third floor's family room dominates with a complex sound and security system, plus plenty of room for a flat-screen TV. This floor also houses yet another fireplace, a breakfast nook, a dining room that can easily be converted into a fifth bedroom, the main kitchen and a master patio deck with an outdoor bar and barbecue.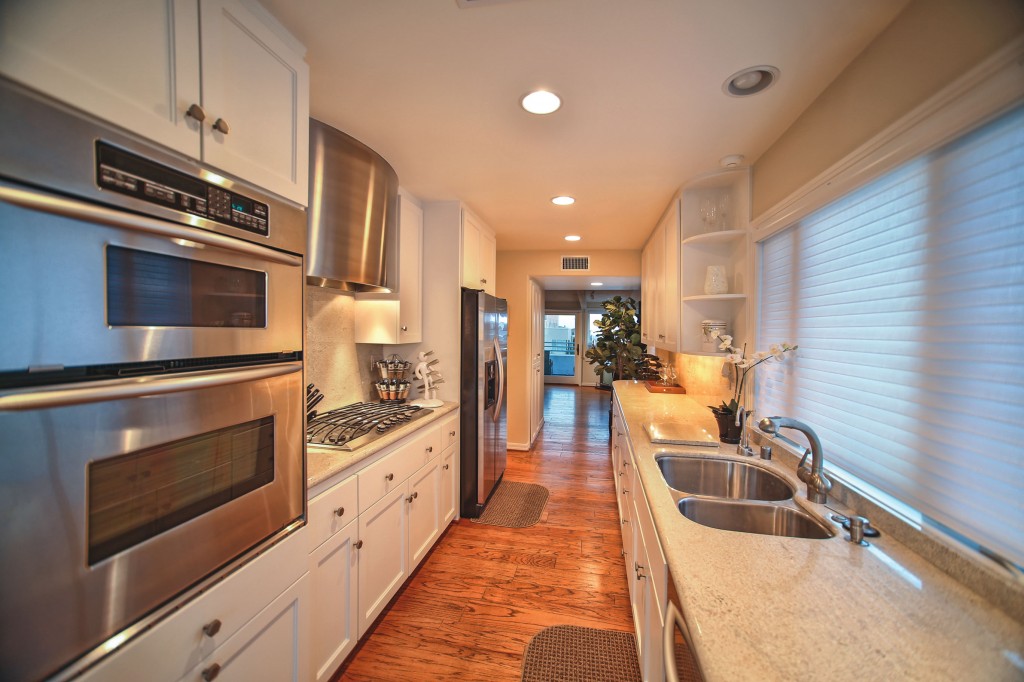 But the rooftop deck is what separates this home from the others on the block. Here, homeowners can enjoy a deluxe state-of-the-art barbecue and an eight-person Jacuzzi, as well as a 360-degree view of Newport Beach—perfect to enjoy summer sunsets or the Newport Beach Christmas Boat Parade in winter.
"This house truly takes advantage of all of the views," Shauna says. "When you are on the rooftop deck, you will notice that this house has really maximized its potential."
Berkshire Hathaway HomeServices: 949-395-8786; shaunacovington.com
$1 Million to $3 Million
217 Grand Canal, Balboa Island; $2,695,000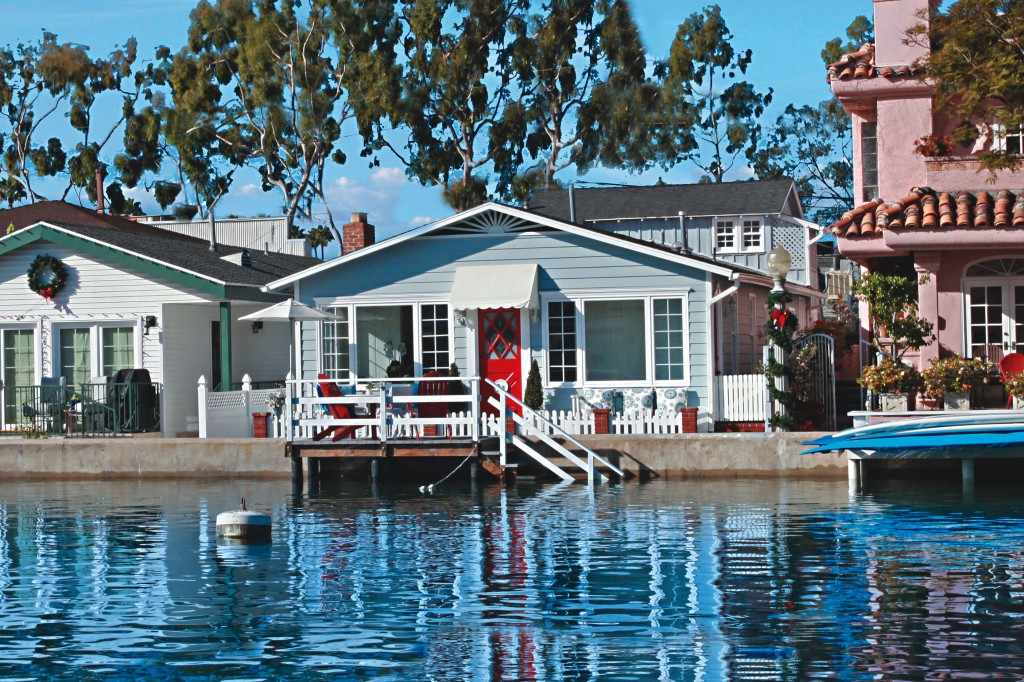 This intimate Balboa Island beach cottage greets visitors with the small town charm of the island and welcomes them in with a fenced-in front patio—the perfect spot for an alfresco breakfast. Around the corner, a second patio completes the home's outdoor accouterments with an exclusive extension leading to a dock ready to accommodate an 18-foot boat.
Once inside, the fresh openness of the waterfront home proves to be its most stunning feature. On the ground level, the cottage includes refinished, original hardwood oak floors and Carrara marble countertops and backsplash for both the kitchen and bathrooms. The open living room, which overlooks the water, completes the layout with a classic red Dutch door that either leads out to the patio or to the office/den, breakfast bar and dining room areas. The upstairs features an above-garage apartment that was originally a separate space until a former owner connected it to the rest of the house, creating a roomy, private master bedroom with a walk-in closet, bath and a separate outdoor stairway.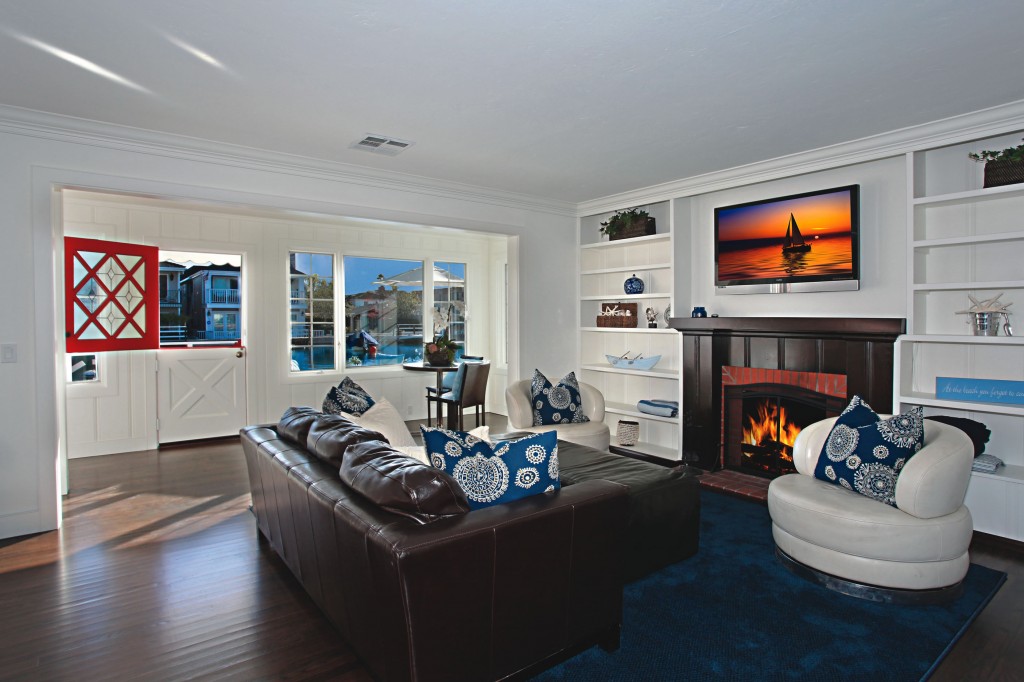 The cottage's homey charm is attributed to the architecture, which reflects its construction in 1930 by displaying the lasting signature look that many other Grand Canal houses seem to possess.
"The houses that were built with a good architectural style were really well constructed and lasted 80-plus years," says Don Abrams of Abrams Coastal Properties. "[This house] is one of the best examples of a restored Balboa beach cottage in the 1930s."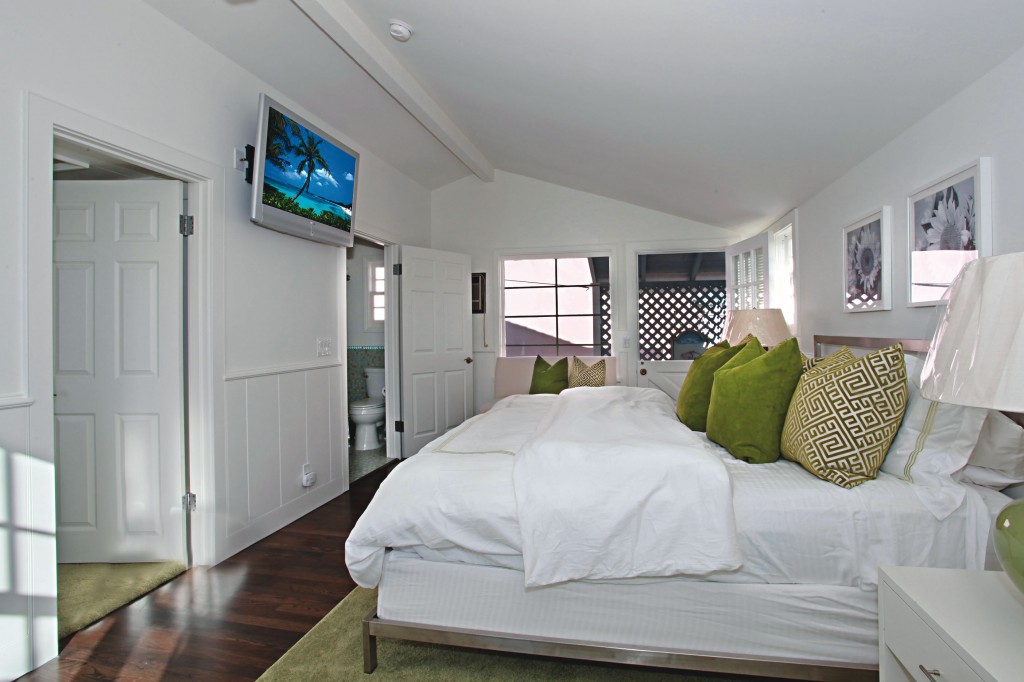 The friendly neighborhood only adds to the cozy atmosphere—especially since the cottage is raised above the boardwalk, offering a full, scenic view of the canal.
Residents are within walking distance from a variety of restaurants, coffee houses and retail stores on Marine Avenue—and there's plenty of opportunities to visit with neighbors at the occasional barbecue.
Abrams Coastal Properties: 949-675-4822; abramscoastalproperties.com NBM