Find inspiration for hosting at home this fall as the holiday entertaining season kicks off.
By Allison Hata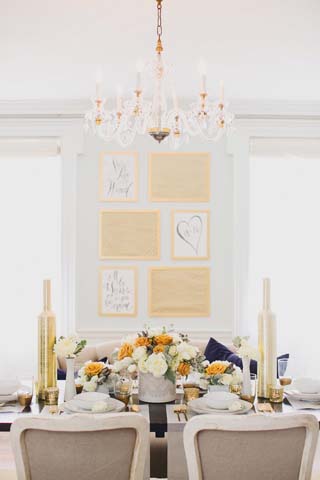 Planning for a perfect party begins long before the first invitation is sent. Whether it's an intimate dinner or a cocktail reception, an event's success has much to do with where it's held. And one prevailing thought when it comes to party planning is that there's no better place to be a hostess than in your own home.
Residences in Newport run the gamut from palatial estates to charming one-bedroom cottages, each with their own set of benefits and challenges when it comes to hosting events. Interior designer Lindye Galloway, who owns a firm in Orange County and also has experience with event styling, believes that a home of any size can become a fun gathering place.
"I look at a couple things," she explains of getting a home ready for entertaining. "One, how do [clients] live in the space on a daily basis when it's just them; and then, how do they envision themselves in the space when they have people over."
In bigger homes, open floor plans and great rooms—which are ideal for large soirees but can feel intimidating during a quiet dinner party—can be broken up into smaller sections using strategically arranged furniture and rugs. Tufted ottomans and poufs are versatile seating options that can easily be repositioned to accommodate guests and stored to keep a space from feeling cluttered after the party is over.
Likewise, cozier residences can take on a larger presence by creating an indoor-outdoor feel that flows from the front door to tables set up in the backyard. Color also plays a role in making a room appear larger; incorporate light and neutral colors to open up the space.
"Doing a cocktail-style [party] in a small home is probably the best solution if you're not going to have an intimate sit-down dinner," Lindye says. "… People [can] kind of move about the house and not feel like they're too crammed in one small space."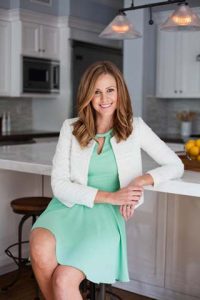 For most gatherings—large or small—Lindye explains that people naturally gravitate toward kitchens and living rooms; therefore, these spaces should be the most decorated areas. She recommends borrowing ornamental elements from throughout the home and incorporating them onto tables to accent traditional floral centerpieces. For example, acessories like stacked books, vases, candles and small sculptural pieces add visual appeal while reflecting a homeowner's everyday style.
One party essential that will also make entertaining a breeze is a stationary or rolling bar cart. A trend that's continuing to grow in popularity, bar carts allow hosts and hostesses to showcase their liquor collections or create and display signature drinks.
Once you've outfitted your home with all the basics for an elegant get-together, hosting guests at a moment's notice should be easy—just choose a menu, select a color palette or theme, and kick off the holiday entertaining season with the first in a series of memorable events.
Insider Tips:
Ensure that you have enough seating for every guest; one couch as a focal point can be accented with small seating poufs and tufted ottomans that don't look overbearing with larger pieces of furniture.
Chargers, placemats or runners in neutral yet striking tones—such as a rich mustard or chestnut—add layers to the table.
Neutral-colored dinnerware can be reused for nearly any type of event.
Use accessories from throughout your home—including vases or candles—on a table rather than a traditional flower arrangement to create a natural, cohesive aesthetic.
Entertaining with Ease
Eliminate the stress of playing host with the right set of gadgets, from clever seating alternatives to conversational decor.
By Lauren Matich