A Home Spa
Designers create the ultimate indulgence: a home spa. – By Somer Flaherty | Photos By Jody Tiongco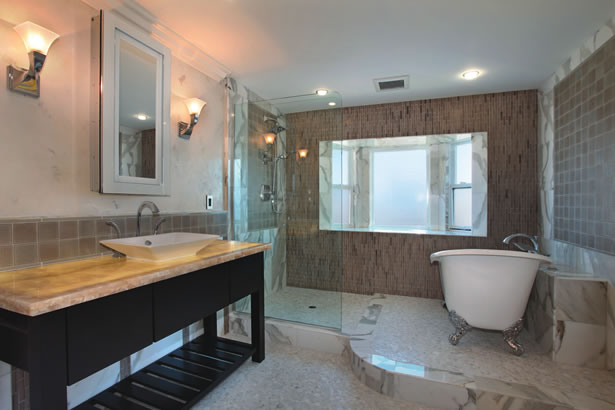 Local interior designers have reinvented the idea of at-home relaxation, elevating spaces like the bathroom from a commonplace of necessity to a refuge of amenities ready for you to soak and steam away daily stress.  Nowadays, it isn't unusual for a designer to knock down walls to transport an original closet-size powder room into an area that incorporates an oversized shower and freestanding deep-soaking tub or a spa-quality steam room to reinvigorate the space—and the person using it.
There's something transcendent about a truly luxurious spa bathroom—and these local designers have created the four-star experience in their client's own homes. We asked them for their top local picks for the ultimate spa-like bathroom creation, and where they think the design of this private retreat is headed.
Sit Back and Steam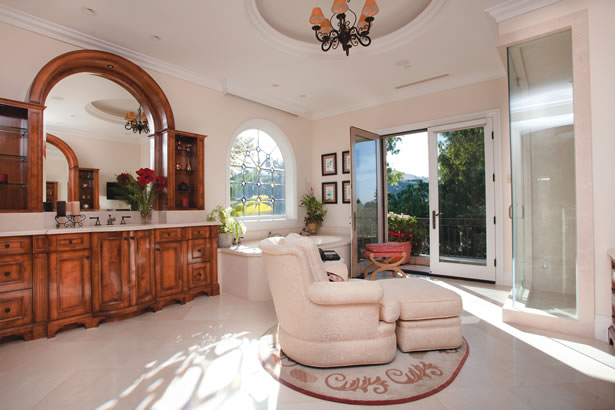 For more than three decades, local John Wallace Benecke has been updating homes on the West Coast with an interior design aesthete that tends to incorporate classical, elegant and rich elements found throughout Europe with what he calls the "accessible California lifestyle." That well-thought out sense of style paired perfectly with a Pelican Point client who travels extensively and always takes in at least one spa day while in Europe. Wanting to take that same sense of refined relaxation home with them, the couple implored John to create their own at-home oasis.
The largest challenge clients face when creating a home spa, John says, is the sheer cost of it. Rationalizing the cost to the amount of usage the space will get isn't feasible for some people; however, for this avid spa-going couple, the decision to incorporate a luxurious steam room was an easy one.
The clients gave him a large area to work with, but John wanted to ensure that the result would still have a spatial relation to the rest of the home with more intimately sized rooms. He did this by carefully choosing the pièce de résistance of the room: a home spa highlighted by a steam room—constructed completely of marble—that easily seats six or offers the perfect opportunity for his client to stretch out across the swank interior. Fully enclosed, with a single glass wall, John says the massive amount of stone used is still elegant and friendly.
What's next for his client's European at-home spa? "They were most recently in Switzerland at the Spa in the Dolder Grand, which has a snow paradise (a five-degree Fahrenheit room for cooling off)… now they are considering how they could create a snow room next to their steam room."
John says the result of his at-home spa is a surprise and yet still not unexpected of the home or the clients. "Going to a spa is a personal luxury that we treat ourselves to," he says. "In your own home it should be just the same. Make it nice or don't do it at all."
Space to Roam
Although local interior designer Kelli Ellis has worked with countless clients and has been a featured designer on The Real Housewives of Orange County, TLC's Clean Sweep and HGTV's Takeover my Makeover, the focus of a recent project was unique: "Most people don't turn their own bathrooms into a spa resort," Kelli admits.
For the homeowners of a recent Newport Beach project, Kelli says, it was important that she capture the feeling of a high-end hotel spa in the bathroom space. "I wanted to be sure to create something different, luxurious and opulent," she explains.
The spa was part of a larger renovation of the residence, which gave Kelli a clean slate to design. "I went for walk on the beach, just a few steps out the front door, for inspiration," she says. "After settling on a transitional theme for the home, I knew the combination of warm sand tones and cool shell-like hues would compliment each other beautifully.
The design choices were all meticulously picked—down to the luxury bath fixtures and backlit Onyx countertop—each with an intention to transform an essential space into the ultimate private retreat.
"Keeping the space neutral yet visually interesting was the goal," Kelli explains. She mixed mediums including iridescent tile, stone, custom marble and glass tile.  "The subtle glow of the Onyx countertop looks like a beach sunrise."
Space is usually the main challenge with installing an at-home spa, the designer explains. But ample space in this home allowed her  to explore multiple space configurations and provided room for the luxury of an open shower—an important design element because it's one the client will use each day. The layout, combined with the depth of a bay window, gives the room the feeling of a resort-style indoor-outdoor shower. The client gave Kelli carte blanche—with the exception of one small provision: "The only request was for the footed tub, and it looks stunning." The result was one large "wet room" where the owners could enjoy a hot steam in the shower area, and then a cold plunge in the tub or long, leisurely soak.
For homeowners hoping to capture their own sense of repose at home, Kelli recommends being thorough in determining the spa wish-list before demolition so that you have the necessary elements planned perfectly.  "While you're dealing with dust, you might as well have everything you want, so you can truly relax in your new home spa."
Spa With a View
With 30-plus years experience in interior design, a client roster teeming with royalty, celebrities and CEOs, and project locations from New Delhi to Newport Beach, Karen Ziccardi is known for her custom design work, and for a recent at-home spa project, that experience was put to the test.
The home—a 15,000-square-foot residence on a prime lot—has a myriad of design details that had to be meticulously tended to, including a home theater, game room, wine cellar and exercise room. But for Ziccardi, who was responsible for selecting all of the finishes, fabrics and furnishings for the home, the real draw is the spa bathroom.
For true relaxation, the drill is usually the same: lights dim, you're cocooned in a warm bath and your eyes drift to a close. But for this Newport Beach spa retreat, the client wanted to keep her eyes open to take in the jaw-dropping view of the Big Canyon golf course and clusters of verdant trees. To seamlessly incorporate the dreamy views with the spa bath, Ziccardi added a simple chair planted on an area rug as the central focal point in the room—a true seating area for the owner to soak up the vista. And like any good spa, the three-month long project also included a sauna and oversized steam shower. But besides total relaxation, if there was an underlying ethos of this project, it would be this: If you can't find it, design it, as almost every inch of Ziccardi's standout Italian design is custom, including hand-carved fireplaces, stone and wood inlaid flooring and one-of-a-kind walnut cabinetry. A one-of-a-kind project that is the perfect setting for healthy respite from the bustle of life outside.,