Champion Kayaker Tries Standup Paddleboarding
World champion kayaker Rami Zur takes on standup paddleboarding. -By Somer Flaherty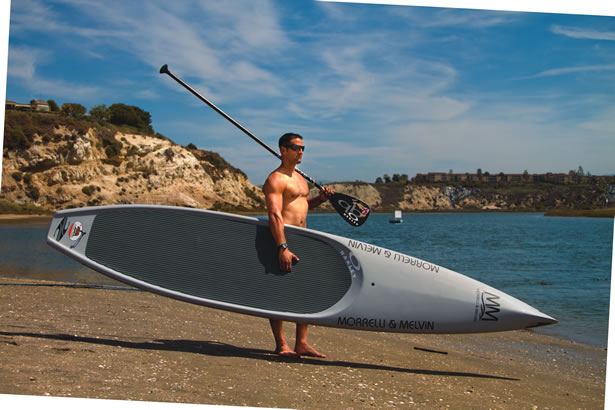 Rami Zur is perhaps the ultimate waterman. The ocean athlete won the 2002 World Cup Kayak Championships in the K-1 500 meter and is a three-time Olympian who began seriously standup paddleboarding with his wife, Krisztina Fazekas Zur, a fellow four-time world champion kayaker, just one-and-a-half years ago. Both are already dominating the sport while currently training for the upcoming London Olympic Games out of the Newport Aquatic Center (NAC).
Their training regimen has been boosted by the addition of standup paddling. "One of the key things for us improving in kayaking has been the incorporation of SUP in our training routine," Rami says. "The sport sounded like a great way to cross train and get a really good full-body workout, especially because you use a lot of your core, and you practice your balance."
Although the couple is a fixture in the SUP race scene, taking part in competitions like the Southern California Ocean Racing Series, where the two often compete in the short course race on their paddleboards and then get to the beach, hydrate and get in a kayak to immediately race again in the long course, they weren't instantly hooked on the sport. "The first time we were on the standup board, it wasn't a race board; it was a big long board and we were like, 'OK, this is interesting and kind of cool,' but it was slow. Then we went to a local race in Long Beach, and we saw all these different boards. They were like racing machines—really long and pointy. We get excited when something looks like you can go fast," Rami says.
And although racing is ingrained in the Zurs, they encourage those with less of a competitive edge to still get out on the water and try it out. "What's great about the sport is you don't have to race, you can just cruise the bay like a walk on the boardwalk," Rami explains.
The sport has also been a way for the Zurs to continue to advance their athletic talents. "Kayaking can be very repetitive, and it wears you down if you do it everyday for 10 months a year. You need to find different things to still keep that fire burning and to keep pushing yourself."
But will the Zurs ever be able to take paddling to Olympic competition level? Rami says the potential is there: "The sport still needs one umbrella body to govern it before it can make it to the Olympics, and because it's a new sport, everyone wants a piece of the pie. Like any new thing, hopefully organically there will rise one governing body for the sport."
Not since snowboarding has there been a new outdoor sport that has gained popularity so quickly, and Rami thinks the potential is endless because all you need is water, a board and a paddle.
 Local outfitters provide everything you need to get paddling.
Standup paddleboarding (SUP) is a Hawaiian sport that goes back 50 years, when Waikiki surfers would stand on their longboards while navigating the water with an outrigger paddle. The sport's fast learning curve and relative lack of required equipment make it ideal for families navigating the still morning waters of the bay and racers taking on the Pacific waves. NBM
Reversible bikini by Roxy, available at Hobie (3140 E. Coast Hwy.; 949-706-8090; hobie.com).
Laird board by Surftech/Bark, available at Paddle Surf Warehouse (643 W. 17th St.; 949-574-5897; paddlesurfwarehouse.com).
Front Side Rashguard by Quiksilver, available at Jack's Surfboards (2727 Newport Blvd., #101; 949-673-2300; jackssurfboards.com).
Burnet Special Sauce Sunglasses by Kaenon, available at Sunglass Plus (1799 Newport Blvd.;
949-645-4141;
sunglassplusrx.com).
Elite Racer Paddle by Quick Blade Paddles, available at Paddle Power (1500 W. Balboa Blvd., #101; 949-675-1215; quickbladepaddles.com).