THE NEWPORT BEACH JUNIOR LIFEGUARDS PROGRAM CELEBRATES ITS 30TH ANNIVERSARY IN 2014.
By Taylor Dutch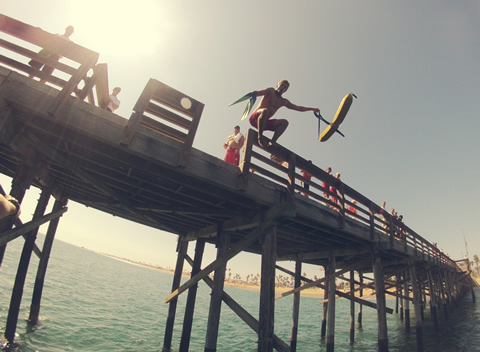 There is a white trailer located at the end of A Street next to the Balboa Pier—a nondescript structure that most beachgoers will simply walk past on their way to the water. For the past three decades years, however, that trailer is where thousands of Newport locals grew up as they trained to be guardians of the sea and shore.
Meeting regularly for seven weeks, kids ranging from 9 to 16 gather at the trailer beginning in late June to take part in the Newport Beach Junior Lifeguards program. An important rite of passage for those who spent their earliest years swimming like fish in the ocean, the junior guards program offers in-depth instruction as part of the training division of the fire department. From ocean safety to physical development and first aid skills, junior guards learn it all, with a healthy dose of competition and camaraderie to boot.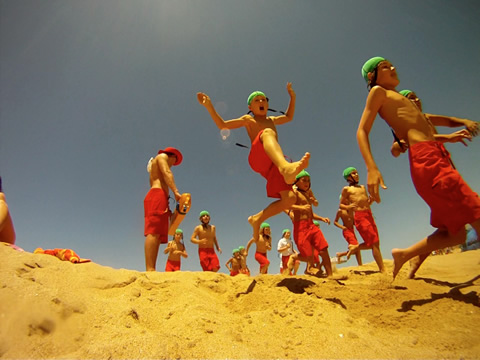 "It's a different part of life," says lifeguard officer George Leeper, who joined the junior lifeguards division in 2012 as a supervisor. "School puts so much focus on your grades and learning, [but] at junior guards we try to teach them social skills and confidence, getting over your fears in adverse situations."
Beginning with a vision from Reenie Boyer, the third female lifeguard in the county's history, Newport Beach Junior Lifeguards was launched in 1984 with a starting class of just 50 kids and three lifeguard instructors. Thirty-one years later, there are now 50 highly skilled instructors who teach more than 1,400 kids, with two sessions a day for varying age groups—and as the 30th anniversary season approaches later this June, the program shows no signs of slowing down.
In fact, the white trailer that is iconic to so many kids who grew up in junior guards is one indicator of the program's impressive growth. It started as a double-wide structure in 1984, but has since grown to become a triple-wide that accommodates just one-third of Newport Beach's 160-person seasonal lifeguard staff. George remembers the trailer from his junior lifeguard beginnings in the late 1980s, when he entered the program at 9 years old. From that point on, he was hooked.
"I'm re-falling in love with it all," George says of the program. "It's coming full circle. I was away from it while doing boat [rescues], but now I'm running full speed with it from here."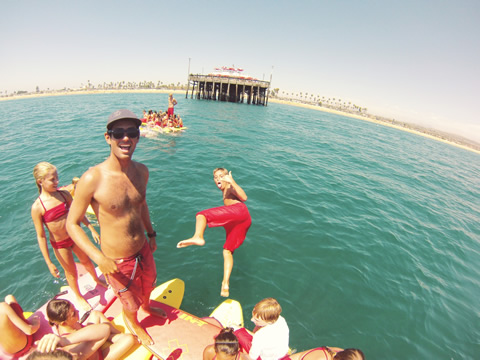 Using a classroom-type environment combined with outside activities, Newport Beach Junior Lifeguards works to instill respect and appreciation for the beach that locals call home. Among the most popular programs of its kind in Orange County, slots disappear within minutes once registration opens online in the early spring. Candidates are tested for aptitude, with requirements that include timed 100-yard swims and three minutes of treading water.
Throughout the seven weeks, they not only learn basics like building their comfort level in the waves and increasing overall physical ability, but also important skills such as how to respond in emergency situations, escape rip currents and prevent injuries while swimming.
"The instructors make it so fun because they're funny," says 13-year-old junior lifeguard Alli Cunningham. "I just love the beach and the ocean."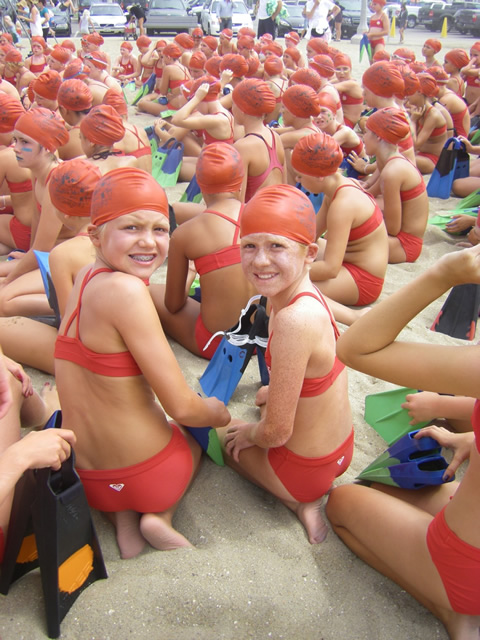 Alli is entering her fourth year with the program in 2014, and says that it's played a huge role in the way she views the ocean as a Newport Beach resident. She started because her mom thought the program taught important skills, and four years later, the water feels like home.
Despite the serious focus that goes into training, the program also adds exciting twists to keep the kids engaged, including friendly competitions with their peers as well as with other neighboring junior lifeguard agencies. Annual competitions like the Monster Mile, a race where junior lifeguards run a mile in the sand and swim back—all while in themed costumes—have helped give guards like Alli confidence in the ocean.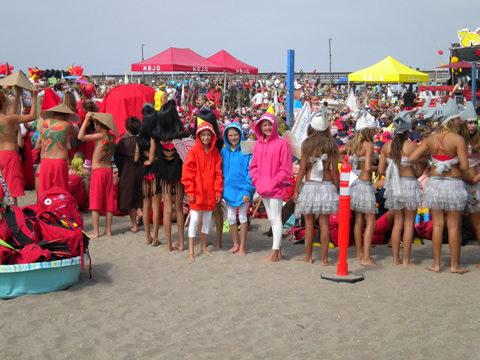 "We teach them how to play responsibly," George emphasizes. "Like how to have a really good time and how to do it right."
Junior guards definitely understand the importance of play. Traditions continue to live on and instill the same fun attitude that has helped grow the program over the past 31 years. Events such as the annual hot dog dinner, where instructors provide food, games, karaoke and even a dunk tank, have brought the community together year after year.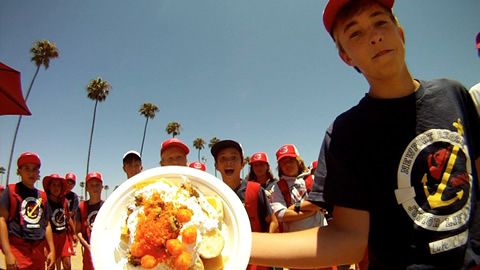 At the end of seven weeks, kids have learned valuable lessons in ocean safety, but more importantly, they've come to appreciate the water and have fun while doing it.
"In the beginning, there will be kids that won't touch the water because they're afraid of the waves, and at the end they're bodysurfing and taking on the biggest waves of their life and being OK with it," George adds. "That's what's great about junior guards."