The new community of Bonita Canyon has become a growing presence in Newport Beach, courtesy of its diverse amenities and family-oriented ambience.
By Peter A. Balaskas | Photos by Jody Tiongco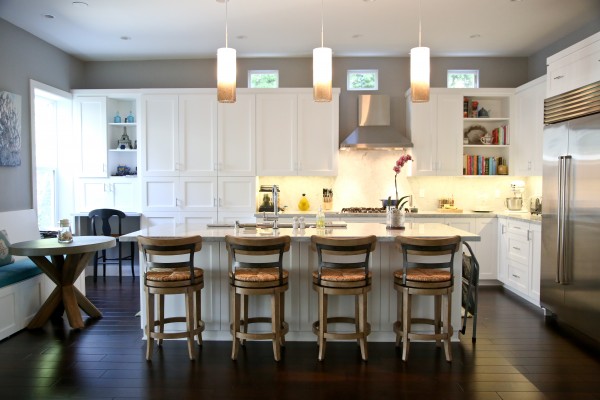 If a resident of Bonita Canyon described the community in a phrase, he or she might fondly reference it as "the new kid on the block." Since 1998, when Irvine Company Community Development built the neighborhood, Bonita Canyon has proven to be extremely popular with young families. Real estate broker Mehdi Khosh of Berkshire Hathaway HomeServices, who has worked in the neighborhood since its inception, feels it's the "newness" that attracts many families.
"Bonita Canyon is a friendly family neighborhood with a great school district," Mehdi explains. "Many special events take place, … like Fourth of July, Easter, Halloween and 'snow day' in the park, and [the community] also offers a swim team. It is centrally located within minutes to the most beautiful beaches and the best shopping destinations."
Located across the street from the Bonita Canyon Sports Park on Mesa View Drive, this self-regulated, gated community is divided into three developments: Madison Lane, Lucera and Wyndover Bay, each with its own unique architectural style. Its collection of amenities boasts an independent community center, Olympic-size pool, barbecue grills, playground, tennis and basketball courts, and a grassy greenbelt park suitable for all kinds of celebrations—proving that this young neighborhood is a haven for families.
 Award Winning Cottage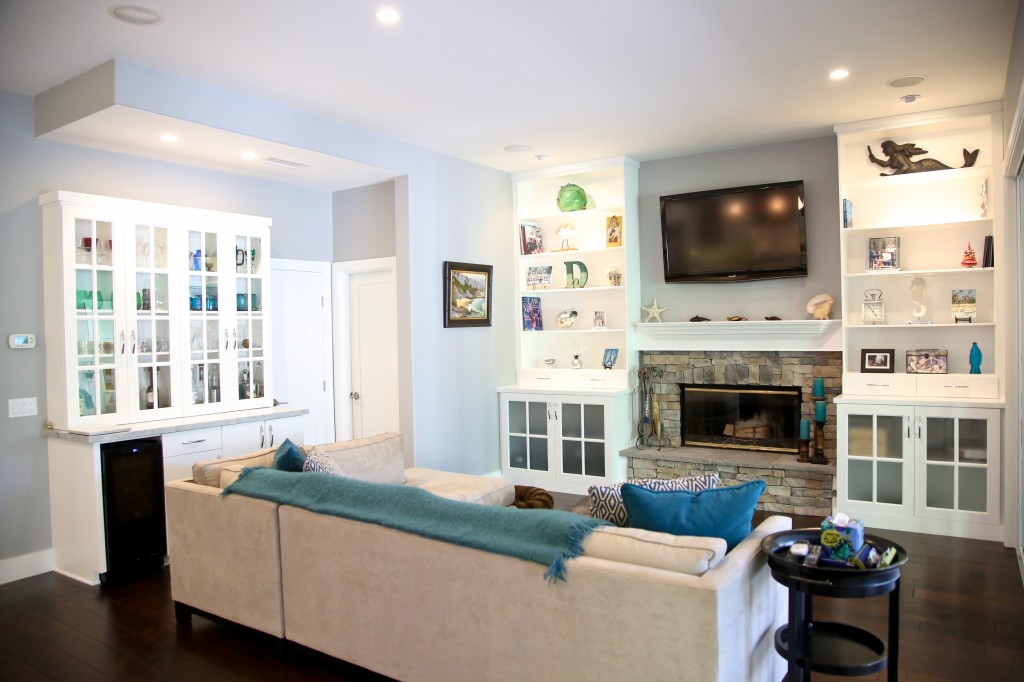 For Mark and Mary Doyle, choosing their home in the Madison Lane area was a win-win situation. Their Del Mar-style house—designed by the Dahlin Group, a local architecture firm—won a 1998 Gold Nugget award for home design, a designation recognized by builders, architects and others in the real estate field nationally and internationally. From a practical standpoint, it was the perfect size for the Doyles to raise a family and then become the sole residents after their children graduated.
"We were at a point where we were seeing ourselves becoming empty nesters," Mark says. "We were looking forward and saying, '[We] don't need a 3,000-square-foot house when the kids are gone.' "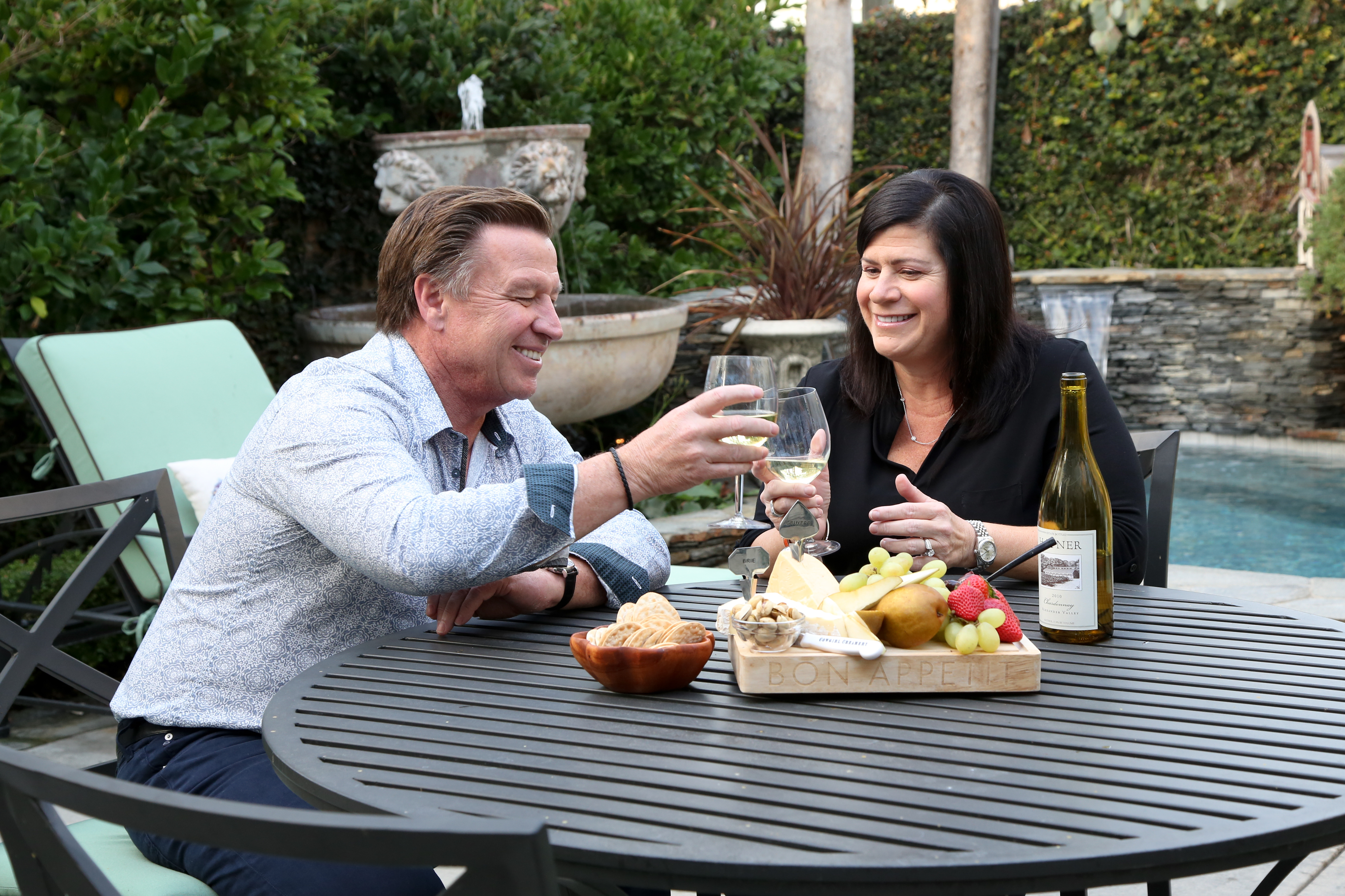 The original French country style of the two-level dwelling was recently transformed into a contemporary cottage. The latest renovations included expanding the family and dining room and kitchen into the patio area, creating an indoor/outdoor roofed loggia that includes outdoor heaters, audio speakers, a fireplace and a flat-screen TV. The back patio, which is surrounded by a stone wall to offer more privacy from the driveway and casita, contains a sofa and chairs for guests, as well as a barbecue, granite countertop with wooden cabinets, sink and refrigerator.
The dark mahogany wood floors enhance the intimate ambience throughout the house's interior. The Doyles have meticulously decorated each room for their own tastes: Personal touches include marine life knickknacks, a miniature Mercedes-Benz toy car parked underneath their Shafer & Sons piano in the front living room, and banners from Loyola Marymount University in Mark's office—the "man cave." Additionally, the walls of the detached casita are adorned with mounted football articles and other school paraphernalia from Mater Dei High School and the University of Southern California, their adult son's alma maters.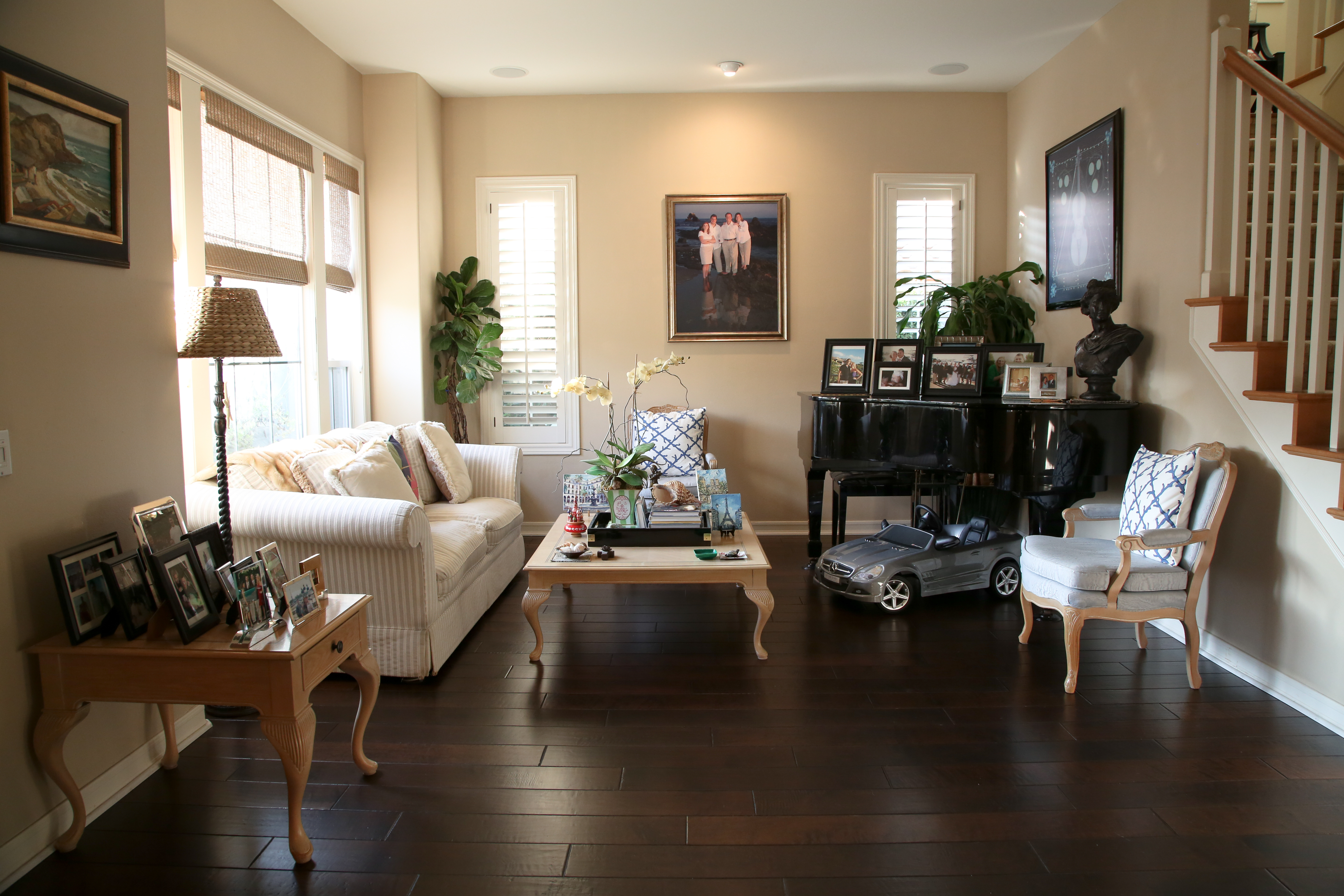 Most of all, it's about the location for the couple. Besides the fact that the neighborhood is close to his office, Mark appreciates the welcoming embrace Bonita Canyon has provided his family.
Family Facts: 
Mark and Mary Doyle, and Cali (Yorkshire terrier), Emma and Ella (cats)
Day Job: Mark is 
an attorney at Tredway, Lumsdaine and Doyle LLP; Mary is retired from working at Coach.
Space: 2,692 square feet, four bedrooms, four baths, guest house
Timeline: Built and purchased in 1999, renovations in 2011 and 2014
Fabulous Feature: The small guesthouse was a gathering spot for their two children and friends; now, it houses overnight guests and may serve as an entertainment sanctuary for their grandchild.
Tuscan Hideaway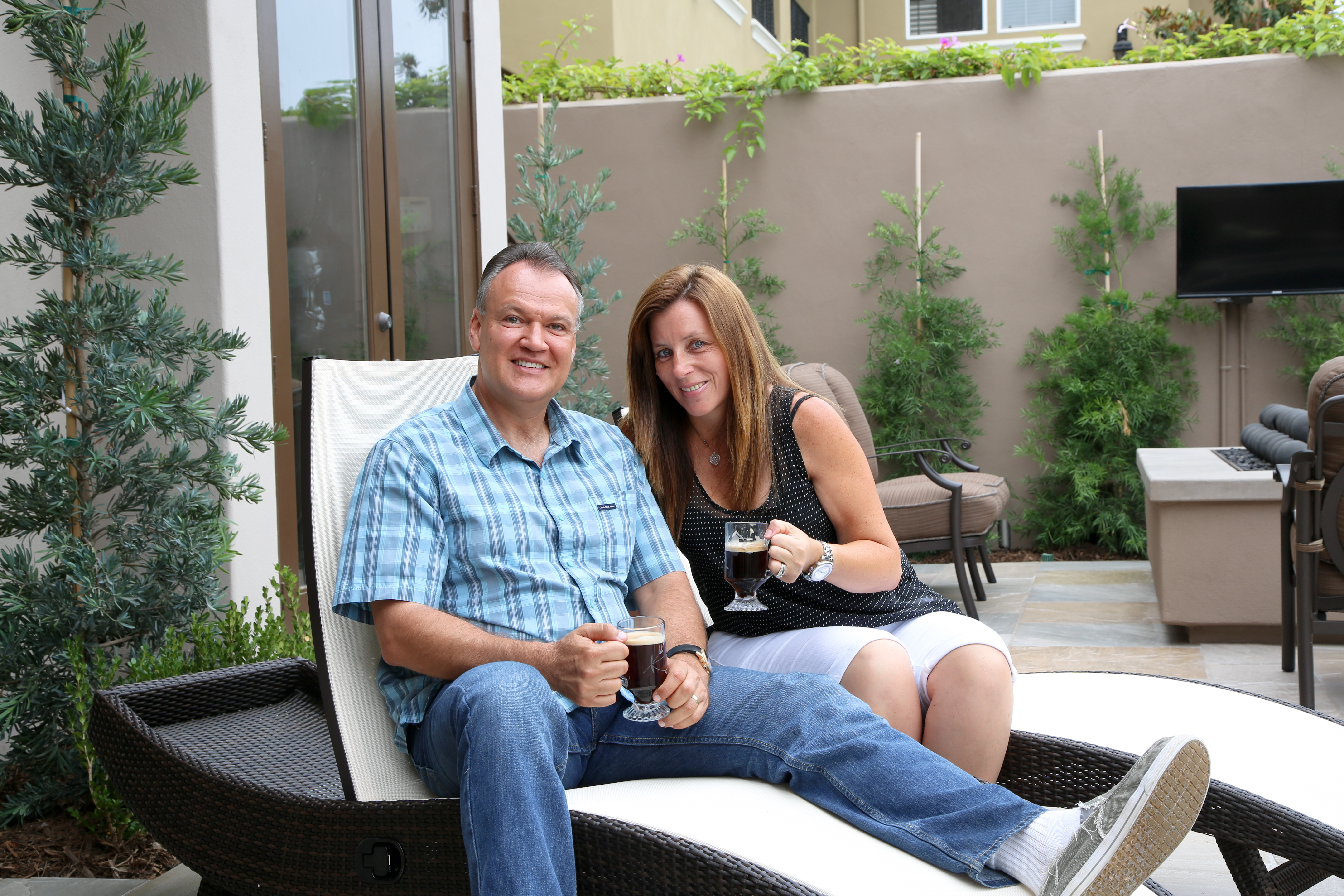 Houses in Wyndover Bay seem to be an amalgam of different architectural styles: Spanish villa, modern contemporary, country rustic and even Southern Gothic. But for Jeff and Heidi Ciachurski, it was the charming Tuscan style of the Bonita Canyon home—an expansive space in a friendly community perfect for family living—that stole their hearts as they relocated from Vancouver to set up permanent roots in Southern California.
"It was definitely one of the bigger homes on the subdivision," Jeff says of his Wyndover Bay residence. "We just wanted a family-centered place [to live] beside really good family-oriented people. And we just love the layout of Bonita Canyon in general. It's very inviting."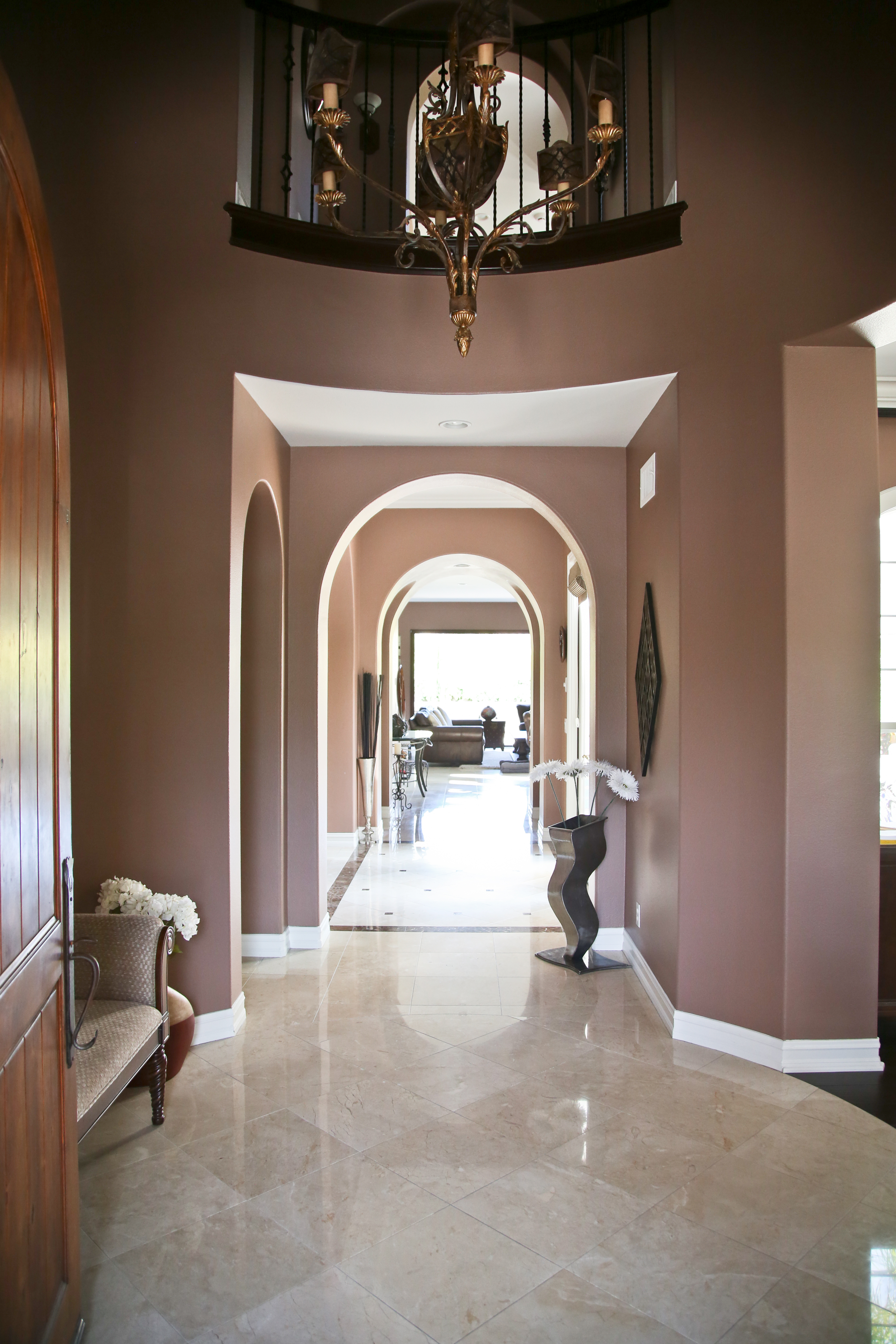 Visitors feel welcome as they step onto the Italian marble floors of the foyer, which has a second level balcony that looms above all who enter the house. Flanking the foyer is a guest bedroom with a flat-screen TV and full bath, and an office containing a fireplace. Deeper inside the home's ground level is a dining room featuring a framed photograph by Australian landscape artist Peter Lik, whose work also adorns the upstairs hallway.
The living room and kitchen flow together and, courtesy of renovations done earlier this year, the space now opens up to the outdoors.On the back patio, the Ciachurskis have added built-in heaters, an entertainment center, a 12-seat dining table, fire pit, barbecue grill, six-burner stove, rotisserie, microwave, refrigerator and bar with cabinets.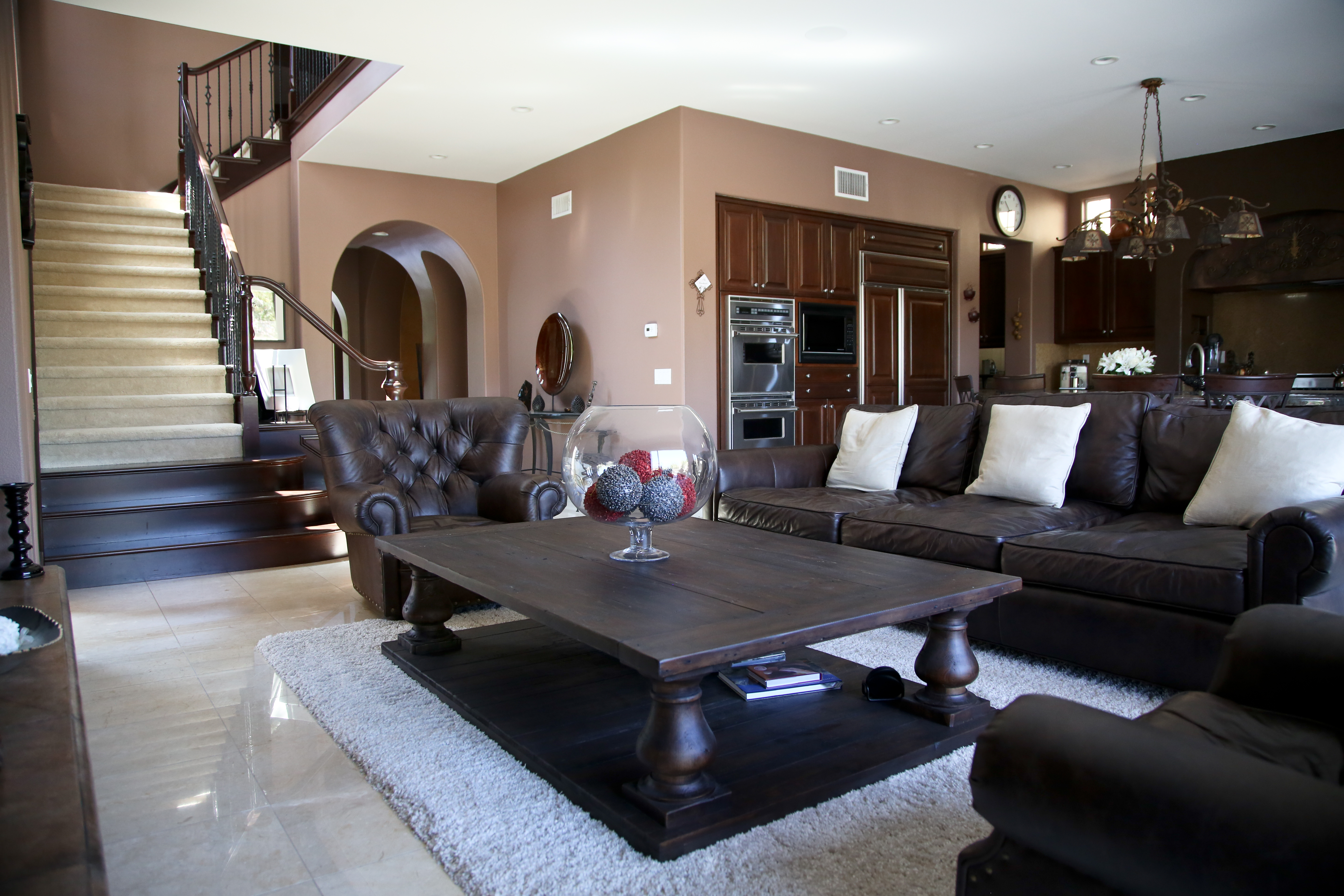 Inside, the carpeted main staircase located in the living room and kitchen area leads to the second-level master bedroom and four guest bedrooms, all featuring a full bath and shower. Also on the second floor is what Jeff calls the "kids entertainment fun room," an expansive area that contains a wide leather sofa that can hold six or seven kids, a flat-screen TV and a balcony facing the backyard.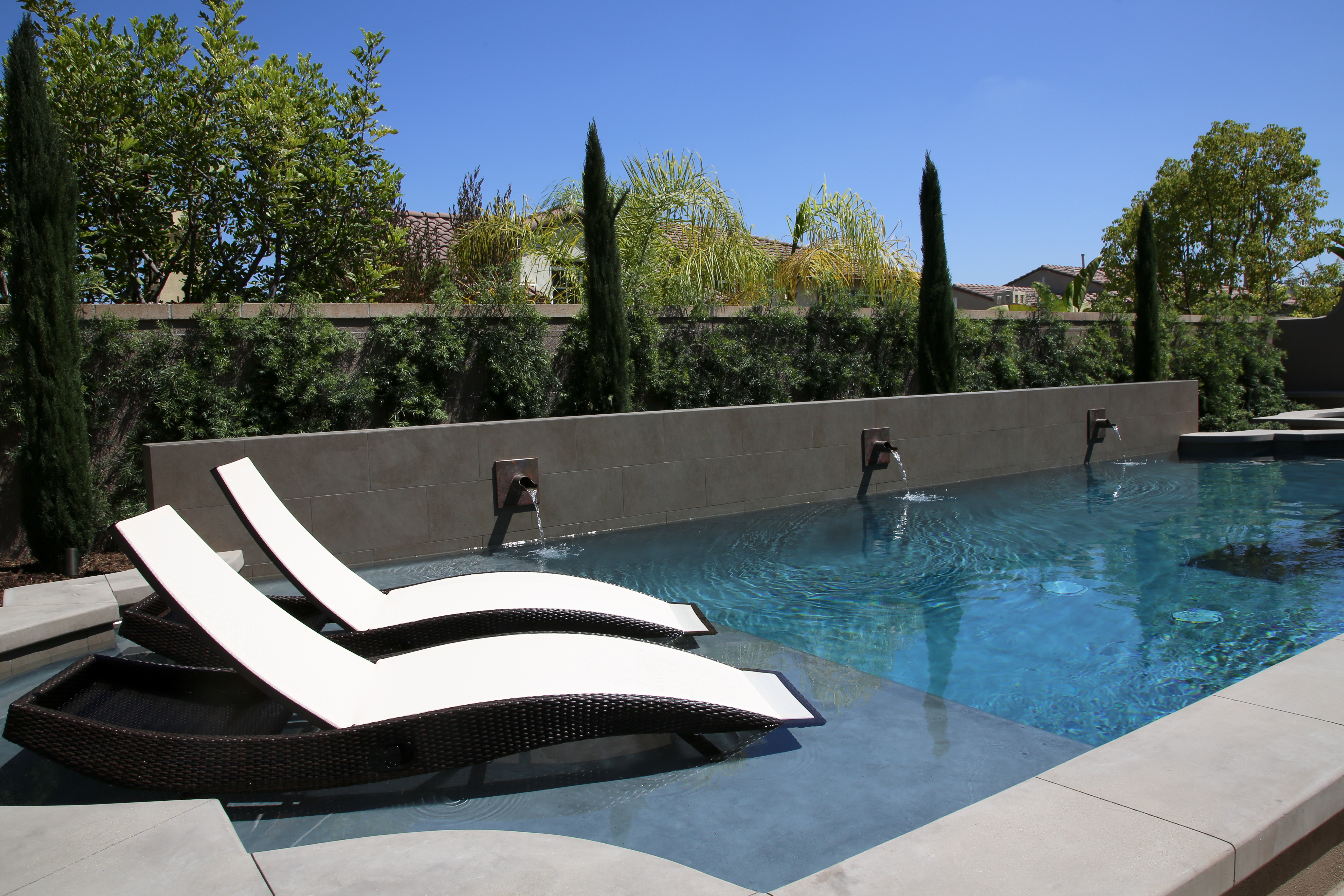 But Jeff says that it's the other residents of Bonita Canyon that truly makes the community a great place to raise a family. "I'm living with the best people around," he explains. "We know all of our neighbors and they know us. We've all had barbecues and dinners with each other; our kids hang out with each other. This place is alive—you wouldn't find that anywhere else."
Family Facts: Jeff and Heidi Ciachurski, and their two children, and Beau (Jack Russell terrier)
Day Job: Jeff is a business executive at Greenbriar Capital Corp.; Heidi owns a fishing business.
Space: 5,000 square feet (approximately), six bedrooms, seven baths
Timeline: Built in 1999, purchased and renovated in 2013, exterior renovations in 2014
Fabulous Feature: The open space that contains the living room and kitchen area, which leads into the backyard, is perfect for small gatherings or big parties.