Break a sweat in Newport's wide open spaces
By Somer Flaherty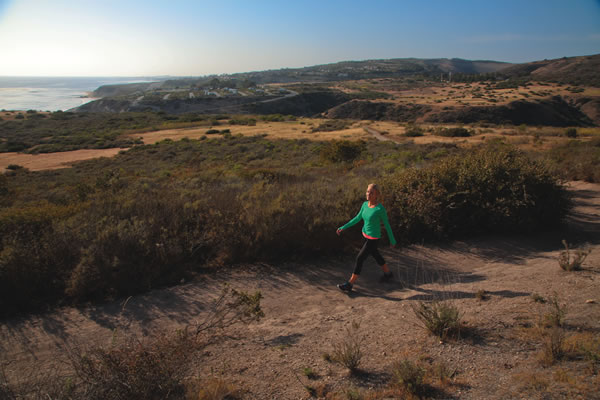 Vicki Higgins probably knows more about Newport Beach than most residents. As a local resident and the executive vice president and chief marketing officer of Newport Beach & Co.—the town's nonprofit umbrella marketing organization for all aspects of the Newport Beach "brand"—Vicki is tasked with positioning the city as the ultimate visitor destination.
And one of the things that makes Newport just that, to Vicki, is the local Newport hiking trails. "We are fortunate to live in a climate that allows us to be outside all year-round," she says. "I'm originally from Indiana so I appreciate our weather. … I take advantage of our beautiful days and enjoy the sun and the trails." Here, the outdoor (and Newport Beach) fan gives her best tips for enjoying a local hike—alone or with family and friends.
Newport Beach Magazine: Where, locally, do you love to hike?
Vicki Higgins: Laguna [Coast] Wilderness Park, Bommer Canyon (Irvine) and Shady Canyon (Irvine) are great local hiking places, and there are awesome views from any of the trails in Crystal Cove State Park. I love the trails at El Moro Canyon.
I like hiking on Sundays because it allows me to clear my head and get ready to tackle the week ahead of me. I love [that we] live in a city that has amazing dining, culture and shopping—but yet we are able to enjoy this wildlife preserve in our own backyard. It feels like you are in a completely different world, but you are still in Newport Beach.
NBM: How long have you been hiking?
VH: Eight years—I started hiking when I moved from Indiana to Los Angeles and have become a more active hiker since moving to Orange County 2.5 years ago.
NBM: What do you enjoy most about your time on the trail?
VH: I love being outdoors. A great hike gives me a good workout and also allows me to enjoy the sun, ocean views, flowers and greenery, and a great connection to nature.
NBM: What are some of your favorite hiking locations outside of Newport Beach?
VH: I used to live in LA and enjoyed Temescal Canyon, Los Liones Canyon, Zuma in Malibu, the Griffith Observatory hiking trail to the Hollywood sign, and Runyon Canyon if I was short on time.
NBM: What are your hiking essentials?
VH: Sunscreen and sunglasses; I bring a Camelback of water. … If it's more than 10 miles then I might take a protein bar.
NBM: Tell us about one of your greatest hiking moments.
VH: I was in Whistler, Canada, and saw a black bear—pretty cool.
NBM: Have you seen any great wildlife while hiking here?
VH: Mostly rabbits, birds, a couple of snakes and the occasional coyote.
Meet You at the Top
Conquer the trail with hiking gear from local outfitters. – By Somer Flaherty
For many of us, hiking is more than just a way to burn calories. It's a stress reliever, a time to spend with loved ones (or get in some alone time), a great outdoor escape and a way of life. With miles of trails right in our own backyard and beautiful weather, now is the time to get out and explore the open spaces. NBM