Diving In
DivBar brings good old stick-to-your-bones barbecue and comfort food to Newport Beach.– By Linda Domingo | Photos by Jody Tiongco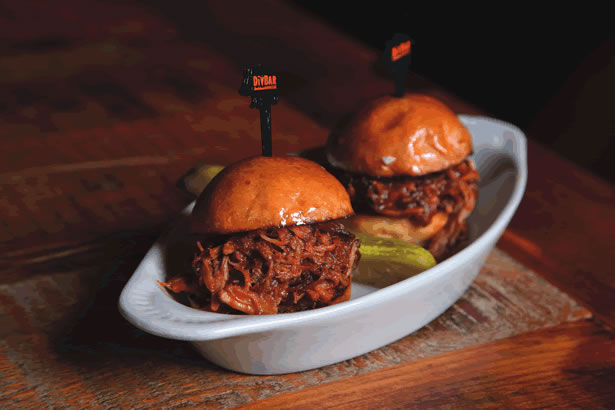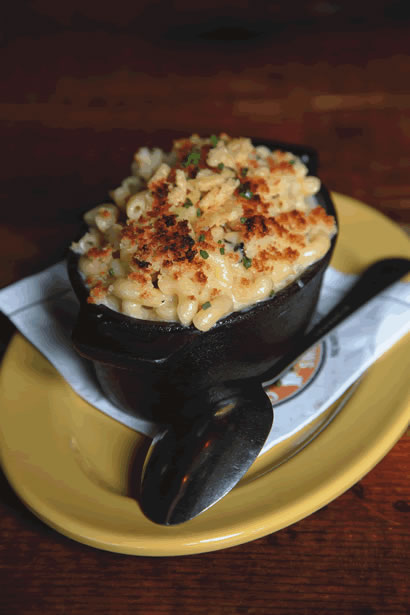 Have a seat at DivBar and you'll notice sports team pennants hanging overhead and miscellaneous items like bongo drums and vintage signs adorning the walls. The space screams casual: jeans and worn-in baseball caps while watching the game and throwing back a beer casual. And the down-home food on the menu complements the atmosphere. But while macaroni and cheese and Texas-style smoked brisket may fit the ambience, the chef's resume may come as a surprise.
Chef Bill Bracken spent time as the executive chef at The Peninsula Beverly Hills as well as at The Island Hotel in Newport Beach. He spent his life preparing food in five-star and five-diamond luxury hotels, and paused before climbing on board with DivBar, the new venture from 3-Thirty-3 owner Jeff Reuter. "I just reminded myself of one of my favorite mottos and that is, 'Serious food doesn't need to be so serious,' " Bill says. "So here we are striving to serve some seriously good food in a not so serious environment."
To start, Kaylie's Divbar Artichoke Dip is an appetizer you won't likely find elsewhere—it's served with Fritos for dipping. Sliders are a great way to kick off a Southern-style meal. Offered with chicken or pork, they're tossed in barbecue sauce, made in-house like all of DivBar's sauces; each table features a basket with all your choices: original, hot and spicy, and vinegar mustard. Try BB's Original Mac & Cheese for a strong truffle flavor and plenty of taleggio and Parmesan tuile cheese.
If you're not full yet, there are plenty of entrées to choose from. There are salads on the menu, but non-vegetarians will head straight to the meat. A popular item is the broasted chicken, brined and dusted with a blend of herbs and spices, and then fried in a high-pressure fryer. The staff fills the smoker each night, and the fruits of their labor come in the form of baby back ribs, smoked brisket, beef short ribs, tri tip and burnt ends. Sides are hearty complements, a favorite being the homemade jalapeno corn bread, which is moist, sweet and a tad spicy. If you aren't in the mood for a meat-heavy dish, try one of five different signature pizzas or the option to build your own three-topping pie.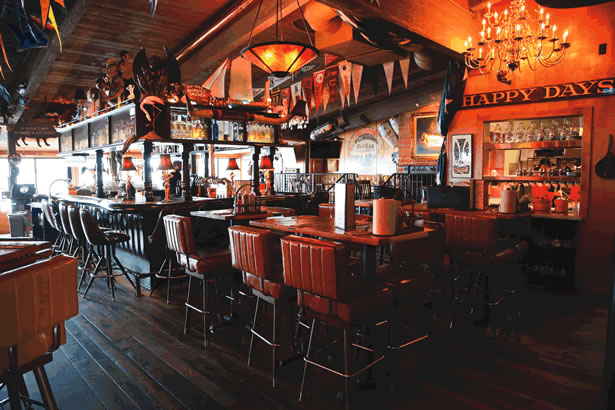 Dessert choices are just as comforting: Kast Iron Kookies come in four varieties and can be topped with vanilla or butter pecan ice cream. The ancho chili pecan pie comes flavored with a hint of tequila, and provides plenty of sweetness and a bit of spice.
Chef Bill, who grew up in Kansas with plenty of comfort food around, admits that DivBar's menu is not going to be new to many people, but he isn't concerned. "I have always said that first and foremost, my food is honest and that has never been more true than now. We are not trying to reinvent the wheel, but just make good, honest food every day," he says. DivBar is open from 11 a.m. until 2 a.m. and offers free delivery from 5 p.m. until 1:30 a.m. every day. NBM