The Bad Seeds
Take a look back at Newport Beach's most notorious residents.– By Dana Nichols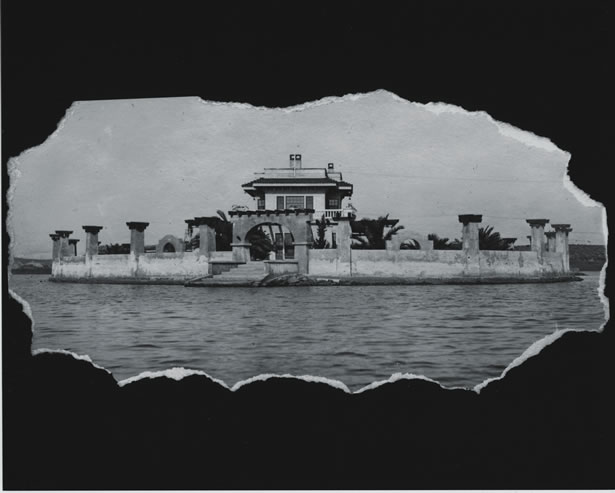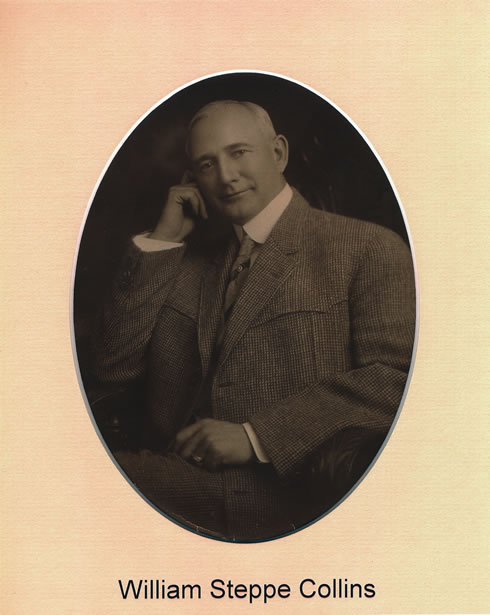 Ready to open the doors to Newport Beach's dark past? Whether it's with a slow creak or a loud bang, the tales from the scandalous underbelly are memories of misunderstood troublemakers, scoundrels who have made off with millions and those who got nothing but a dose of their own medicine. Even rebels like a coastal view.
The Castle Man
It's time to set the record straight on William Steppe Collins, the founder of Balboa Island. Was he a scoundrel who took the money and ran, or was he a visionary who laid down the foundation for what is now one of the most admired zip codes in America? One thing is certain: It took a hefty imagination to dredge the "swamp and overflow land" (the government's term in 1902), divide the newly formed Balboa Island into 1,300, 30-foot-wide lots, $350 to $600 each, connect them with wooden sidewalks, and sell more than half within 10 years. But soon it looked like empty promises. While new residents awaited basic amenities—a sewer system, dependable ferry service, gas, electricity and street lighting—William built the extravagant Collins Castle for his fourth wife. When he vamoosed from town in 1915, broke, he left landowners high and dry with a major home improvement list and a castle to look at. Many in Newport Beach held the situation in low regard. "The island is a dump. It was sold by a lot of damn crooks and bought by a lot of damn fools," the mayor declared in 1916. Years later, a June 1962 article in the Los Angeles Herald-Examiner declared Joseph Allan Beek the "Father of Balboa Island" and referred to William only as "the promoter" who "disappeared with most of his salesmen." But Bob Lambert, current-day treasurer of the Balboa Island Museum and Historical Society, who has delved into the saga more than anyone, explains: "Some people think he's bad, and he could be considered a rogue because he promised sewers and lights that never got put in. But he was a land developer, a real estate guy. This was common at the time. It was boom or bust." William later lived in Texas, then Kansas, where he died in 1952.
The Rum Runner
Before he was a famous Las Vegas casino developer, Tony "The Admiral" Cornero bootlegged Canadian whiskey and Mexican rum to the Balboa city dock during prohibition. The enterprising 23-year-old Italian immigrant's operation benefited from Newport Beach police finding another place to be on certain nights. "In Balboa, we flaunted our bawdy, sinful ways—and profited from them," wrote Judge Robert Gardner in "Bawdy Balboa," who recounted the scene of the early 1920s when he was a soda jerk:
"On these nights we would stall around doing nothing until about midnight, when Dick would tell me to go down to the city dock and let them know the 'the boys' were coming. I would walk down to the dock and perch on the railing. … First, a long line of big black sedans would line up on Washington Street. The drivers would get out and stand around and smoke cigarettes, and some of them would kid me and ask why I was out so late. Then I would hear the muffled, rumbling roar of high-speed motors idling up the bay. Pretty soon, sleek, powerful speedboats would come into view and moor at the city dock. Men would get out of the speedboats and unload cases of liquor on the dock. The drivers of the cars would pick up the cases and load them into their cars. When the cases were loaded, the drivers would take off for Los Angeles. It was all very open."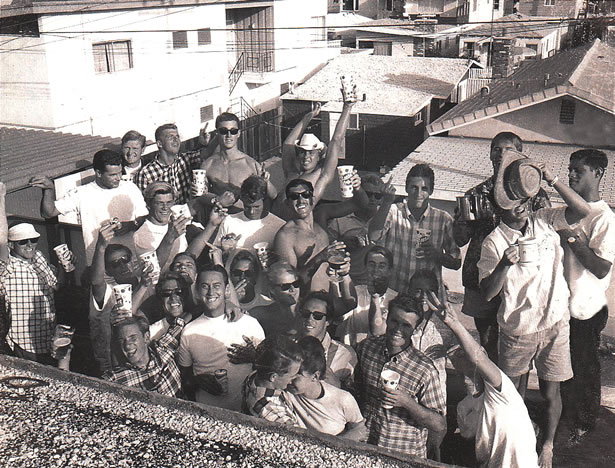 After prohibition, city officials maintained Balboa's penchant for drinking, gambling and dancing with a supposed corrupt administration. Robert Gardner wrote: "Balboa's leadership may have left much to be desired, but sin-laden though it was, Balboa carried the city of Newport Beach through the depression." As for Tony Cornero, he was arrested for bootlegging in 1926, opened floating luxury casinos in 1938, and was in the process of building Las Vegas' Stardust Hotel in 1955 when he died suddenly at a craps table. No one knows if his Seven and Seven was poisoned; no autopsy was done.
The Hoodlums
The Newport Beach surf pioneers of the late 1950s and early '60s are icons to a younger generation now, but they were a naughty bunch of boys. Ed Hardy, the famous tattoo artist, was one of them. "We were a bunch of smartasses and petty criminals," he says in the 2010 surf documentary "Living It Forever."
"The surfers at school were basically seen as a bad crowd and, as everyone knows, surfers up and down the coast were seen as troublemakers, like beatniks on the waves, shiftless … and that appealed to me because, as an artist, I felt completely alien. I didn't fit in with any normal kind of thing, never have and nor do I want to."
Ann Chatillon, writer and director of "Living It Forever," shares: "These early-rising, noisy, semi-naked hooligans wreaked havoc on the beach community. They were territorial and chased away tourists, perhaps by flattening a tire or two, fist fights or verbal abuse in the water. They mooned outsiders, drank and partied heavily, cussed, made rude gestures and stayed out past the Newport Beach curfew. … They urinated in the sand to pack a 'piss ball' and threw them at passersby on the beach and the boardwalk. They scorned the dress code at Harbor High School, opting for no shoes rather than saddle shoes. They were not the teachers' pets and often ditched school when a good south swell rolled in. The truant officer at Harbor High School, 'Bring 'em back Jack,' would go to 22nd Street with binoculars. He got to the point where he could identify all the surfers just by their style and didn't need binoculars anymore. After too many detentions, the boys started heading down to Trestles in San Clemente, which was beyond Bring 'em back Jacks' boundaries."
The Well-Heeled Murderess
Love struck socialite Eloise Popeil in a criminal way in 1974. The 49-year-old blonde recruited two men to kill her millionaire husband so she could live in peace with her pilot boyfriend Dan Ayers; only, she didn't quite find the ultimate separation she was looking for. Popeil and Ayers were recorded discussing prospective murder methods on tape and offered diamond jewelry as a security deposit on a $25,000 payment to the hit men. The husband, Samuel Popeil, inventor of Veg-O-matic, was, Eloise claimed in her seven-week Orange County Superior Court testimony, an "insanely jealous" husband. The paper reported that she served 19 months at the women's prison at Frontera and was awarded a $250,000 divorce settlement in 1976. The clincher is that Eloise and Samuel remarried after she was out of prison.
The Trouble-Making Drunk
Jim Fournier, author of "Tales of Balboa," tells of the homeless man with the record for the most number of drunk-in-public arrests: "If you lived in Balboa in the 1970s and '80s, then you know the one name that is truly an icon of the era—Corney. Cornelius Lynch was always a heavy drinker, and he loved his cheap wine. Through the mid-1970s, Corney lived with his crippled wife in Ricky's Court—a small court of the then-abundant little yellow cabins that were once a Balboa trademark. … When Corney's invalid wife was still alive, Corney would run while pushing her in her wheelchair just to scare her. Sometimes he would take her up onto Balboa Pier and then running as fast he could, he would push her down the pier into Main Street traffic, stopping just in time, with her screaming all the way. After his wife died and Rickey's Court was torn down in the late 1970s, Corney became homeless and his drinking became worse. One winter night when the temperature got quite low, Corney went into a laundromat that was located on Palm Street and started a fire in one of the dryers to keep warm. After he was banned from Balboa, the kids started a rumor that the police had killed him. Corney died in 1998 at the age of 72 while living in Costa Mesa."
The Gangster
Michael "Big Mike" Marvich was a 1980s cocaine crime lord known for being as bad as they come. In the 2009 memoir "Breakshot," author Kenny Gallo tells all from his insider view of the Orange County mafia. He claims Marvich was behind the unsolved 1987 murder of Avila's El Ranchito co-owner Joe Avila over unsettled money the restaurateur had borrowed and never repaid, and also over a suspected affair with Marvich's girlfriend. Gallo alleges that Marvich's role as an FBI informant hindered the possibility of Avila's murder being solved. Marvich died of natural causes in January 1999.
The Bad Boy
Dennis Rodman, who followed his late-1990s superstar basketball career with reality television show appearances, was Newport Beach's loudest partying resident for almost a decade. Starting in 1996, when he was playing for the Chicago Bulls and making about $10 million a year off the court, he presided over the beachfront from the ocean view patio of his pink, five-bedroom house on Seashore Drive he called Rodman's Reef. By 2001, the five-time NBA champion and father of three had retired from playing ball and was known for racking up DUI convictions, a domestic disturbance misdemeanor and noise complaints, many of which occurred late at night and once when he landed on the beach in a helicopter for his 40th birthday. By 2004, when he sold the house, police had visited 80 times, the Los Angeles Times reported in June of that year. Last year, the Newport Beach city council passed a Loud and Unruly Gathering Ordinance (LUGO) to prevent noisy gatherings of the Rodman kind. NBM
Learn more about the law-breaking characters of Newport Beach
Watch
"Living It Forever" (2010), a documentary about surf culture during the mid-1950s through the 1960s in Newport Beach.
Copies of the documentary available at Surfside Sports (233 East 17th St., Costa Mesa; 949-645-4624) and The Frog House (6908 W. Coast Hwy.; 949-642-5690) or at livingitforeverthemovie.com.
Visit
Newport Harbor Nautical Museum, 600 East Bay Ave. (in the Balboa Fun Zone); 949-675-8915; explorocean.org
The Balboa Island Museum and Historical Society's (new Marine Avenue location), 331 Marine Ave. (call to confirm hours); 949-675-3952; balboaislandmuseum.net.
Read
"Noir Afloat: Tony Cornero and the Notorious Gambling Ships of Southern California" by Ernest Marquez (2011)
"Bawdy Balboa" by Judge Robert Gardner (1992)
"Tales of Balboa: Rogues and Rascals, Gamblers and Gambols" by Jim Fournier (1996)
"Fifty Golden Years: The Story of Newport Beach" by Sam Meyer (1957)
"Breakshot: A Life in the 21st Century American Mafia" by Kenny Gallo (2009)