Newport Beach design destination proprietor Greg Salmeri tells us what to look for when antique hunting.
By Somer Flaherty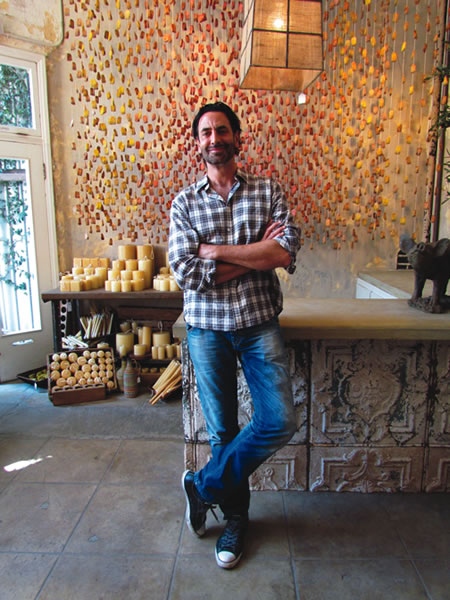 Since graduating with an art degree 20 years ago and living for many years surrounded by the architectural gems of Balboa Island, Greg Salmeri has come to define what it means to create one-of-a-kind design. Growing up with a mother who was an antique collector, he was surrounded by pieces of the past. With his own admitted eclectic taste and a love for both home and landscape design, he opened Rolling Greens nursery. With locations in Culver City, West Hollywood and his newest spot in Costa Mesa's South Coast Collection, the shops are rooted in Southern California, but the one-of-a-kind pieces found inside look like they could be from a back street in Paris—from salvaged cabinets and trunks to garden-inspired furnishings. Designers, landscapers, antique lovers and horticulture fans come together at Rolling Greens in pursuit of the uncommon. To get the inside scoop on how to best hunt for classic home and garden decor we caught up with Greg, who at the time was on his own hunt in Texas, searching for singular pieces for his shops.
Newport Beach Magazine: How did you become interested in antiques?
Greg Salmeri: My mom was a collector but nothing [she had] was like what I buy now. She collected fine French antiques and I learned from her how to have a good eye.
NBM: Where do you find the one-of-a-kind antique accents you sell?
GS: We travel to find this stuff; Texas has some amazing places to find design pieces. There's a show in Alameda once a month, and Long Beach has good stuff too. Really, most of the really great unique decor items come from the Midwest. That shabby chic, peeled paint sort of stuff is really found in those old farmhouses and closed down stores that are in the middle of the country.
NBM: What tips can you provide for those new to treasure hunting?
GS: Don't buy stuff you don't like. We buy stuff we would have in our own homes. Make sure the piece feels real, looks real and is heavy.
NBM: There are some great flea markets around here, like the Rose Bowl Flea Market in Pasadena and the Long Beach Antique Market. What types of projects can people take on with pieces they find?
GS: You can do some fun stuff with old chair frames; just redo the upholstery. For some reason, tables are really popular this year. Just find old bases and put on a new top. Cabinets and hutches are good buys; just find a piece that just needs some sandblasting, new shelves and a coat of paint.
NBM: Any other great finds that shouldn't be passed up?
GS: I really love beautiful old concrete statues and planters. We don't even do anything to them; they are great just how they are.
NBM: How do you suggest displaying found paintings?
GS: Group together eight to 10 of them on a wall and it really makes an amazing scene.
NBM: How do you know when to splurge on a piece?
GS: The age-old question! I think, for me, it's when I fall in love with it … love at first sight. If I'm not sure about a piece, I'll walk away and think about it until the next day. Usually the "I don't knows" are best left behind.