SCR's Next Stage
Artistic Director Marc Masterson steps into the leading role at South Coast Repertory By lauren simon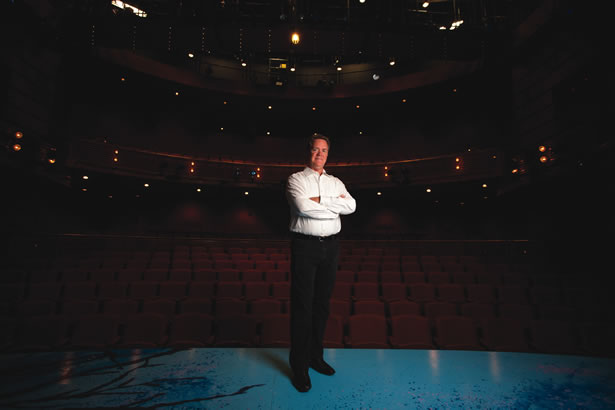 Marc Masterson knows he has to tread carefully in his new position as artistic director of South Coast Repertory (SCR). After all, despite 47 years of critical acclaim, a Tony Award and a reputation as one of America's best regional theaters, South Coast Rep is still "a family business," Masterson says. "The patriarchs are stepping back and that's challenging for any family business."Those father figures are founding Artistic Directors David Emmes and Martin Benson, among the last of the original generation of regional theater founders to retire. "They have built an amazing thing here," Masterson says. "I'm not sure how widely appreciated it is in Orange County. It's a unique and strong organization that leads the country in many practices that are really exemplary." Masterson was in elementary school when Emmes and Benson started SCR in 1964. And he was still cutting his theatrical teeth when the Rep joined the prestigious League of Resident Theatres (LORT) in 1976. Now, at 55, Masterson is eminently prepared to step into SCR's most visible leading role.
A native of Houston, Masterson began his theater career in Pittsburgh, where he earned his B.F.A. from Carnegie Mellon and his M.F.A. from University of Pittsburgh. After a brief stint in New York, he returned to Pittsburgh to start City Theatre, where he served as producing director for 20 years. City Theatre is a multistage LORT theater that is dedicated to producing new work, and as Masterson says, his experience nurturing the growth of that organization gives him a keen sense of empathy for "what it means to be in David's and Martin's shoes."
More significantly, Masterson spent the last 11 years as artistic director of the prestigious Actors Theatre of Louisville, an experience that provided superb on-the-job training for his new post. Like SCR, Actors Theatre of Louisville "is a complex organization with multiple stages, an influential new play festival and a bustling education department," Emmes says. "All of this makes Marc an ideal successor."Also like SCR, Actors Theatre of Louisville is known for its deep and long-standing commitment to new works. Half of the 200 plays that Masterson produced during his tenure there were world premieres. "Masterson's passion for new plays matches our own," Benson says.
Actors Theatre of Louisville is similar to SCR in another way, too: It is located across the street from the Kentucky Center from the Arts, which, like the Segerstrom Center for the Arts, is the area's major art center, hosting Broadway touring shows, films, ballet and concerts. Masterson understands SCR's close proximity to the Segerstrom Center as an asset for both organizations. "More is better, and having people walk past our building to something there, or walk past their building to something here, is good for everybody because there's activity," he says. "There are thousands of people, hundreds of thousands of people, coming through this two-block area every year. They may be going to different kinds of things, but that's what culture is."
When it comes to following in the footsteps of a legend (or two, in SCR's case), Masterson has walked that path too, having assumed the leadership reins in Louisville from Jon Jory, who, like Emmes and Benson, was the heart and soul of the theater for more than three decades. Emmes and Benson plan to stay involved in SCR on an artistic as well as an organizational level, yet they also have expressed a serious commitment to a smooth transition to new leadership.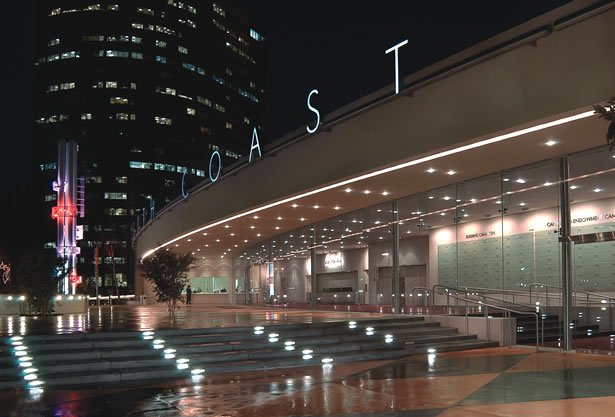 "They've been doing this for 47 years, and anyone who has done that for 47 years, it's not easy to transition to another way of working," Masterson says. "They've shown a lot of foresight in their planning. They've worked hard for four or five years to lay the groundwork for this with themselves, the staff and the board. They have an idea of how they want it to go."
Masterson says he has no objections to moving forward at first under Emmes' and Benson's watchful eyes because he has no plans to change the artistic vision of SCR. Rather, he intends to build upon SCR's foundation, presenting a wide range of new and classic works that reflect the sophistication and diversity of Orange County. The upcoming season exemplifies the early cooperation among Emmes, Benson and Masterson. It includes two plays and a musical that the Rep developed in last year's Pacific Playwrights Festival, while Masterson will direct Molly Smith Meltzer's new play, Elemeno Pea, which he originally developed in Louisville. Over the long term, Masterson says he hopes to broaden the reach of SCR beyond O.C. "We live in a global culture now. The community of Orange County is a global community, so let's find a way to reflect that philosophically," he says. "I've spent a lot of time seeing theater in cultures in which I may not speak the native language… I'm curious about the world and hope over time we will find ways to bring some of those theatre artists to our stage.
"I hope to also be able to take some of SCR's best work to other countries and to participate in cultural exchange in other places," he says. "We all have a lot to learn from that."
2011-2012 Season Highlights
SCR's season opens in September with an adaptation of Jane Austen's Pride and Prejudice by Joseph Hanreddy and J.R. Sullivan. Directed by Kyle Donnelly, this lavish production of one of England's best-loved works runs Sept. 9-Oct. 9, 2011, on the Segerstrom Stage. Running concurrently on the Julianne Argyros Stage is How the World Began by Catherine Trieschmann, directed by Daniella Topol. This new work, which pits science against religion, was workshopped at SCR's 2011 Pacific Playwrights Festival and runs Sept. 25 -Oct. 16, 2011.
SCR founder Martin Benson directs another classic on the Segerstrom Stage: The Trip to Bountiful by Horton Foote, which runs Oct. 21-Nov. 20, 2011. For theatergoers who prefer more contemporary work, Seret Scott directs Suzan-Lori Parks' Pulitzer- and Tony-winning two-man drama Topdog/Underdog on the Argyros Stage, Jan. 8-29, 2012.
Marc Masterson's directorial debut as SCR's new artistic director is a play that he brings from Louisville. Written by Molly Smith Metzler, Elemeno Pea is a keenly observed comedy about family and social status that runs Jan. 27-Feb. 26, 2012.
SCR founder David Emmes brings back one of the Rep's favorite playwrights, Donald Margulies, in March with the Obie Award-winning play Sight Unseen on the Argyros Stage, March 11-April 1, 2012. Also going up in March is The Prince of Atlantis by Steven Drukman. This play, directed by Warner Shook, is also a product of the 2011 Pacific Playwrights Festival. It runs March 30-April 29, 2012. The season continues with another piece developed at the 2011 festival called Cloudlands. A musical by Octavio Solis and Adam Gwon, Cloudlands plays on the Argyros Stage April 15-May 6, 2012. Rounding out the season is Jitney by August Wilson May 11-June 10, 2012
Plus, the annual Christmas Carol and theater works for young audiences run throughout the season. Check scr.org for details.