Ebb & Flow: Keeping Current on the Coast
By Newport Beach Magazine Staff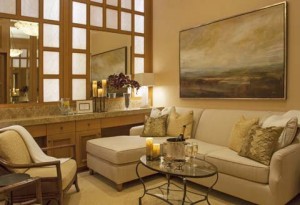 Suite Indulgences
The Spa at Pelican Hill recently debuted its newest amenity, a private spa suite that allows guests to relax and unwind on their own before and after treatments. The suite, tucked away at the end of a quiet corridor, can be reserved by the hour or for a full day. It features a well-appointed design with three plush armchairs and a combination sofa and chaise lounge—an intimate space perfect for catching up with friends or enjoying a romantic escape.
Following any massage, body treatment or facial, guests can return to the suite and indulge in small bites from an exclusive menu. The light lunch items are perfect for sharing and range from fruit-infused tonics to flatbreads and chicken wraps. The spa suite can be added to any treatment option or, for an enhanced experience, a handful of pre-arranged experiences are available to choose from. Couples may opt for the retreat package, which features a duet massage, a romantic bath for two, a light meal and a bottle of prosecco; meanwhile, the "best friends" or "red carpet" packages are ideal for groups of four or more and include complimentary prosecco and spa treatments. Suite guests are given full access to the spa's facilities, including the Aqua Colonnades that feature whirlpool baths, steam rooms and saunas. (855-315-8214; pelicanhill.com) —A.H.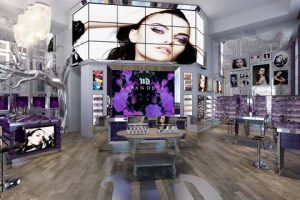 Fashion Island Goes Urban
Headquartered in Newport, Urban Decay is opening a flagship stand-alone store at Fashion Island—a first for the company, which was founded in 1996 by former model and beauty pageant contestant Wende Zomnir.
Wende, now a Newport Beach resident, helped develop the concept for Urban Decay's edgy brand of makeup, which is a far cry from the homogenous pinks and pastels of department store counters. "We like to describe Urban Decay as feminine, a little dangerous and a lot of fun," she explains.
The company's colorful eye shadows, lipsticks and other cosmetics, along with apparel and accessories, will finally be sold under one roof at its upcoming 1,000-square-foot location, which is expected to open later this year. The space will feature makeup stations that allow beauty junkies to test out new looks, while a digital video wall will let customers share images of their fresh faces on social media platforms. (urbandecay.com) —L.M.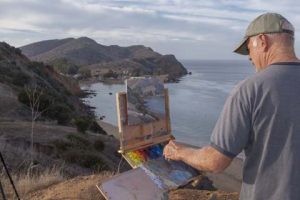 Autumn Art 
When the beach traffic dies down, the local art community picks up speed with two exciting events in the month of October.
Art in the Park returns Oct. 11 to the Newport Beach Civic Center and Park. Approximately 90 artists from all over Southern California will gather on the lawn to share works across various mediums, including textiles and glass. Proceeds will benefit the Newport Beach Arts Foundation. (newportbeachca.gov)
Later in the month, the Newport Harbor Yacht Club will bring Catalina Island's natural landscape to the mainland during the Catalina: The Wild Side art show and sale on Oct. 26. At the event, 10 plein-air artists will display pieces that highlight the undeveloped side of the island. Although this will be the fourth event put on by the Catalina Island Conservancy, 2014 marks its debut off the island.
"We felt we weren't getting as big an audience as our artists deserved, … so we thought if we brought the show to [Newport], we could raise a bigger audience," explains Victoria Seaver Dean, past chair of the board of directors. Attendees will have access to the art show from 3-5:30 p.m. (310-510-1445; nhyc.org) —L.M.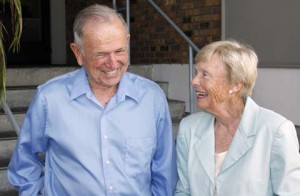 A Couple's Cause
Staying involved in the community has been no problem for Jack and Nancy Skinner, the Newport Beach husband-and-wife duo who were named citizens of the year by the Chamber of Commerce in late July. Over the years, the couple's active lifestyle evolved into passionate campaigns for bettering the city. Jack, a retired physician, took his love for the ocean and turned it into Hoag Hospital's Project Wipeout 35 years ago; to this day, the program works to prevent head and neck injuries sustained by diving into shallow water.
Jack and Nancy's regular ocean swims sparked a shared crusade for water quality. In addition to mobilizing fellow citizens against legislation that would harm the environment, the couple currently sits on multiple committees for water cleanliness at the state and local levels. Nancy chalks up the couple's civic engagement to an inexplicable enjoyment for the water. "There's something about the ocean we both just love," she says. The couple will be formally honored for all of their efforts with a dinner on Nov. 14 at Balboa Bay Resort. —L.M.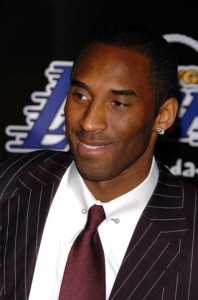 Home Court Advantage
With five NBA championships and 16 NBA All-Star game appearances under his belt, local superstar Kobe Bryant epitomizes success. When a knee injury left him unable to play a majority of last season, the 36-year-old explored possible ventures off the court and formed Kobe Inc., which will invest in and grow brands related to the sports industry. In late July, the City Council approved the sale of a city-owned property in west Newport for Kobe to use as his global headquarters.
"Newport Beach is a desirable location for most businesses," explains Tony Petros, a councilman who oversees the district in which Kobe Inc. will be located. "We are the home of Pimco, Hoag Hospital, many action sports companies and numerous notable financial, legal and real estate companies. Having Kobe Inc. as a local business adds to the diversity of our economic base. … [It also] offers a local experience for connection and outreach with our youth and organized sports associations."
The 16,550-square-foot office building on Monrovia Avenue will undergo renovations and, according to Tony, may take up to 12 months to open due to construction and the sale closure. —K.C.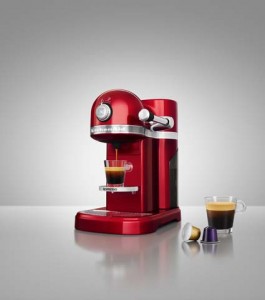 A Boutique Blend
Talk is brewing of Nespresso's aromatic roasts arriving at Fashion Island. Capitalizing on Southern California's love of quality coffee and the pervasive epicurean lifestyle, Nespresso will open a new flagship location in November. Part coffee lab and part playground, the 1,900-square-foot boutique will offer samples of Nespresso's popular Grand Cru coffees, and visitors will also be treated to demonstrations of the company's newest invention, VertuoLine, a machine that pours large cups of coffee and espresso with a brewing process that quickly spins the capsule of grounds. (nespresso.com) —L.M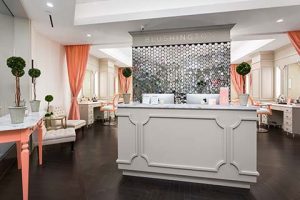 Beauty Buzz
With fall well underway, beauty trends have shifted to fit the season. While some of the freshness of summer
has carried over, there's a distinct edge that accompanies autumn cosmetics. We spoke with Jazmyn Combs,
a makeup artist at Fashion Island's Blushington, to get her top three fall beauty trends.
Glowing skin: When it comes to your skin, Jazmyn recommends foregoing the matte look of last year and opting for a natural radiance. "The biggest issues in the [fall] are dry skin and dry lips," she explains. "So to kind of counteract that, … I think most [people] will gear towards more glowing skin [and] use products that are meant for illuminating the skin."
A new lip statement: While a bold red lip will always be en vogue to don throughout the autumn season, Jazmyn notes that lip colors are starting to take a note from the past. "We're going to start to see almost a lavender-brown [color]—almost a '90s look," she says. "… And a lot of people are probably going to start gearing towards [lip] products with reflective properties."
A smoky eye revival: Since celebrities like Taylor Swift have popularized the "cat eye," bottom liner has become all but nonexistent. Jazmyn, however, predicts heavier eye looks this season. "A very smoky under-eye … [is] not as high maintenance as doing a full smoky eye but you still get that 'smoldery' look," she explains. (949-640-8800; blushington.com) —B.B.
Well-Groomed Newport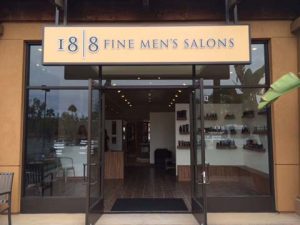 Women aren't the only ones who can pencil in a salon appointment—especially not after the appearance of the 18|8 Fine Men's Salons brand in the Newport area. Located at the Bluffs Shopping Center and the Costa Mesa Courtyards (opening in October), the salons offer services ranging from cuts, coloring and styling to shaves, facials, massages and scalp treatments. The company, named after the formula that transforms steel to stainless steel using 18 percent of chromium and 8 percent of nickel, places an emphasis on overall grooming rather than a quick cut: "The experience at 18|8 is unlike one at an ordinary hair salon," says Bruce Bunin, the owner of the Costa Mesa salon. "The whole goal is to create an upscale set of services for men in a location that they're going to feel comfortable in and one that is specifically designed for men to enjoy." (eighteeneight.com) —K.C.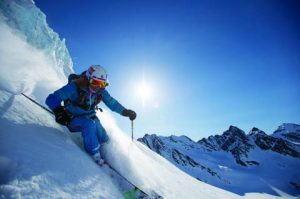 Hit the Slopes
While you couldn't tell based on the fairly clear skies in Newport, ski and snowboard season kicks off early December. To get in the spirit, locals can watch professional skier Jess McMillan in Warren Miller Entertainment's 65th annual film "No Turning Back," which debuts at Lido Live (formerly the Lido Theatre). Born and raised on the slopes in Jackson Hole, Wyo., Jess has picked up a few notable wins along the way: In spring 2014, she was named the U.S. and World freeskiing champion. Her career has taken her to cities all over the world, including Newport Beach; she arrived here six years ago to become a Basi Pilates instructor.
"Basi is located in Newport so I studied there in their yearlong program," she explains. "… Then, I had a skiing injury four years ago, and I went to an amazing chiropractor and sports therapist [in the Newport area] so I got to spend another winter there. Newport is such an outdoorsy community—it definitely felt like a home away from home."
In "No Turning Back," Jess stars in the segment on Alaska, where viewers will see her propel down the Chugach Mountains during an avalanche. The film will show in 80 cities across the U.S., including Newport Beach at the Lido from Dec. 3-4. (303-253-6300; warrenmiller.com) —K.C.
Portrait of a Painter
Known for his striking seascapes and masterful use of light, late watercolorist Rex Brandt—who lived in Corona del Mar until his death in 2000 and would have celebrated his 100th birthday this past September—is being feted with an art exhibition and a centennial celebration planned by the city of Newport Beach.
The Newport Beach Public Library's central branch will host the event on Nov. 1 to honor the man who designed the city's official seal, served on the library board and helped establish the Newport Harbor Art Museum (now the Orange County Museum of Art). A retrospective of Rex's original watercolors will also be on display in the library's lobby through Dec. 15. (949-717-3801; newportbeachca.gov) —S.S.