Ebb & Flow: Keeping Current on the Coast
By Newport Beach Magazine Staff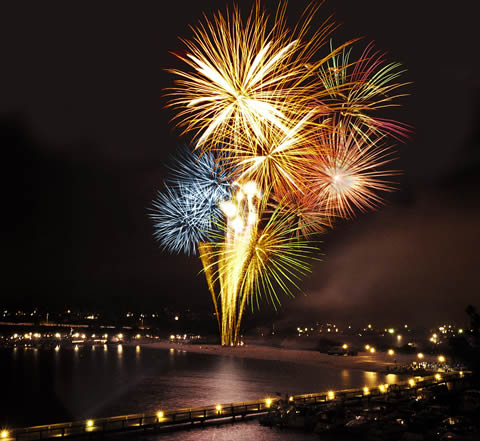 Birthday Bash
The largest birthday party in Newport—and across the country—is right around the corner. Celebrate America's freedom on July 4 with patriotic festivities taking place throughout town.
Beginning at 1 p.m., Newport Harbor fills up with hundred of vessels during the annual Old Glory Boat Parade hosted by the American Legion Yacht Club. Boats are bedecked with flags, banners and streamers, and cruise around the harbor as onlookers cheer on their favorites. (alyc.com)
For another festive boating experience, spend the day on a specialty cruise that sails alongside the Old Glory Boat Parade through Newport Bay and out to the open ocean. The two-hour cruises, which start at 1 p.m., 4 p.m. and 7 p.m., offer guests a sampling of snacks and refreshing drinks from the bar onboard. (949-673-1489; cruisenewportbeach.com)
The 55th annual Fourth of July Extravaganza at the Newport Dunes Waterfront Resort and Marina is also in full effect over the weekend. The event features a carnival-like setting with games, face painting, crafts and a specialty performance by KC and the Sunshine Band. Cap off the night by gazing at the cascade of fireworks that burst in the air from the resort at 9 p.m. (949-729-3863; newportdunes.com) —K.C.
Ocean Exploration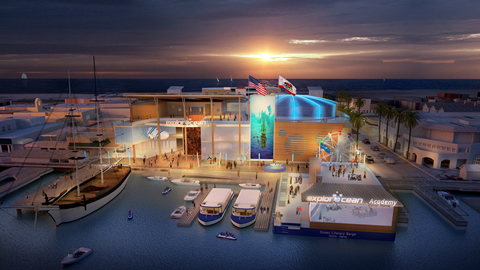 It's been said that 95 percent of the ocean waters are still unexplored, which is why ExplorOcean, a nonprofit ocean education institution located on the Balboa Peninsula, is encouraging kids—and adults—to start getting curious. Recently, the California Coastal Commission recognized ExplorOcean as the No. 1 California-based nonprofit teaching children about ocean literacy with its prestigious Whale Tail grant award. In addition to its numerous public programs that incorporate hands-on, interactive learning—including a robotics program that has been nationally recognized by the U.S. Navy Office of Naval Research—ExplorOcean offers single and multiday camps, after-school classes, school field trips and monthly lectures and seminars, which all take place in its 33,500-square-foot facility and 25,000-square-foot commercial marina. Yet, the organization doesn't want to stop there—future plans, dependent on grants and donations, include a 7,000-square-foot "floating classroom" on the waterfront as well as a LEED-certified 18,000-square-foot community meeting center. (949-675-8915; explorocean.org) —A.T.
An Electronic Chapter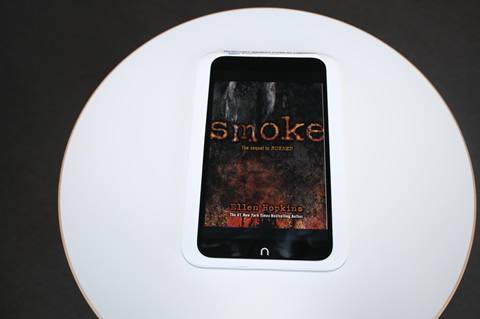 The Newport Beach Public Library introduced a new gadget aimed at keeping young adults entertained and educated to its shelves in February. With the help of Friends of the Library, 10 Nook tablets are now available for checkout, and branch librarian Rebecca Lightfoot says the tablets are in high demand. "Within a day, [the Nook tablets] were all checked out with a hold list, and there are still customers on that hold list," she says. "They were very well received and have been quite popular."
The Newport Beach Public Library Nooks can be checked out for two weeks at a time and come loaded with 10 young adult novels, including the popular "Divergent" trilogy by Veronica Roth. Once the demand for the current titles, which are the same on each tablet, dies down, Rebecca says new titles will be added. The library also offers six Nook Simple Touch e-readers, which Rebecca says are catered to adults with more advanced selections. (949-717-3800; newportbeachlibrary.org) —K.P.
To be Young Again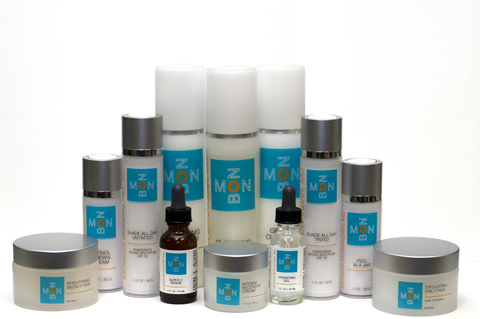 The older we get, the wiser we become, as the old adage goes. There is a downside that goes hand in hand with age, though: wrinkles. Luckily, Monica Bonakdar, a Newport Beach cosmetic physician, has invented a skin care line to restore ageless beauty. Sold exclusively at her Newport Beach practice, MonBon products address a variety of conditions from aging and sun-damaged skin to sensitivity and acne.
The skin care line, which ranges in price from $40 to $150, features targeted cleansers, topical treatments, hydrating agents and sunscreens for a four-step maintenance solution. A typical skin care routine begins with a gentle, hydrating or clarifying cleanser, followed by an exfoliating daily pad, hydrating gel and Shade All Day sunscreen.
Using leading ingredients such as hydroxy acids, antioxidants and retinoids, Monica, who has more than 20 years of experience in the industry, created products that would be simple enough for clients to use at home yet are powerful enough to treat major skin care concerns. (949-721-6000; bonakdarmd.com) —K.C.
Uptown Living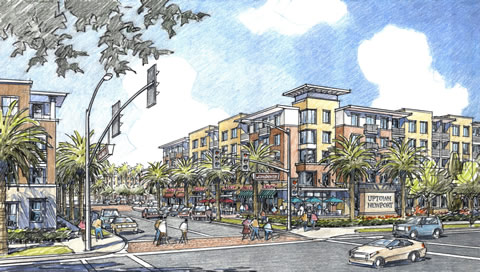 The industrial buildings sandwiched between John Wayne Airport and the intersection of Jamboree Road and MacArthur Boulevard are slated to receive a substantial upgrade over the next two years. The city partnered with The Shopoff Group to conceptualize what William Shopoff, the group's president and CEO, refers to as "a vibrant mixed-use residential community." Deemed Uptown Newport Village, the new community broke ground earlier this year in March.
"Uptown Newport will provide public parks and opportunities for residents to enjoy a pedestrian-friendly living environment with neighborhood-serving retail shops in close proximity to employment opportunities within the airport area," William says.
The endeavor will take the 25 acres of land and ultimately transform them into a walkable community complete with 1,244 luxury homes, 11,500 square feet of retail space and two parks. The innovative layout, which is a first for Newport Beach, will allow for residents to easily and safely walk to restaurants, shops and recreational areas, mirroring the community plans of high-density cities like downtown Los Angeles. The construction is separated into two phases, the first of which is on schedule to be completed by the end of 2016. (shopoff.com) —K.P.