Fashion's Fête
It's time to break out those Balenciaga handbags and Chanel coin purses: Fashion's Night Out returns to South Coast Plaza and Fashion Island for the third year in a row on Sept. 8, celebrating the hip global event with in-store fashion shows, luxury beauty bars and delectable dining opportunities. Get fall fashion tips and celebrity style secrets, learn insider techniques from hairstylists and makeup artists, and enter for a chance to score gift cards and gourmet giveaways. South Coast Plaza will roll out the red carpet at 6 p.m., when guests can pose for photos before visiting more than 100 stores and boutiques, including Bloomingdale's, Chanel and Yves Saint Laurent for runway shows, designer showcases and makeovers (or make-unders). A kickoff celebration will begin at 5 p.m. at Fashion Island, where celebrity stylist Melis Kuris, who has dressed A-listers like Anna Paquin, Joss Stone and Helen Mirren, will share her favorite fall fashion tips. Throughout the evening, shoppers will also enjoy sweet treats across the Island at participating stores including Neiman Marcus, American Rag Cie and Anthropologie. Guests who make a purchase might win a custom F.I. tote. Launched in New York City in 2009 to encourage consumer spending during the economic downturn, the event, sponsored by Vogue and the Council of Fashion Designers of America, has expanded to 16 countries and occurs over a span of eight days.
see me, heal me
TOMS, the philanthropic and über trendy footwear company founded in 2006 by Blake Mycoskie, an American traveler who wanted to help protect the feet of shoeless kids in Argentina by donating one pair of shoes for every pair his company sold, has partnered with NorCal-based Seva Foundation to expand its "One for One" initiative to help give sight to the visually impaired. The company offers three classic sunglasses styles for men and women, each with an iconic hand-painted striping detail that symbolizes the three elements of the program: the purchaser, the person to whom they're helping give sight through prescription eyeglasses, sight-saving surgery or other medical treatment; and TOMS, bringing the two together. "Since 2007, I've realized the One for One model could do more than give shoes—it could and should address other needs around the world," Mycoskie says. "Sight is a fundamental need. The loss of sight has a dramatic impact on a person's life and on his or her family and community. We're so excited to help more people in need." To learn more, visit toms.com; available at Nordstrom in Fashion Island and South Coast Plaza.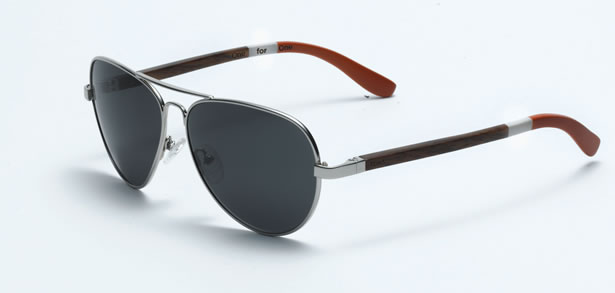 Sperry Top-Sider sails into NB
Once reserved for sailors, yachters and New England prepsters (and posers), boat shoes are now a  fashionable and functional wardrobe essential in California. Designed with a siped rubber outsole for non-marking traction and advanced technical fabrication to combat the elements, Top-siders are equally useful for keeping from slipping off your boat deck or on the barroom floor. The creator of the world's first boat shoe, Sperry Top-Sider, established in 1935, recently opened its first O.C. store in Fashion Island, its largest retail location on the West Coast. Situated between Nordstrom and Pacific Courts, the 2,100-square-foot, nautically designed space carries a full range of men's, women's and children's lifestyle and performance footwear, including outside-of-the-boat styles like oxfords for men, and sweet slip-ons and wedges for women. It also carries nifty apparel and accessories like board shorts and totes made of recycled sailcloth. Another cool feature is the self-select "boathouse" stockroom, where customers can manage their own shopping in what looks and feels like a true working boathouse. "Our nautically inspired design and relaxed in-store experience offers customers a taste of the good life in, on and around the sea," Sperry Top-Sider president Craig Reinhold says. Now let's just hope Crocs don't find their way from the trail to the runway. 949.759.1466; shopfashionisland.com
Hip hair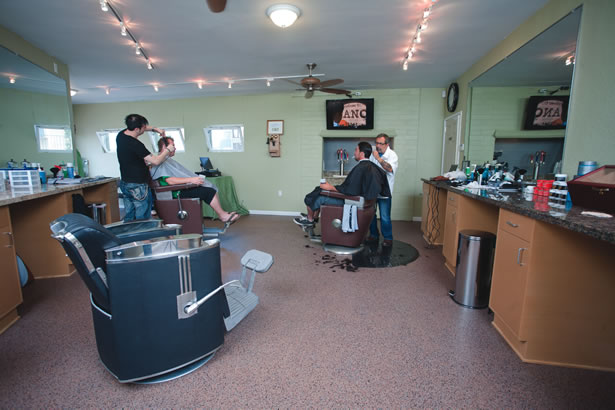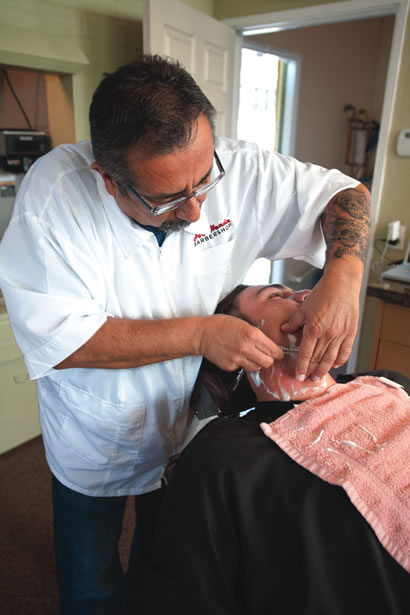 Looking for a barbershop experience where you can relax, unwind, and trust that you won't walk out the door with a pompadour? A new O.C. barbershop with an old-school vibe offers just that. "In some shops around here, you've got to be a total rockabilly or [elitist] to get good treatment, depending on where you go," says Sean Patterson, who recently opened Hot Headz, a retro-style barbershop in Costa Mesa that promises the full experience of an old-time barbershop. "I wanted to have a place where everyone can come and feel comfortable—from the mom with her kids to the trash man to the mayor. Everyone gets treated the same here," he says. The intimate five-chair shop—the first of six Patterson plans to open in O.C.—is every man's haven, complete with a microbrewery (Steelhead's Raging Rhino Red and Bombay Bomber are always on tap); cushy leather barber chairs recycled from the mid-1950s; an early 20th-century wooden box telephone that Patterson restored and rewired himself; and the ultimate retro touch—a smoky cigar bar. One modern flair this place offers is Wi-Fi and two high-def flat-screens ('cause who wants to watch the game on a vintage TV set?). Also true to old barbershop form, a haircut comes with a clean shave, hot towel treatment and menthol aftershave massage. "It's more like a mini spa deal for the fellas," Patterson says. "We want you to feel like you got more than a haircut. This is a place where you can come to hang out and forget your troubles for a little while." Services range from $15-$20; open daily; 1652 Newport Blvd.; 949.200.7521.
Tastes and tunes
Plan a menu of several dates and community gatherings the weekend of September 16–18, when more than 30 of the area's best restaurants, bakeries, wineries and pubs feature samplings of delectable cuisine, frothy brews and aromatic wines at friendly prices. Hosted by the Newport Chamber of Commerce, the 23rd annual Taste of Newport event will also feature top-shelf performances by entertainers like Joan Jett and the Barenaked Ladies, as well as live cooking demonstrations by renowned artisan chefs. It's a great excuse to taste an array of culinary delights from places like Le Pain Quotidien, Clay Oven Indian Cuisine, Port Restaurant and many others. 714.729.4400; tasteofnewport.com.
Spice it up
Enjoy your favorite cold-weather comfort dishes and still rock that beach body year-round by replacing heavy cooking additives with lighter herbs and spices. These flavorful and delicious gifts from nature can be added to anything from soups to sirloin, and are a great way to go green and boost your health (they're chock-full of antioxidants!) whilst whittling your middle. For a hearty selection of seasonings and culinary tips, visit the Savory Spice Shop, located at 928 Avocado Ave., Newport Beach. The company, started in Denver in 2004, offers more than 400 herbs, spices and customized blends that are ground fresh daily. "We also offer hard-to-find small batches—as little as half an ounce, and other [accoutrements] like grinders and shakers, and savory gift items," says co-owner Laura Schute, who recently opened the CdM franchise with partner Randy Morton. Pretty sweet, right? 949.717.7776
Tune in!
If you've ever been to a Jameson show, you're no stranger to the Santa Ana-based bluesy folk rock band's intense, guitar-driven sound, compelling storytelling lyrics and core-shaking vocals that go down smooth and then rattle your cage just like the whiskey the band is named after. Often seen rocking out for large crowds at venues like Costa Mesa's Detroit Bar and the nearby Gypsy Lounge, this six-man country-meets-classic rock group knows how to kick up emotion and get your boots stomping. Composed of lead vocalist and guitarist Jameson Burt; bassist Dave Beste; Justin Burrow on lap steel guitar; drummer John Wilson; Dallas Kruse on B3, accordion and percussions; and vocalist Pavla Dlab, Jameson recently released its first full-length EP, Synergist, a compilation of diverse sounds about the struggle of making choices. "It's about always being pulled in two different directions," Burt says. "No matter where you're at, you always feel like maybe there's somewhere better, which makes it hard to know which direction to move in. This album is about that burden, and about trying to be free of it." Check it out, and then get yourself to a live show and sing along. Available on iTunes and at jamesonmakesmusic.bandcamp.com.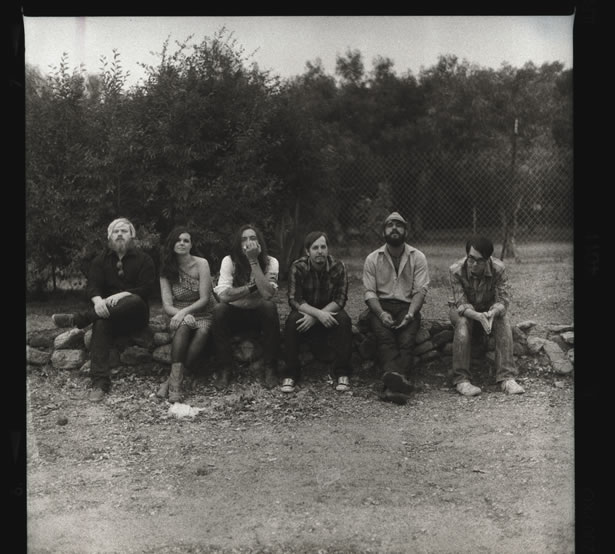 we're jammin'
A few years back, Delilah Snell, a master food preserver and owner of The Road Less Traveled, an eco-store in O.C. dedicated to bringing green alternatives to every aspect of life, began whipping up jellies and pickled mixes at her shop while teaching the art of canning to her staff. What began as a hobby ripened into a fruitful business called Backyard in a Jar, a collection of seasonal jams and jellies, pickled goodies and flavored salts. "I'm really into urban salvaging and using excess from local gardens and trees," says Snell, whose unusual flavor combos include Backyard Basil and Fire Jelly, which earned first place at the Eat Real Fest in Culver City. This fall, she pairs up with Memphis Café co-owner/chef Diego Velasco to create specialty dishes and cocktails that deliver an extra kick. Try the chipotle and jalapeño tomato, and peach habanero jams in September and October; and heirloom apple butter, Chow-Chow (a mixed pickled dish made with late-summer  vegetables), and beet-pickled eggs later in the season. backyardinajar.com; memphicafecom; Snell's handcrafted preserves are also available at roadlesstraveledstore.com.
NB books
In her debut novel,  This  Vacant  Paradise,  Newport native Victoria Patterson tells the fictional tale of Esther Wilson, the quintessential O.C. beauty—you know, Barbie's anatomical dimensions and teeth so white they make you squint—whose lifelong ambition to marry wealthy and conquer the role of trophy wife is not going as planned. As she nears her mid-30s, her looks fading as quickly as her youth, Esther meets a sociology professor who inspires and challenges her, reshaping her priorities, and possibly her fate. Patterson is also the author of Drift, (selected as one of the best books of 2009 by the San Francisco Chronicle), a semi-autobiographical collection of short stories that peer into the lives of Orange County's less glamorous residents.
In his book, The World's Richest Busboy, SoCal surfer J.J. Brito chronicles his years traveling the world in search of the perfect wave, with the funds he earns from bussing tables and delivering pizzas. From living inside a station wagon in South Africa to island-hopping in the Caribbean, Brito's story takes the reader on a journey in which he "learns about the overwhelming beauty of nature, the generosity of the human spirit, and the unpredictability of life on the road."
NB resident and author Jeff Delaney, whose prior work includes Newport Beach's Balboa and Balboa Island and Newport Beach (Postcard History Series), has come out with another tribute to his beloved town: Newport Beach (Then and Now) compares the town's past and present, from the days as a shipping port to the booming beach community it is today.
With a vast collection of historic and current photographs, readers will embark on a lesson in local history that won't have them snoozing at their school desks. All books available at Lido Village Books, 3424 Via Oporto; 949.673.2549 ,his beloved town: "Newport Beach (Then and Now)" compares the past and present—from a shipping port to the booming beach community it is today. With a vast collection of historic and current-day shots taken at the same great spots, readers will embark on a lesson in local history that won't have them snoozing at their desks. All books available at Lido Village Books, 3424 Via Oporto, Newport Beach; 949.673.2549