Sailing in Newport Beach is a way of life for many residents, as well as a draw for visitors from around the world.
By Peter A. Balaskas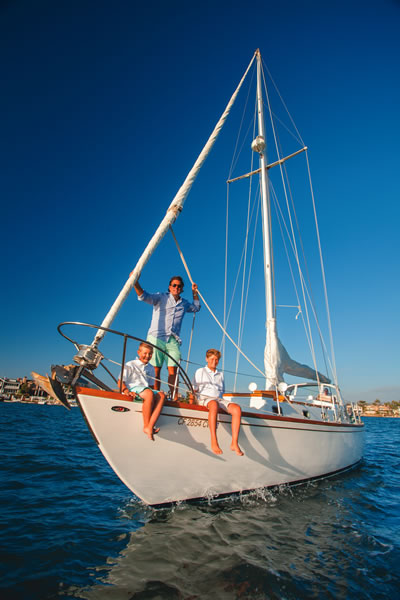 The soft sails clap their leathery applause against the masts of moored boats along Lido Isle in between chimes from the bell buoys. The setting sun frames the distant Pacific horizon, and the throaty barks of sea lions echo across the waters. These sights and sounds are all part of a natural symphony that any Newport Beach sailor can hear, recognize and savor. These are the rhythms that serve as the spirit of Newport Bay, whose sailors wake up at sunrise, set sail and seek harmony on the ever-mercurial Pacific Ocean. For them, especially those who grew up in Newport, it is more than a leisurely activity; it is a way of life.
Passion for the Sea 
Sailors of all ages fondly recall in vivid detail how the "sailing bug" somehow bites them, mostly at a young age. For many who were born in Newport Beach, like 12-year-old Jack Joslin and his 9-year-old brother, Peter, sailing is a family tradition. "My grandfather is involved in sailing at the Southwestern Yacht Club in San Diego," says Jack. "And he started us out by buying us a Sabot (a dinghy). And so we were able to start sailing." Both Jack and Peter have been students at the Balboa Yacht Club's Junior Sailing Program since 2009, not only having fun with friends their own age, but also learning crucial sailing skills.
There is also 39-year-old Ryan Clark, who has been sailing since he was 4 years old. "My father taught me how to sail," Ryan says. "He's had a boat and we've both been very passionate with sailing." Ryan enhanced his discipline on the seas by attending Orange Coast College's School of Sailing and Seamanship, and joined its sailing team. He also enrolled in the Maritime Institute in San Diego to earn his captain's license, and sailed on to captain mega yachts from Newport Beach to Mexico, and has even spent an entire season sailing on the Mediterranean.
"I was introduced to sailing by [real estate investor and philanthropist] Don Bren," recalls 81-year-old Phil Ramser, who is not only an avid sailor but also a member of the Newport Harbor Yacht Club in Newport Beach, as well as serving as the club's commodore in 1983. "We went to school together and we were about 14 or 15 years old. He asked me to go aboard his dad's sailboat and sail to Catalina." Phil joined his friend, spent the weekend in Catalina, and has been sailing ever since.
"I was thoroughly hooked," he adds.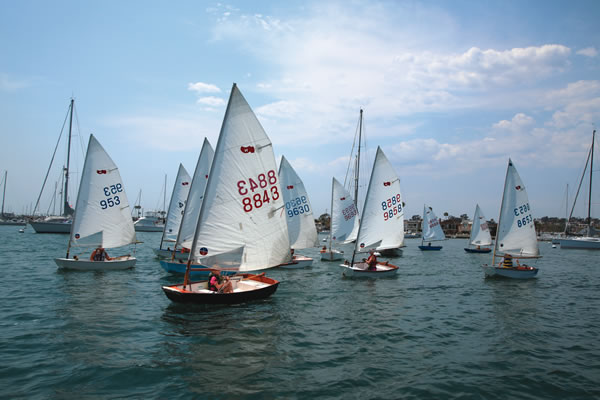 But what is the source of a sailor's passion to sail? For young Jack, it's the feeling of independence being out in the open seas. "There's a lot of times when you're a kid, you don't really get to be on your own," Jack says. "But in sailing, you definitely get to do that."
Peter agrees with his older brother. "I kind of like that you can just go fast on your own," Peter says. "And you get to be around the water without being in it."
Ryan feels that sailing serves as a form of mental and emotional tranquility. "Sailing is an escape and it's very therapeutic and relaxing," he says. "It's not only just a fun thing to do, but it's also a lifestyle. Personally, it's molded [me] into who I am."
Phil echoes the relaxing elements of sailing recreationally. "You're sailing downwind with a really good breeze, and the boat takes up the surf. It's very exhilarating."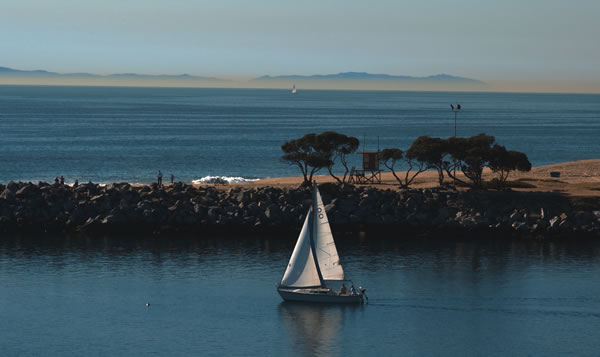 A Second Home
Sailors who navigate through Newport Bay for the first time will have access to a treasure trove of sights and experiences. Upon entering the harbor, the channel is flanked by the scenic Balboa Peninsula on the west and the golden Corona del Mar State Beach on the east. While proceeding northwards on the main channel, sightseers will marvel at Balboa Island and Lido Isle. It also gives potential shoppers and diners the opportunity to moor their sea crafts at a dock or a public slip and explore many local establishments in Balboa, Cannery and Lido Villages.
As Ryan points out, for Newport Beach residents, sailing is a part of life. "It's just part of the culture of living in Newport Beach," he says. "The city is surrounded by the bay, and so you're [called] to be a part of it."
Two key examples of how sailing has guided Newport Beach residents toward thriving sailing-related careers include David Ullman and Bill Ficker, both of whom Phil has known for many years. David, a former coach of the U.S. Olympic Sailing Team, not only became one of the most competitive, award-winning sailors in the world, he is also the founder and owner of Ullman Sails, which has thrived internationally since 1967.
A past commodore at Newport Harbor Yacht Club, Bill sailed with his ship Intrepid to win the valued America's Cup in 1970, one of the most prestigious sailing competitions in the world. "He defended the America's Cup," Phil says. "So, he was very successful."
Success stories like these can be inspirational for young sailors. As far as Jack and Peter are concerned, both are open to pursue sailing as a career, especially Jack, who has set some extraordinary goals for himself. "If I want to pursue it professionally, one of the things I'd like to do is join the America's Cup, which is the pinnacle of sailing," he says.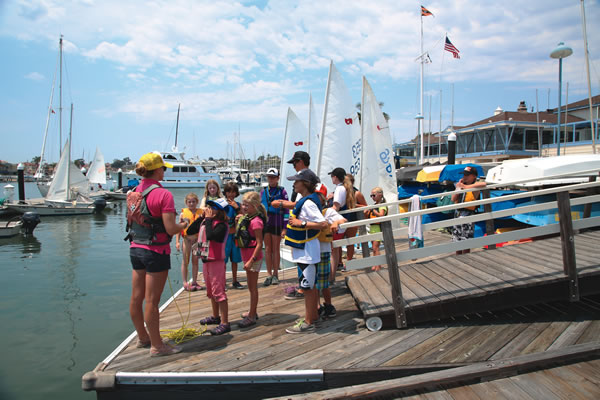 Back to School
How does one learn the basics of sailing? From his own experiences at Orange Coast College, Ryan praises the various sailing schools that Newport Beach has to offer, especially for junior sailors. "The beauty about Newport Beach is that it has sailing programs, like the Balboa Yacht Club, Orange Coast College and the Boy Scouts, where you do have sailing bases and programs for minors," Ryan says. "It seems those programs are helping the youth get into it and discover it."
Phil says the yacht club's older members also served as mentors to him when he was younger. "We had a large number of older guys that were still active in sailing around the yacht clubs," he says. "And they would always share information. We had some instruction and there were a lot of books to read and so forth. But then we'd go out sailing on the larger boats with guys that really knew what they were doing. And so we absorbed it."
Phil emphasizes how sailing programs teach children at an early age about responsibility in their daily lives. "If you start when you're young, you can really become very, very good at it," he says. "They have a lot of instruction and supervision. And so they're out there making decisions, being responsible for what they are doing."
These lessons in responsibility have played an important role in Jack and Peter's life. As their mother, Anna, points out, the Balboa Bay Yacht Club's Junior Program emphasizes teamwork and independence, two important philosophies that have greatly influenced her sons. "Their independence and security within themselves is the thing I noticed the most about them," she says. "They're much more independent about coming home, getting homework done, and being in charge of their own programs and being organized about things. Sailing and racing requires a lot of strategy. And I do think it's valuable for their skills outside of sailing."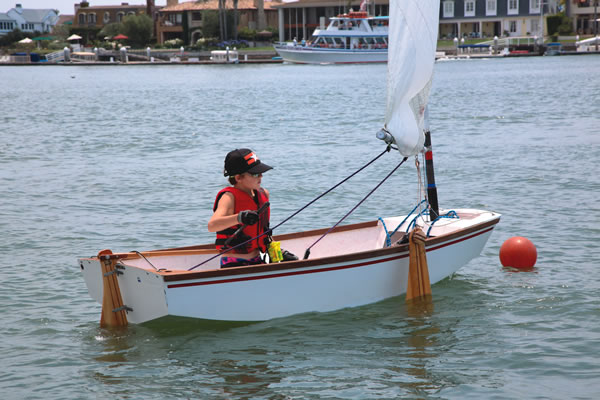 Tales From the Sailboat 
At its core, sailing in Newport Beach is more than simple relaxation and racing; it's about people experiencing life's precious moments and sharing their tales to anyone who visits there. Ryan's favorite sailing moment includes getting his first boat, which he named Soul. When he was sailing at the college program, a friend of his named Rob Smith had a 25-foot, 1937 Seabird Yawl that was on the mooring in Newport. Rob noticed the 18-year-old's passion for boating and gave it to Ryan for free.
Ryan was soon inspired to do some research on his boat and discovered that his model had an impressive history as a pocket cruiser. He also learned that Harry Pidgeon, the second person who sailed around the world, had the same boat model. "Reading these library books gave me the confidence to fix it up and sail it from here to Costa Rica, where I spent a year," Ryan says.
One of Phil's treasured memories involved participating in the first Newport to Ensenada Regatta in 1948, where his father's boat, Antigua, finished in second place. It was after the regatta that the 15-year-old Phil met one of Hollywood's cinematic legends.
"We went ashore, and then everybody anchored," he remembers. "So, I jumped in the ponga (a 15-foot-long aluminum skiff that took the sailors ashore). I turned to look and there was Humphrey Bogart!" Bogart, who was also a member of the yacht club, had participated in the race with his boat, Santana, named after the Santa Ana winds. "[Bogart] just said to me, 'How're ya doing, kid?' That was really thrilling."
For Jack and Peter, their own sailing experiences stem from the new friendships they are presently making at the sailing program. Anna stresses how important it is for her children and other young sailors to build relationships while sailing, where special bonds are created, strengthened and reinforced as time goes on. "I think it's so wonderful—the friendships that they have in this program, and it's a confidence builder," Anna says. "And it's a lifelong thing they can be involved with."
As many young sailors like Jack and Peter grow older, they too will experience their own memorable sailing adventures on the seas, whether it is getting their own Seabird Yawl and traveling to Costa Rica, or participating in world-renowned regattas and meeting cinematic legends. Indeed, sailing in Newport Bay fulfills the human soul for every generation. NBM