Hawaii's second-biggest island is hardly second-best with plenty to see, do and eat on its varied terrain.
By Linda Domingo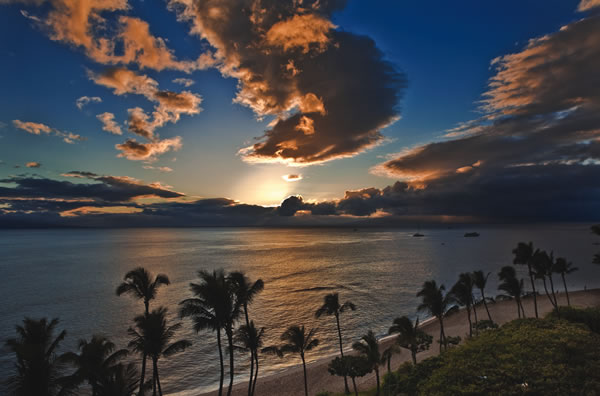 There's nary a cloud in the impossibly blue sky, and the even bluer ocean lies calmly beyond the soft, sandy beach and lush palm trees as we wake ourselves up with sandwiches, fresh fruit and coffee. "Cue the dolphins," one of us jokes. We laugh, but glare at the view as if we actually expect marine life to come springing out of the ocean.
This is just the start to a typical morning while on holiday in Maui. The second-largest Hawaiian island, Maui boasts green terrain, temperate weather and luxury real estate development. All of these have made Maui a top destination choice for travelers, even those from the sun-soaked California coast.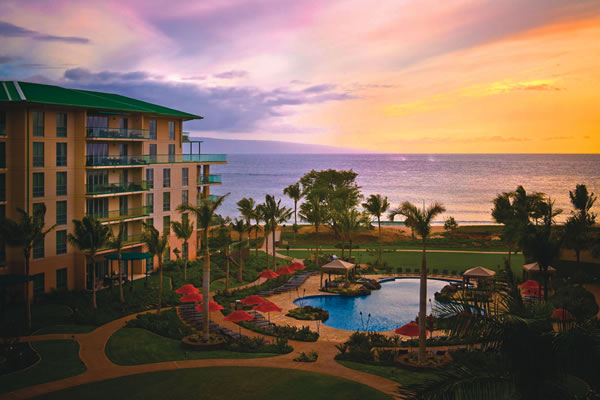 Stay
Set on prime Kaanapali North Beach property in the resort town of Lahaina, Honua Kai Resort & Spa (honuakai.com) is made up of an all-suite hotel and collection of residences. Contemporary while maintaining an island feel, the resort's rooms effortlessly blend the luxurious and casual, with expansive patios and awe-inspiring mountain, resort or ocean views. Taking the aloha lifestyle to another level, the friendly and personal customer service throughout the property makes every guest's stay hassle-free. For those new to Maui, the staff is happy to suggest and/or arrange activities that would enhance any vacation.
Dining is coastal casual at Honua Kai, with Duke's Beach House serving locally sourced ingredients in Hawaiian dishes for breakfast, lunch and dinner.
Also locally focused, 'Aina Gourmet Market sells a full range of groceries, as well as pastries, salads, sandwiches and to-go meals.
But the main focus of the resort may be outside—there's a pool for every member of the family, including the Wailele "Waterfall" pool for children and their parents and the Maile "Calm/Quiet" pool for adults looking for some rest and relaxation. The pool staff also rents and sells gear like boogie boards and snorkel equipment. Just past the aquatic playground lies a boardwalk and Kaanapali North Beach, a three-mile expanse ideal for sunbathing, paddleboarding and people-watching.
Another of Maui's world-class properties, The Ritz-Carlton, Kapalua (ritzcarlton.com), is set on 54 acres in Kapalua and features luxurious beach-inspired accommodations, six restaurants, a convenient shuttle to nearby attractions and the Ritz-Carlton Spa, featuring uniquely Hawaiian treatments such as the organic papaya pineapple manicure and pedicure.
For those seeking a private retreat, Wailea Beach Villas (drhmaui.com) are flanked by five gorgeous beaches and located just a short walk from a plethora of spas, restaurants and shopping. For the ultimate in unwinding, massages and mini spa treatments are offered in rooms or oceanfront cabanas.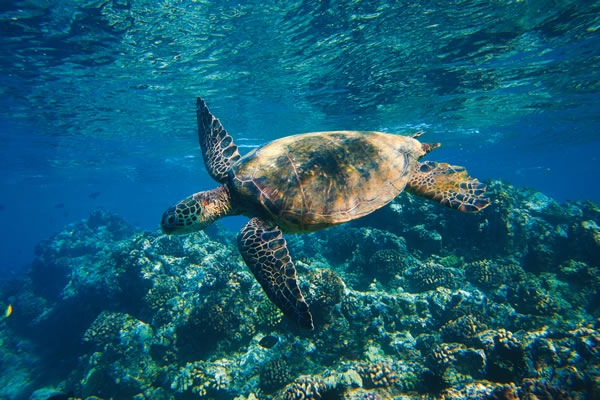 Play
Relaxation can be overwhelming. Fortunately, adventures on Maui's landscapes offer respite from a schedule chock-full of lounging. Mountains, volcanoes, beaches and rainforests all populate the island, offering something for every traveler.
For adventurous types, the village of Lahaina is a tropical paradise of lush greenery and breathtaking ocean views. The tour guides at Kapalua Adventures on Kapalua Resort (kapalua.com) bring explorers up rocky terrain to the start of one of the largest ziplining courses in the country. They provide windbreakers in the case that it rains, a normal occurrence in Kapalua, one of the wettest places in the world. But a little drizzle and slightly muddy shoes only add to the excitement. The resort is also an idyllic setting for hiking, tennis and other fun diversions.
If swinging above the treetops doesn't sound attractive, tamer activities provide guests with more options for entertainment and adventure. Teralani's fleet of catamarans (teralani.net) takes passengers out to sea from Kaanapali Beach for a refreshing sunset cruise, complete with appetizers and adult beverages. But for those who prefer to stay on dry land, the nearby Whalers Village (whalers
village.com) is full of top beach clothing brands, jewelry and specialty boutiques, and eateries.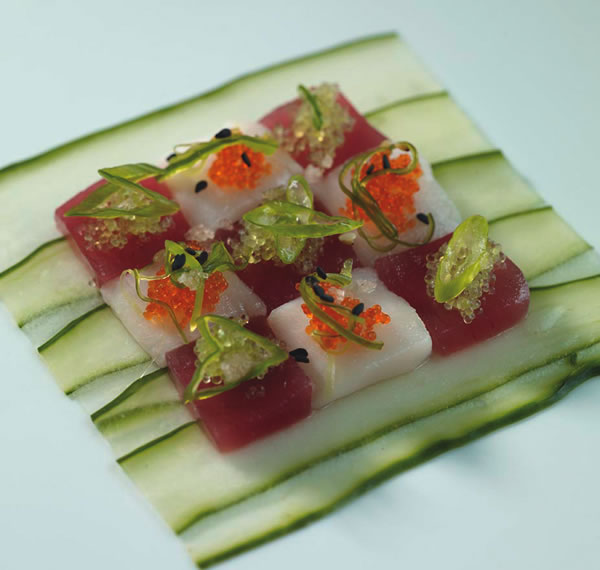 Dine
A coveted local favorite conveniently set in Lahaina's shopping district, Mala Ocean Tavern (malaoceantavern.com) is located on the water, and diners can choose to eat inside the quaint cottage of a restaurant, or out on the covered patio where they are just feet from waves lapping against rocks and sea turtles looking for algae. Diners rarely choose unwisely on a menu of fresh seafood, but the Kama'aina mai tai should be in everyone's hand—the cocktail won first place in Bacardi's Best Mai Tai on Maui contest. Just outside the restaurant, Lahaina's multitude of colorful boutiques surrounding the enormous, century-old banyan tree present the perfect place to peruse and burn off calories.
"Top Chef" contestant Sheldon Simeon and his restaurant Star Noodle (starnoodle.com) serve up some of the best of the East on the island. Instead of following the overplayed Asian "fusion" trend, the restaurant's dishes offer many classic Asian flavors presented in innovative ways. The chef's garlic noodles have earned him local fame, so order abundantly and without regard; the plates were meant for sharing. Pair with a beer from Maui Brewing Co. or a signature cocktail and leave room for malasadas—a Hawaiian dessert made of deep-fried dough covered in sugar, served with chocolate, butterscotch and caramel sauces, and peanuts. With a menu that spans close to 30 entrees, including shared plates and noodles, sweet treats, and a full bar stocked with sake and star specialty cocktails, everyone is sure to find something pleasing to the palate.
Elegant dining experiences are also plentiful, one such being Humuhumunukunukuapuaa restaurant (grandwailea.com), named for the state fish. Set on a saltwater lagoon filled with tropical fish, the restaurant is a romantic choice for sunset dinners.
Another upscale option is The Plantation House (theplantationhouse.com) on Kapalua Resort, which showcases Hawaiian fare through signature items such as kampachi tartare, seared ahi and Maui pineapple cake. The restaurant is also a well-known 19th hole for golfers unwinding after a round on the resort's Plantation Course. For a seafood-centric meal any time of day with amazing views, head south for Gannon's restaurant (gannonsrestaurant.com), created by Bev Gannon, The Maui News' and Maui No Ka 'Oi Magazine's "Best Chef on Maui" winner.
Travelers to Maui may be surprised by the diversity of the island's landscape and the abundant activities it offers visitors and residents alike. Even Orange County natives, who are accustomed to living and working in a vacation spot, will be impressed by Maui's paradisiacal display. NBM
South Shore Sustenance
In Kauai's Poipu Beach community, the palate delights in flavors of the Garden Isle.
By Allison Hata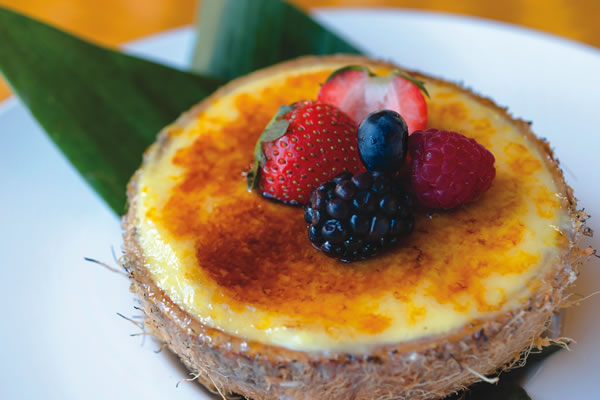 A paradise for those seeking an off-the-beaten path island experience and a resort setting, the Garden Isle offers the best of both worlds. Travelers visiting picturesque Poipu Beach may come for the sights of lush tropical scenery, but end up indulging another sense as they tour Kauai's South Shore with their taste buds.
Breakfast Bites
A place where it's perfectly acceptable to indulge in a cocktail before noon, Tortilla Republic offers a selection of morning drinks that go far beyond the basic bloody mary, plus an extensive menu of modern Mexican breakfast specialties. Flavors of the island mingle with mainland influences in dishes like the seared ahi and sweet potato hash. For an authentic Latin-inspired feast, however, a must-order entree is the relleno poblano—a stuffed chili pepper filled with a mouthwatering mixture of scrambled eggs, spinach, Monterey Jack cheese and pico de gallo.
Wash it all down with a crisp swallow from one of the restaurant's six refreshing morning cocktails, such as the michelada, a Mexican beer cocktail served with tequila, lime juice, habanero hot sauce and clamato for a complex, rich taste. If you miss breakfast, Tortilla Republic also offers expanded cocktail and food options for lunch, dinner and happy hour. (808-742-8884; tortillarepublic.com)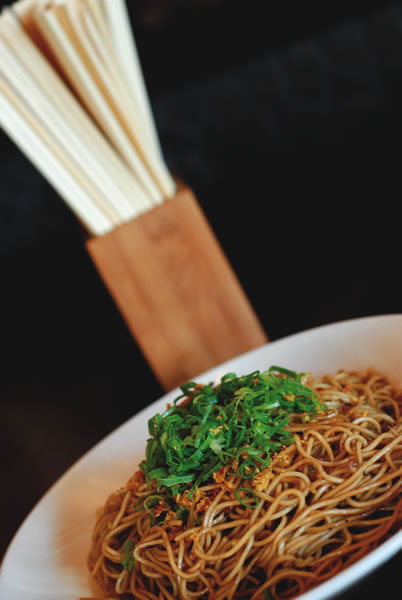 Fine Fare
Skip lunch and head straight to dinner, where two premier island establishments offer meals to remember.
Savor contemporary Hawaiian cuisine at Tidepools at the Grand Hyatt Kauai Resort & Spa, which features a tranquil waterfall and views of the ocean. Prime your palate with a platter of melt-in-your mouth hamachi served with thinly sliced watermelon and white soy vinaigrette, then move on to a fresh catch, like the macadamia nut-encrusted mahi mahi complemented by a subtly sweet papaya-avocado relish. If there's room for dessert—and there always is—opt for the heavenly Hawaiian vanilla and coconut creme brulee, served in a coconut shell for a true taste of the island. (808-240-6456; grandhyattkauai.com/restaurants)
Just up the road, the understated yet elegant Red Salt at the boutique Koa Kea Hotel & Resort allows its sweeping views of the garden, pool and ocean to do the talking. At the restaurant, whimsical presentation is everything: The Red Salt poke dish is artfully plated as a checkerboard of red and white fish (ahi and waloo), served atop paper-thin slices of Japanese cucumber with a garnish of orange or wasabi tobiko. After dinner, a visit to the lounge bar is a must, where the signature Red Coral martini featuring vanilla, raspberry and cranberry vodka with pomegranate juice provides a sweet finish to the evening. (808-828-8888; koakea.com)
From breakfast to dinner and every happy hour and brunch in between, Kauai's South Shore has countless fresh options to tempt your taste buds.