Get the scoop on the latest improvements, features and high-tech offerings at all your favorite ski destinations. – By Eugene Buchanan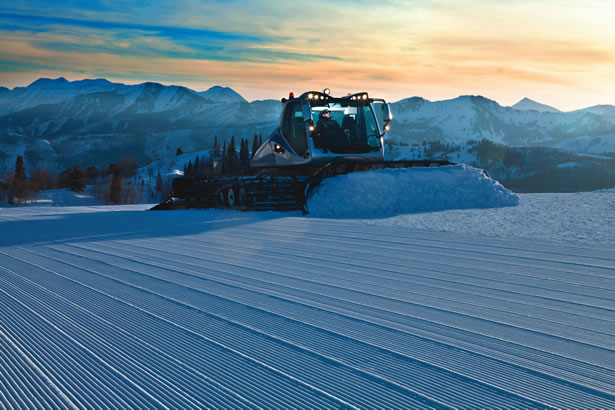 When ski week rolls around, rest assured there's something new and exciting waiting for you on the slopes this year. Whether you're a newbie looking for state-of-the-art snowboard instruction or an expert hoping to maximize your GPS' vertical-feet-skied reading, there's something for everyone at the continent's best ski and snowboard destinations.
New School
Realizing that novices represent the skiers and riders of tomorrow, resorts are pulling out all the stops to increase their amenities for beginners young and old.
Colorado's Vail has built two new Kids Adventure Zones while upgrading its existing family areas. With names like Chaos Canyon and Porcupine Alley, the zones feature carved animals greeting skiers and come equipped with features like the 50-foot-long, ski-through Coyote's Den.
Deer Valley has created a trail map highlighting areas specifically designed for kids (each themed after one of the resort's four mascots). The resort has also redesigned its Wild West beginner area with the installation of new SunKid surface lifts. "There's a lot going on for families and beginners," says resort spokeswoman Emily Summers, while adding that the resort is also opening a new children's clothing retail outlet in Snow Park Lodge.
At Northstar-at-Tahoe, the new Burton Snowboard Academy features simulators and terrain—including a mini-half pipe, mini-rollers and gentle banks designed for beginners and groomed specifically for learning. The program includes specially trained coaches, gear designed for learning and a private, on-mountain lounge with lockers, coffee bar and large flat-screen TVs for video analysis. "It's truly a one-of-a-kind program," says Northstar spokeswoman Jessica VanPernis. "It offers personalized attention paired with lessons, equipment fitting and beginner-shaped terrain."
Whistler debuts its new Max4 Program, guaranteeing no more than four people in any daily adult group lesson. "It ensures all guests will receive quality one-on-one time with their instructors," says Whistler spokesman Chris McLeod. Continuing on the lesson front, Snowbird launches a new program for parents of Adventure Team Kids, letting them meet guides for a morning of skiing or riding together.
Impeccable Grooming
Deer Valley has made a $1 million investment to make its slopes even more impeccable, purchasing 41 new snowmaking guns and five additional snowcats, including two state-of-the-art Prinoth Beasts for grooming. Vail also upped its slope-smoothing ability with two new Beasts, allowing its groomers to polish approximately 1,200 acres each day. Not to be outdone, Whistler/Blackcomb has invested $2.5 million in new grooming equipment this year, increasing its grooming capabilities to as much as 1,500 acres a day—more than any other resort in North America. Add to this its state-of-the-art, 22-foot Global Pipe Cutter, and you have the world's best machinery every place you need it on the mountain.
The Next Level
Take the hassle of waiting in line for rentals—and get the best gear possible—with Ski Butlers (skibutlers.com), a high-end rental service available at Aspen, Vail/Beaver Creek, Whistler and Deer Valley. These technicians custom fit your rental needs in the comfort of your room so you're ready to hit the slopes first thing. Plus, it's the best gear around—perfect for schussing runs that hosted the 2002 Olympics at Deer Valley or Aspen World Cup.
For steep slopes and powder this year, head to Snowbird, home of some of the greatest snow on earth. Coming off a record 783-inch snow year, the resort ups its gravity game even more this season with the opening of its new Zone 5 region, which offers some of the steepest, most difficult terrain on the mountain. The most recent area of Baldy Mountain to open, the new region is located the farthest down the Baldy traverse you can go. "It's some of the most challenging terrain on the mountain," Snowbird's Emily Moench says. "There's no easy way down once you get there."
For sheer expansiveness, head to 5,000-acre Vail, making sure to take in the picturesque, powder-haven back bowls. Visit from Feb. 9–12, and you can also watch the first-ever Winter Teva Mountain Games, where world-class pros and amateurs go toe-to-toe in a variety of events. You can even participate in your own event with the Seven Wonders of Vail Challenge, where you try to ski the back bowls' seven miles and 2,734 acres in a single day. "Hitting all seven in a day would give even die-hards something to brag about," says Vail spokeswoman Liz Biebl.
If you'd rather visit someplace more Olympian, Whistler, the host of the 2010 Games, has plenty in store. Its new Bilodeau All Mountain Workshop, led by Canadian ski legends Don and Heather Bilodeau, is designed for experienced skiers looking to take it to the next level. With ski half pipe recently announced as a new Olympic event, the resort is also adding more features to its five terrain parks, including a revamped snow cross track, 14-foot half pipe and additions to its 22-foot-high Olympic half pipe.
Whistler/Blackcomb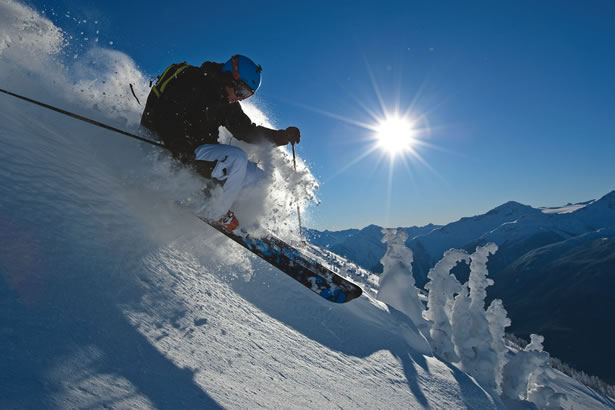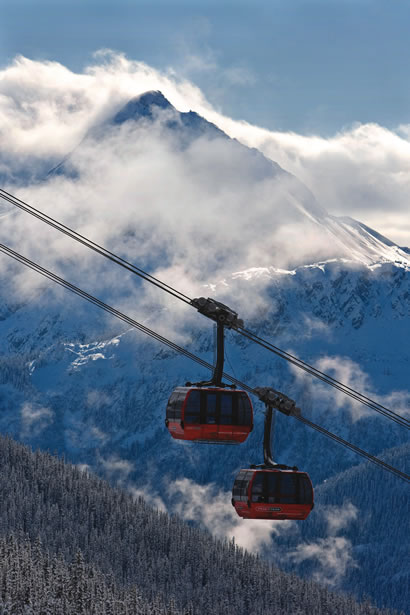 Coming off its second-snowiest year on record (622 inches), 2010 Olympic host Whistler/Blackcomb serves up more than 8,100 acres, a vertical mile of relief, three glaciers, 12 alpine bowls and 200 trails. Both resorts offer terrain from knee-buckling couloirs to mirror-smooth groomers, and Blackcomb has high-alpine glacier skiing. The recently installed peak-to-peak gondola, the world's highest and longest, lets you ski both with an 11-minute ride across the valley floor. "La Niña predictions suggest another great season," says Dave Brownlie, president of the Whistler Blackcomb Foundation. Keep your eye out for a new TELUS mobile app, and prepare your taste buds for concoctions from new Executive Chef Wolfgang Sterr, who brings a unique knowledge of Italian, French, German and Canadian cuisine from the Bavarian Alps. Bonus: Whistler's early booking offer lets you save up to 36 percent on your entire package.
Local tip: Meet at the Whistler Village Gondola at 6:45 a.m. for the Fresh Tracks program, offering early powder privileges and a breakfast buffet.
More info: 888.403.4727; whistlerblackcomb.com
Vail/Beaver Creek
Just a year shy of its 50th anniversary, Vail has undergone a $2 billion renaissance in the past seven years, improving its base areas while maintaining its European village charm. In addition to revamping its new Epic Mix App (see high-tech sidebar), the resort has completed a new 13,000-square-foot restaurant at Mid-Vail, The 10th  (a nod to 10th Mountain Division veterans), and revamped its family activities (snow bike, anyone?) at its mountaintop Adventure Ridge. And all this comes on top of Vail and sister resort Beaver Creek's more than 7,000 acres (5,289 and 1,815, respectively)—terrain so good that both resorts were recently selected to host the 2015 World Alpine Championships. Combine this terrain with top-notch service and the hardest part of your visit will be leaving. 
Bonus: Vail's Sun Up and Sun Down bowls are now reached by the High Noon Express lift, guaranteeing leg burn for the buck.
More info:800.805.2457; vail.com; Beaver Creek: 800.842.8062; beavercreek.com
Deer Valley
Ski magazine has named Deer Valley its No. 1 ski resort for a record four years in a row. And like a fresh blanket of white atop its slopes, now it's gotten even better. The resort has invested $7 million in on-mountain improvements, from revamped restaurants and bars to the addition of grooming machines. Add to this its 21 lifts servicing 100 trails and six bowls, and 300 inches of annual snow spread out among 2,026 acres, and chances are you'll stand dumbfounded like a deer in a headlight. The icing on the cake: luxury ski-in/ski-out resorts like The St. Regis Deer Valley (435.940.5700; stregisdeervalley.com) and Montage Deer Valley (montagedeervalley.com)—both offering world-class spas, fine dining, heated pools and more.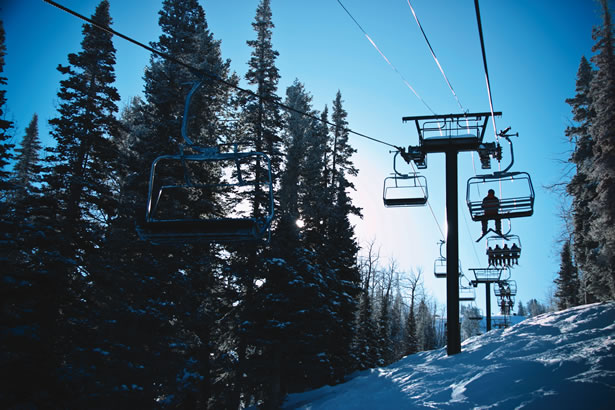 Locals tip: If you're there during a cold spell, warm your innards at the new High West whiskey distillery (highwest.com).
More info: 435.645.6518; deervalley.com
Lake Tahoe/Northstar
Another resort fresh off a record-shattering snow season, the seven Ski Lake Tahoe resorts carry the momentum into 2012 with nearly $100 million in capital improvements. Leading the charge is 3,000-acre Northstar-at-Tahoe Resort, recently acquired by Vail Resorts, with more than $30 million in capital improvements. Foremost is a new 1,440-foot detachable quad chairlift and on-mountain restaurant atop the Tahoe Zephyr Express Lift. The resort also announced that Olympic gold medalist and X Games Champion Shaun White has chosen to call Northstar his home, thanks largely to plans to build a customized, 22-foot half pipe. The resort is also bringing Vail's EpicMix to its slopes (see high-tech sidebar).
Shopping bonus: Northstar welcomes retailers Patagonia and Burton into its fold.
More info:800.588.SNOW; skilaketahoe.com
Snowbird/Alta
Enhanced ski school programs, a new extreme area (Zone 5) and the FLAIK GPS system in its ski and snowboard school programs top the list of what's new at Snowbird. Coming off a year in which it saw an unheralded 783 inches of snow (thanks to La Niña and the "lake effect"), the resort, just 29 miles from Salt Lake's airport, offers some of the best advanced and expert terrain on the planet, with a 125-person tram servicing 2,500 acres and 3,240 feet of vertical. After carving your way off Hidden Peak, you can even take a Jetsons-like conveyor belt through a tunnel to Mineral Bottom. And don't worry about how many calories you burn; as part of its improvements for 2012, the resort has also remodeled The Aerie restaurant and has a new chef on the 10th floor of The Cliff Spa. 
Bonus: Those just starting out can ski for free on nearby Alta's rope tows all day long, and the Sunnyside lift after 3 p.m.
More info: 800.232.9542; snowbird.com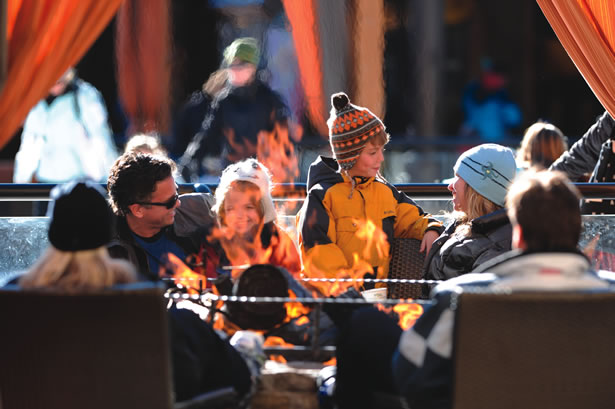 Mammoth Mountain
One of the biggest resorts in the country at 3,500 acres, Mammoth Mountain kicks off a five-year resort enhancement plan this year with $20 million in resort improvements. Changes include a new high-speed quad, the High-Five Express; additions to Unbound, rated North America's top terrain park by Ski magazine, and Art Park, with Jamie Lynn as the featured artist; and a new snow tube park just above The Village at Mammoth. Top this with 400 inches of annual snowfall and 300 days of sunshine a year, and it spells SoCal skiing and snowboarding at its best. 
Bonus: the snowcat-turned-food truck and new seasonal air service from San Diego and Orange County. "We've always been about a celebration of mountain adventure," says Mammoth Marketing Director Howard Pickett. "We're always looking for ways to excite our guests."
More info: 800.626.6684; mammothmountain.com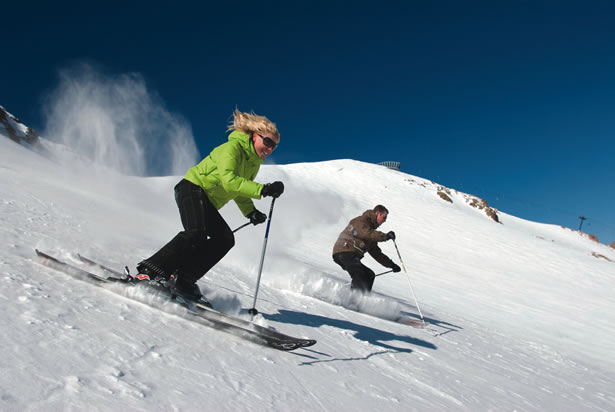 Solitude Mountain Resort
It's not just about 500 inches of annual snowfall; it's where it falls. With more than 1,200 acres and some of the most awe-inspiring, lift-served terrain in the country, Solitude's vertical drops will lift your spirits. And you won't have to wait to enjoy your Solitude. With hardly any lift lines, you'll be deep in powder before you know it.
It's not about the number of rooms or beds; it's where you wake up. At the base of an exceptional mountain lies our charming, European-style Village offering ice-skating, snowshoeing and Club Solitude—a fantastic place to unwind after a day in Mother Nature's terrain park. With world-class accommodations, as well as gourmet and casual dining options, it's easy to enjoy your Solitude.
It's not just about getting away; it's where you find yourself. Located just 12 miles up Utah's Big Cottonwood Canyon and a short, 40-minute drive from the Salt Lake International Airport is Solitude—featuring wide open terrain and an enchanting Village where you can reconnect with nature, friends, family and yourself.