News and notes from O.C.'s culinary clique.– By Ashley Breeding and Kedric Francis
Cucina Enoteca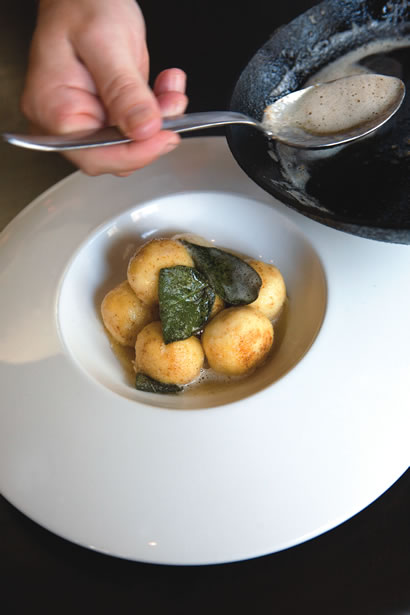 Cucina Cachet
If you'd told us at the start of the little restaurant renaissance we've been experiencing the past few months that one of our most anticipated new spots would be at the Irvine Spectrum, we might have scoffed. But with San Diego favorite Cucina Urbana opening its first O.C. spot in early December at the suddenly foodie-friendly center, we couldn't be more aquiver with anticipation. Here's why: the restaurant (called Cucina Enoteca in O.C.) hits that sweet spot of creative cuisine at fair prices.  How does antipasti like yellowtail crudo with duck crackling and pickled Fresno chile sound? Or a pizza with speck, pineapple and Serrano chile? Plus, there will be a retail wine shop in the restaurant, something rare in O.C. (Old Vine and Onotria come to mind). Chef Lulu De Rouen (formerly at Leatherby's and Pinot Provence) will be chef de cuisine.
Old Vine
Gourmet Getaway to Italy
Timing is everything, and this holiday season, we're hoping this 10-day Splendors of Italy getaway is stuffed in our stockings. Perfectly planned after the holiday craze and just in time for spring, chef Mark McDonald of Costa Mesa's Old Vine Café will guide foodies through Southern Italy March 10-19, 2012. An Italian Culinary Institute grad, McDonald is calling upon institute master chef and sommelier John Nocita to help give guests an insider tour that features off-the-beaten-path wine dinners, an organic farm serving a fully sustainable lunch, and private cooking lessons. With an unlimited flow of the area's finest varietals, guests will pick up gourmet tricks in Calabria, indulge in Sicily's best cannoli, and discover locals-only kitchens in Sicily. ($3,500 per person, includes everything but airfare; chefmarkmcdonald@yahoo.com)
SoCo Market
Good Will Farming  
As awareness is raised about the benefits— both healthful and environmental—of organic, locally grown produce, the demand for these pesticide-free, nutrient-rich gifts from nature (and farmers) abounds. Adding to the supply, a hip new market in O.C. boasts some of the freshest fare around, including an array of local fruits and vegetables; gourmet artisan foods like cake, cheese and kettle corn; certified grown plants; and a rotating lineup of tasty food trucks. More than 25 vendors roll into the SoCo Certified Farmers Market at South Coast Collection from 9 a.m. to 2 p.m. each Saturday to set up their sale carts, and share recipes and culinary secrets with patrons. With the belief that healthy habits are adopted at an early age, the market also hosts Kiddie Corner, a sustainable fun zone where youngsters can enjoy educational arts and crafts, scavenger hunts and farmers demos from little sustainably designed seats. 3303 Hyland Ave., Costa Mesa; socofm.com.