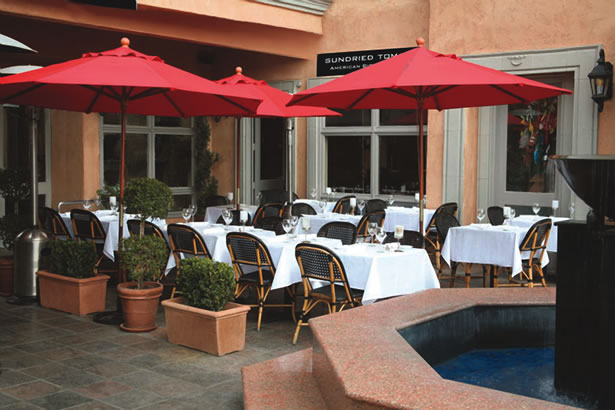 Over the summer, Sundried has introduced a number of new, fresh dishes to the eclectic menu.  For seafood lovers, there's a new Sautéed Seafood Medley with jumbo shrimp, jumbo scallops, ahi, salmon and opah, served over vegetable risotto. Pan Seared Jumbo Scallops served over vegetable risotto in a saffron chardonnay curry broth will be competing with Pan Seared Asian Marinated Opah in coconut curry sauce served along garlic cilantro rice and sautéed baby spinach as a new favorite. Two new sandwiches will also make an entrance: the Teriyaki Thai Chicken, with marinated chicken breast, spicy sriracha sauce and gorgonzola on a French baguette, along with a BBQ Pulled Pork with chipotle barbecue sauce, caramelized onions and coleslaw, both sure to become favorites.
Nestled in a cozy courtyard in the heart of Laguna Beach, complete with a bubbling fountain, the Laguna restaurant is within walking distance of the beach, Pageant of the Masters and Festival of Arts. It's a favorite of locals and tourists alike. The restaurant boasts a cozy bar and dining room with an expansive patio. During the summertime, there is an additional upstairs patio with a bird's eye view of downtown Laguna Beach. Located in downtown Laguna Beach, Old Town San Juan Capistrano and in the hills of San Clemente. Full service catering.

Chef Robert's Ahi Poke Basket
Serves four
Soy Marinade
1 cup each: soy sauce, water
1 teaspoon each: minced garlic, sesame oil, chile flakes
1/8 teaspoon wasabi powder
Mix all together to combine.
Wasabi Cream
1 cup heavy cream
1 ½ tablespoons each: sour cream, wasabi powder, rice wine vinegar
1 tablespoon sugar
1 teaspoon lemon juice
Blend all together with mixer.
Mango Jicama Relish
1 cup mango, diced small
1/8 cup each: jicama, red onion – both diced small
½ tablespoon cilantro, chopped fine
½ teaspoon jalapeno, diced fine
1 ½ tablespoons olive oil
Salt/pepper to tasteMix all together to combine
Ahi
16 ounces sashimi-grade ahi, diced small
Wonton Baskets
Preparation
Deep fry wonton wrappers into shape of basket, Toss ahi with enough soy marinade to coat. Place a tablespoon of relish on fried wonton basket. Top with one fourth of ahi. Top with more relish. Drizzle wasabi cream on top. Reservations may be made by phone or online. For hours and location information, visit sundriedtomatocafe.com.