Passage to India
Mayfair's Michelin-honored Indian restaurant travels across the pond to bring a sea of scintillating dishes to Newport Beach. – By Ashley Breeding | PHOTOS BY katherine vazquez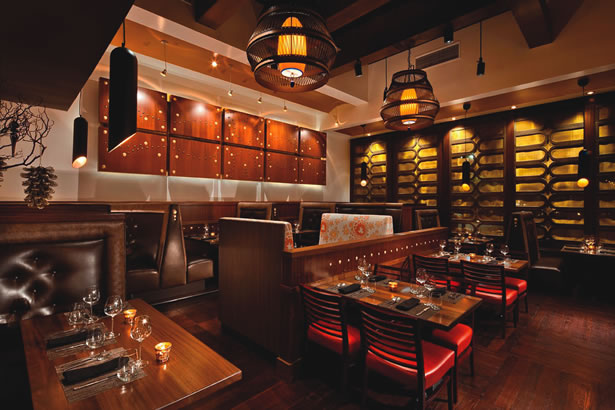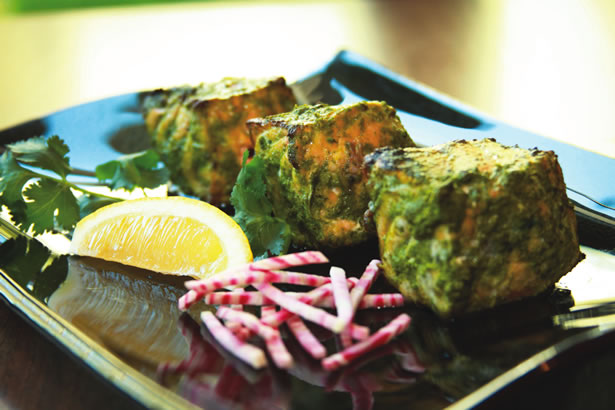 As an almost-vegetarian and advocator of the farm-to-table movement, as well as a lover of spices, I was delighted when London's gem of a restaurant—known for its centuries-old cuisine of India—moved into Newport Beach's Crystal Cove Promenade. Tamarind boasts a "robust selection of California's seasonally fresh and sustainable foods with Indian classics" in an upscale, yet casual setting.
"I grew up in a very Indian household in New Jersey, so I like taking true Indian flavors and meshing them with American foods," explains Executive Chef Shachi Mehra, who lived in London and Northern California before bringing her culinary creations to Orange County. "I want to give guests access to all of India—including the warming foods of Northern India, where it's cold, as well as seafood, coconut and lighter dishes common in the south."
The restaurant's dark wood, Indian fabrics and suspended lanterns over the dim open layout create a warm and inviting dining environment. From our private, high-back booth, we can see the Tandoori chefs putting on a culinary show behind the glass-walled kitchen.
We commence the meal with two of the restaurant's signature cocktails—a sweet but simple Blood Orange Gingertini and Tower of London, a pleasantly tart infusion of gin, fresh muddled cucumber, lime and basil, and syrup.
The chickpea chaat and chicken tikka are among those we try from the extensive hors d'oeuvres menu. The flavor is enhanced with a pairing of complementary chutney and sweetened yogurt with boondi (battered and fried chickpeas).
For the main course, we opt for the tandoori salmon—fired to perfection and served with a lime leaf, cilantro and olive oil dressing—as well as the signature biryani, a crispy potpie filled with basmati rice, vegetables and a variety of spices. From the "To Share" menu of side dishes, we sample the Three Greens Saag with garlic.
Chef Shachi's saag—a mix of spinach and mustard greens—is lighter than the traditional  version. She also likes to add a touch of California to the dish by including kale. "I like to make it so you can really taste the vegetables," she explains. "I feed my guests only what I would eat myself."
From a list of more than 99 wines, we share a glass of Picpoul de Pinet, a crisp but sweet white, and the Napa Tempranillo, a rich red with fruity and black pepper flavors.
Determined to save room for dessert, I reluctantly surrender my utensils— "That's the problem here; it's hard to put down your fork," jokes our waitress, Mallory, just before she presents the crème de la crème: a chai crème brulee. It's the most delicious chai latte you've ever tasted, in a velvety dessert form, coated with a light, crispy layer, and garnished with powdered sugar and blueberries. NBM
[portfolio_slideshow]