Four local designers share their creative process—from inspiration and dreams, to hard work and business savvy.  -By ashley breeding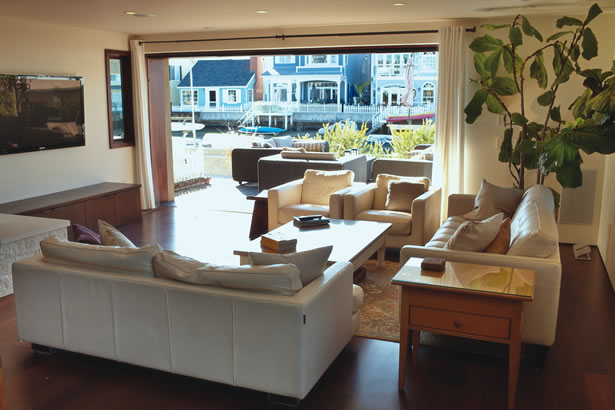 Boasting beautiful topography, access to the arts and a bounty of colorful characters, Newport Beach and its surrounding areas serve as creative inspiration on multiple levels. For this design issue, Newport Beach Magazine explores the studios, portfolios and minds of some of the most creative and successful designers to claim roots here.
Architect
Chris LeTourneau
From the time he was a small child, Corona del Mar-based architect and general contractor Chris LeTourneau knew what he wanted to be when he grew up. "Both my dad and grandfather were designers and builders, and I remember walking through their projects in the early '80s and being enthralled by the open, raw spaces and smell of wood—it was also inspiring to see the creation of objects in these spaces and got me excited about design at a very early age," he recalls. Nowadays, Chris heads his own firm, LeTourneau Architecture, known for its modern and contemporary residential designs that can be admired throughout Orange County.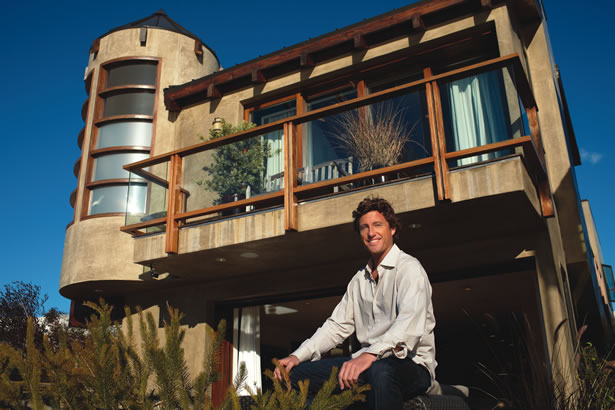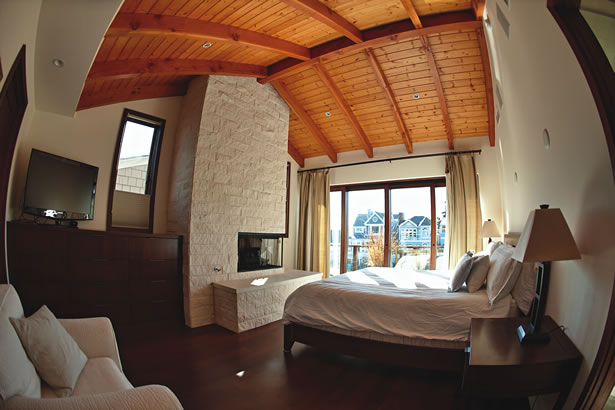 NBM: Modern and contemporary are often used interchangeably; what is the difference?
CL: Early modern architecture is a style that was born as a reaction to the classical orders and ornamental styles of traditional architecture seen in the Victorian era. "Contemporary" is an [ever-changing] term used to describe architecture of the present day with the inherent social, political and technological context as the deriving factors—for example, indoor-outdoor living via large openings of multi-paneled doors utilizing high-strength tempered glass. This will be replaced in the future with new technology and revised ideology. Nonetheless, the ultimate idea is to create something timeless.
NBM: What inspires you?
CL: I really love raw materials—steel, glass, wood, concrete—they're timeless. The way you can create a form, pour concrete into it, and be left with a mold for life is incredible. Concrete is so often shunned upon. The more to get to know it, the better it becomes.
NBM: Who are some architects, past or present, that you admire? 
CL: Early California modern pioneers such as Richard Neutra, Rudolph Schindler and John Lautner; they revolutionized residential architecture in a raw format. I also like LA-based architects Leo Marmol and Ron Radziner's (time and cost-effective) prefab housing module concepts.
NBM: Favorite building in OC? 
CL: The Irvine Company's headquarters in Newport—ironic, right? It's minimalist and made entirely of concrete and glass.
NBM: Biggest eyesore?
CL: The single-family track community at Crystal Cove. I fail to see the contextual and cultural relationship between Tuscany and the once open land.
NBM: What, architecturally speaking, is your favorite city?
CL: New York City, hands down. There are so many different layers—the people, subway system, variation of urban fabric—and this level of intensity that doesn't happen anywhere else in the world. It's sensory overload. I love everything about it.
NBM: If you're not working on a drafting template …
CL: I'm surfing. Playing tennis. Mountain biking. Kayaking. I love being outdoors. I also love shooting (photography) in downtown LA in the old arts district … dilapidated street settings, old brick buildings and abandoned railways make for the provocative imagery
NBM: Something you'd like to see in Newport?
CL: A real push to generate a true center for Newport Beach. I'm excited about the new city hall on Avocado as well as PIMCO's new tower on Newport Center Drive, but I'd really like to see that entire area really become active with mixed-use projects as well as high-density vertical towers. Perhaps we could get cultured with a Museum of Modern Art design by Renzo Piano, which was abandoned in the early '90s.
MIKOH Swimwear Founders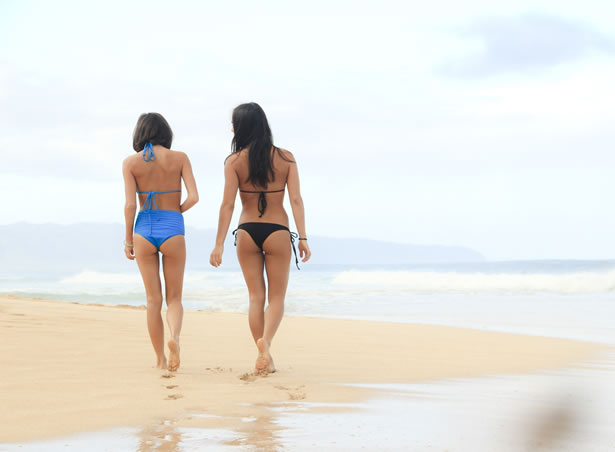 Kalani and Oleema Miller
As competitive child surfers and swimsuit models for Roxy, raised on SoCal's sandy shores, Kalani and younger sis, Oleema, know a thing or two about beach living. So it's no surprise that the athletic duo with an affinity for fashion grew up to be swimwear designers. In 2010, they launched MIKOH Swimwear, a mix of simple and sassy suits that would splash across the pages of the next three issues of Sports Illustrated's Swimsuit Edition. Now, frequently spotted on high-profile celebrities like Cameron Diaz and Kourtney Kardashian, the label dives into its third season with a wider array of cuts, colors and cover-ups, and a brand-new collection for kids.
NBM: When did your interest in clothing design emerge?
OM: Our mother (a seamstress) showed us how to use her sewing machine when I was 8 or 9. We started making our own outfits—of course, they would later rip!—but we were both creative and loved making things.
NBM: MIKOH means "female prophecy" in Japanese; is this a cultural significance?
KM: When we researched the name to see if anyone had it, we found out it's meaning. Even though we're of Chinese descent, we've always been really into Japanese culture, so the name was a really cool fit. Initially though, the name represents our names: "MI" is for our last name and "KOH" stands for Kalani, Oleema and our little sister, Hana.
NBM: What role does each of you play in the operation?
OM: I'm more creative and Kalani is more business-minded. It works well that we're so good at different things—two creative minds could be a battle!
NBM: Where do most of your creative concepts come from?
OM: It's very random—I try to carry a sketchpad wherever I go but usually end up jotting down my ideas and drawings on scraps of paper, wrappers, magazine pages and napkins!
NBM: All MIKOH pieces are all seamless and hardware free, making them more versatile and flattering to a woman's body. What other details should women look for when choosing a swimsuit?
OM: Nothing should dig into your skin, which creates body bulges, and stay away from ill-fitted bottoms—contrary to popular belief, less fabric is way more flattering!
KM: Also look for colors that compliment your skin tone. And go with your gut; if you feel comfortable and confident, chances are you look just as great as you feel.
NBM: What inspired the 2012 swimwear styles?
OM: The free spirit of the 1960s and'70s—in addition to our usual earthy colors, you'll see a lot of bold and bright solids and prints this season, [reminiscent] of that era.
NBM: Between traveling for work and as girlfriends of professional surfers (Kalani is the girlfriend of 11x World Surfing Champion Kelly Slater, and Oleema dates Taj Burrow), you both—much like your target demographic—are always on-the-go. What are some of your most treasured travel finds?
OM: I collect shells from all of the beautiful beaches I've visited. And jewelry.
KM: I love collecting fabrics—I have this great beach blanket that I found in Bali (where our suits are manufactured).
NBM: Where can we find your suits in Newport Beach?
OM: Westerly, Molly Brown's, Diane's and the Victoria's Secret store in Fashion Island. We're also on shopbop.com and revolveclothing.com.
Interior Designer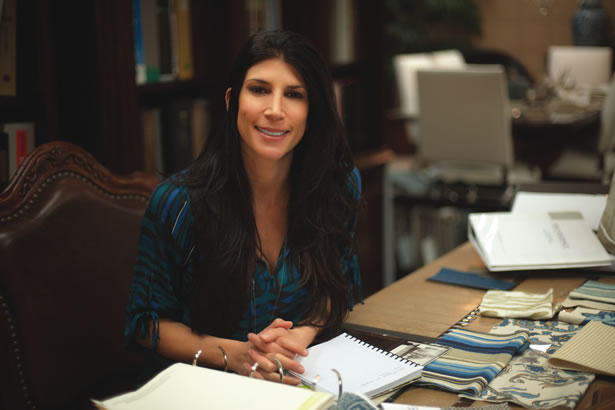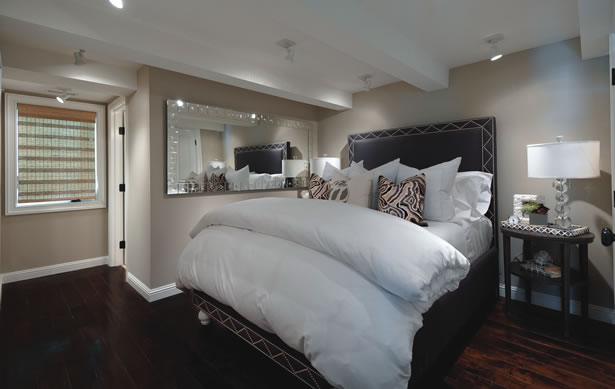 Erica Bryen
"My high school boyfriend's mom was a very creative lady who was always redoing her house—she'd let me help her, and we had so much fun decorating together," recalls interior and custom furniture designer, Erica Bryen, of her early affinity for beautiful accents and design. A decade ago, the young entrepreneur established Erica Bryen Design, known for its predominantly residential revamps and custom-made pieces—from daybeds to decorative pillows—among Newport Beach's elite, including actors and athletes in need of assistance on the home-decorating front.
NBM: Erica Bryen Design in three words:
EB: Glamorous. Modern. Luxurious.
NBM: Your strongest inspirations?
EB: Travel, Instagram photos, looking at other peoples photography and work. … I also love cars—the way the paints, metals, woods and shapes all work together inspires me in that it makes me realize there are so many things you can also put together in a house.
NBM: Who are some other designers you admire?
EB: Martyn Lawrence-Bullard—in addition to being named one of the top 100 interior designers last year [by Architectural Digest], there is just something so fun about him. I also admire Kelly Wearstler's completely outside of the box designs.
NBM: In what style is your home decorated?
EB: Hollywood glam meets modern—a mix of glitz and contemporary, clean lines.
NBM: The best décor items you've scored in your travels?
EB: I have a few crystals—from Brazil and this cave in Mexico—throughout my home, which I love, because they remind me of those experiences. Even though they don't really match, I still love them. Not everything has to match.
NBM: Your dream client?
EB: Someone who has no budget, great taste, and loves design as much as I do; there's nothing better than working with someone who really takes part—and pleasure—in what you're doing.
NBM: On your coffee table?
EB: Martyn Lawrence-Bullard's "Live, Love and Decorate" and "Thom Filicia Style"—that's a great picture book.
NBM: How do you organize your ideas?
EB: I keep all of my picture tear-outs in folders [categorically]. I'm a big lover of magazines—Elle Décor, Dwell and Architectural Digest to name a few.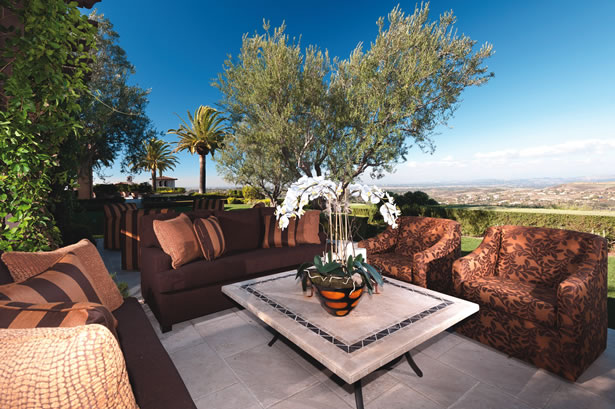 NBM: What's a piece of furniture you've used in an unconventional way?
EB: Dressers as sink [basins] … pots as fountains … neither of those are that usual anymore though.
NBM: What are your favorite home and design shops in Newport?
EB: The Gatehouse on 17th Street—perfect for those who like that relaxed beach look. I'm also a big fan of Aris in Laguna; they have impeccable taste and amazing finds.
NBM: What advice can you lend to aspiring interior designers?
EB: Try working in different aspects of the business—from other decorators to furniture shows—to gain experience. It's important to get yourself established and really understand how this industry works before you go on your own.
NBM: What strengths does this job require?
EB: The ability to multi-task—that's major—and to work with people, be organized and good with money, and to be a go-getter who loves to work long and hard. This is a very competitive business.
Mumu Founders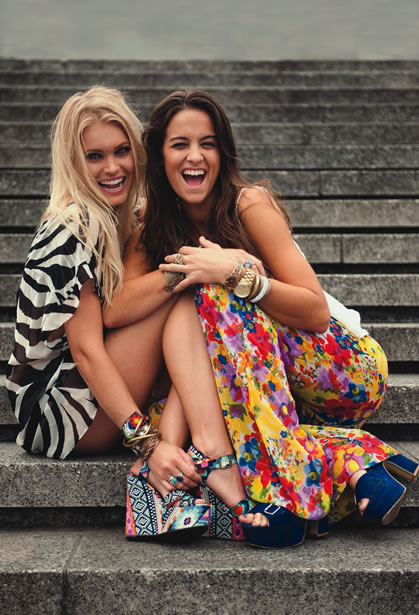 Cologne Schmidt and Cammy Lynn Hebert
When Newport native Cologne "Coco" Schmidt and fellow fashionista Cammy Lynn Hebert couldn't find a more modern muumuu to suit their style desires—loose-fitted yet body-flattering, and versatile enough to be worn as a long shirt or short dress—they began trying to construct their own from baggy, oversized tops. "We just couldn't create the right fit, and so then we thought, 'Why not make our own?' " says Coco of the duo's decision to launch (Show me Your) Mumu, a brand dedicated to reinventing the traditional Hawaiian dress. Now with a collection that stretches far beyond its classic "mumu," the brand can be found in 250 retail stores countrywide and is often spotted on A-listers like Jessica Alba, Blake Lively and Beyonce.
NBM: You two met at UC Berkeley and became fast friends. What prompted the joint adventure in NYC before deciding to settle in California? 
CS: Skyscrapers, seasons and the excitement of the big city. There's no place like New York—the energy and the people—it's a great place to live and work when you are young.
NBM: For what type of gal is the Mumu collection made?
CS: She is a free spirit and flower child at heart … loves to run free in fields … could pick daisies all day long. If she grew up in the '60s, Talitha Getty and Bridget Bardow would have been her buds.
CS: We design things that we, as 25-year-olds, like, but we also have a lot of teen and mommy muumuu lovers.
NBM: Do you sketch or actually construct your designs?
CS: Neither of us went to fashion school, so we do not sketch or sew our garments; we create [clothing concepts] based on what we like to wear—loose but flattering fabrics in fun prints. There are no zippers or tight fits. The beauty of muumuu lies in the selection of these materials.
NBM: What inspires your designs?
CS: Cammy is originally from New Orleans, I grew up in SoCal, and we both lived in NYC, which gives us a good mix of styles. My travels to Mexico, Bali, Australia and Costa Rica also inspire my choice of colors and patterns.
NBM: What colors, fabrics and prints do you most like to work with?
CS: We use mainly printed poly-chiffon—barely sheer, soft and basically wrinkle-proof. We love all colors because the mumu girl is not scared of any of them. We also like to play with crochets, knits and a little sequin.
NBM: What was your reaction the first time you saw a celebrity wearing your clothes?
CH: Jessica Alba and Vanessa Hudgens were the first two [mumu clients]. We scream every time we see a celeb in mumu—they have access to any brand they want, so we feel like we're doing a good job when "the mu" gets all famous on us.
NBM: Your go-to piece from the Mumu line?
CH: Tipsy pants—they're sheer, printed pants with short lining and a stretch waist—a great alternative to jeans or sweats that are both comfortable and can look fancy too.
CS: My favorite is a tie between the flare-sleeve Sandy top and Bri lacey shorts—with boots. I love a good shorts and boots combo.
NBM: Where in Newport can we find Mumu?
CS: Harper's, Deer Lovely, Eden, Planet Blue, Fred Segel, Ron Herman and showmeyourmumu.com. NBM