A new hip district emerges on Catalina Island- By Ashley Breeding I Photos By Jody Tiong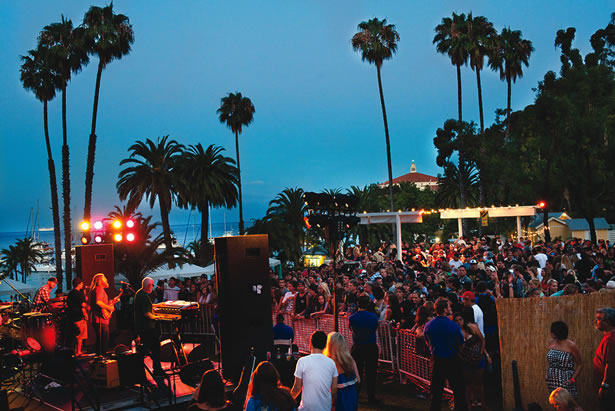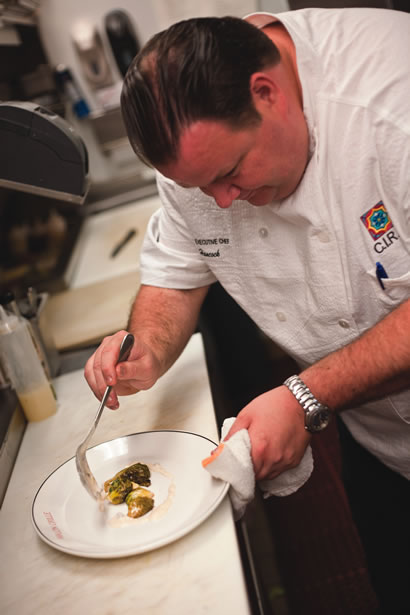 Since its major boom in tourism in the late 1800s, Catalina Island has become a haven of relaxation for Californians, much the same as The Hamptons or Cape Cod is for New Yorkers looking to escape the Big Apple. Just a short ferry (or privately owned boat or helicopter) ride away, it remains the perfect place to slip away for a weekend of fun in the sun with activities like snorkeling and kayaking, or to simply bask in the rays with a brew and a book. Lately though, the island is giving vacationers even more reason to climb out of their lounge chairs and explore its beautiful topography with the development of nifty new ways to intimately encounter its 76 square miles of rugged canyons and coastline. A swanky new restaurant, rockin' music series and festive galas in Avalon have also seen the greatest resurgence in nightlife since the post-WWII era. "Catalina hasn't had this dramatic of a change in decades," says Brad Wilson, chief marketing officer of the Santa Catalina Island Company (SCIC). "It's much more lively now, with better activities and dining, and opportunities to get into the interior of the island and experience—from the top of the mountain to the bottom of the sea—what makes Catalina so unique."
Nights in Shining Arbor
Summer saw the launch of Catalina as a hip new music venue with concert performances by some of the mainland's most talented, including SoCal reggae rock band The Dirty Heads, as well as the Pacific Festival, which Wilson describes as "Catalina's own little Coachella." On Thursday and Friday nights through September, the Country Club hosts Catalina Live, a dinner concert series in collaboration with L.A.'s Koffeehouse and Steamers Jazz in Fullerton, where an array of up-and-coming singer-songwriters and jazz musicians perform in the club's ambient outside courtyard. The grand center staircase acts as an impromptu stage, and the surrounding patio is good for dancing (or moshing). Most artists offer an opportunity to purchase their albums during the show, and we think you'll want to. If you've tuned into prime-time television or seen a film in the last few years, chances are you've already heard most of these folks' music. Names like Tyrone Wells, who's leased his lyrics to hit shows like Grey's Anatomy and The Vampire Diaries; acoustic folk-pop performer Caroline Brooks; and well-known American Latin Jazz artist Louie Cruz Beltran are a few to grace audiences so far this summer. September will see appearances by "Jazzipino" artist Charmaine Clamor and jazz drummer Jeff Hamilton, who is best known for his work with artists like Ray Brown and Ella Fitzgerald, and will perform with his own trio. Held the first three weekends in October in the historic Casino Ballroom, the 25th annual JazzTrax Festival showcases 30 of the most talented smooth jazz artists, like Warren Hill and Spyro Gyra. And later that month, the island will swing back into the era of big band music at its first-ever Masquerade Ball, where Frank Capp and the Juggernauts will have folks jitterbugging to old-time tunes that were popular in the Ballroom back in the day. Visitors can also step back in time with the new behind-the-scenes Casino Tour, which travels behind the musty curtain and into the dressing areas, projection rooms and deep history of the old "gathering place." You can almost hear the trombones and saxophones, and feel the presence of the theatrical spirits that linger there.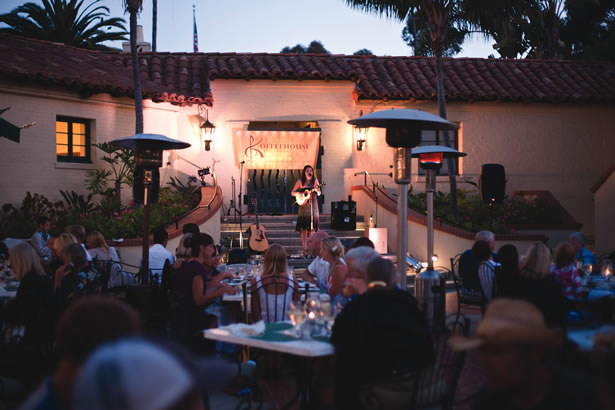 The emergence of fine dining on the island has also catered to the resurgence of bustling nightlife since the early days of big band and theater performances. "The new Avalon Grille and Catalina Live concert series at the Catalina Country Club have become main attractions," says Michele Bestudik, a lifelong resident of Catalina who is also a sightseeing and film liaison for SCIC. "They've really brought in a young, lively crowd."
Located bayside at the foot of the pier, Avalon Grille offers flavorful cuisine, a bevy of cocktails and stellar people-watching in a Tommy Bahama-type atmosphere. New Executive Chef Paul Hancock, who brings to the Grille his farm-to-table fare with a French twist, serves up specials like herb-crusted halibut, a surf n turf burger and vegan-friendly grilled vegetables, using sustainable, organic ingredients whenever possible. Pair one of these fancy dishes with one of more than 120 wines offered, or one of the restaurant's signature cocktails like the pear mojito, caipirinha (French kiss) or One Hundred Dollar Margarita, made with top-shelf Don Julio tequila (the nearly 1-liter bottle is down to its last milliliter, so it must be popular).
Into the Wild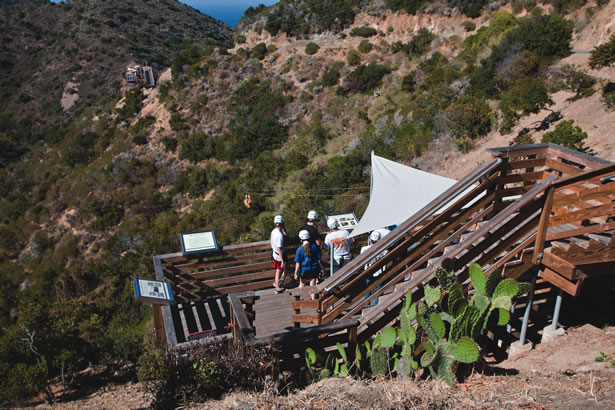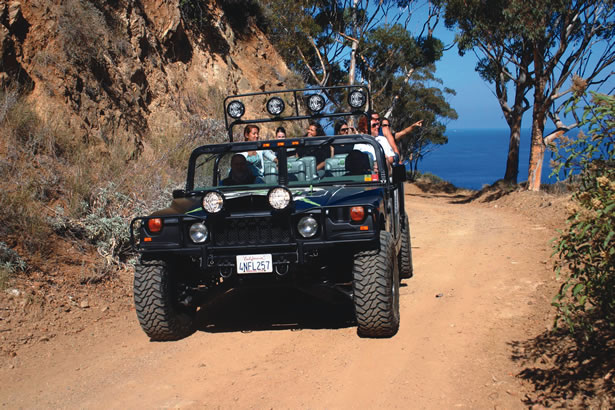 With its balmy weather and water temperature usually ranging between a pleasant 64-73 degrees, summertime—which sees about 70,000 visitors each year—is the perfect season to enjoy the great outdoors on the island. "The Zip Line Eco Tour at Descanso Beach Club was the first of five initiatives we rolled out last year," Wilson says. Open to the public year-round, the Zip Line allows adventure enthusiasts to take in Catalina's flora and fauna while zipping down three quarters of a mile over five lines, with resting spots in between. Traveling at a speed of close to 45 miles per hour and 300 feet above the ground, it's the perfect way to peer into the depths of the canyon and get an adrenaline rush. Assisted by docents along the way, zip liners are also treated to a brief presentation about Catalina's history and wildlife at each stop.
Those who wish to plunge into the depths of the ocean and mingle with marine life during the warmer months can try the Sea Trek Undersea Adventure. With the help of a 60-pound, specially engineered underwater helmet, anyone can trek along the ocean floor through the giant kelp forest while admiring the hundreds of sea species that live there. Some visitors have even been known to spot an octopus or lobsters ensconced in the rocks. For a bird's-eye view of the expansive mainland or a peek inside Catalina's lesser-known spots, climb aboard one of two new open-air biodiesel-powered H1 Hummers. "A Hummer is not something you would associate with the poster child for gas consumption," Wilson says, "but sustainability is a big focus here on the island." Fueled by recycled vegetable oil from local restaurants, the H1s offer two eco-tours of Catalina's countryside: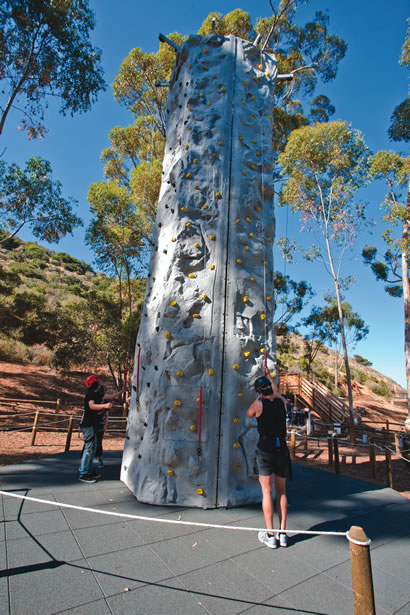 The East End Tour takes 12 tourists at a time through five miles of rugged terrain and eucalyptus trees to a summit of spectacular views; traveling 1,600 feet above sea level, the Cape Canyon Tour winds through roads less traveled to visit the island's more interior parts, including the new vineyards and Middle Ranch Canyon, home to the American bald eagle and Catalina's Island fox. Explorers who prefer to venture on foot can try out the new 37.2-mile Trans-Catalina Trail, which stretches from one side of the island to the other and offers camping along the way. "This is a cool activity that many people will continue to enjoy in the off season," Wilson says. If you choose to go this route, you might want to warm up on Descanso's new rock-climbing wall. The 32-foot tower with auto belay offers eight separate climbing routes, from easiest to most difficult. And for those who really want to go the distance, paddle on over the last weekend in September for the Standup Paddleboard Festival, where local SUP companies will give demonstrations, test new products, and hold races and other SUP activities. "Catalina will also host the first SUP Industry Awards that same weekend," Wilson says. "We're honored to have the first event of its kind here; it should be a lot of fun."
Adventure-seekers, socialites and entertainment junkies alike have a sea of new reasons to visit—or revisit—Santa Catalina. With an array of activities in Avalon, it might just be the new hip district. And much like former Hamptonites who began sailing to the Cape to escape the social scene that invaded the once peaceful villages and hamlets of Long Island, Californians who seek a more mellow vacation experience can find just that in the quaint town of Two Harbors at the other side of Catalina.  ,