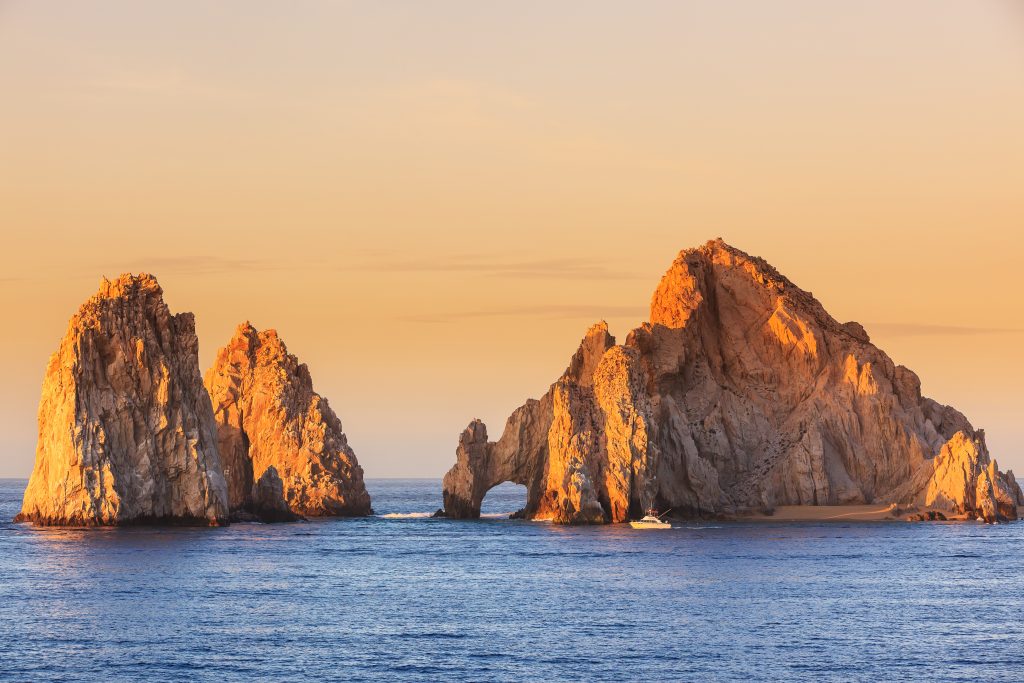 Escape to Baja's famous playground for another look at the city's diverse offerings.
By Linda Domingo
It may not want to admit it, but Cabo is growing up. Long known as a spring break mecca, the area hasn't lost its wild streak, but increased development of resorts and other travel-related businesses that go far beyond tequila shots and dance floors has given visitors more reason to book a trip to the beach-side destination. Last year's hurricane hasn't slowed the growth—many of Cabo San Lucas' restaurants and shops were minimally affected or quickly restored. Some hotels and resorts are slated to reopen this summer, having taken the months of nonoperation as an opportunity to renovate and redesign. If your last trip to Baja California Sur included too many drinks and a little regret, it may be the perfect time to give the region another chance.
Stay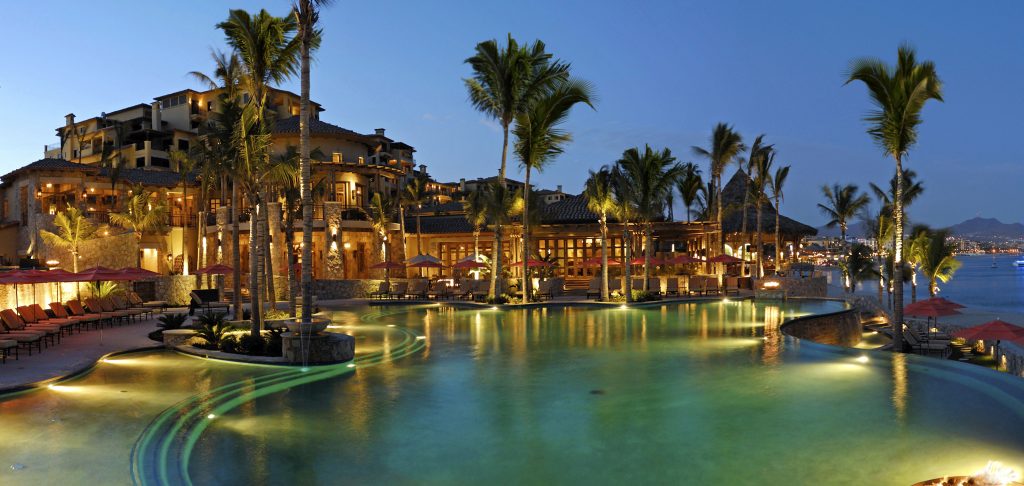 In a prime location on Playa Medano, Hacienda Beach Club & Residences is just steps from all of the city's attractions. The marina's shops, restaurants and bars are just outside of the residences' gates, Avenida Lázaro Cárdenas is a short downhill walk away and Land's End infiltrates most views from the beach club and accommodations.
On the site of the historic Hacienda Hotel, Hacienda Beach Club & Residences offers an array of real estate—expansive four-bedroom beachfront villas and one- to four-bedroom residences overlooking the ocean—as well as a rental program. All residences and guests have access to the spa and fitness center, and use of the oceanfront beach club, which is fully stocked with kayaks, paddleboards and other recreational equipment, along with an attentive staff that's happy to supply chairs, towels and other ingredients for a perfect day on the water. In addition to privacy and convenience, the property is also home to one of the area's top-rated restaurants, Hacienda Cocina & Cantina.

Bites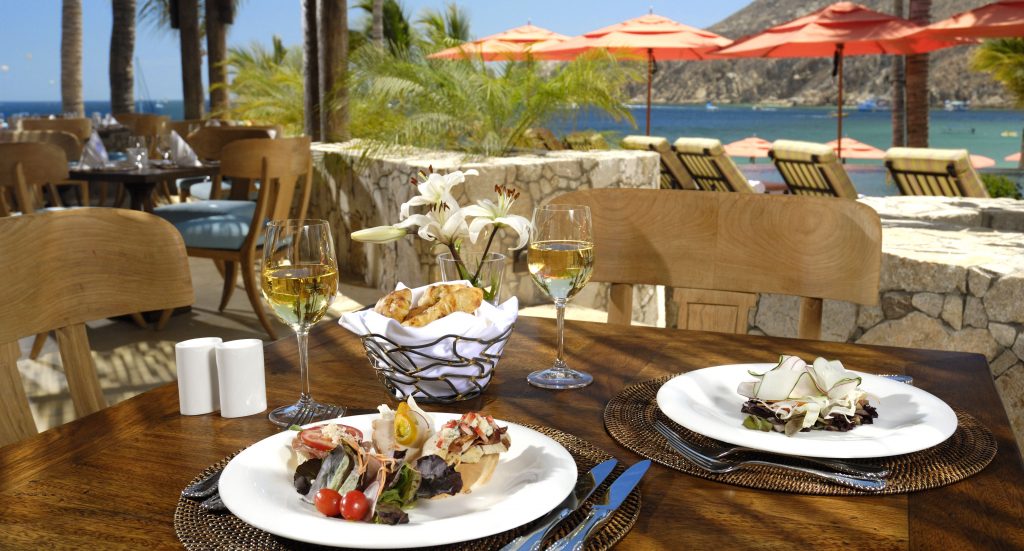 Whether one of your main motivations for a Mexican sojourn is culinary exploration or you simply need sustenance after stepping off the plane, Cabo San Lucas' location at the southern tip of Baja California Sur lends itself to at least a few meals overlooking the water. Seafood is a forgone conclusion, and there are numerous options lining the marina. Dos Mares Marina Grill & Bar is a popular alfresco oyster bar where diners have a front-row seat to the charters floating to and from fishing trips.
Pairing fresh catches with ocean views is a specialty at many of the city's restaurants, but one of the best sensory experiences can be found at Hacienda Cocina & Cantina. Situated steps from the beach with a view that's framed by the rocky and picturesque Land's End, the restaurant and bar offer Mexican staples like ceviche, camarones, tamales and enchiladas—in addition to a signature margarita and list of tequilas, of course. It's Mexican comfort food that Executive Chef Octavio Hernandez carefully concocted after traveling across the country, tasting and testing, to ensure the restaurant's offerings were authentic representations of the region's best.
Venture just outside the main hub of clubs and bars in downtown Cabo San Lucas and you may stumble upon Cervecería Rámuri. The craft brewery features an impressive selection of high-quality beers that complement a menu that goes beyond pub food, allowing visitors to imbibe in a relaxed atmosphere, sans the party crowd. With choices ranging from tacos and flatbreads to octopus and steak, the cuisine brings an unexpectedly elegant dining experience, even when sitting at the bar. Everything here has been carefully considered, from the rustic decor to the welcoming staff.
Another eatery to bookmark for mornings after a few cocktails, Bar Esquina is located in the Bahia Hotel & Beach Club. While the full restaurant is a favorite for its contemporary furnishings and menu that blends Mediterranean and Mexican fare, Bar Esquina's small coffee shop and bakery is a gem. With a commitment to direct trade products, the outlet has all you need to jump-start a day of activity, all infused with local flair. Organic Mexican coffee, tea, juices and smoothies, plus freshly baked pastries or small lunches are all available for order to go or to enjoy on the small outdoor patio.
Sun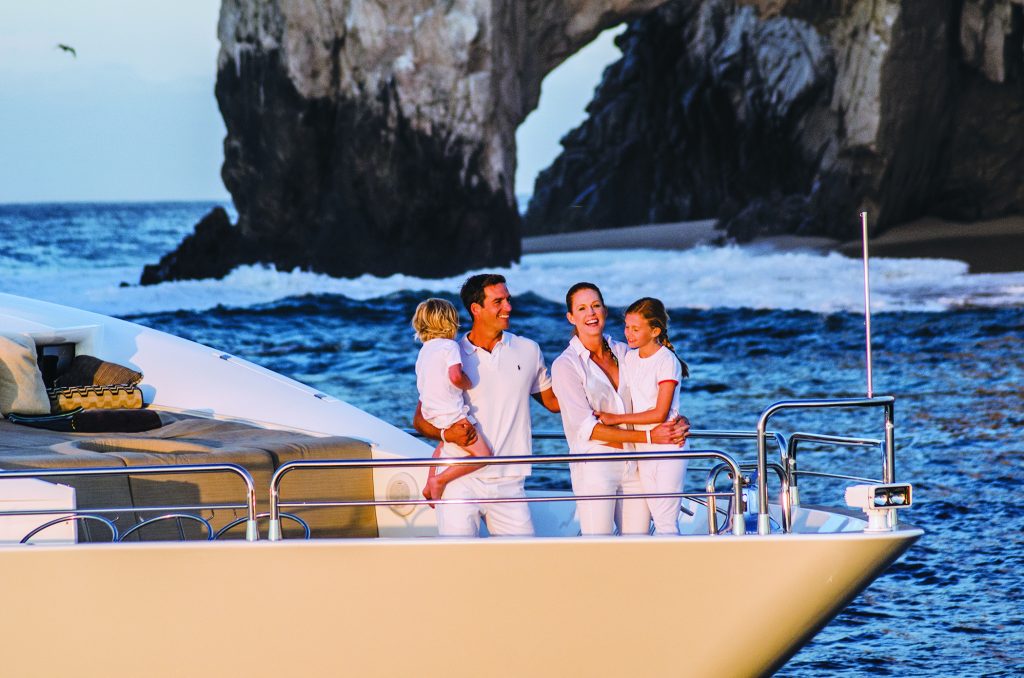 A trip to Cabo San Lucas can be party-heavy or posh—either way, there's no denying the allure of the beach. Old Man's and Zippers beaches are popular surf spots, but Playa El Medano's calm and crystal blue waters make it the ideal place to swim, jump on a paddleboard, kayak or WaveRunner, or simply take in the scene and a little sun. The marine life here is prolific and diverse, making for exciting snorkeling just off the shore.
Tourists walking the marina will be approached by plenty of merchants who can reserve spots on fishing charters or tours. It may be easiest, however, to make arrangements through your hotel, as the amount of options out on the boardwalk can be overwhelming. Sport fishing in Cabo is world-renowned, with marlin, swordfish, yellowtail and snapper populating the area where the Pacific Ocean meets the Gulf of California.
But every visitor must make time for a trip to Land's End, probably the most famous attraction that's also referred to as "El Arco" (The Arch). Only accessible by watercraft, the rock formation is an iconic landmark that gets its name from the emotion it conjures—when visitors make the journey, they feel as though they've reached the end of the Earth. At the base of the rocks lies Lover's Beach, a small, pristine stretch of shoreline that seems more like a private island. Walk past massive rocks walls that surround the sand to the opposite end of Land's End, playfully named Divorce Beach. Swim or snorkel on the Lover's side, where the water is relatively tranquil, but the Divorce side is fit for only sunbathing or lounging on land—the ocean can be rough and unpredictable there. To make the most of your Land's End adventure, board a glass-bottom boat and observe what's teeming below the water's surface. Tropical fish, sea lions and turtles are among the animals you may see right under your feet.
Fun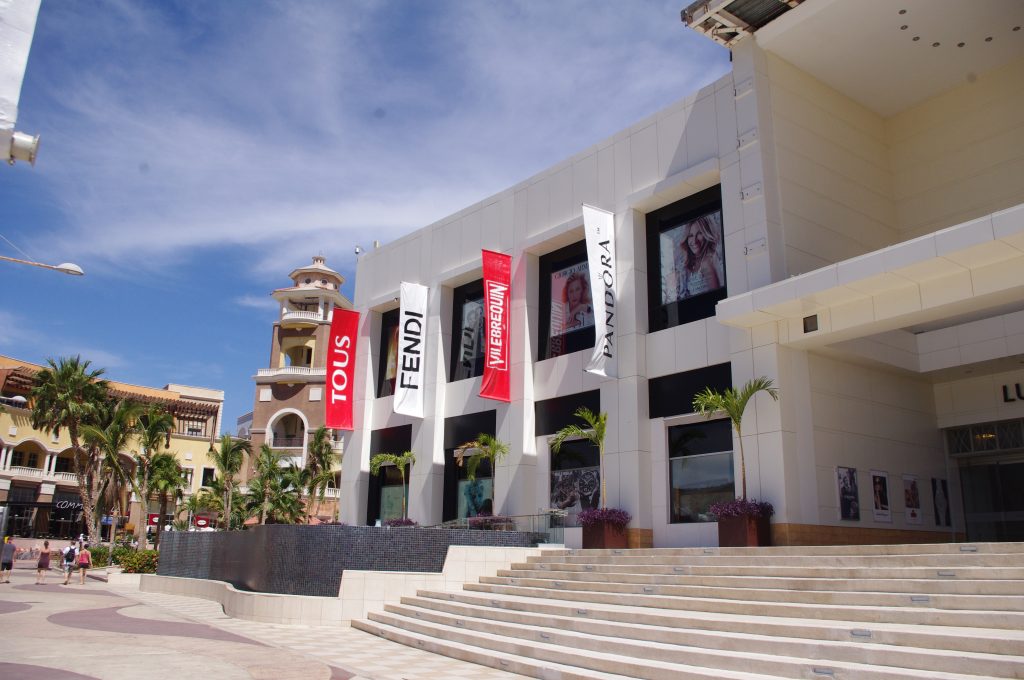 In addition to the area's beach activities, there are ways to pass the time on dry land. Those who prefer adventures in retail can head to the marina for shopping at Luxury Avenue, a collection of high-end brands like Carolina Herrera, Cartier, Swarovski and Tous.
The adjacent Puerto Paraiso shopping mall houses additional shops, but continues to see construction and renovation, in part because of the hurricane's effects. Worth a visit, however, are some of the mall's eateries that are frequented by locals as well as tourists. For beer lovers, Baja Brewing Co. offers its own menu of beer and pizzas that are made with beer in the dough. (The company also has a rooftop location at the Cabo Villas Beach Resort.)
Families will enjoy Señor Sweets, open for breakfast, lunch and dinner with a diverse array of Mexican, American and European dishes (sweet and savory crepes are popular here), as well as a large selection of gelato and sorbet flavors. Both venues have expansive patios that overlook the marina.
After a round of shopping or beach activity, the spa will be ready to welcome you with open arms. The local hotels and resorts present world-class options for wellness retreats. Esperanza, an Auberge resort reopening in June, houses The Spa at Esperanza, which will feature a new contemporary outdoor relaxation lounge with a retail boutique of art, housewares and textiles sourced from purveyors throughout Mexico.
The Hacienda Spa at Hacienda Beach Club & Residences is a one-stop shop for both activity and relaxation. While a luxurious outdoor lounge, couples' suites, a steam room and soaking pools contribute to a peaceful environment for signature treatments that use local ingredients, the spa's fitness pavilion has updated equipment and classes that blend fun and fitness. Guests can achieve balance with paddleboard yoga on the Sea of Cortez, an activity that can be enjoyed in a private session or with a group.
Sips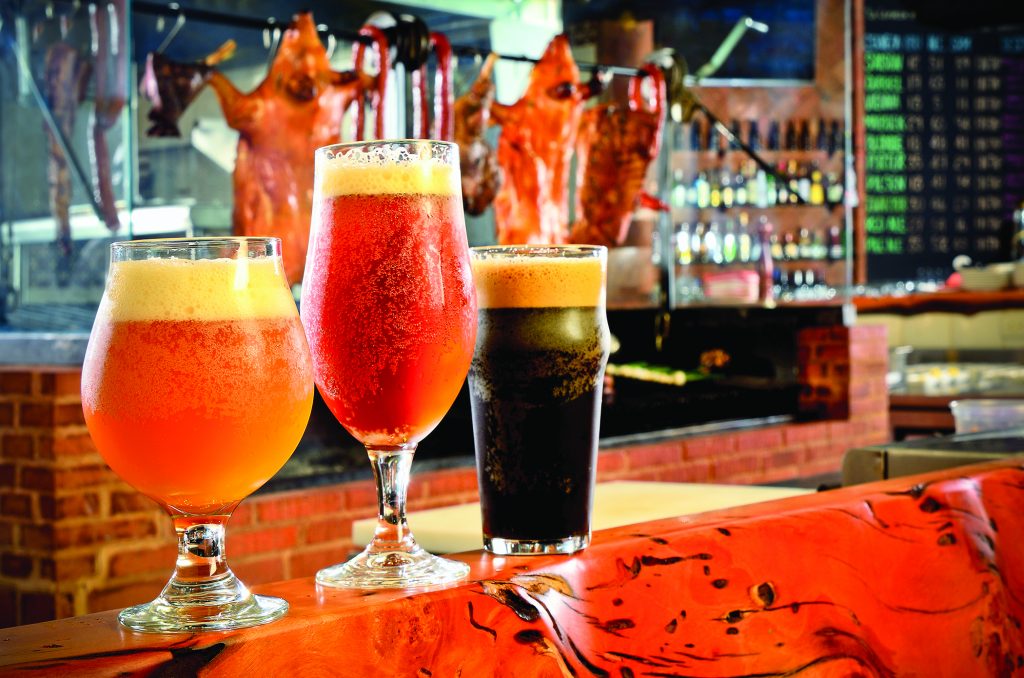 When the sun sets in Cabo, an entirely different crowd emerges. Both locals and tourists flood the streets of downtown, especially on weekends, to hit the famous (and infamous) nightlife scene. While plenty of Cabo travelers may have blurry stories from the raucous El Squid Roe or notorious Cabo Wabo Cantina, some less commonly named options in downtown Cabo still offer a little fun, lots of libations and, hopefully, a more memorable experience.
For good music, strong drinks and a place to kick back, locals mix with tourists at The Nowhere Bar on the marina. Though loud and lively at night, the small bar's casual dress code and friendly bartenders make for a more laid-back atmosphere. For many, it's a starting point for a long night ahead, and the location gives bar hoppers a good vantage point from which to scope out nearby hot spots.
Those who want to partake in some serious partying can simply follow the flashing lights and thumping bass along Avenida Lázaro Cárdenas, where the most popular bars and clubs reside. For an exclusive, Las Vegas-style experience, Mandala is in the heart of the downtown area with a huge dance floor, VIP sections available for parties and a dressier crowd than many of the surrounding venues. Despite its massive size, the club is crowded, especially on weekends, and the open facade makes it feel like the party is spilling onto the street.
Just a short plane trip for Californians, Cabo San Lucas is an ideal setting for a weekend escape from reality. New development and a broader spectrum of activities prove that the area continues to mature, even if you are looking for a place to be a kid. Whether your itinerary includes luxurious beach-filled afternoons, elegant meals, musical nights or a mixture of everything, there are still no bad days in Cabo.