Escape For Nature Lovers
Southern California's largest tidal estuary shelters wildlife and provides an outdoor escape for nature lovers.  – By Vicki Hogue-Davies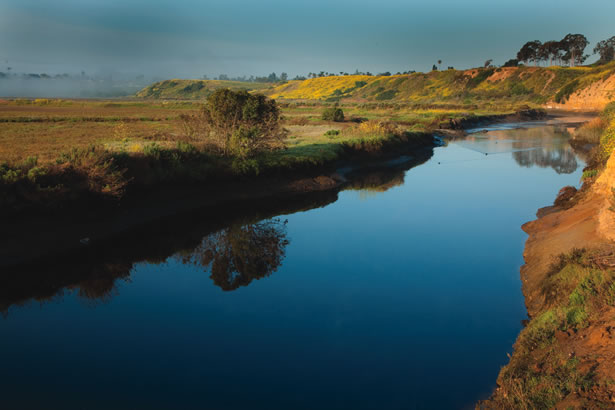 The "keDEEK, keDEEK" call of California least terns echoes in the air. A flock of the federally endangered birds lifts off and circles low over the water. Welcome to the Upper Newport Bay Nature Preserve and Ecological Reserve—one of the city's most precious natural areas and the largest remaining natural estuary in Southern California. Commonly known among locals as "the Back Bay," this special slice of Newport, which has been featured on Huell Howser's "California Gold," encompasses approximately 1,000 acres of open water, wetlands and uplands.
Getting Centered
Visitors to the Back Bay can orient themselves by stopping at The Peter and Mary Muth Interpretive Center, a 10,000-square-foot county facility that is staffed by volunteers from the Newport Bay Conservancy—the nonprofit group with the sole mission of conserving and restoring the bay. The center features educational programs, exhibits, interactive displays, films and a myriad of other information that brings home the importance of the Upper Newport Bay estuary. However, many people—even locals—don't know about the center or can't find it, says Patrick McCaffrey, volunteer and program coordinator for the conservancy. "People call us to say, 'I am here, where are you guys?' " he says.
Nestled near the corner of Irvine Avenue and University Drive, the interpretive center is built into the side of the bluff and cannot be seen from the street. From the parking lot, a marked trail leads to the center. "It looks south over the preserve and is beautiful," Patrick adds. "It is a good starting point for exploring the bay."
The interpretive center not only teaches about the importance of environmental conservation, but its builders practiced what the center preaches. Opened in 2000, the center was constructed from mostly sustainable materials, including cement and concrete from renewable sources and approximately 300 tons of recycled rebar made from confiscated firearms, steel-belted tire cords, used oil filters and steel containers and drums. It's also composed of carpeting from recycled bottles, countertops from recycled glass and other recycled materials.
Water Exploration
On a warm summer day, getting out on the water via kayak, canoe or standup paddleboard are great ways to explore the bay. Visitors can paddle in or launch their own kayaks or other non-motorized vessels, rent from a Back Bay vendor or take a tour through the reserve for a truly informative experience. The conservancy offers naturalist-led kayak tours through the Newport Aquatic Center on weekends, and area vendors also provide kayak and paddleboard tours, including sunset and moonlight excursions.
"The Back Bay is so close to so many people but seems a world apart when you are out in the preserve," says Vivian Valenzuela, who took part in a naturalist-led kayak tour. "It is easy to get to and it is wonderful that there are scheduled tours with guides who are familiar with the birds and wildlife in the bay." A bird enthusiast, Vivian volunteers as a least tern preserve docent for the California State Parks Department at the terns' Huntington Beach nesting grounds. "Hearing the light-footed clapper rails in the grasses/reeds was exciting!" she adds. "I remember our guide saying how infrequently they are actually seen, although the Back Bay is home to more [of them] than most other SoCal spots."
Indeed, Upper Newport Bay is home to 70 percent of the entire clapper rail population in the U.S., Patrick says. Rarely seen, this elusive and also federally endangered bird is dependent on the bay's large stands of cord grass for nesting, says Mark Kincheloe, a naturalist who leads bird tours at the Back Bay for Sea & Sage Audubon Society and the Newport Bay Conservancy, and also gives private tours. "They make floating nests in the cord grass that will rise and fall with the tide," he says. "They need the cord grass to nest, so consequently they can't go anywhere else."
Below the water are approximately 80 species of fish. Most numerous are the marine species attracted by the rich supply of plankton and detritus, species such as the topsmelt, anchovy and mullet, according to the Newport Bay Conservancy. Visitors seeing the bay by water might catch a glimpse of jumping mullets. Experts don't really know why the silvery fish leap from the water, but theories include predator evasion, aerial respiration and parasite removal.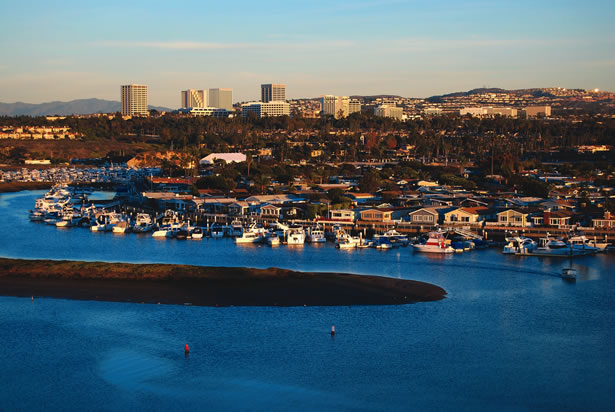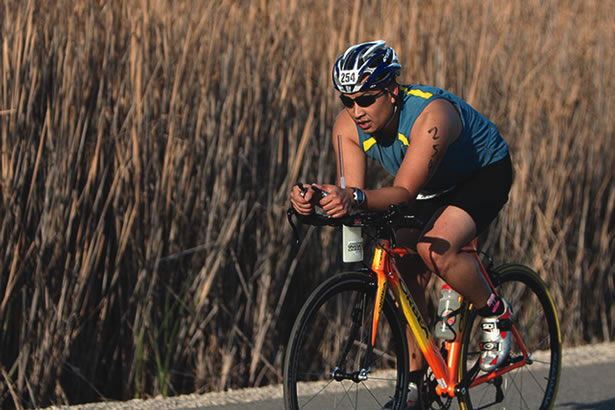 On the Trail
There are several trails for walking, jogging, biking, rollerblading and even horseback riding near the Back Bay (all well-marked and maps are available at the interpretive center). Multiple dirt trails can be accessed near the interpretive center and at entry points on the Back Bay's west side. Trails are relatively easy, either flat or gently hilly, but there is not a lot of shade, so hikers should be prepared with water, sunscreen and hats. The paved 10.5-mile Back Bay Loop Trail winds around Upper Newport Bay, passing the interpretive center, the Back Bay Science Center and numerous scenic spots. It is popular with bicyclists, rollerbladers, walkers and joggers. Those who want to go a longer distance can head inland on the 22-mile Mountains to Sea Trail that links with the loop trail and stretches from the Back Bay to Weir Canyon, north of Irvine Regional Park.
While there are no horse rental facilities in the area, two trails allow horses, making it a popular riding destination for the bordering equestrian neighborhood of Santa Ana Heights. "Horseback riding is all about being out in nature as well as riding your horse," says local Holly Jarvis, who enjoys hoofing the trails on Keiley, her Appaloosa gelding. "The Back Bay is a beautiful place to ride."
Walking on the Wild Side
Mammals within the reserve are pretty much limited to coyotes, bobcats, long-tailed weasels, raccoons, possums, rabbits, two types of squirrels and other small rodents, says Dick Newell of Orange Country Trackers. A self-taught naturalist and animal tracker, Dick teaches a class on "Mammals of the Back Bay" to volunteers as well as tracking to rangers, wardens, animal control officers and others throughout the county. Working with the U.S. Geological Survey, which is responsible for federal wildlife studies in the Back Bay, Dick has placed cameras throughout the reserve to capture images of bobcats and other inhabitants, and has participated in the capture of several bobcats for USGS research tracking programs. "We put the collar on and they give me radio tracking equipment, and I follow the cat," he explains. "At this moment we don't have any cats with radio collars, but we do have a couple with tags."
He adds that the public should not be afraid of bobcats if they spot one. "There is a gross misunderstanding about bobcats, and some people see them as dangerous animals," he says. "You are talking about a 24-pound animal that eats rodents. They are harmless to us and our pets."
Nevertheless, it is important that people on trails keep their dogs on a leash no longer than 6 feet at all times, Patrick says. "We want people to know that this is for the safety of their animal and other animals. There are burrowing owls here during fall and winter in squirrel holes, and there are plants like prickly pear and cholla cactus, and many dogs have gotten their paws stuck," he adds.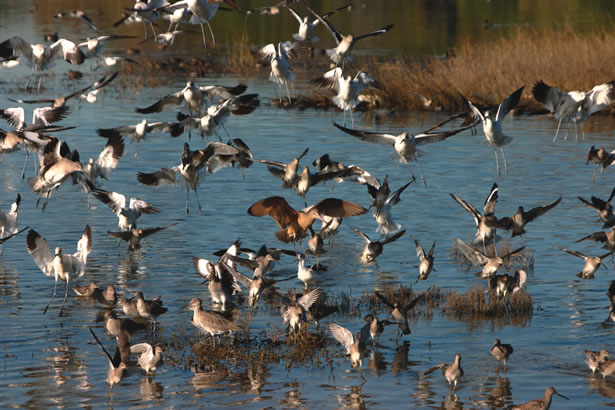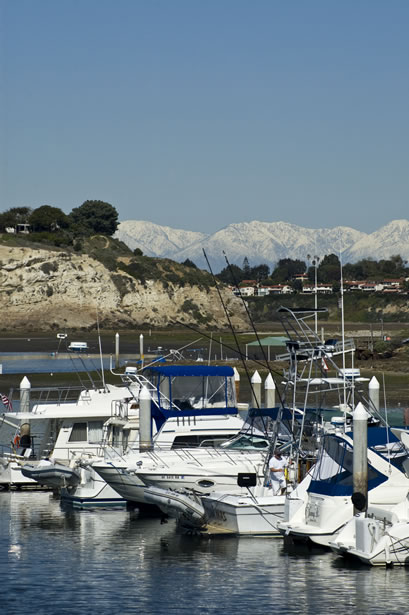 Ecological Concerns
Two of the major environmental concerns at the Back Bay are urban runoff and the proliferation of non-native plants, Patrick says.
"We are a watershed, so all the surrounding cities drain to the bay, including Irvine, Tustin and parts of Costa Mesa, Santa Ana and Lake Forest," he says. "When it rains and there is something in a storm drain in Tustin, it will end up here. I did a recent cleanup at the Newport Aquatic Center and found a football that said 'Tustin Elementary,' which is 15 miles away.
"So, urban runoff is a major issue," Patrick continues. "We are getting oil, brake-pad fluids, dog poop, nitrates and nitrites, and other things from people's lawns. The bay is a nursery for many fish—it is a safe haven before they go out into the open ocean and after heavy rains we get a lot of pollutants coming down that affect them. We get a lot of polystyrene and birds will eat it and will feel full and die because they aren't getting enough nutrients."
Another big concern at the Back Bay are non-native plants, which displace natives and can affect wildlife, including endangered species, because they alter an area's natural biodiversity.
To help combat these issues, the conservancy holds an annual estuary cleanup day to remove trash from the bay. Other major events include an Earth Day celebration and a beach cleanup day in September. Year-round programs help educate people about urban runoff and ways to prevent it. Other projects at the Back Bay include pulling non-native plants and replacing them with natives.
"I do a lot of high school tours to raise awareness about the effects of urban runoff," Patrick adds. "We do high school outrigger tours and other tours that talk about the ecology and history of the bay. Orange County Parks and Fish and Game also have their own programs."
Working together, these organizations, with the help of volunteers and the public, can help preserve the Back Bay for wildlife and future generations to enjoy.  NBM
For the Birds
With nearly 200 different species of birds found in the Back Bay, it is considered one of the top birding sites in the country. During spring and summer, migratory birds from South and Central America arrive, including the endangered California least tern. Other endangered birds here are the least Bell's vireo and the Belding's Savannah sparrow. The most unusual bird sighting occurred in October 2009. "A bar-tailed godwit was seen at Jamboree, up by the bridge," says naturalist Mark Kincheloe. "That is a bird that usually winters in New Zealand, but it wintered here that year. It was not only the first seen at the Back Bay, but in all of Orange County. I think it was one that nests in Alaska, then migrates all the way across the water non-stop to New Zealand. Every once in a while one of these birds will get its bearings messed up and come to the Pacific Coast of North America. There are probably less than 10 records in North America of that bird being seen." He notes that the Back Bay is a "good place for beginning birders to go. A lot of the birds are big, and easy to see and identify." Mark continues, "A lot of people can't believe the first time they come here that it is in the middle of the city."
Get Educated
For education and recreational information contact these organizations: Back Bay Science Center The 13,000-square-foot Back Bay Science Center provides educational programs for students and the public. Not open on a walk-in basis, visits must be pre-arranged for specific programs and functions. (600 Shellmaker Rd., Shellmaker Island; 949-640-9959; backbaysciencecenter.org) Newport
Bay Conservancy, The conservancy provides kayak, bird watching, nature walks and other tours and volunteer opportunities at the Back Bay. (P.O. Box 10804, Newport Beach; 949-640-6746; newportbay.org) Orange County Bird Tours Take a private bird tour or join a group for a free Back Bay birding tour the last Sunday of every month. (714-968-2480; orangecountybirdtours.com) Orange County Trackers Naturalists provide wildlife tracking instruction to wildlife officers. The general public can learn about tracking from detailed information on the organization's website. (octrackers.com) Peter and Mary Muth Interpretive Center The interpretive center houses exhibits and films and provides other information about the Back Bay. (2301 University Drive; 949-923-2290; ocparks.com/unbic) For kayak, canoe and standup paddleboard rentals and tours: Newport Aquatic Center The nonprofit Newport Aquatic Center works with the Newport Bay Conservancy to provide kayak tours of the bay. It also offers a moonlight kayak tour. The center rents kayaks and paddleboards to the general public. (1 Whitecliffs Dr.; 949-646-7725; newportaquaticcenter.com) Newport Dunes Waterfront Resort & Marina Located at the mouth of the Back Bay, the resort provides camping, watersports and kayak rentals, and Back
Bay tours. (1131 Back Bay Dr.; 800-765-7661; newportdunes.com) The Pirate Coast Paddle Company Located at the resort, the Pirate Coast Paddle Company specializes in paddleboarding, offering lessons and tours, including dusk and moonlight excursions. (714-600-8454; piratecoastpc.com) Southwind Kayak Center At the Back Bay's entrance, the center rents kayaks and standup paddleboards and provides tours of the bay and harbor.  (East Coast Highway and Bayside Drive; 949-261-0200; southwindkayak.com)